POV Holder:
Vanessa
POV Competition
Aug 22nd
POV Used
No
POV Ceremony
Aug 24th
HOH
Austin
Next HOH
Aug 27th
Original Nominations:
Steve and Jmac
After POV Nominations:
Steve and Jmac
Have Nots
No have nots this week
Meg opens a jar a task that has eluded her for some time.
After exerting maximum effort Meg open a jar.. #Powerhouse #BB17 @DawgsBigBrother pic.twitter.com/qaHTPZujIQ

— OnlineBigBrother.com (@bigbspoilers) August 24, 2015
2:45pm Working out Austin and Jmac
Talking about the Liz and Austin showmance. Austin says he really didn't have any plans to make a showmance coming in that is why he said he had a girlfriend. After the zingbot zings he felt she should talk to liz about the girlfriend.
Austin – I really did fall for her.. sorry my heart's involved
Austin says he asked Liz if she wanted to be his girlfriend.
Austin – I've never asked a girl that it sounds kinda corny but these are corny circumstances.
Jmac gets why he did it says it was probably the right thing.
Austin is worried about other guys in the cast or past season cast members wanting a piece of Liz during the wrap party, "I know how these guys work"
Austin – She has a single sister go after the single one
3:01pm Candy Barons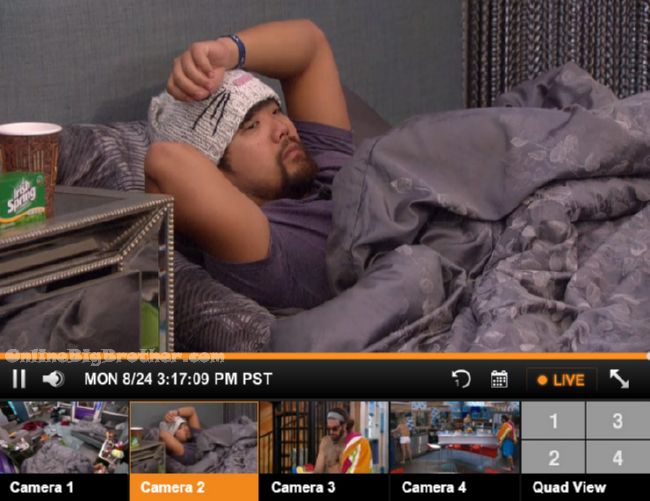 3:16pm bedroom (Below are a couple gifs of James scaring people this week)
Meg and James laughing at Liz' attempts to scare James.
Meg – "We can hear all their plans"
Liz comes by – I've never wanted to scare someone more than him
Steve joins them.
James – revenge is a dish best served cold
James – I might not win Big Brother but I'll win the best scare of the season
James says he's mostly targets Julia to scare because she's so easy and fun. Last night he scared Liz and that was fun so now he's going to branch out and scare Liz more.
Steve mentions that James sacred him last night.
3:26pm Pool Liz, JUJU and Austin (Austin and the twins talk in circles about who to target.. )
They're agreeing "Steve is tight with no one"
The twins say Jmac hasn't talked to them yet they think they're vote is locked to keep Steve.
Julia says she can't stand the site of Jmac if he stays this week that means he'll be in the house for 2 more weeks. Next week they were all going to target the jury member returning.
Austin says he trusts Jmac more than Steve but Steve is going to be dangerous in these competitions moving forward.
Austin says they need allies right now Meg and James will be good to them. Adds that the returning Jury member may be targeting them.
Austin – you guys need to have a conversation with Johnnymac and be cool
Austin tells them if Jmac thinks the twins might vote for him he'll stop talking to James
They bring up Jmac saying to Meg and James that Austin and the twins are a fortress. Julia is going to go up to Jmac and pretend that Austin and Liz don't know this. She's going to say that she heard about this and wants to know what he meant by it.
They all agree Vanessa likes to play the victim card all the time.
Austin – we can all make a deal with johnnymac together
Austin says they can all sit jmac down tell him if he throws the HOH so they can take out the returning jury member
Austin – If we keep Steve and Liz you win HOH who are you putting on the block.. there's no easy pawn..
Liz – right there's no easy pawns.
Austin warns if they keep Steve and he goes up as the pawn next week he'll think he's not with them.
Steve joins them says everyone is sleeping
They start talking about tweaking the glory hole rules
[envira-gallery id="130243″]
4:07pm Backyard Steve, James and Julia
Julia- What's less cool than a trombonist that loves his mommy.. nothing Zing
They start talking about last season and how poor Victoria did. Steve says Derrick deserved the season. They mention the Jocasta and Donny votes for Cody.
Steve – Donny should have known better
Julia and Steve both comment they've never smelled any body odor from Austin. The only time he smells is after eating a can of tuna but it's not him it's the tuna.
[envira-gallery id="130250″]
4:27pm Julia telling James how weird it is that people are always watching them.
4:47pm Steve is the only one up.. he's wandering around the house wondering what he should do.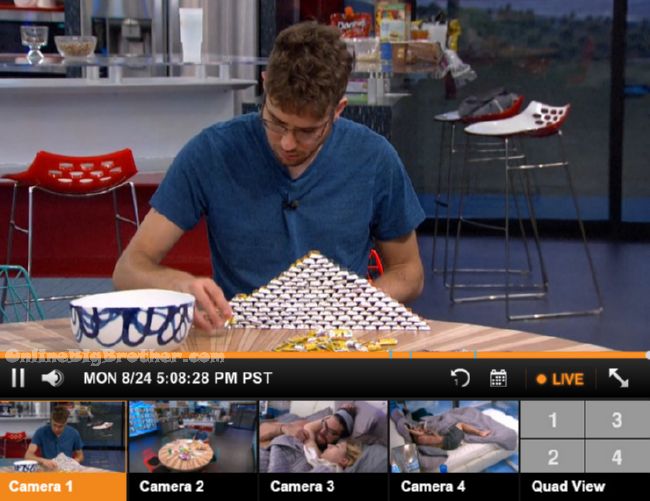 5:08pm Steve found something to do..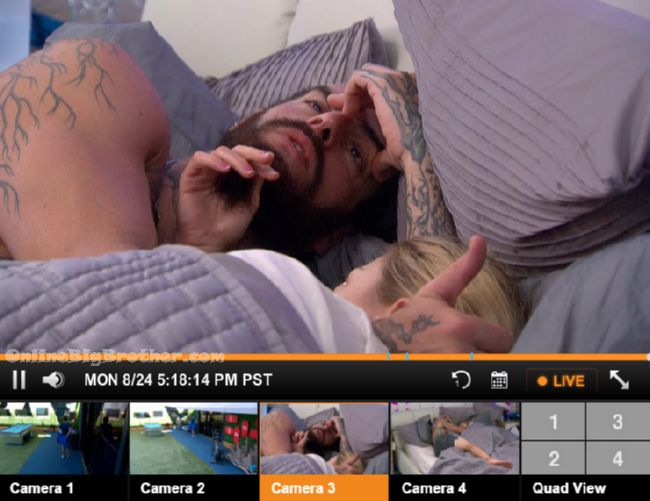 5:16pm HOH Austin and Liz
BAck and forth if they should evict Jmac or Steve..
Liz says if Steve is excited and he comes back he's going to despise them. After all they told him this week about being the pawn.
Austin – You can make an argument each way, It's crazy
Austin says Liz needs to win the HOH again
Liz – Julia needs to win
Austin – you have to win we'll keep the room again
Liz – I don't want this room it's turning into bad luck
Liz says she's been saying things when angry about houseguests that she's regretting
Liz – I'm sorry live feeders for being mean to Johnny Mac, I just got angry, I understand where he's coming from because he's on the block
Austin – It comes down to who's more likely to win HOH
Liz – Johnny mac is due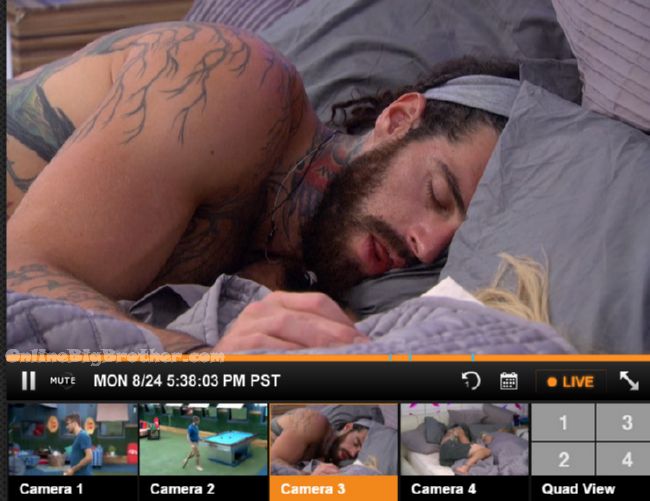 5:40pm Austins zonked out. Most of the house guests are resting
Some of James scaring from the week
James scares people
James Scares Vanessa and Julia #BB17 @DawgsBigBrother pic.twitter.com/kIDNy8HsMb

— OnlineBigBrother.com (@bigbspoilers) August 22, 2015
James strikes again
James strikes again #BB17 @DawgsBigBrother pic.twitter.com/yTdy2m2EQb

— OnlineBigBrother.com (@bigbspoilers) August 22, 2015
James scares Liz
James scares LIZ @bigbspoilers #bb17 pic.twitter.com/MxzQldO6Vd

— Dawg (@DawgsBigBrother) August 24, 2015
ALLIANCES:
"Goblins/Gremlins" = James and Meg
"The Generals" = anyone allied with Becky
"SOS" (Students of Sound) = Steve and Vanessa
Rockstars = Steve and Jmac
AUS-Twins = Austin, Julia and Liz
"Austin's Angels" = Austin, Liz, Julia, Vanessa
"Brass Tacks" = Gobins and Austwins
The new "Brass Tacks" = Aus-Twins, Meg, James + Vanessa
"Freaks and Geeks" "The Scamper Squad" = Aus-Twins, Vanessa, Steve
"The new Freaks and Geeks minus Vanessa" = Austin, Liz, Julia, Steve, Johnny Mac
"The Authority" = Austin, Liz, Julia, Steve
[polldaddy poll=9035699]