POV Holder:
Clay
Next POV
July 25th
POV Used
?
POV Ceremony
July 27th
HOH Winner Team 1:
Jackie
HOH Winner Team 2:
Vanessa
Nominations 1 :
James & Liz
Nominations 2:
Clay & Becky
Battle of the Block Winner
James and Liz
Next HOH/ Next BOB
July 30th / July 24th
Original Nominations:
Clay and Becky
Current Nominations:
?
Have Nots
Shelli, Clay and Steve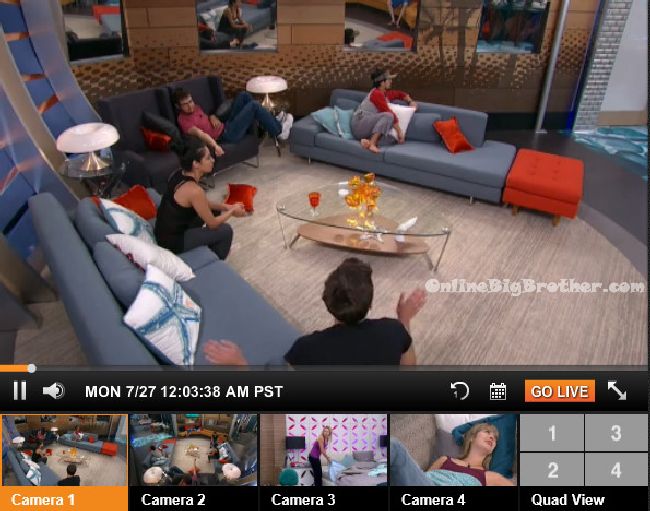 TRY the Big Brother 17 Live Feeds FREE for 1 WEEK:
Click here to ensure your live feed subscription supports OnlineBigBrother.com at no extra cost to you.
12:10am
Living room – Talking about the twins. James asks how are you going to adjust to the twins? Austin says I don't know. James says I mean there's two of them. That's crazy! Austin says yeah I've been aware of that for awhile. Austin so does that mean you get to lay with both of them in the bed? Austin says no ..negative. There in lies the problem. If life worked like that, life would be simple. James says that's one thing on my bucket list.. sleep with twins! Like hang out. Jason asks at the same time? James says no like.. Jason says Wow I was going to be like twins would be incestual. So that's not going to happen. James says no.
Liz heads up to the HOH room. Liz talks about James reaction to the twins being confirmed. Meg says that James was just being James. He knew about it his mind was just blown. Vanessa says his first question was which bed your sister would sleep in. Liz says he asked which one of you flirted with Jace? I was like me! He then asked which one of you flirted with Jeff? I was like me .. I'm the hoe! Vanessa says yeah you're the one that flirts.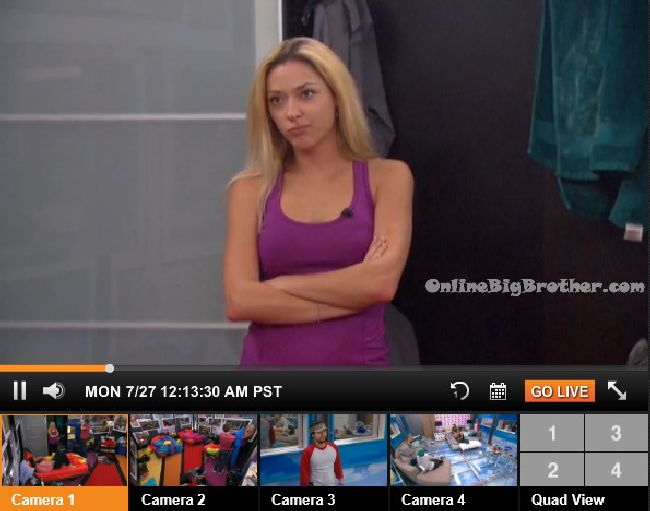 12:10am – 12:20am
Liz heads downstairs and talks to Austin in the comic room. Liz asks did you hear that? Austin says yeah they were being cruel as f**k to you. It sucked! They're f**King bullies. They're going to rip you guys a part! Now that they get the chance. Steve says well they know they don't have the numbers. Liz says exactly. Steve says they're on the slower side, they're going to do whatever to cause dissension. Steve asks what did they just do to you? Austin says they way they were just harassing her and making her explain all the twin stuff. And James coming up to her acting like he didn't know. He was really bad after you left. Liz asks like what? Austin says James asked so Austin, the twins into incest? Is that how it works? Liz asks what did you say? Austin says no it doesn't work that way. Steve says he's being classy about it. Austin asks can you believe they said that though? You heard it right? Steve says yeah. Austin says you should tell Vanessa about the incest comment. More fuel on the fire. Liz says that Jason admitted he told the whole house. Austin asks they're all up there right now? Liz says yes. Austin says tell Clay and Shelli to go up there right now. Liz goes to tell Shelli & Clay. Liz tells them about how James and Jason are acting. Liz says I want Jason gone. Austin joins them. Austin says If Vanessa doesn't put me up I am going to go to Jackie and say I'm coming after you next week because you betrayed me. I'm going to go in the line of fire for her. If I declare open war on them, then I'm the target. I'll do that for Vanessa if she saves me. Because these people all want to be backdoor, everyone's happy. If I declare open war its simple its the four of them (Meg, Jason, James, Jackie). Liz says we have the number and Steve is with us. Austin tells them about the incest comment. Shelli asks who was saying that? Austin says James. Shelli says James is stepping close to the edge. Austin says that Vanessa is ready to go. She's ready to fight. Shelli says the house is dividing. Austin says let me know when you're ready to declare war and I'll do it. Clay says after the veto ceremony. Austin leaves.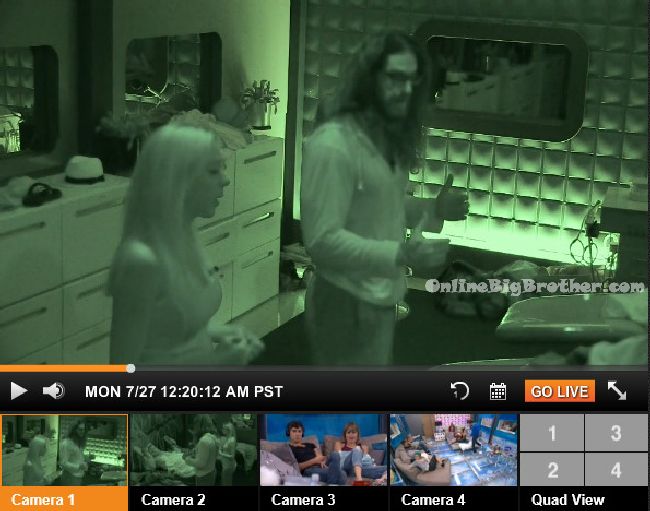 12:35am Big Brother opens up the backyard.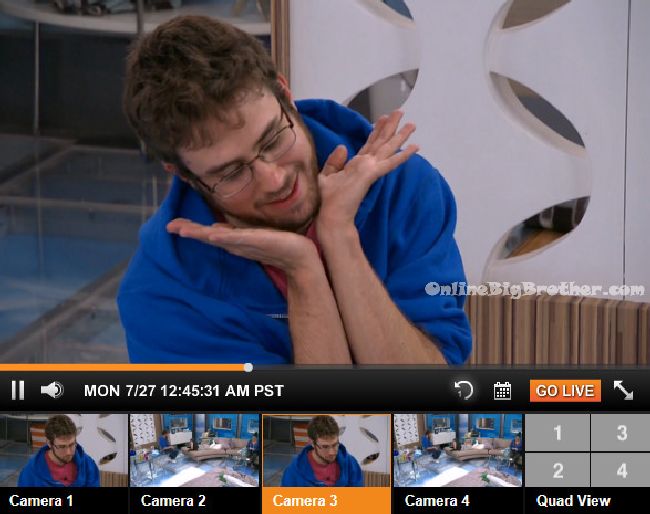 Steve talks to Vanessa up in the HOH room. Steve says that Becky didn't drink as much as at the outback. They didn't get as much alcohol as we thought they would get. Vanessa says she believes Becky doesn't know anything. She's kind of on the outside of that. I think she's a peripheral group member and not a core group member. I need to talk to Jason. Steve asks you want talk to him about the Day thing? Vanessa says yes. Steve tells Vanessa about how they were down stairs talking about the twin thing and James asked Austin so are you going to sleep with both of them now? Are they into the incestual thing? Vanessa asks who said that? Steve says James. The word incestual came out of James's mouth. Steve asks what do you need from me? Vanessa says I feel like it will blow up my game if I don't backdoor Austin. It sucks, I feel like everyone will come after me if I don't do it. Shellie and Clay don't want me to do it. Steve asks what is best for you game right now? Vanessa says to not do it. Vanessa says we can't assume Austin will go if he goes up. Steve says there are 5 of them (Jackie, Becky, James, Jason and Meg). Vanessa says and 6 Me, You, Shelli, Clay, Liz, Julia. With Johnny Mac on the outside. Steve asks do you think its possible to pull in Johnny Mac with Becky here? Vanessa says no. Clay joins them. Vanessa says she needs to talk to Jason. Clay says they're 100% certain Austin is going up. Vanessa says I got nothing from Becky. If anything she doesn't know anything about anything. If we do this I think we could get Becky on board with us. Vanessa says we might have to put up Ausitn. Right now, I don't have what I need. I'm hoping to get it but at the end of the day it was his thing to get and I don't have what I need. No one else did anything to help me. I'm not going to take the fall for everyone. I can't, I just can't! They're all going to f**king hate me. I am literally making an a$$hat target out of myself. Clay says if we can get Johnny Mac and Becky on our side. Vanessa says I will do it if we can get them on our side. Vanessa says Becky really trusts you and Shelli. You could probably get her to do whatever. Shelli joins them.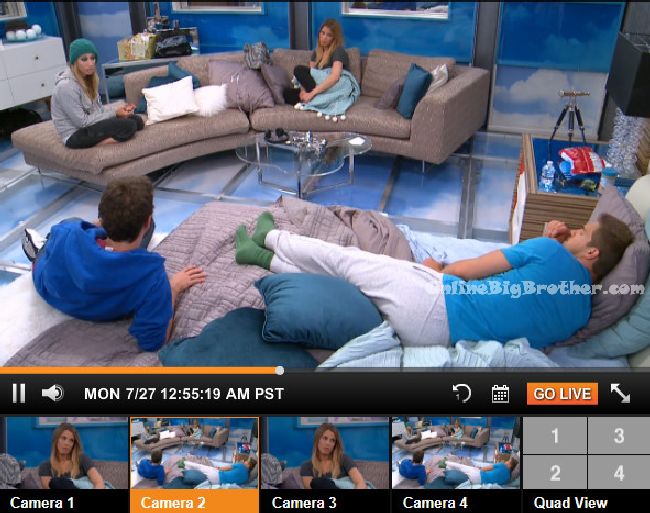 12:50am HOH room
Vanessa talks to Shelli, Clay and Steve. Vanessa says I can't do anything at this point. If I do its going to blow up my game. I would literally be taking a bath in blood. Clay says I think Becky is with them by association. I don't think she's loyal with them. Steve asks you need them to be on board with voting out Jason? Vanessa says yes. Clay says so its between Jason or Austin? Vanessa says or Meg. Vanessa says that Becky 100% trusts you guys. Shelli says we can bring her over then. Clay says I don't see Meg winning anything. We have better players than them. Vanessa says I think Jason is the head. Clay says I don't know if Becky would tell Jackie. Steve says I'm almost positive she would. Clay says Becky can give her word to keep her mouth shut. Liz joins them and complains about wanting Jason gone. James tried to make me look like an idiot. Steve and Liz leave. Clay says that Shelli and him will talk to Becky to feel her out on certain situations to see where she's at. Vanessa says we could offer he a final 4 deal. Vanessa says so you're okay with drawing a line in the sand? Clay says yes. Shelli says I wish we could put up James. Vanessa says Jason is their only strategical thinker. Clay says that Austin said he will make himself a target over you. They talk about Austin blowing up on James for what he said about the twins. Shelli says I think its too dangerous having another blow up the night before the veto ceremony. Shelli says next week we need to draw the line any ways. Its going to be blood, blood, blood. Shelli suggests they pull up Jackie and Becky and tell them at the same time.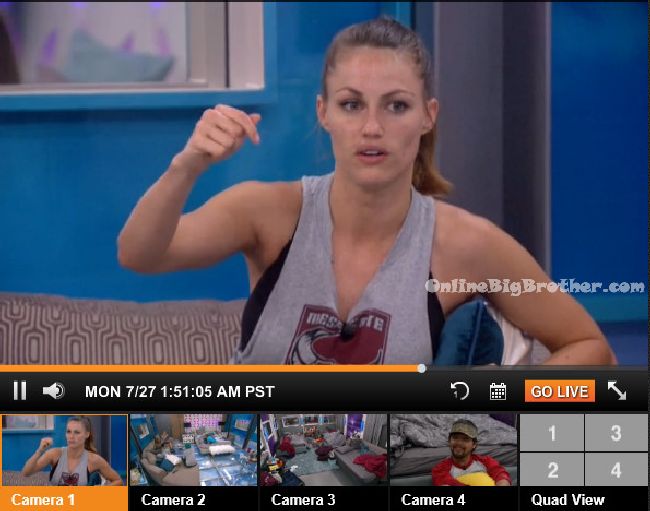 2am HOH room. Becky joins them. Shelli fills Becky in on what is going on. Shelli says that Austin has the twins and they're coming in this week. He has offered 3 chances to win HOH, 3 votes. Vanessa says and anyone who is on board with keeping Austin will have them on their side as well. Becky thinks Austin and the twins would also be able to more easily be able to take a shot at you guys. Vanessa says Austin and the twins are mad at that side of the house for calling out the twins. Becky tells them how in the BOB James told Liz in the last 60 seconds that she was missing the "i" in Christine. Vanessa says that's a good point how do we not know they James wanted to win to target Clay. Clay says or you (Becky). Vanessa tells Becky that Jackie is closer to them than she is with you. Jason, Meg and Jackie are extremely close. James was the only one Jackie was okay with going on the block. Clay tells Becky that he is extremely close with Johnny Mac and they've been in talks with wanting to work with you (Becky). But we didn't know how close you were with the other side of the house. Vanessa says that Austin knows he is going home. If we save him .. if you ever win HOH he is willing to by your pawn. And he is willing to tell the house don't vote for me if I'm in final 2. I'm okay with second place. Clay says he thinks he already won with Liz. If he wins HOH he is willing to do whatever we want. Becky says I see the light. Vanessa asks who would you want to pull in as numbers? Johnny mac or Jackie? Becky says Johnny Mac for sure! Vanessa says the options are .. James is safe this week. Becky says so Steve? Vanessa says Steve is a number for us? Vanessa says so its Jason or Meg. Jason is the head. Clay says are you okay with Jason going home this week. They count out the votes to vote out Jason and say 8 votes. Becky says god you're making me sh*t myself right now. Vanessa asks do you trust Jason? Becky shakes her head. Vanessa says I'm glad you said it, I don't either. Clay tells Becky you can't tell Jackie this. Becky says oh f**K no I'm on the block. Shelli says so tomorrow is the veto ceremony. Everyone is going to expect her to put up Austin. Only those 4 aren't going to know. Clay says this is when the lines are going to be drawn. You're in the best position because you're in the middle and if you go with us we have the numbers. Becky says I'll do whatever you want. Going forward .. I hang out with them but just so you know this is where I'm at. My vote is with you. Please don't second guess me and if you do please talk to me. I won't change my social habits if that's okay. Game-wise I will fish. Becky says that Jason will be a good person to take out first. He is a game talker and plays offensively. Vanessa asks do you think I should tell Jackie? Becky says no, she will tell Jason. Clay asks if Jackie wins HOH could you influence her not to go after Vanessa? Becky says yes. Becky says if Jason knows he will have 8 hours and counting to change your mind. Let the game begin. Prepare to have a long night of not sleeping. He is going to fight tooth and nail and even if its not him they're going to know something is up and smell blood in the water. They're going to fight. Clay says you pull Jackie aside after and tells her this is why you did what you did. You honoured your agreement to her.
Try out the Live Feeds FREE for 7 DAYS! Click here for your: FREE Trial
2:25am – 2:40am HOH room – Austin and Liz come up and they talk about taking out Jason. Vanessa says just so you know we're drawing the line in the sand. When Jason goes out the vote is going to be very clear. Everyone is going to know how everyone voted. The only person they're not going to know is on our side is Becky. She's our.. essentially sleeper. She's the one that's going to be on the other side socially. When in reality she is 100% game-wise on this side. Liz asks and you're not going to tell Jackie? Becky says no because she's been in an alliance that I haven't been with since the beginning. Becky says we've been friends socially and I know she wouldn't put me up. And I'm sorry but in upcoming weeks I would not put her up. I am not taking her out. If the group needs to get her out that blood won't be on my hands. Austin says that's respectable. Becky leaves to make it not seem noticeable. She says that she is going to cry / campaign because she still needs votes. Vanessa tells Shelli, Austin and Liz ..motherf**Kers better keep me in the house next week when one of them wins HOH and puts me on the block. Austin says if one of them tries to put you up I'm going to their face and telling them I'm coming after you… you need to put me on the block! I'll do that before the HOH. Shelli says people can put you on the block all day long …none of us is ever voting you out. You have nothing to worry about. Austin leaves. Shelli, Becky and Liz talk about how they believe Becky.
Backyard – Jackie asks Jason and Clay what if the twins win the double eviction? Jason says then everyone is going to have to campaign their a$$es off to get JohnnyMac …unfortunately but ..out. Jackie asks should we plant that seed now? Jason says I'm not smart enough to plant seeds. I don't know what I would do to tell them.
2:50am Bathroom. Shelli is getting ready for bed. Clay is talking to her from the bench. He starts to talk about how Jason and Jackie are outside right now. Shelli asks him to come over beside her to talk. I don't like it when I'm trying to do this and people are talking to me while I'm trying to get ready for bed. Clay says doing what? Don't give me attitude. Shelli asks are you f**king serious right now!? Clay asks why are you getting so upset!? Shelli asks why are you looking at me like that? You're giving me the meanest look right now! All I asked is for you to come over here. Clay says I'm not arguing with you. Why are you being like this. Shelli yells I look like f**king sh*t right now! Can you come over here right now and not make me stand right in front of a f**king camera! How else do I have to say it!?!! Shelli grabs her stuff and storms out of the room. Clay lays back on the bench.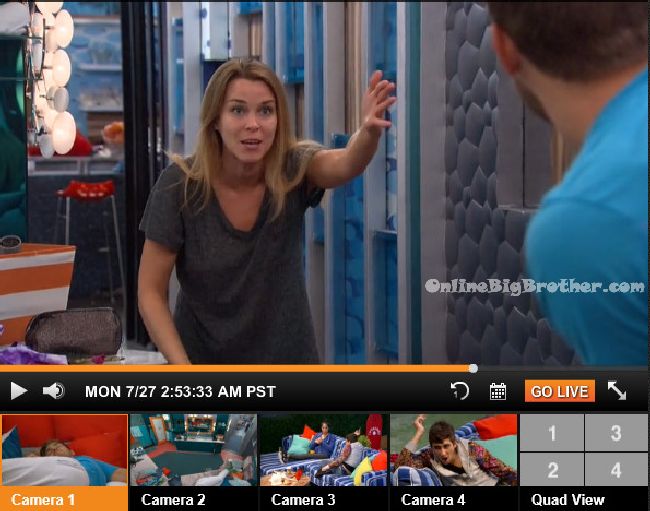 3am Havenot room – Shelli tells Liz about her blow up with Clay in the bathroom. I just wanted him to drop it. He is acting like .. you know when girls get on something and don't drop it. That's what he was acting like. I was trying to avoid. All I didn't want is for it to be on the feeds and now all this is on the feeds. Liz says I know what you're talking about because Austin follows me around like a puppy dog. Clay doesn't understand girl problems. Liz says you're not a crazy person. He's a stupid boy. Liz heads back to the bathroom.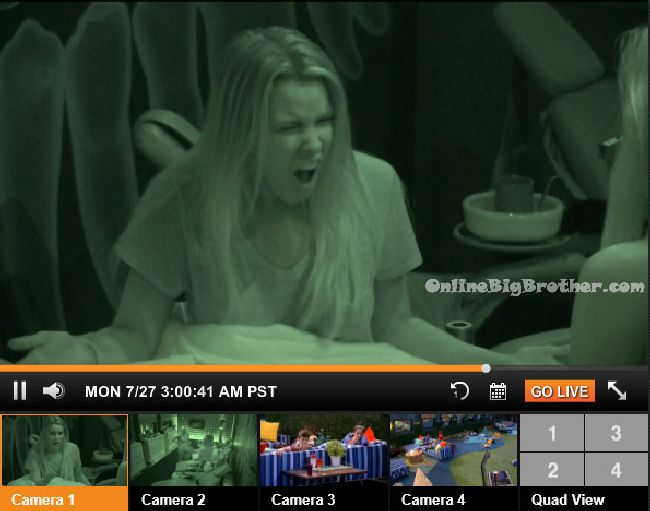 3:25am HOH bedroom – Liz tells Vanessa that Austin owes you. He needs to put himself in the line of fire after almost going up on the block. Vanessa says its amazing he will do that. Vanessa asks is he as happy as f**k? Liz says he's acting like himself again. He's so happy. Vanessa asks are you happy. Liz says I"m so happy. Vanessa says I'm happy too. Liz says I need to tell him that the cuddling and kissing needs to stop. I'm just so scared what if he turns on me. Vanessa says you have to do what is right. Liz says its hard when it has nothing to do with game. Well it does because I don't want to create an enemy. I didn't come into this game to fall in love and I'm not in love with him. I'm here to play this game. If he is going to be following me around like a puppy dog and screwing up my game I don't want this. Vanessa says wait until after this week and then sit him down. Liz says I just want him to know .. I don't know I'm just glad Julia is switching back in. When she is in the game it will be easier for me to distance myself from him. Vanessa says I feel like I am about to drop a bomb in this house. Liz says I know .. he is like what he says .. the gay glue. I feel bad but I don't that other side of the house is so weak .. like they don't even have a chance. Vanessa asks you're going to kill for this HOH right? Liz says I'm going to kill for it. So is Austin. It's going to be a bloodbath. Liz says I am so indebted to you .. more than Austin. Vanessa says if I get far with you or your sister I will take you all the way.
3:30am – 3:40am Havenot room – Steve asks Shelli and Clay if Vanessa knows what she is going to do? They tell him Jason. Shelli says I feel bad about Jason.. its okay though its just a game. Steve says he's felt bad about voting out Jeff and Audrey. Clay asks Steve if he's been throwing the HOH's. Steve says no. He says he knows he has to win next.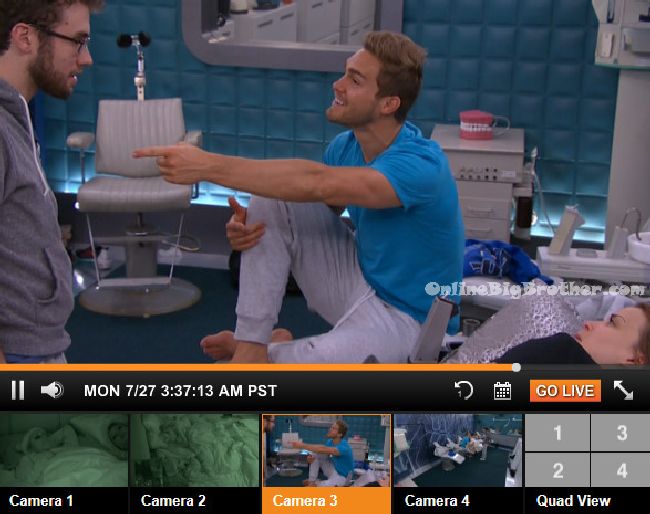 Share it YO!!
Tweet