POV Holder:
Clay
Next POV
July 25th
POV Used
?
POV Ceremony
July 27th
HOH Winner Team 1:
Jackie
HOH Winner Team 2:
Vanessa
Nominations 1 :
James & Liz
Nominations 2:
Clay & Becky
Battle of the Block Winner
James and Liz
Next HOH/ Next BOB
July 30th / July 24th
Original Nominations:
Clay and Becky
Current Nominations:
?
Have Nots
Shelli, Clay and Steve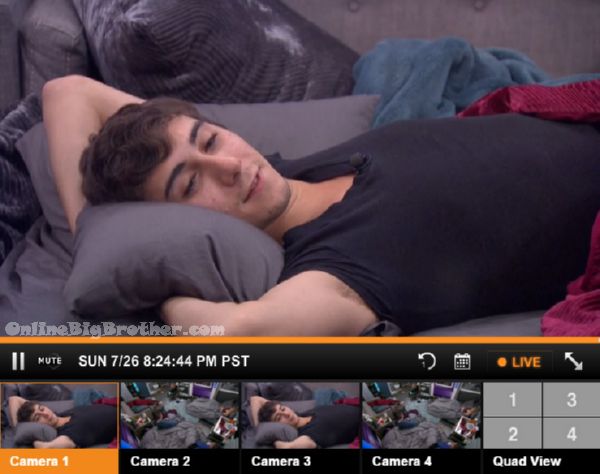 8:07pm OUtback party is happening. Jason think it'll go on until 10 and the backyard won't be open until 4:30am. He's pissed wants a smoke.
8:16pm Bedroom Jason and Meg
Talking about Austin being foul looking. Jason says Austin is disgusting to look at makes him "shriveled". Asks Meg if her 'V@g!na dries up when she sees him"
Meg is grossed out by him. They try to figure out what LIz is doing with Austin.
jason – She likes Gorillas he's a orangatang
Meg – do you think if they were in Jury house they would make out
Jason – Everyone it going to make out we're going to make out
Jason says Austin is going to try super hard to sleep with LIz and "That girls going to realize crabs aren't worth it"
Jason about Austin – "I've never seen someone so disgusting in my life"
JohnnyMac and Shelli join them. They start wondering if Liz and Austin will date outside.
Shelli – what do you think of their match pottanital
Jason – he's a 1.. she likes gorilla juice heads.
Meg – He's very different than her type.. Her type is nerdy than you think.
Shelli questions if Austin's feelings will be real outside of the house. Everything is amplified in here she might not be his type coming out.
Shelli says Austin does say he's falling in love with her.
Meg – that's nuts
Jason says the whole twins AUstin love thing's productions web dream
Shelli says Julia is more fun because Liz spends all her time with Austin.
Jason says Julia has ghetto inflection.
Shelli – why is it so boring now
Trying to figure out why there hasn't been a bbtakeover
Shelli – she literally said there will be a take over every week
Jason – Julia ios the twist this week
[envira-gallery id="124270″]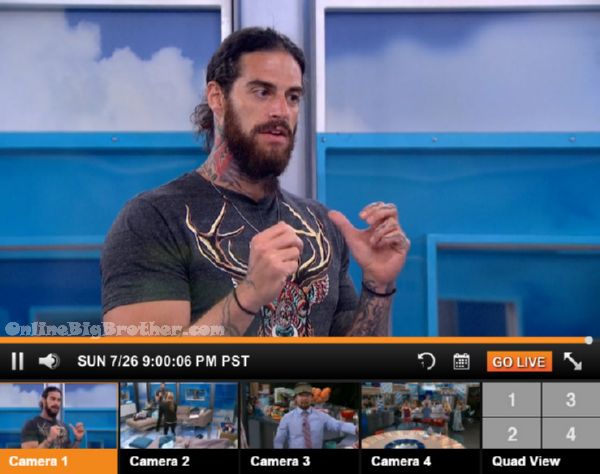 8:57pm Austin and Vanessa
Austin tells her about Jackie saying she's up in the HOH again with austin, Shelli and Clay. Jackie was coming up to break up the conversation.
Vanessa says she has a plan it's very complicated and involves conversation she needs to have.
Austin say if JAckie goes up he'll call out jason and tell him he's his target. If Jason goes up he'll call pout jackie.
Vanessa is going to lie to them and tell them she knows they're withholding something from her. She's going to talk to them indicuallitaly and trap them in a lie. She'll pin it on Jason
AUstin – I'm here now, I'm ready.. it was fate Liz had to win the BOB clay had to win the POV.
Vanessa laughs says she's been waiting for him to come back into the game.
Austin – I'm so sick of this harmony bullshit.. barney and friends.. i love you.. you love me
Vanessa – but we are friends..
Vanessa says JAson is the head of the other side they take him out it falls apart.
Vanessa – it's going to be a blood bath
Austin – i'm loving it I'll come hard i've been waiting for this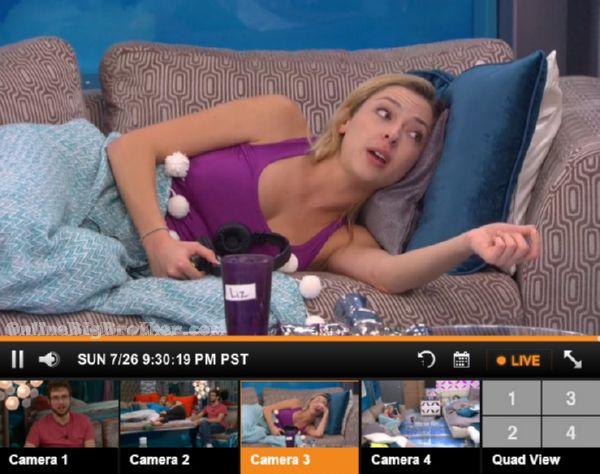 9:13pm HOH Liz, Jackie and Vanessa Chit chat about the Outback dinner
Liz saying they so many people didn't get sleep last night. "Becky told me they were up when the sun came up. Vanessa is drinking down a Red bull.
Jackie leaves
9:30pm HOH Liz and Vanessa
Liz and Vanessa agree Austin need to make sure the other side of the house know he's targeting them so he's the target next week.
Liz says Austin needed to be "Bit" he needs to really up his game and start focusing.
Liz – you have to be Dan goosling and whoever the f** that nerd was
Vanessa laughs – Whoever the f*** that nerd was.. Ian
Liz says she really doesn't want Steve to go
Vanessa – he listens to you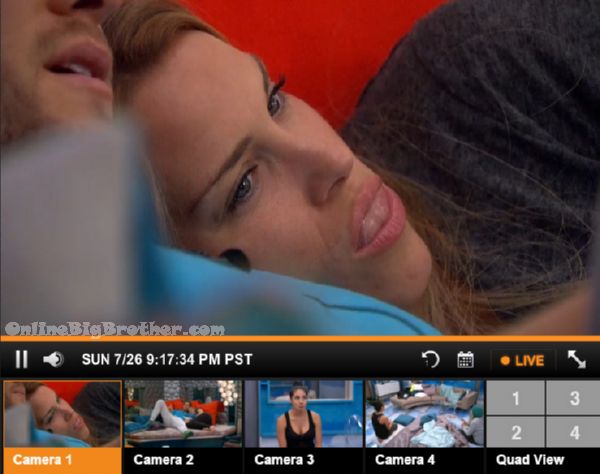 9:16pm Shelli and Clay
Shelli – way too much popcorn and the slop hit my stomach
9:41pm Bathroom Steve, Shelli and Clay
talking about the three showmances that are still a thing outside the house, Jeff/Jordan, Brendon/rachel and Danielle/Dominic. Shelli points out they were all on Big Brother 13.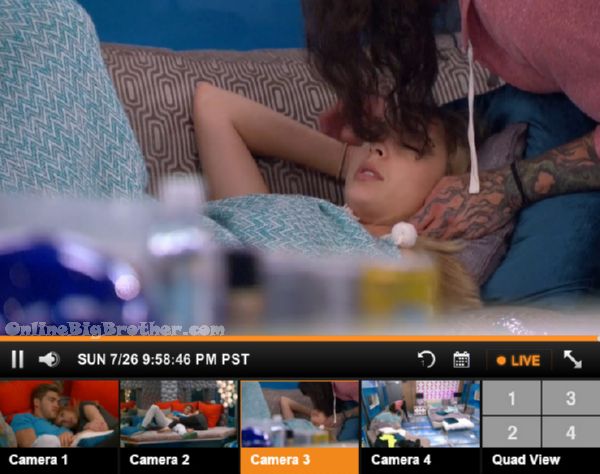 9:52pm HOH Austin and Liz
Jackie is up here every 2 minutes, 'Hows austin handling this hows austin's handling this"
Liz – B!tched shut up
She didn't like seeing Austin give up yesterday. Austin says he had to think about things and reevaluate.
Liz – About what .. we got blindsided.
Austin – I am going crazy tomorrow, "I'm straight saying.. I'm coming after you.. no more of this sing along crap..
Liz says Jason is her target.
Liz – he's the gay glue.. he's gotta go
Austin – hopefully that's who she's putting up .. he's going to catch him in a lie about the phone booth and vote.
Austin is looking forward to Smiling at Jason when he comes to him looking for a vote.
Liz – you tried to twist all my words you're done b1tch
Austin mentions how he feel mad and stupid for being emotionally played by Jason.
(So Jason is most likely going up. During the meeting Austin is going to make it public knowledge he's going after Jackie.
10:12pm Jason, JAckie and Meg
Scheming about the memory HOH competitions being easy for Vanessa to win because she has such a strong memory.
Vanessa comes down asks them if they are going to bed, Didn't they just wake up. Jason explains James has been turning the lights off. Chit chat. Jason says he hasn't gone into the Diary room for awhile. says last time we was there they were trying to get him to say negative things about "You all" about the "BOB" they asked for a "Pun"
Jason – I was like Do you I use puns at all? I just talk shit about wait for people to laugh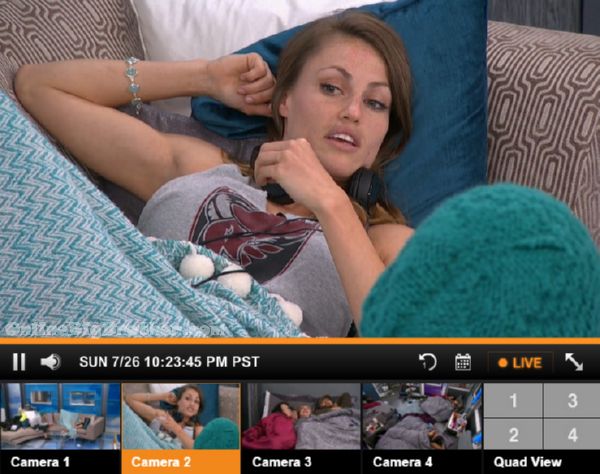 10:22pm Becky and Vanessa
Becky says Jeff really liked one of the twins her guess is she was one of that voted to keep Jeff.
Vanessa – do yo uknow who had the phone booth
Becky _ I think it was Day.. she never came to me once.. she never talked to me
Vanessa says it's obvious to her that it was Da because she would have cancelled Clay's votre.
Vanessa asks about their 8 person alliance is there anyone Becky doesn't feel good about. Becky asyas JAmes she talks to the elast.
Vanessa explains that Austin lied to her because he's a doofus who's falling in love.
Vanessa tells her she is not going home she learnt some new information this morning.
Becky says short term their group has numbers She trusts their group for the short term.
Meg comes up. Becky tells VAnessa don't tell you amry information only your general should know.
Becky says her five people are Vanessa, Shelli, Clay, Jackie and John.
10:57pm James has joined them.. chit chat.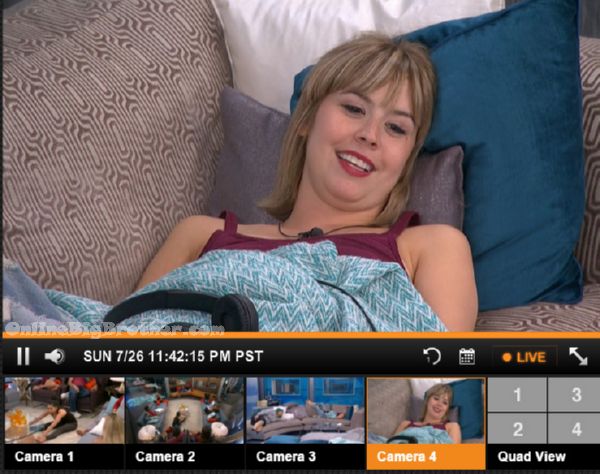 11:16pm HOH James, Clay, Vanessa and Becky
James wants to have a "Darkmooon" alliance meeting suggests they all get into the HOH bathroom to do it.
Vanessa is down
Clay says it's too suspicious of them to met all 8 of them in the same room.
11:28pm HOH James, Meg and Vanessa
Telling James the twin is coming into the game.
James didn't know it was confirmed.
Meg says if she didn't know about the twins she would not be able to tell anything was different between them.
James says Da called the one thickums.
Vanessa – dont' tell her that that's not nice.
James asks how the twins thing came out
Vanessa – Austin told jason, Jason told Meg.
11:42pm Meg and Vanessa HOH
Meg saying there's horrible nasty james and there's down to earth James.
Meg says she would never cross paths with Clay and James that is what's so weird about her time in on the show.
11:54pm Vanessa telling Meg how pissed off she got at production the other day when she was trying apply cover up on her zits and they kept filming her. She says sometimes she "Plays Games" with the camera operators. She can hear them when they are behind a mirror so she changes mirrors making them follow her.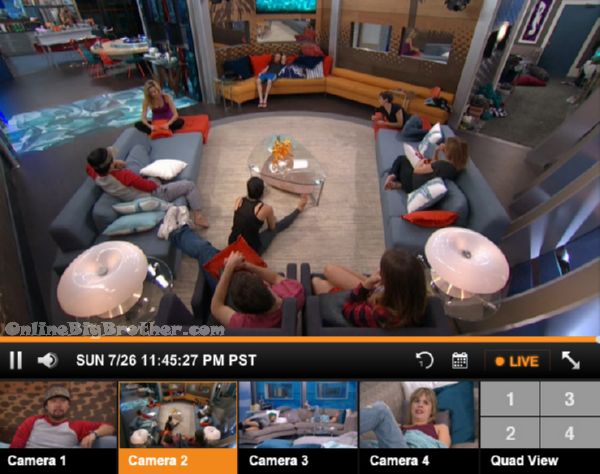 11:47pm chatting about Liz and Julia
They're not sure what the memory wall will be like.
[polldaddy poll=8994045]
Share it YO!!
Tweet