POV Holder:
Liz
POV Competition
Aug 15th
POV Used
No
POV Ceremony
Aug 10th
HOH
Liz
Next HOH
Aug 20th
Original Nominations:
Johnny Mac and Becky
After POV Nominations:
Johnny Mac and Becky
Have Nots
Vanessa, Johnny Mac, Steve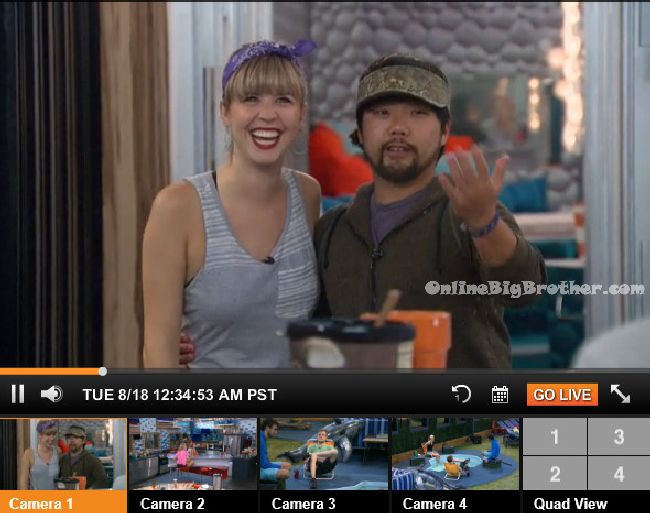 12:25am – 1am Backyard – Steve and Julia are playing a game of pool. Becky, Meg and Johnny Mac are sitting by the hot tub chatting. Steve join them. They talk about past seasons of Big Brother. Becky says that she didn't want to sit out of the first HOH because she remembered Memphis Garrett won a classic car. Austin heads inside to start doing all the dishes from their cooking competitions. Becky and Liz help to do the dishes as well. Meg and James talk about how this morning James announced their engagement. James says we haven't even kissed! Meg asks how come we're the showmance of the year and everyone else is getting all the action?! James and Julia head outside to play a game of pool.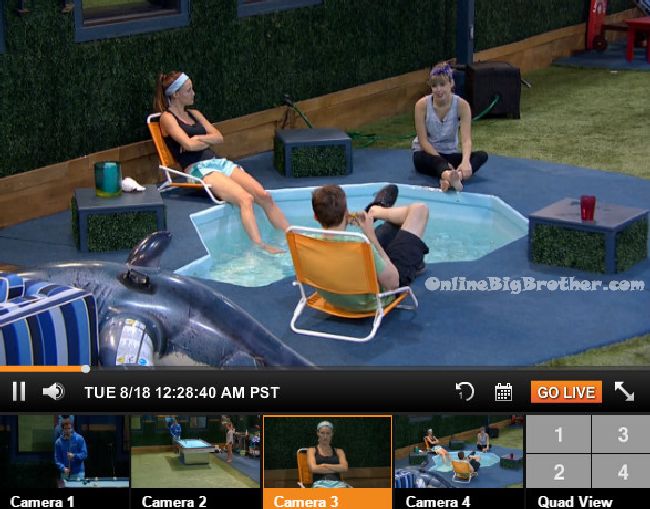 1:15pm
Austin and Liz are staring at the memory wall photos looking at all the details of the house guests faces. They're studying the differences in preperation for the face morph competition.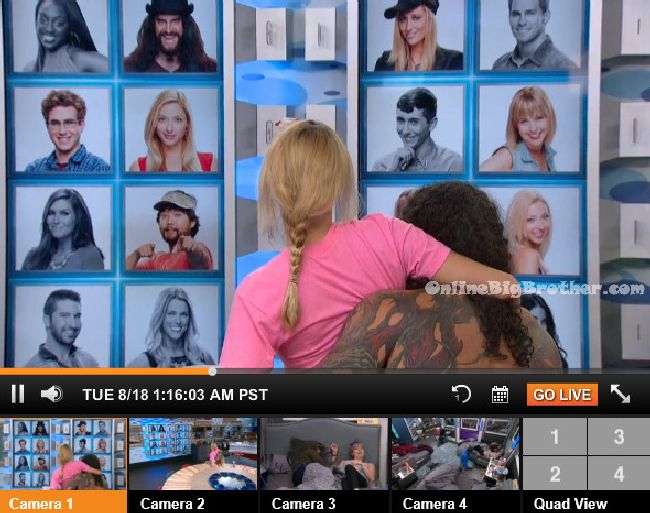 1:10am Bedroom –
James says I kind of just want to tell her. (Tell Becky she is the one being evited) Meg says no! James says no you're right, she didn't tell me. She tried to mess up my whole operation that week. Meg says she would freak out! James says so she thinks she's staying huh?! Meg says yeah. James so oh boy! Steve joins them. Steve tells Meg James just wants a little kiss. Meg says James is my friend for life. Steve says what you did wrong .. was you just put James in the friend zone. James says she's not pushing me into the friend zone. Steve tells Meg I know why your dad doesn't like your "always yes" tattoo… because of the connotation. James says she's been saying no a lot lately.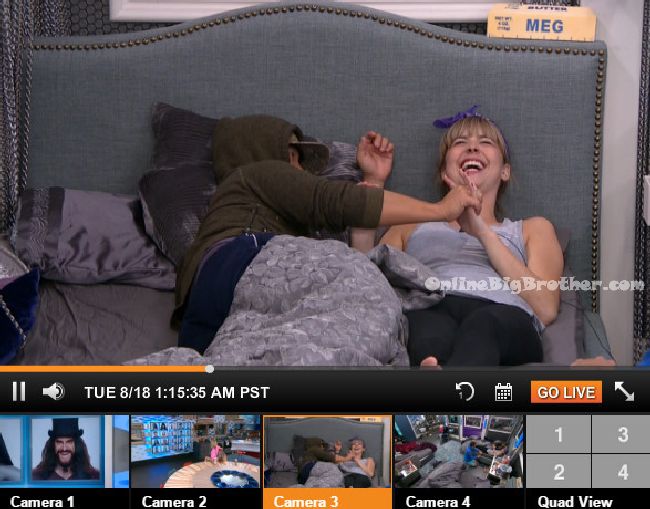 1:30am HOH room – Austin says so today everyone has asked me if I want them to throw the HOH to me. James and Meg, Johnny Mac, Vanessa. I could literally win HOH next week if I wanted to set it up. Liz says wow! And why?! Austin says because they're all on our side. Liz says I can't believe! James too?! Austin says yeah. But you still have to worry about Steve coming after you. I was like lets see if we can get everyone on the same page about going after you know who and then we'll talk. Liz says the fairies keep asking me… Big Brother blocks the feeds. Austin says what they want is suspense for the veto because otherwise there is no suspense. It was very cut and dry. Julia joins them. Julia says Becky is so annoying. She was just controlling the conversation by the hot tub. She was complementing Austin's tattoos. Liz says like back off he's mine!! Julia says you should go fight her. Liz says I'm going to go fight her. Actually I did already fight her, I beat her in the veto!
1:30am Backyard Hammock –
Johnny Mac and Steve are talking. Steve says yup, this game is hard. Johnny says I was out here thinking about what we were talking about earlier. Steve says I had a feeling you were so that's why I joined you. Johnny says that might be our best move man. We need to go to them separately. Steve says okay. I might talk to them tonight because I'm comfortable with it. My problem is what do we do about Vanessa.. because I don't know about the Austin/Vanessa relationship? Johnny says its not as strong as I thought. Steve asks would you prefer 5 without or six with? Johnny says 5 without (Vanessa). Steve asks because you don't trust her? Johnny says yeah, because if I won (HOH) I would put up the goblins (James & Meg) and backdoor Vanessa. Johnny says and then a goblin supporter would probably come back but you still have 4 people versus the .. Steve says 5. Becky knows she is going. Would it be tacky or respectful for me to tell Becky I can't vote for her? Johnny says she's not even going to campaign. Neither her nor I are going to. She doesn't expect to stay. Steve says I would like to give Becky the respect of telling her. If you won HOH you want to target Vanessa? Johnny says yes. If we do 5 with these 3, its not that bad going into the HOH's. Johnny says there's always a chance a goblin comes back or James wins an HOH and has to take one of them out. Steve says I'm questioning do we have the 5 or 6. Johnny says we can't trust Vanessa. Steve says she is going after the people that figured her out. Steve heads inside to talk to Austin.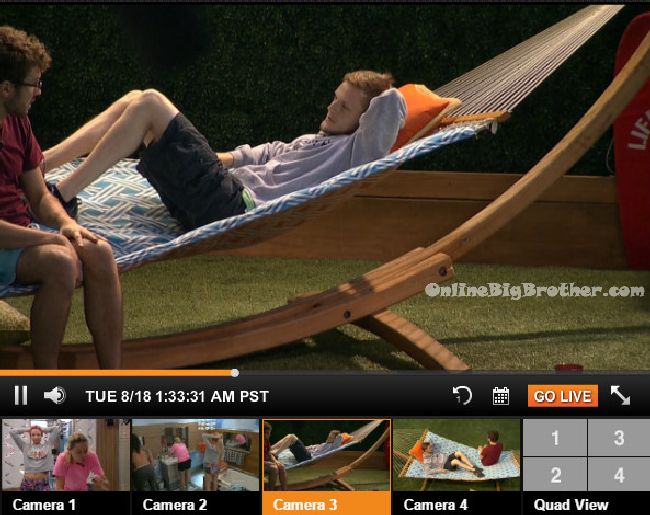 1:40am HOH room –
Steve comes up to talk to Austin but he's in the diary room so Steve talks to Liz and Julia. Steve asks them if they're on board with the conversation they had a few nights ago about bringing Johnny Mac in to a 5 person alliance. Julia and Liz say yes. Steve says lets do this tonight? Steve goes to get Johnny Mac. Julia tells Johnny Mac I'm a triplet, there's one more of us coming in next week. She tells him I am going to keep you. We definitely want to keep you. We heard about the Vanessa craziness and she will definitely be a target next week. Liz says for a lot of people. Julia says because she just did stuff to us that is unforgivable. Like for example when Liz on the block she wanted James to throw the BOB but by the grace of motherf**king god Liz won the battle of the block. I was really close with her and it was like knife in my back that she knew the whole time that Liz could have gone home. She knew and didn't tell us and to this day she still hasn't. I would never do someone dirty like that. Liz says not only that other people have told us a lot of other information about her that has been confirmed. Johnny says we have targets on our backs because we've won sh*t. Liz says it would be hard for us to put Vanessa on the block because we're close with her. Johnny says yeah we just need to pacify her. Julia says Austin talked to her (Vanessa) and she is thinking about throwing the next HOH so if you win it .. like if its down to all of us and you .. we are all throwing it to you. Johnny says yeah I want to do it! I've wanted to do this for weeks!!! Steve asks is this the right move right before someone comes back? Johnny says she won't come back against the other 3. Julia comments that Vanessa was trying to make a final 2 deal with Austin. Johnny says that's what I was paranoid about them having a final 2. They talk about the
conversation/fight Johnny Mac and Vanessa had in the cabana room
. Julia says we really like Becky and respect her, she is a really great competitor. We feel bad but she has to go.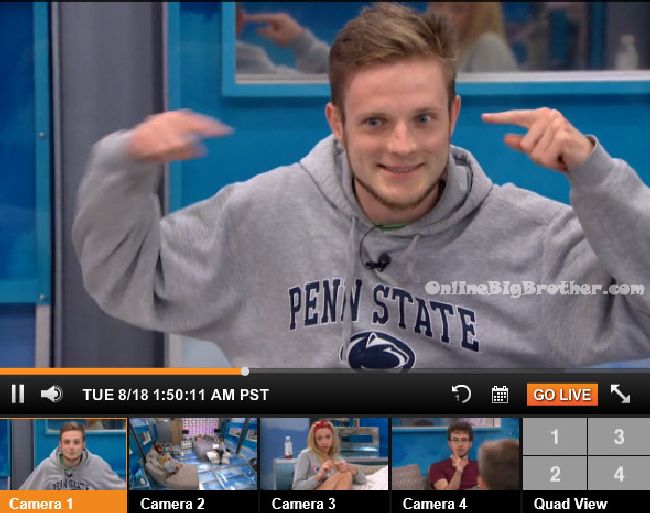 1:55am – 2:30am HOH room – Austin joins them. Liz says us for have an alliance and you're not in it. They tell Johnny Mac they're voting to keep him. Steve says 1, 2, 3, and the tie breaker. Austin says so next week whatever you want to do we're down. Steve says I think we just have to be careful because next week is the week someone has the potential to come back. Austin says he thinks next week will be a question HOH and the one after will be endurance. Johnny says I would want to play in the endurance one. Johnny says I think we should send out someone like James who could win in it (endurance). They speculate on whether or not the 4 coming back will compete in an endurance with everyone or their own separate comp. Steve says we need to win HOH next week. Julia says if Jackie comes back then she would join James and Meg. That's why its important to have the numbers. Austin says but you know who she would go after, the person that's blamed for getting her out (Vanessa). That's why maybe its not a good idea to take her (Vanessa) out because once that happens its open season. I still think she will throw HOH. Steve says right now only 4 things matter.. 1, 2, 3, 4, BOOM! (Steve points to Liz, Austin, Julia, himself and Johnny as the Boom!) Lets get HOH. Johnny tells them that Becky isn't going to campaign. Austin says I think she (Vanessa) is going to approach you (Johnny Mac) a deal so tell her whatever you want to. They agree to discuss who to get out next week when one of them actually is HOH. They start studying the dates / events. Steve heads downstairs. Austin comments on how Vanessa will never suspect or know we made a deal with Johnny Mac. She thinks we will not make an alliance with Johnny Mac. She thinks we'll just promise him our vote. Which is perfect because she will never know we just made this whole 5 thing here, so we basically just replaced her in Freaks and Geeks. Liz says I trust Johnny Mac way more than Becky. Austin says Johnny mac is happy to have a group. Austin says because of what just happened none of us can win HOH. We need Steve, Johnny, James or Meg to win HOH. I could win it but it would get messy. Or you (Julia) could win it and get out Vanessa because it would separate you from Liz and gain you respect from the jury. Liz says that's a good idea. Julia heads to bed.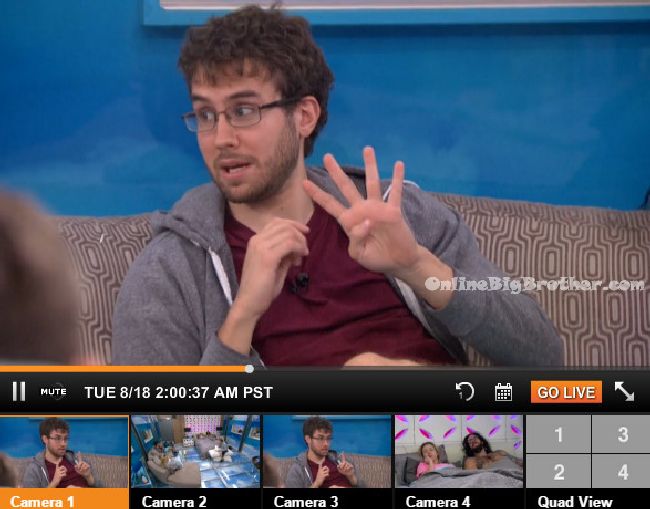 2:35am Austin and Liz turn off the lights and start making out.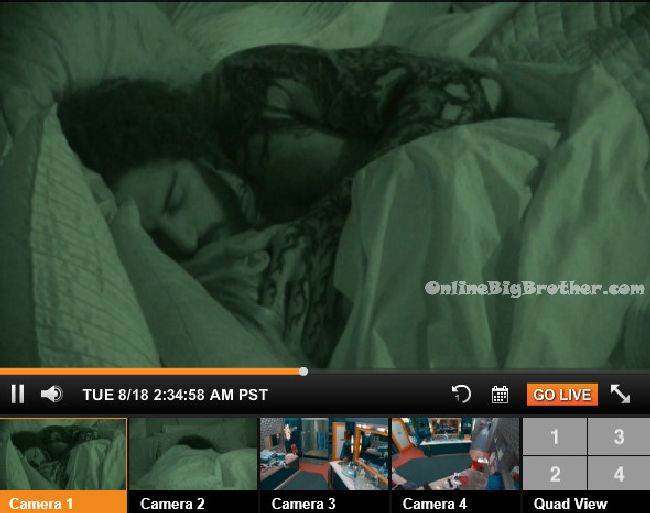 3am – 4:10am Steve is alone in the backyard. He gets into the hot tub and the pool.. Steve says Johnny is also just telling me what I want to hear right now because he's on the block. Oh that's another reason, because if James is here and Shelli comes back Shelli will come after James. But if James is gone and Shelli comes back she will gun after Vanessa and that's another reason to evict James. Here's the thing, I don't want Vanessa to go. Steve mumbles. That's what got Vanessa into this mess. Steve says if they distrusted me they could have just backdoored me this week. Does Austin have a side deal with James and Meg? Do I make a deal with them. They would know its fake. They would know its so fake! The function of that deal would only be to cover myself if they won HOH. They're talking to much about an alliance with John and they're expecting it. I think I'm safe next to any of them. I just have to make sure I don't defend Vanessa too much or I could be sitting in that chair. Steve heads inside and cooks a pork chop. Becky joins him. They talk about how next havenots would be Austin, Liz and Julia. Steve and Becky head to bed.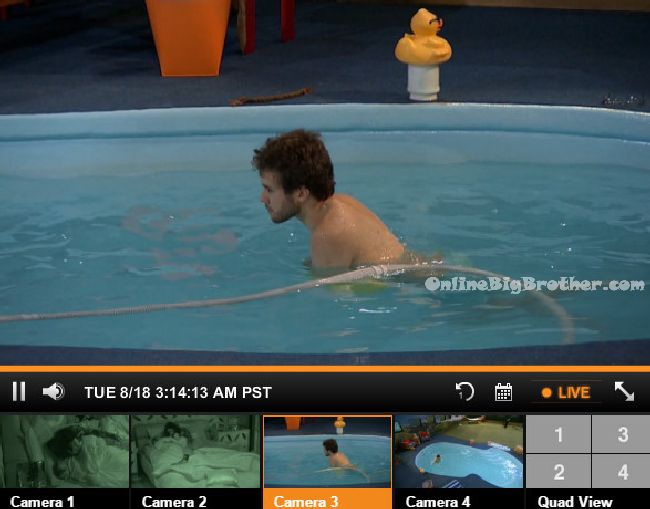 ALLIANCES:
"Goblins/Gremlins" = James and Meg
"The Generals" = anyone allied with Becky
"SOS" (Students of Sound) = Steve and Vanessa
Rockstars = Steve and Jmac
AUS-Twins = Austin, Julia and Liz
"Austin's Angels" = Austin, Liz, Julia, Vanessa
"Brass Tacks" = Gobins and Austwins
The new "Brass Tacks" = Aus-Twins, Meg, James + Vanessa
"Freaks and Geeks" "The Scamper Squad" = Aus-Twins, Vanessa, Steve
"The new Freeks and Geeks minus Vanessa" = Austin, Liz, Julia, Steve, Johnny Mac
[polldaddy poll=9025485]