POV Holder:
Liz
POV Competition
Aug 15th
POV Used
No
POV Ceremony
Aug 10th
HOH
Liz
Next HOH
Aug 20th
Original Nominations:
Johnny Mac and Becky
After POV Nominations:
Johnny Mac and Becky
Have Nots
Vanessa, Johnny Mac, Steve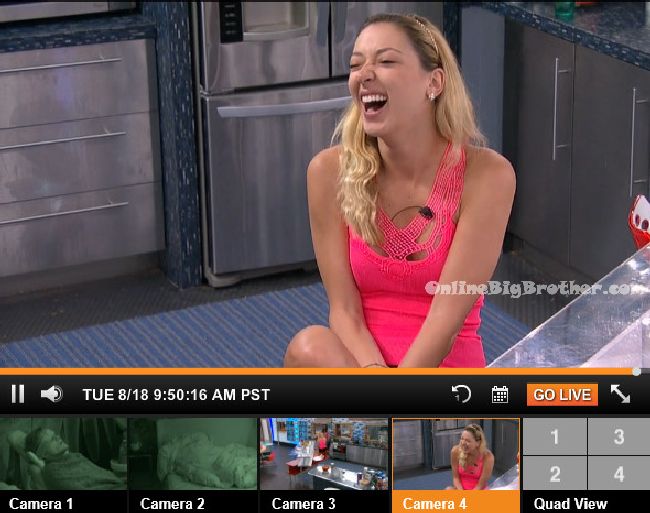 9:30am Austin and Liz wake up and start getting ready for the day. Austin and Liz talk about her doing her HOH blog. He tells her to give a recap of the week. Liz says I'll write be sure to tune in Wednesday for the Veto competition, its a V-classic. He tells her the live feeders are the ones reading it. They already know. I would get right down to brass tacks if I were you. I would first start off by telling them about Irish Spring because its the zest you can taste and smell. I would talk about me obviously. Talk about me and you and how we've enjoyed the HOH room and stuff. What we've enjoyed spending time together. Liz says Okay, I'm not going to bore people to death so keep going. People want to know about the the couples. Why do you think people read magazines.. couples this, couples that. Who's together? Are they going to stay together? Liz says so I could go into if Austin thinks this is going to go long term he will chop off his pony beard. Austin says okay you could go into that because that was a thing. At 9:55am Big Brother wakes up the house guests.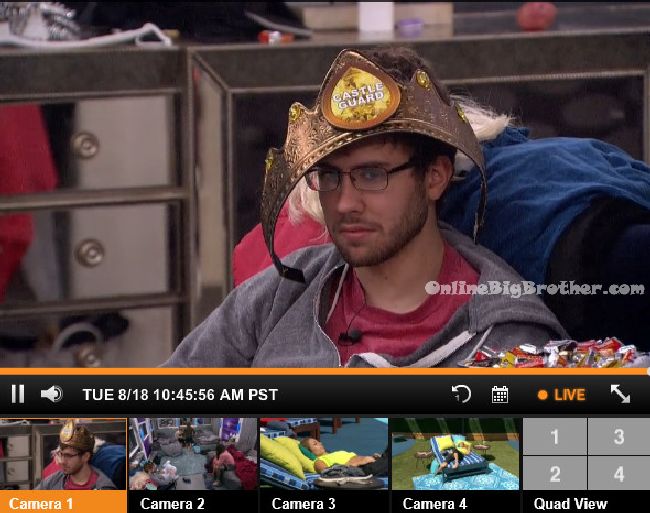 10:05am – 10:50am
James comments that they were all up so early. Meg says well they can't be plotting anything now.. other than going home. James says that Becky never mentions me. Its always Jackie and Meg. Meg says she always speaks for me. I only say I need to speak to James if its something I'm sure you would agree with. James says I'm kind of glad Becky is going out! Its too much. Austin and Liz join them. They talk about what she should say in her blog post. Austin says I can't believe in the history of big brother we are the only ones to get the photo booth shut down. Steve joins them. Meg says I feel so bad for who ever comes back in. Liz says if you want back into this house you have to get pelted with chocolate! Steve talks about how Gina Marie's blog (BB15) was illegible. (see the comments for Gina Marie's HOH blog) Just be careful because they don't edit, they put up what you write. Meg says I'm going to go jump in the shower. Steve says okay, go get clean for me. (LOL) Steve heads back to bed.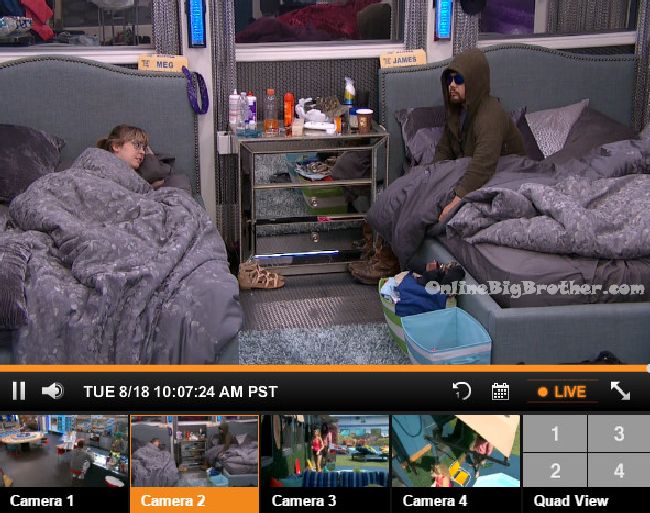 King Steve @bigbspoilers #bb17 pic.twitter.com/egLgJ2iIOe

— Dawg (@DawgsBigBrother) August 18, 2015
11:20am Meg looks at the camera and says everyone is going crazy in here but its another day to be silly and wacky. Hope the real world is good! Miss ya!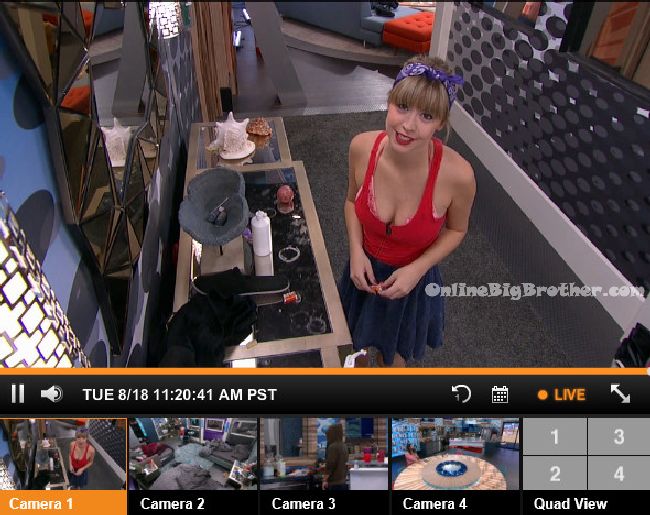 Vanessa asks Julia have you ever had a day that was so hard that you wondered if it was even worth doing it? Julia says yes, the day everyone found out about the twin twist. Vanessa says but you kept at it. Julia asks Vanessa if she has. Vanessa says day 8 when the feeds opened up and I had a bad day. Julia says and you were crying. I can imagine its much harder for you have a significant other.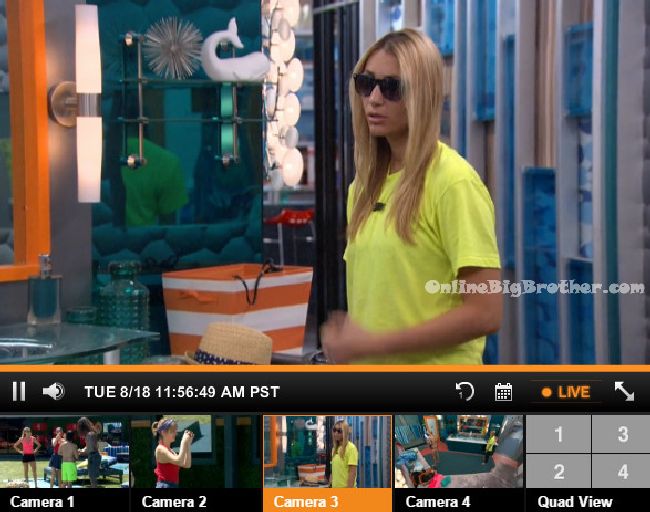 11:40pm – 12:10pmLiz comes out of the diary room with the HOH camera.
Austin "Watch where you put those hands boy!" Steve "I'll put my hands where I want! YOU SHUT UP" @bigbspoilers #bb17 pic.twitter.com/KB5T53sxgb

— Dawg (@DawgsBigBrother) August 18, 2015
12:45pm – 1:35pm "Beach day" in the big brother house. Some of the house guests are suntanning by the pool. Austin and Johnny Mac are working out. Julia says she really wants a shaved cat but they're like 2G's. James asks why not just get one from the SPCA and shave it?! They conversation turns to the cooking competition they did last night.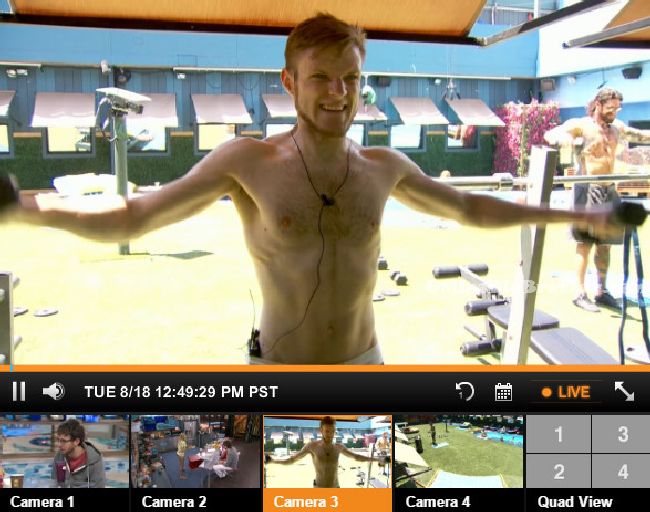 Finish him! @bigbspoilers @bb17 pic.twitter.com/BPXTgqr5Yb

— Dawg (@DawgsBigBrother) August 18, 2015
Big Brother "James STOP THAT!" @bigbspoilers #bb17 pic.twitter.com/6XYj75HcLP

— Dawg (@DawgsBigBrother) August 18, 2015
2pm James talks about how he takes his cat "Gizmo" out on the boat and he loves it! The girls love it too. When I pull up to the dock the girls are always like oh my god is that a cat!? Everybody loves Gizmo.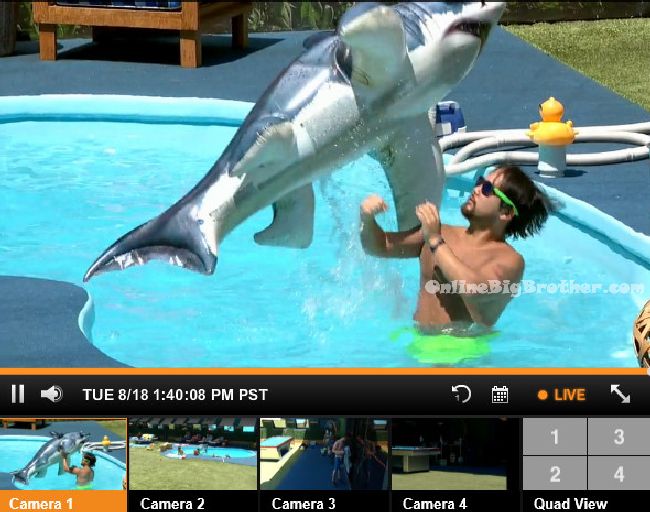 2:05pm Kitchen – Vanessa tells Austin that because she couldn't send her girlfriend Mel flowers she figures they could do a flash mob for her. We could spell out I love Mel with our bodies.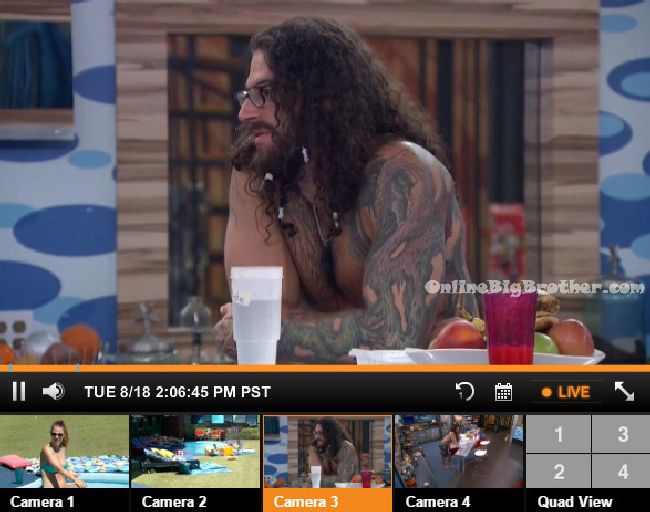 JUJU Dance @bigbspoilers #bb17 pic.twitter.com/6kVjSWvG2a

— Dawg (@DawgsBigBrother) August 18, 2015
Honeycutt would approve @C_Honey25 @bigbspoilers #bb17 pic.twitter.com/rxkneDCcYm

— Dawg (@DawgsBigBrother) August 18, 2015
ALLIANCES:
"Goblins/Gremlins" = James and Meg
"The Generals" = anyone allied with Becky
"SOS" (Students of Sound) = Steve and Vanessa
Rockstars = Steve and Jmac
AUS-Twins = Austin, Julia and Liz
"Austin's Angels" = Austin, Liz, Julia, Vanessa
"Brass Tacks" = Gobins and Austwins
The new "Brass Tacks" = Aus-Twins, Meg, James + Vanessa
"Freaks and Geeks" "The Scamper Squad" = Aus-Twins, Vanessa, Steve
"The new Freeks and Geeks minus Vanessa" = Austin, Liz, Julia, Steve, Johnny Mac
[polldaddy poll=9025485]