POV Holder:
Liz
POV Competition
Aug 15th
POV Used
No
POV Ceremony
Aug 10th
HOH
Liz
Next HOH
Aug 20th
Original Nominations:
Johnny Mac and Becky
After POV Nominations:
Johnny Mac and Becky
Have Nots
Vanessa, Johnny Mac, Steve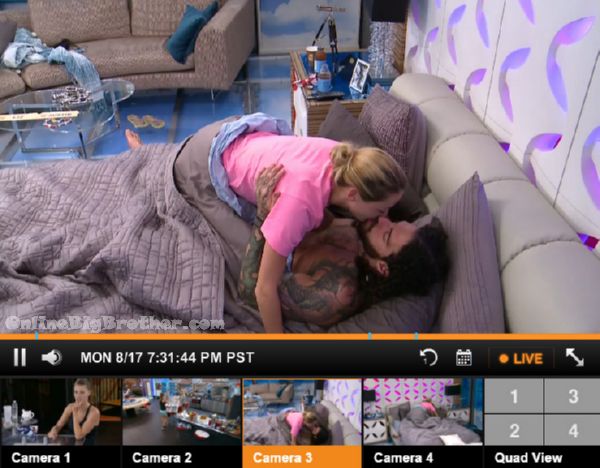 7:06pm Austin and liz
Snuggling and kissing
[envira-gallery id="129024″]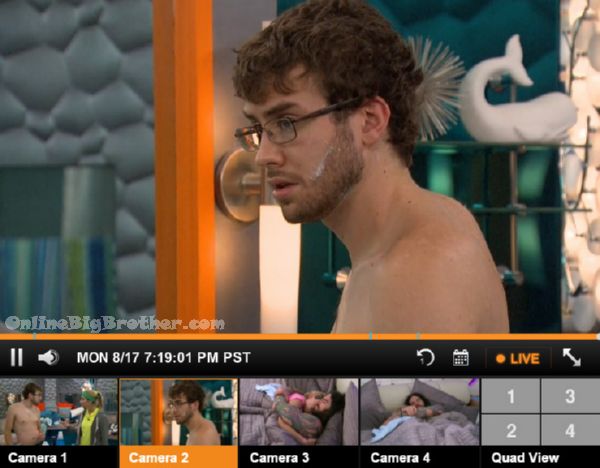 7:19pm Vanessa telling him that the competition will be endurance she thinks it will be the log like last year
Vanessa- has johnny mac campaigned at all
Steve – I don't think so he knows he has the votes, it'll do more damage than good
Vanessa says people will get pissed if he doesn't ask for votes.
Steve tells her he doesn't want to do anything too drastic because someone will come back in. "We should do the obvious"
Vanessa – James
Steve and Vanessa agree they are really going to fight for the HOH this week.
Vanessa says she's doing better today than yesterday they all talked to her and cheered her up.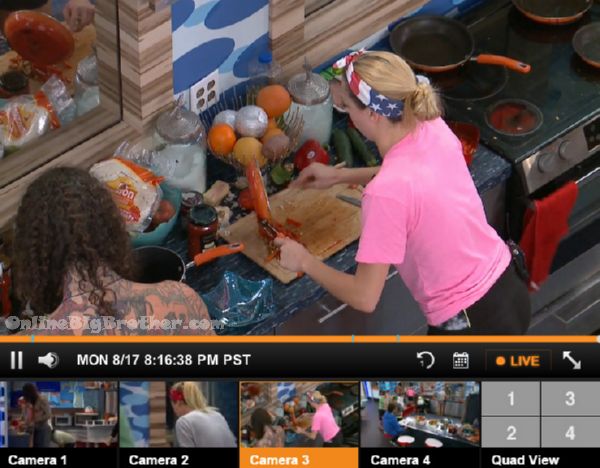 8:00pm Food competition begins . Meg and Becky are the judges.
liz/Austin Vs James/Julia
Liz and Austin were going to use some special HOH ingredients. Meg says same ingredients for all. This causes a stir among the teams.
They are playing up the competition like it's a episode of "Chop"
Meg being a judge "interviews' each player.
Meg asks James what does he expect to happen at the end of the competition.
James – "Taking one of the judges home tonight" (Like a boss)
Meg giggles
They run into the storage room.. and Start the first course.
[envira-gallery id="129030″]
Julia – James you need to calm down James – I'm in competition mode #BB17 @DawgsBigBrother pic.twitter.com/hmUV8Rxmnj

— OnlineBigBrother.com (@bigbspoilers) August 18, 2015
8:04pm
They actually get a real knife for tonight. (BB2 Justin Sebik threatened to cut someone since that knifes are plastic https://www.onlinebigbrother.com/big-brother-expelled-house-guests-voluntarily-leave/ )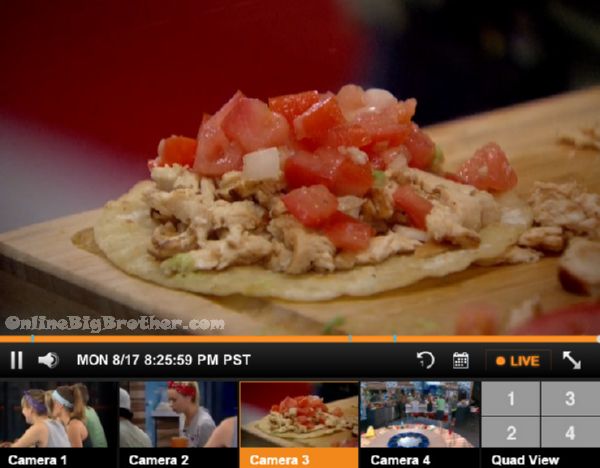 8:31pm Round 1 is over
Julia and James make a fresh dish with tomato, Chicken and Homemade Salsa and guacamole sauce
Liz and Austin make a 5 cheese quesadilla southwest salsa with a hint of garlic avocado, Tomatoes, lime, peppers, and garlic
Austin – and that's is a very special sauce
Julia – It's from a can
Meg says she feels that their portion is a big large. "I did appreciate the use of peppers throughout.. The cheese is a little bit overwhelming."
[envira-gallery id="129044″]
8:36pm Hammock room Becky, Meg, Vanessa and Jmac
Going over the dishes. They are not as happy with the presentation of Austin/Liz. Meg and Becky both didn't like all the cheese on the dish.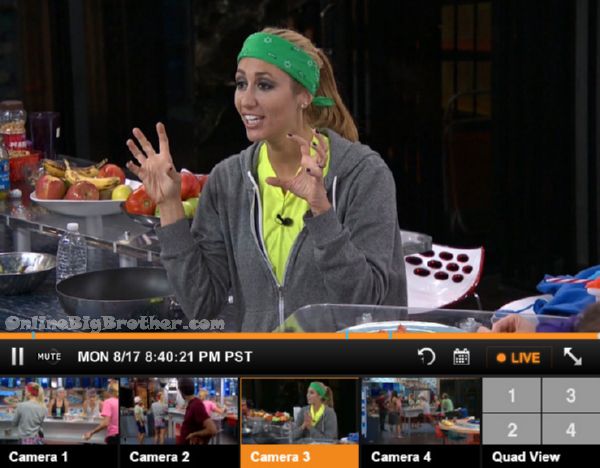 The final results of round 1 of Chopped Big Brother
Presentation 7 (Liz/Austin) and a 9 (Julia/James)
Taste 6.5(Liz/Austin) and a 8 (Julia/James)
Julia and James are at 8.5
Liz and Austin are at 6.75
8:55pm Round 2 starts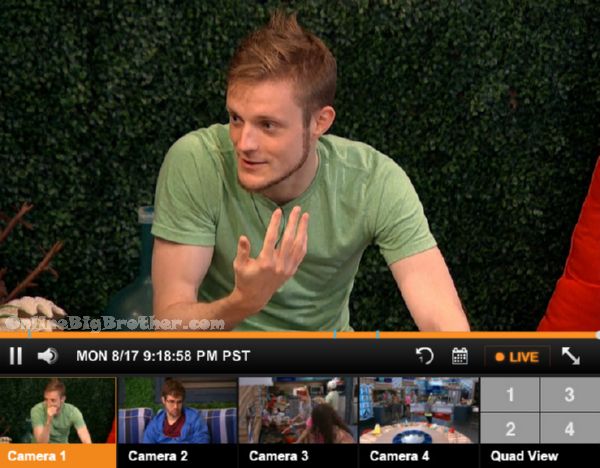 9:02pm Jmac and Steve

Steve tells him they are better off than he thinks. stresses they really need to win the HOH.
Jmac is worried they are way more threatening than Meg and James.
Jmac- Meg's not going to win anything
Steve – Meg is going to get second and third
Jmac – james won two endurance competitions
Jmac – I haven't made any offensive moves yet why do people think i'm a threat
Steve – you win comps
Steve – it would be a good idea to buddy up with someone
Jmac – who do you think
Steve – who do you think will be more feasible to work with
Jmac – who should you buddy up with
Steve – who should we buddy up with
Jmac – Austin
Steve – it's kinda strange because, Austin and I have kinda had our shit but he's been in power this week and this is the best he's ever been, Has he approached you
Jmac – no
Steve – you know you're staying right
Jmac – yes
Steve – you had an agenda you've never sat me down and talk game like this
Jmac wanted Steve to know t3hya re more of a target than he thinks
Steve suggesting they team up with a group.
Jamc – go with James/Meg or Austin and the twins
Steve laughs "There's no third option"
Jmac – I'll think about it
Steve – John… you sat down here ready to go brass tacks.
Steve tells him a large group is their best bet
Jmac now saying he wants to take out Vanessa
Steve says Vanessa is a good person to keep around because she's the bigger target than them.
Jmac wants Becky or jackie to come back
Steve says if Jackie comes back she'll come after him
Jmac says Vanessa isn't trustworthy enough to keep in the game even as a human shield. He knows that Vanessa is Disarmed right now says she will float to power, 'Is she really a bigger threat to us in comps"
Steve – is vanessa going your number one priority
Jmac – yes
Steve – why
Jmac – I'm her number one target.. we had that night and all
Steve – she's voting to keep you this week
Jmac – ya ya Becky is the bigger target
Steve – this is all so strange
Whose Vanessa closest with
Jmac – no one it's over
Steve – Even Austin
Jmac – she's freaking out she feel alone..
Steve – maybe she wants us to think she's alone
Jmac – Nah.. she's not that good at acting
Steve says Shelli coming back would be good for them.
Jmac – As long as we get rid of Vanessa cause those two might work together
Steve – Sh1t you're right….. Shelli hasn't been here she doesn't know what has gone down with Vanessa.
Jmac- Becky coming back is our best chance..
Jmac suggest the person with the fewst numbers is in the best spot.
Steve that puts someone like Vanessa in a really good spot "That's why you want her out"
Jmac – James and Meg and Meg is helpless, they're in a good spot
[envira-gallery id="129058″]
9:31pm Round 2 dishes are almost done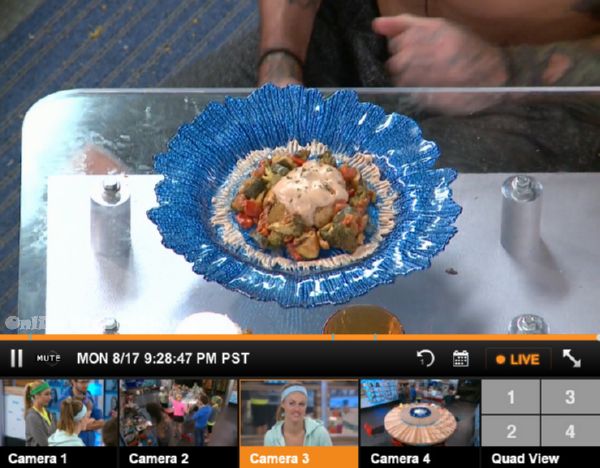 Liz/Austin
Chicken cordon bleu with a mix vegetable medley (Fresh not frozen) and a special mushroom cream sauce
James- cream of mushroom in a can
Meg like the sauce of the vegetables add to the sauce off the chicken
Becky liked the cashews
Becky – I do find it really salty
Austin – Ham is naturally salty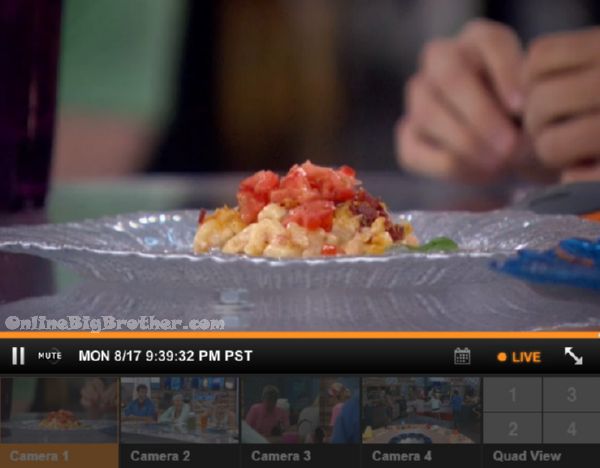 James/Julia
Macaroni and cheese with 5 cheeses (Gouda, Mozzarella, Mix cheese, Sharp Cheddar) , incorporated corn flake crust and maple bacon
Steve points out that "Mix CHeese" Is one of the 5 cheeses (Sorry I never caught the 5th cheese.. maybe Cheddar)
[envira-gallery id="129064″]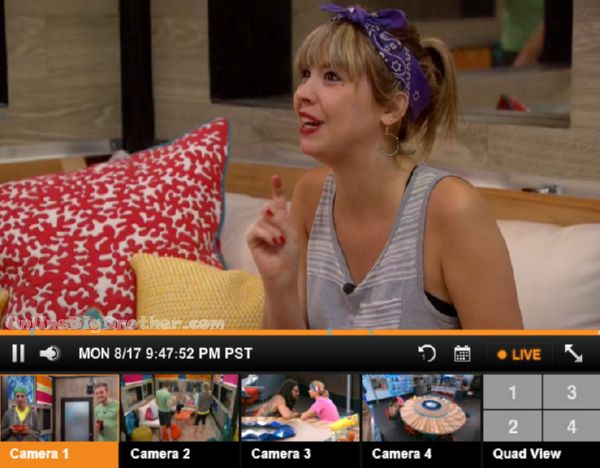 9:47pm Hammock room
Becky says for taste 7.5 mac and Cheese and 8 for Cordon Bleu
Meg, Jmac and Vanessa agree
Presentation 9 cordon bleu and 8.5 for Mac and Cheese
Final round 2 score 8.5 Austin and Liz 8 James and Julia
10:07pm Vanessa and Steve
Vanessa warns that Becky is going to campaign hard
Steve – the votes going to be 4-2
Vanessa asks him who is Johnny Mac putting up
Steve believes Jmac will follow their suggestions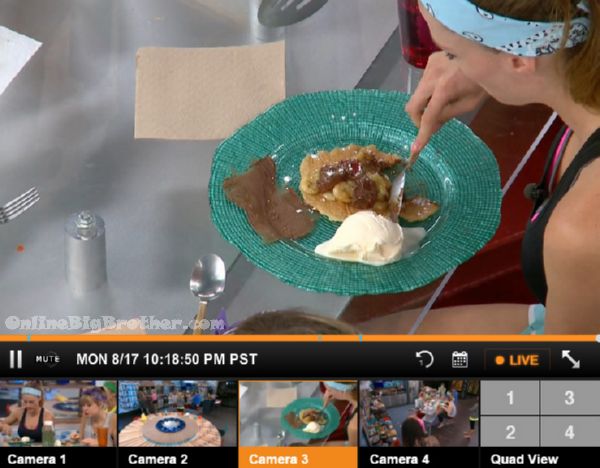 10:20pm desert round
Julia and James Crepe
Meg – the pancake crepe is perfect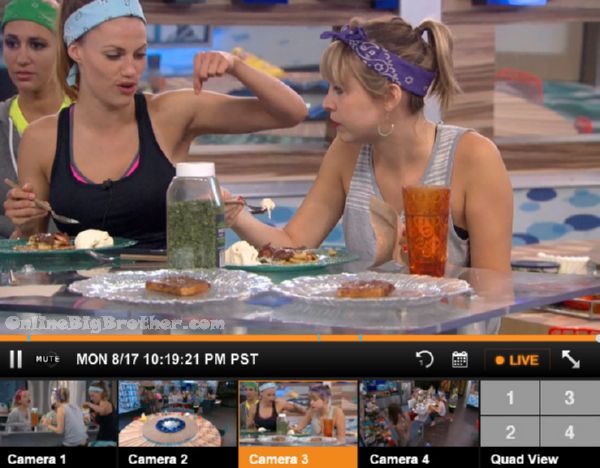 Becky finds a hair in the crepe
Austin – Holy shit that's disgusting
Julia blames the hair on the other team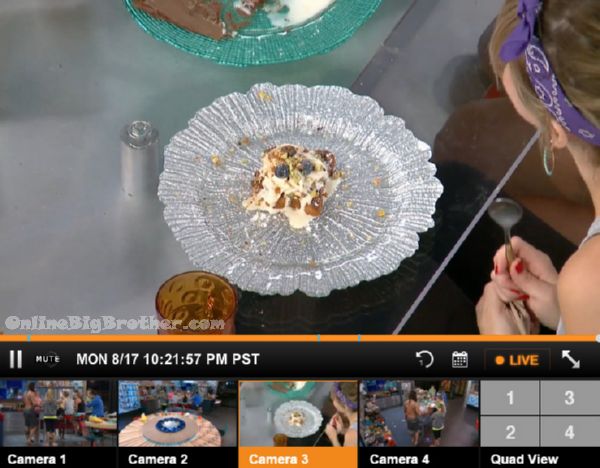 Liz and Austin
Gluten free french toast with maple glazed bananas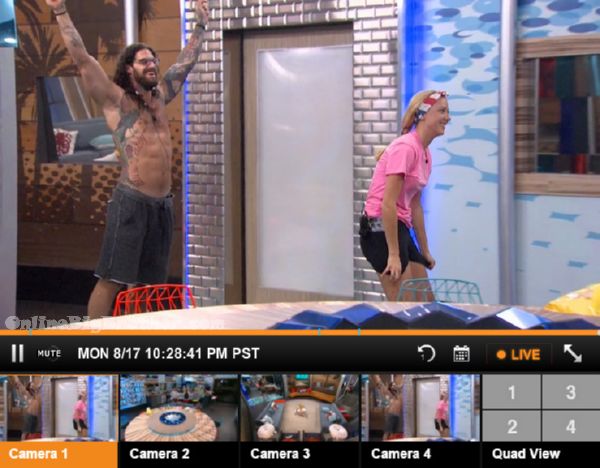 10:25pm
Julia/James 7.5 taste
Liz/Austin 9 taste
Meg- that's dessert was kick a$$
James – they had blueberries
Julia – they had Nutella
Meg – it was the french toast.
Winner of the first Big Brother Chopped competition is Liz and Austin
11:00pm post Choped leave up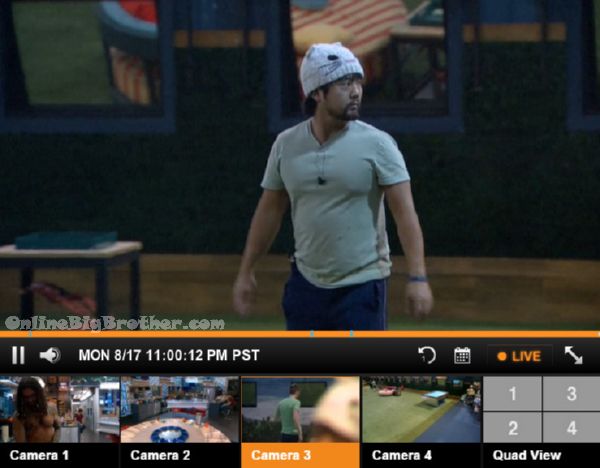 11:00pm James – I think you are not going anywhere.. I haven't steered you wrong yet
Jmac says he's not campaigning he's going to let what happens happens.
They get a couple drops of alcohol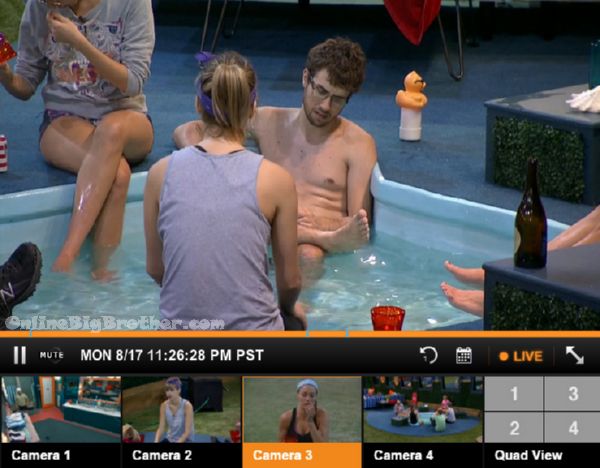 11:43pm nothing but chita chat in the hot tub..
Meg's father is the mayor of her home town.
Marijuana is legal in Denver Colorado
Etc etc..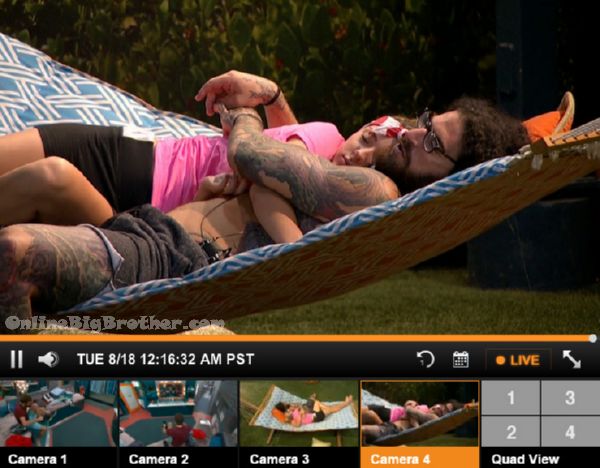 12:15am Hammock time
Listing off the things they like about each other …
Austin tell her she's nothing like he expected.
Liz – why did you take a shot with me and not a girl like Shelli, Why not a girl like Becky
Austin says there was something in her eyes, "We had strong eye contact"
Liz – you kinda fell for both us, I'm not going to lie
Liz when you first decided to make a move you mad a move with Julia
Austin – I wasn't trying to make a move yet.. that wasn't a move.. I wasn't going to make a move until I knew you had feelings for me
Austin tells her about earlier on when Becky and Jeff were telling him that Jackie liked him.
Liz – why is this the first time i'm hearing this
ALLIANCES:
"Goblins/Gremlins" = James and Meg
"The Generals" = anyone allied with Becky
"SOS" (Students of Sound) = Steve and Vanessa
Rockstars = Steve and Jmac
AUS-Twins = Austin, Julia and Liz
"Austin's Angels" = Austin, Liz, Julia, Vanessa
"Brass Tacks" = Gobins and Austwins
The new "Brass Tacks" = Aus-Twins, Meg, James + Vanessa
"Freaks and Geeks" "The Scamper Squad" = Aus-Twins, Vanessa, Steve
[polldaddy poll=9025485]