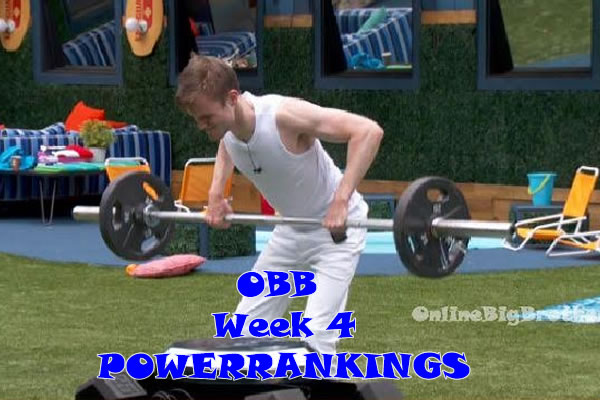 The general trend these past few week are showing a weakening of Austin's game and strengthening of Shelli/Jason's position.
Biggest drops this week are Audrey and Austin. Audrey's placing doesn't need much explanation we all saw what happened on the feeds. While I found her antics entertaining it really was the nail in the coffin for her game. Watching her perform her solo musical while dressed up like a sith lord after 3 days self isolation was great feed fun. Austin is getting outplayed by others socially his love for Liz may be to blame. Already a big target some blunders late Wednesday night did nothing to help his position. He's at the point now were he needs to win some competitions this week to stay.
Biggest increases are Jason and Shelli. Jason was the target a week ago now everyone wants him in on their Final 4. Shelli continues her domination this season. Playing a great social game all while carrying along her meat shield Clay means she's probably pretty damn safe even for someone that has done so much in the house.
I encourage you all to let us know your own ranks for people. If you disagree with a ranking jot down how you would divide up the ranks.
TRY the Big Brother 17 Live Feeds FREE for 7 Days!:
Click here to ensure your live feed subscription supports OnlineBigBrother.com at no extra cost to you.
*** You can go back and watch the feeds from day 1 with a live feed subscription

** Last weeks value in parentheses () if different than this week **

Entertain-ment

Social

Strategy

Bonus

Total

Shelli

3

5 (4)

4

+1(+1)

13 (11)

Socially and Strategically killing it. You're still not a target! +1 for having clay as your slave

Vanessa

3

4 (4)

5

0(-2)

12(9)

You're breaking out from the pact as a formidable player. Making mistakes but still holding it together.

Jason

3

4

(4)

0(-1)

11 (10)

You're not a target this week what a reversal of fortunes. Somehow everyone likes you now in the house great social maneuvering

Clay

3

4

3

0(0)

10(9)

A meat shield for Shelli but still killing it socially. Have some questionable strategic advice

Steve

(3)

(3)

4(5)

(0)

10(11)

Slowly building relationships. Everyone says you're a target but you really aren't still you're probably going to be nominated.

James

4(3)

3 (3)

3

0

10(9)

You're likable and funny on the feeds, Social game is alright, strategy middle tier.

JohnnyMac

3

4

3

0(+1)

10 (10)

You're popular with everyone outside/inside the house.. Please win a HOH so we can see you play.

Jackie

2(1)

4

2

+1

9(8)

If you win HOH you'll cause some big waves I'm certain. +1 for not falling for Vanessa's bullshit.

Liz (Julia)

3

3 (3)

3 (3)

0(+1)

9 (10)

Everyone knows about the twins. You're flirting with Austin is driving fans bananas.

Austin

3(4)

2(3)

2(3)

-1(-1)

6(9)

Fumbling around in the game a major target now. Most of the other side wants to target you -1

Meg

2 (2)

4

1(3)

0

7(9)

You're trying to mingle with the other side however you still are one of the weaker people playing the game.

Audrey

4 (4)

0 (2)

0(4)

+3 (+1)

7 (10)

Back at rock bottom really no way out. +1 for fighting like a honey badger +1 for dressing like a ewok +1 for the musical performance

Becky

1

3 (4)

2

0

6

You are participating in the BB17 live feeds
Our scoring structure is as follows
There's three main categories, Entertainment value, Social Skillz and Strategy/game with each category ranging from 1-5 with a 0 value being used for exceptional cases. A bonus category is also added worth 3 points for those special cases that don't fit the 3 main categories.
1/3 – Entertainment
0- You're not entertaining – I turn the feeds off when you're on
1- Offensive, Rude, unlikable are some words that could describe your behaviour on the feeds
2- Maybe you're laying too low. Right now everyone on OBB is joking about not knowing your name
3- Neutral
4- You're a likable person and showing it on the feeds
5- You're making these feeds Very fun to watch
1/3 – Social game
0 – Your social game is non existent go back to blogging in a basement
1 – Most of the house dislikes you. You'll see yourself a target soon
2- You're building some relationships but not enough to keep your ass safe if you or our close few friends don't win a comp
3- Neutral
4- You're building a lot of relationships but also some enemies
5- Most if not all the house likes you. Nobody has thrown your name out there as a target yet
1/3 – Strategy
0- Strategy .. HUH? what does that mean
1- You have a short term plan that will get you by the next 20 minutes
2- Your plan is to to make it to Jury to get the stipend
3- Neutral
4-You have a Short term or Long term plan and a couple ideas plans on how to execute it
5- You have a clear plan for the short or long term and a clear plan to execute
Bonus
+/- 1-3 points can be awarded to players that has done something incredibly awesome or stupid. Maybe they turned their game around after being universally hated or squandered away a strategic asset because they couldn't keep their mouths shuts..
Share it YO!!
Tweet