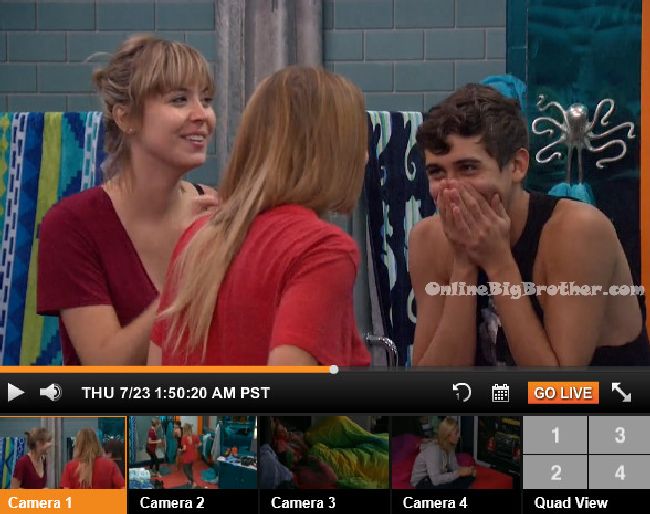 1:50am Bathroom –
Jason and Meg are whispering. Jason tells Meg that Austin said there is no girlfriend. That its over because he's here. Meg says no he knows its over because of how he's acting. Jason says he is playing down that he's a superfan. He's watched live feeds from 6 – 15 (season 6 – 15). He just didn't watch last years show. Meg says I already called him out on that. Jason grabs Shelli when she walks by. Jason tells Shelli that while the music was on she told Austin they're twins. This one is Julia. Shelli asks the one that's here right now is Julia? Who told you that? Jason says Austin because he's trying to build a bridge with me because he's afraid. Shelli says Shut up! Jason says he told me so that we will get rid of Julia so he can keep Liz. Shelli says stop it right now! Meg says he (Austin) wants to go to jury with her (Liz). Jason says I asked is Liz going to be mad if someone takes out her sister? And he said I don't really know but if its someone like Jackie that she already has a problem with then yeah she's going to come back at her but if it was someone like you that she likes I don't think she would be mad. Shelli asks why would he have to try and get one out? Jason says he didn't necessarily say that but he knows they're going to be a target when they come in and he wants to save the one that he likes. Meg says he is trying to save his own a$$. Shelli says oh my god! This is too much!! So Juicy! Jason says I don't know how much of this we believe but he (Austin) doesn't have a girlfriend, he was supposed to come here last year with his girlfriend.. Big Brother blocks the feeds.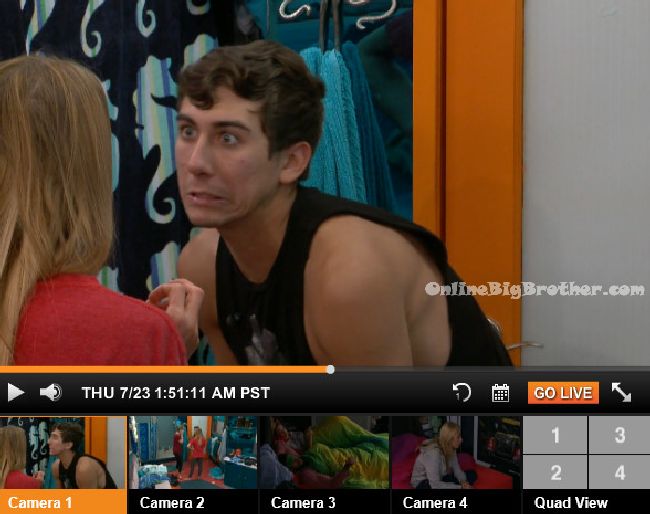 2am When the feeds return – Meg, Jason, Shelli are filling Vanessa in on the Austin / Twin info. Jason says he is trying to say that he wouldn't be pissed if we took out Julia and kept Liz. Jason says what he was really ensuring was that I don't put him up this week so that he'll be here when Liz is here. So that he won't be walking out and Liz be walking in. Vanessa asks does he not see that if he really likes Liz she will see that. Jason says that he is scum-bagging her sister. Shelli says that is disloyal to her straight from the get go. Meg says I don't think boys think that way. Jason says he is looking for a piece (of a$$). Shelli asks how far is this going to get him. Meg says maybe just once. Shelli says good point. Jason says he seems to know everything about them. Jason says I told the Diary Room I promised America would swallow my own tongue and die if I was wrong and they said Jason are you sure you want to say that. I was like AIR IT! Meg says you're keeping your tongue! James joins them and the conversation ends.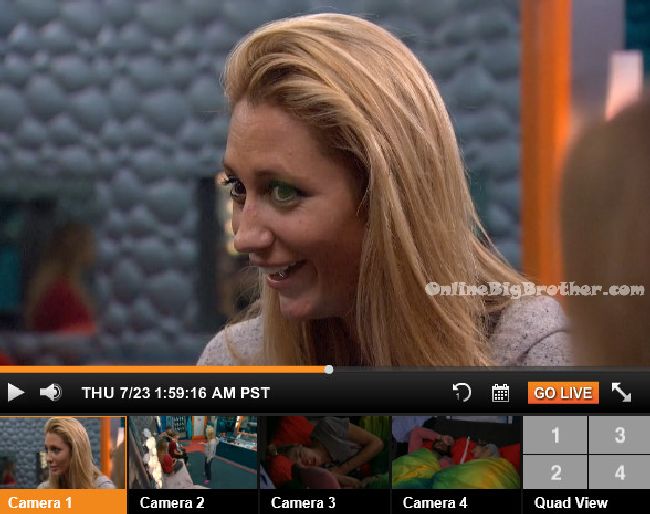 2:10am Bedroom – Jason says that Jeff told him (Told Austin about the twins). Jason looks at the camera and says Jeff I'm going to f**king kill you! You ruin everything! They talk about the differences between the twins. Jason says check the cold sore!! Meg says its the nose, I can't stop looking at it. Vanessa asks who knows? Jason says if Austin wins tomorrow I will be f**k if he finds out I leaked the info to everyone. Vanessa asks what was his goal in doing that? Austin comes by and they change the subject to talking about how socially awkward Steve is. Austin leaves.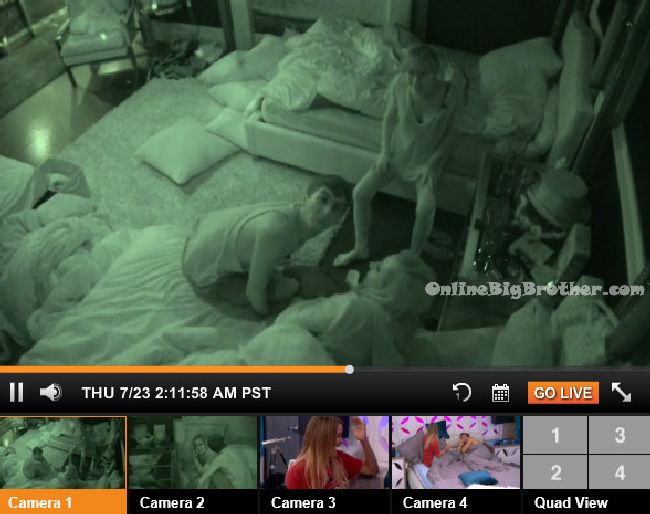 2:40am HOH room –
Vanessa talks to Shelli and Clay about Austin leaking the info about the twins to Jason. Shelli says I'm so glad you walked in when that happened. Vanessa says that was interesting. Shelli sasy a little alarming. Vanessa says this is why Austin needs to not make moves without talking to us. W-T-to-the-F!! Shelli says no.. this is why we have to realize that he does make moves without talking to us. Vanessa says dumb, dumb, dumb moves! Shelli sees AUstin on the spy tv and says oh there he is the big tall dumb mover! Vanessa asks what the f**k was that, what the f**k was he thinking?!!! Shelli says he doesn't! This is what I was worried about with him. Clay says he just wants to go to jury with Liz! That's him winning! Vanessa says I would have given him 15 reasons why that wasn't a good idea. Doesn't he realize that by telling them this information they should just get out Liz and leave Julia because obviously Julia and him don't have a connection. Why would you leave in the one he likes. This is so dumb on so many levels! Clay says he wins if he goes to jury with Liz .. that is his 500K! Shelli asks what do you think about us 3 connecting with Meg, Jason and James. Vanessa says I'm fine with that especially after all of this. Why give Jason that ammo because if Liz gives Julia that information then they would just target him. Shelli thinks they should tell Julia and Liz. Vanessa says my only problem with that is if Liz really likes Austin then she would tell him. Vanessa says that Liz did tell her that she just met Austin but that she came here with here sister. Shelli says I can feel out both of them and then once we figure out if Liz is really into Austin or not then we could drop that bomb. Then they would be on board with getting him out and then we have both of them with us on our side. Vanessa asks why would he do that? Usually he asks me before making a move like that. Clay says the whole twin thing that Audrey did .. she wanted to expose them. Clay says that Meg told Audrey that everyone already knows. What was her main objective for it? She didn't know that we all already know. Shelli says it was a slap in the face. She is trying to just throw everyone under the bus. Vanessa says at the end of the day she is going to look bad in America's eyes. Clay says just like her hiding in the room and eating regular food. Vanessa says its disrespectful. Shelli says she's on a lot of meds. Vanessa heads down stairs.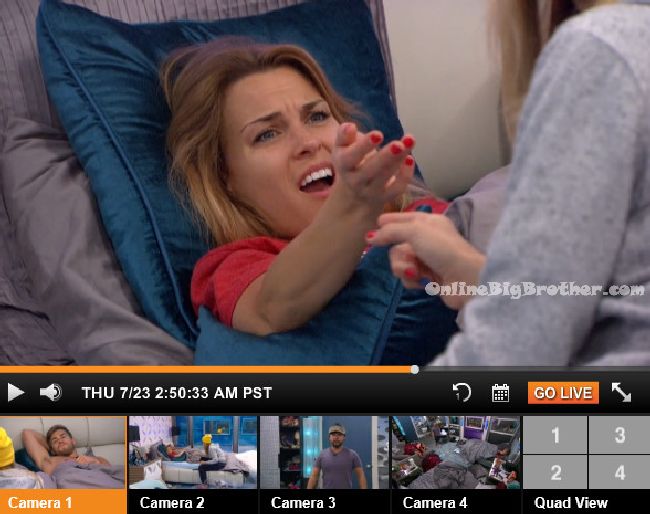 3:30am – 4:25am Vanessa and Meg are talking. Meg says Audrey will either she passes on her eviction speech or she will look like a million dollars and have an amazing speech .. and make it look like we're the crazy ones. Vanessa talks about he theory of Audrey being America's player. Vanessa says that she (Audrey) was talking about how Shelli will look on the show for the betrayal. Why would Shelli get buzzed for talking about that? Vanessa says I was really trying with Audrey and telling her personal stories. I put my arm around her .. I was like her little bit*h! Meg says it will be really weird if Audrey comes up to the HOH room to sit with us (during the lock down tomorrow). Jason joins them. Jason says he's in good with Jackie and thinks Becky will go with Jackie. Jason says that Steve won't try to win HOH because he doesn't want to pick a side. He's not a threat but eventually he will be. Vanessa says she is going to try and win it. It's not in me to not. Jason tells Meg it might be a comp made for you. Meg says I hope it will be. Meg thinks we're all going to forget about Steve. Jason says we're all going to attack each other and he's going to be sitting there. Meg says he's going to kill the end ..in the last 5 competitions. That's why we have to get him out. Meg says I think with the Audrey situation.. the twins and Austin .. he (Steve) is going to be forgotten about. Meg says take out one of them (twins) and then go after Steve.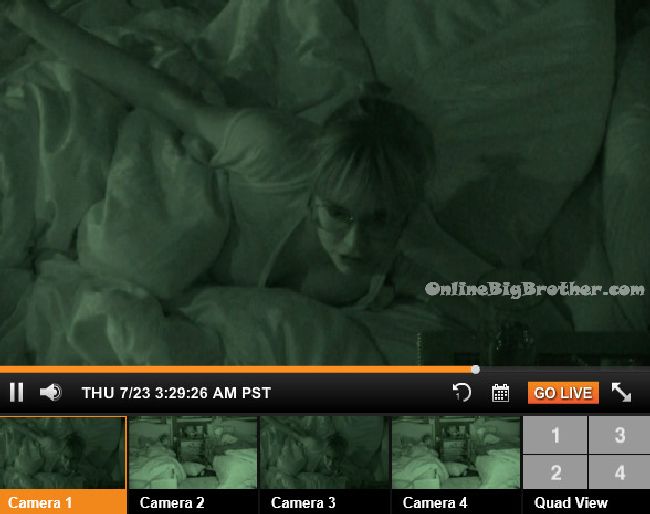 4:30am All the house guests are sleeping..
5:20am Becky's up eating / drinking tea in the dark
10:15am – 10:45am
Big Brother wakes up the house guests. All the house guests are getting up and ready for the eviction today. Big Brother blocks the feeds again and when they return – Austin, Jackie and Becky are up in the HOH room grabbing their spot for the HOH lockdown. They talk about Audrey having the second HOH room to herself. Austin says that all of a sudden that room will start shaking. There will be her cloak and then POOF all that will be left is a cat. Steve joins them and Austin tells him he's not getting in the bed. Steve says he's grabbing a spot in the corner. James comes up and goes into the second HOH bedroom where Audrey is sleeping. (Audrey continues to get the special treatment.) Big Brother blocks the feeds and switches over to the live feed highlights.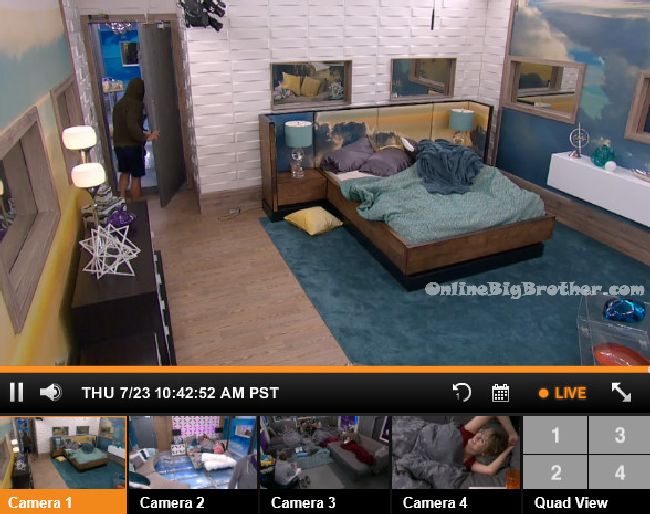 12pm The live feeds are still blocked for the HOH lock down.
12:50pm Still blocked ..
Live Feed subscription gives you CBS All Access thousands of archived shows. Live Shows like Big Brother, all the Big Brother Seasons, and 24/7 coverage of what is happening inside the Big Brother House. Plus there's flashback that lets you go back to any second of the feeds and rewatch what happened. Simon and Dawg will index the season just watch the parts worth watching. All this for $5.99 a month try it out 1 week free. Support our efforts and get your feeds via a link on this site. Live feed subscription Sign up
[polldaddy poll=8983592]
Share it YO!!
Tweet