POV Holder:
?
POV Competition
Sept 5th
POV Used
?
POV Ceremony
Sept 7th
HOH
STEVE
Next HOH
Sept 10th
Original Nominations:
? and ?
After POV Nominations:
? and ?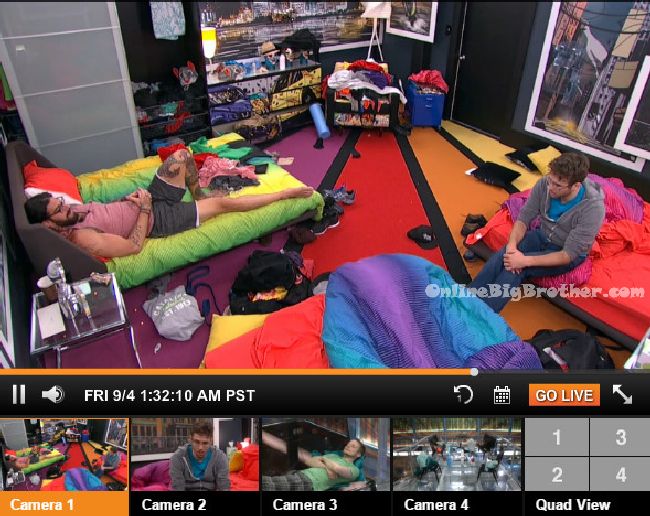 1:30am Austin tells Steve I definitely have a better ear with Liz than Julia. She will do whatever I say. Steve asks you understand the spot I'm in right? Austin says yeah. They talk about past competition. Austin says this is a weird week. As long as we sit down with Johnny Mac and talk it out if that situation comes about even before the noms if that's the direction we're going. Steve says this is what I need to sleep on tonight. Thank you for talking to me. I need to sleep on it. I just want to get my room and go the f**k to sleep. You know you need this too. Austin says I know. My family has to come first. And I have to justify a lot of things that I've done in here to them. Steve asks like what? Austin says like the girlfriend thing. Steve says but your relationship wasn't good. Austin says I know I just feel I need to justify it by choosing them over everything else. Austin says he knows Liz is always choosing Julia over him. As long as they're together their the main target. They're going to split the money. They have two lives. Austin tells Steve he will have his back. Austin says I just know that I voted Johnny Mac out and I just don't know if he will flip on me. Steve says he won't.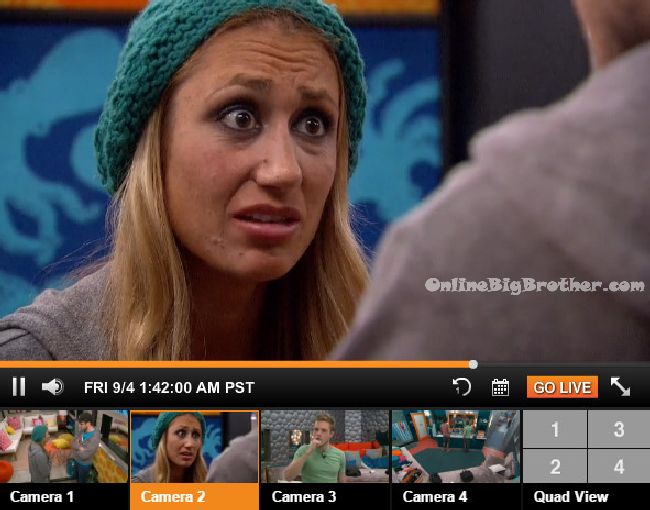 1:40am Vanessa talks to Steve in the cabana room. She asks do you know what you're thinking? Steve says yes, the twins. Vanessa says I think that is actually a bad idea. Have you thought about it. Everyone is playing veto. If Austin wins he is going to take down Liz. Then all you need is 2 to control the vote. Johnny Mac is going home. Then you're going to go to final 5 with 3 (Aus-twins). Steve asks okay then what do I do? Julia. Vanessa says you have to because she is the least likely to win veto and cause your whole plan to get f**ked. Johnny agrees, its the safest. Steve says Julia won 2 comps tonight. Vanessa says you won 1. And those were dream comps for her and its unlikely there will be something like that again after it just happened. And Liz didn't play. They have the same skill set and Liz wins every time. Steve asks what happens if Julia wins? Vanessa says I actually think I can convince her not to use it if it if we agree to keep her sister. Because Julia doesn't trust Austin. She almost thought he tried to flip the vote last week. If Austin wins he takes Liz down every time no matter what he says. You have to go with the statistical majority. You can't risk it. Austin's very strong. Steve says its a risk no matter what though but Julia is the least risk. Vanessa says you can even guarantee Austin's safe. I will give him my word on my mother .. if he is on the block next to Liz I am voting her out every time. That's the truth! I will. Steve asks what happens if Julia wins it and takes her sister down? Vanessa says like I said I think I can convince her not to use it. Steve says but if Julia wins it and takes Liz down then they would control the vote. Vanessa says we have to minimize the risk by putting the weakest of the 3 as the replacement nom. Steve says got it. Vanessa says so we just give Austin our word. If Julia wins then I can help you with that bridge. She trusts me more than Austin. You have to go with the statistical probability. Vanessa asks what did Austin tell you? Is he trying to get you to put the girls up? Steve says yes. Vanessa says you have to leave the weakest one off. Steve says so they don't win it and use it. Steve asks if Julia has been trying. Vanessa says yes, every time. Steve says so you're saying I have to put up Liz and Austin. Vanessa says yes. Vanessa tells Steve I will tell Austin that I gave you my word to vote how you want. They leaves the room.
(Vanessa wants Steve to put up Austin & Liz thinking Julia is less likely to win the veto)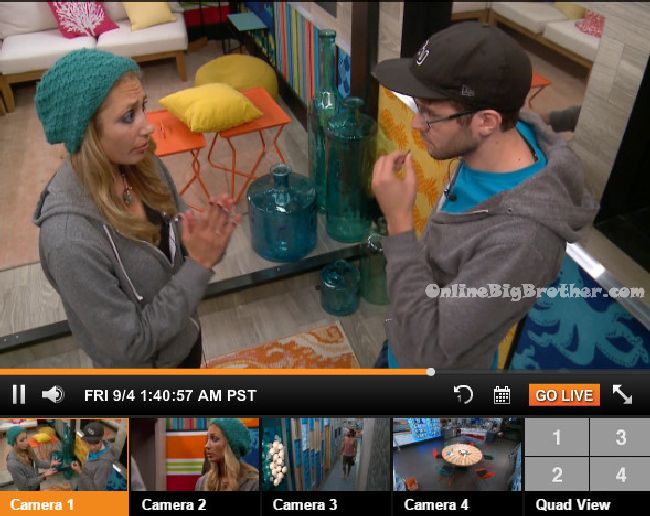 1:50am Bathroom – Vanessa tells Austin that she said everything she needed to say in 3 minutes. She says I told Steve if he doesn't put me up I will vote however he wants me to. Austin says I'm worried about being the replacement. The Johnny Mac would have the vote. Vanessa says no it would be which ever one of you that came down and Me.. 2 is all you need. Austin says yeah but Liz is voting the other way. Vanessa says right. Johnny Mac would have to give his word to vote how he (Steve) wants. Vanessa says he would, he is so alone. He would play ball. Austin says hopefully and if he didn't it would f**k Steve. Vanessa says he is going to make enemies. I've already given you my word. Austin says now I have to compete in the veto and try. Vanessa says I need to talk to Johnny Mac and feel him out. He is definitely closer to you than them (Twins). He isn't going to go against the house. I think you'll be okay. Everyone wants to split up the twins. The best case scenario for you Liz stays. Austin says if I'm not on the block I am only one vote, you guys control the vote. I can control Liz. Vanessa says if you take Liz off I go up and then I am f**ked. He isn't going to put up Johnny Mac. Vanessa says if you win veto .. everyone knows my word is good… You could exchange me in exchange for not using it. I will give you my word I would vote to keep Liz. If I don't do it, I am pissing off the entire house. Austin says if he puts them both up he needs one of them to go. Austin says Steve told me he doesn't want me to go. Vanessa tells Austin I will not let you go this week. I've got you. I will come up with every reason in the book for Johnny Mac to go over you.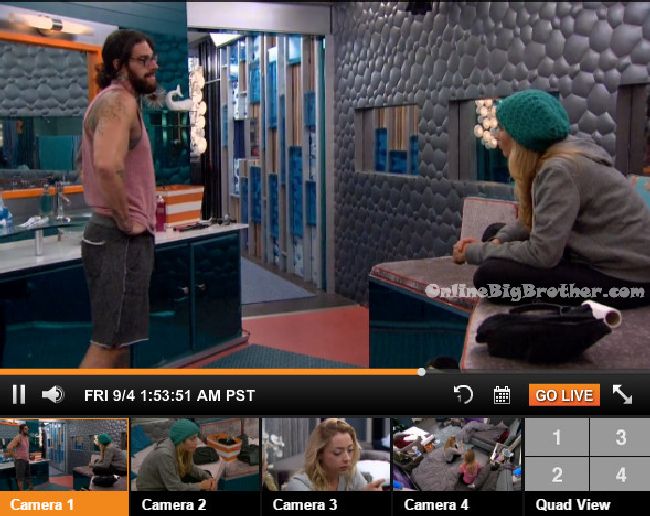 Try the Live Feeds FREE for 7 DAYS! Click here for your: Big Brother 17 FREE Trial
1:55am – 2:05am Bedroom – Julia says I don't think he will put me up. I was a pawn last week. If he was against me in the final 2 he would beat me. That's my argument. I don't think he will put me up. He thinks he doesn't want to piss me off. If he has a crush on me. Its just strategically I haven't won anything. He's not going to want to piss me off if you get evicted. And we were the two people there patting his back after he won HOH crying hysterically. I just don't think he is going to put up John. I pray to god that he wouldn't put up me and you. Do you think he would do that? Liz says I don't know what Steve would do. I just wish you or Austin could have won that. And Austin is still talking to Vanessa. Julia says I don't trust Austin! I know you do but I know for a fact that he is probably looking out for you but I'm on my own. Like I know I have you but he's been like I've been doing everything in this game for you girls. NO you haven't! Liz says I believe he has though up until this point. He is scared that if you and I get put up together you would go home because I'm not a threat and haven't won anything. Julia says I love Vanessa but its getting to the point where if he doesn't vote Johnny Mac then it has to be her because.. Liz says I know. Julia says she called him out on his speech being phony. Why would you put someone up that has never done that to you. And has been nothing but nice to you. Liz says Austin said he thinks Steve is going to put up John or me and Julia. Julia asks why would he say that?! Julia asks why would he say that? Liz says unless you're hinting sh*t at it. Julia says you know they're both (Austin & Vanessa) whispering, they're trying to get you and me up as a pawn! You know that right?! I hope you realize that! They're trying to convince him to put you and me up and not them. Just realize that 100%! Liz says I'm going to go brush my teeth and listen. If they're trying to get me put up .. like what kind of boyfriend is that?! Julia says Like I feel he is definitely trying to do that. I don't trust him!!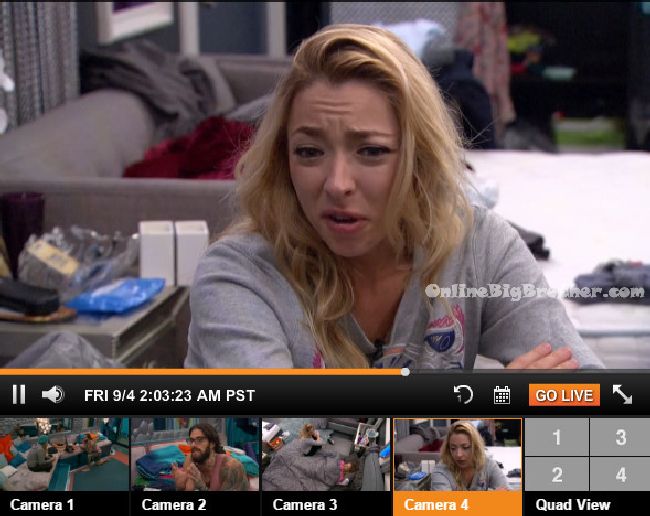 2:13am Steve comes out of the HOH room and asks who what to see my HOH room. All the house guests head up to the HOH room. They check out his photos and then Steve reads his HOH letter from his dad. Steve says this is cool. I've never had this room as my own before. Julia looks in his fridge and sees that Steve got crab cakes and lobster. I can't believe you got a f**king lobster tail! Steve says that is sneaky, very sneaky! Julia asks if he would rather do his talks in the morning. Steve asks can I just have a minute. They all head out of the HOH room.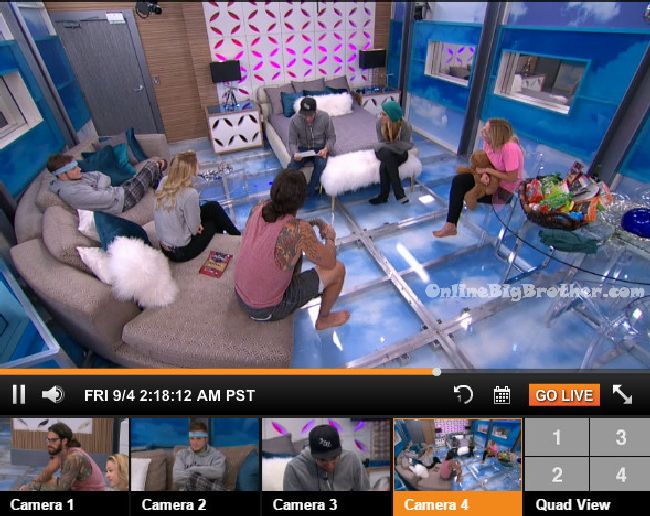 Steve "How cool is it that I'm HOH!" @bigbspoilers #bb17 pic.twitter.com/9CXc4kHQSG

— Dawg (@DawgsBigBrother) September 4, 2015

2:25am HOH room – Steve and Johnny Mac are talking. Steve says we (twins) had a quick conversation this morning and I mentioned I was nervous about HOH. And they asked why are you nervous? Oh James. I feel like they were more nervous about James than you and I didn't want a hot conversation to happen because I didn't want them to figure out they needed to get rid of you. Johnny says I threw you and Vanessa under the bus. I said if I won HOH I hated being roped into your numbers games. I told them I wasn't putting them up and I told Austin I wasn't putting him up. Steve asks and then you threw it? Johnny says no I didn't throw it, If I had won I would have back stabbed someone. Steve says now its time to play the game. The question is how. I just have to make sure the three of us (Vanessa, Steve, Johnny) survive this week and preferably we get out someone who can win comps. Vanessa had the argument that Julia is the weakest competitor. So what we do is we put up Austin and .. (Steve then goes to read the HOH rule book about what he's allowed to say about his nominations) .. So that the goal, do you agree this week gets sh*t bagged if person number 3 (Julia) wins veto. Johnny says if one of the twins leave this week. I see a lot of potential for Vanessa and Austin to hook up, if it hasn't happened already. Steve says I can see that happening. Johnny says it is a good sign that Vanessa wants Austin on the block. Steve says I could push it on her. Johnny says we can feel it out after the veto and say we don't feel too good about Austin and would rather fight Liz and Julia.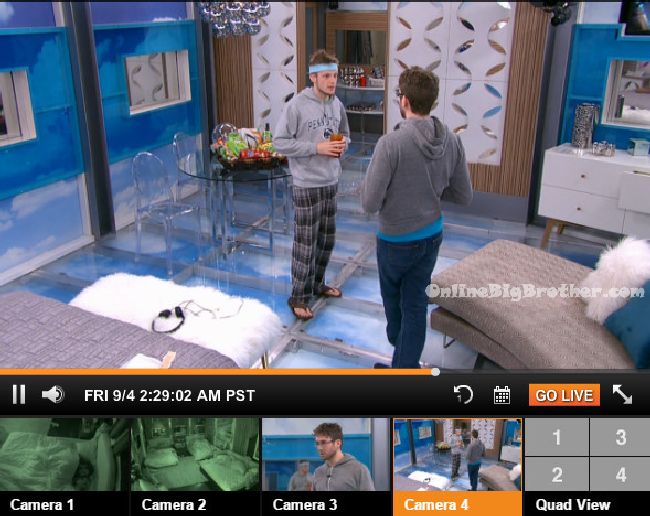 Johnny says its whatever you want to do but I think its best to do .. Austin & Liz up and at some point during the week we tell the twins they're not the target and if they did win (HOH) then they would go after Vanessa. Steve asks you think Vanessa has a thing with Austin? Johnny says maybe, she gets all the information from them somehow. Steve says so you think getting rid of Austin cuts that off. Johnny says and if its physical I would rather go against the twins. Steve asks are you down for asking Vanessa for a final 3? Johnny says I'm down for that. Steve asks you want that? Johnny says if you want it. Steve asks how come you haven't been up here yet? Johnny says I threw this one a little because I think the next one will be physical. Steve asks Johnny if he is a part of a twist? Are you America's Player? Johnny says no. He then says I can prove it. I am America's Player. I wouldn't be able to tell you that if I was. Steve says that's true. Steve tells Johnny we have to make sure we don't get f**Ked. I think we need to put up Austin and Liz and then make sure Julia doesn't win the veto. Johnny says then we decide later in the week who to evict. Steve says I have to decide who the f**k I want out of the house because I need to know how I am telling is safe. Johnny says I would just tell them both and then stab one of them in the back. Steve says Sh*t maybe I shouldn't have won this won. We need to figure out if the Austin/Vanessa thing is real. Johnny says if it isn't, it will be. Steve talks about how good Vanessa is at convincing people.. he comments on how Dan had mist.. Vanessa has mist… its a real thing! Steve says Vanessa has won't evict Austin. Steve says I am going up next week no matter what unless you or Vanessa win. Steve says we have to win from here on out. It has to be Liz or Austin that go. But I can't commit to either side of that. This was a really sh*tty HOH to win. Johnny says Austin has to be nominated because isn't up and wins veto he takes Liz off. We need to break up the Showmance or the twins. Steve asks who protects me next week? Johnny says me and Vanessa. Ultimately Vanessa and I are voting too so we're also to blame. Johnny says everyone should say that I threw you under the bus last week.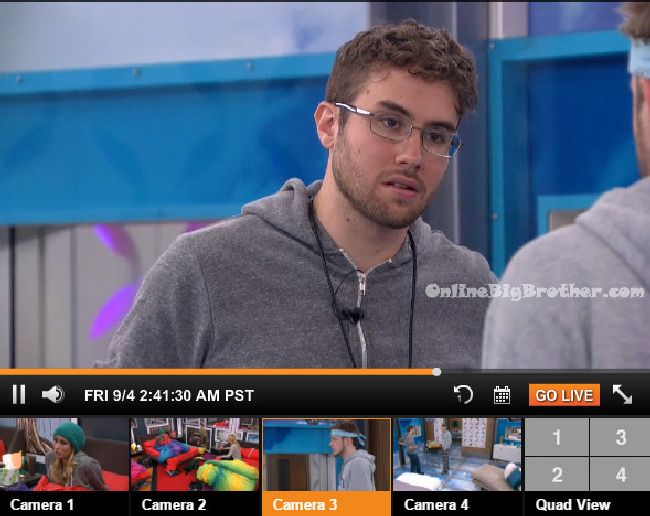 Watch the NEXT WEEK of the Live Feeds for FREE! Click here for your: 1 Week Trial
3am HOH room – Julia comes up to talk to Steve. She congratulates him. Then says I was obviously a pawn last week and it was either going to be me or you. I knew you had been one the week before so I said that I would do it because its horrible. What goes around comes around and I would like to know what you would like from me. I would offer you whoever you put on the block I would vote your way. And if I won the veto I would not use it if you didn't want me to use it. If my sister was there and you didn't want me to use it, then I wouldn't use it. Steve says okay thank you. Steve says my mind is swiss cheese sorry for my lack of responsiveness. Julia leaves and says she will send up Liz. Steve says to himself you would save your sister in a heartbeat Julia! You would be a fool!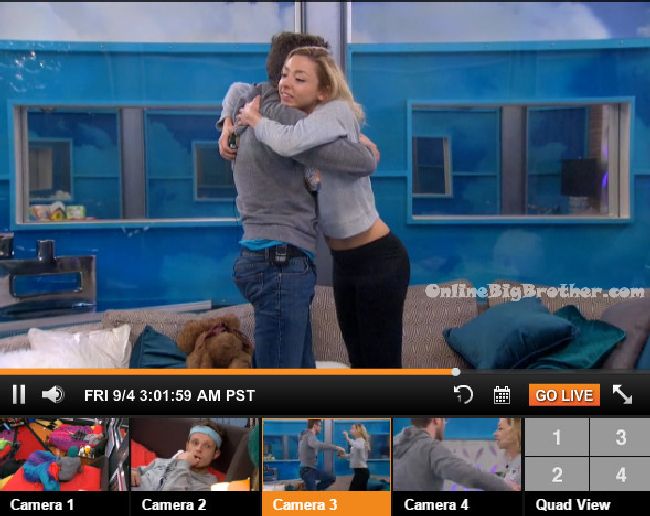 3:05am HOH room – Liz talks to Steve. Liz says I know you're in a really hard position and numbers are dwindling. They only thing I can say is that I didn't just put you up when I was HOH since double eviction. And I know at the end of the day you have to do what is best for your game. What I can offer you is that no matter what the nominees are I will vote how you want me to vote. I know you will do what you need to do. Steve says yeah this game is really sh*tty. Liz says I know you have a heart and you're the cutest little cutie ever. You have never ever been my target. So good luck tomorrow. We're final 6, you're going to piss some people off. They hug and she leaves.