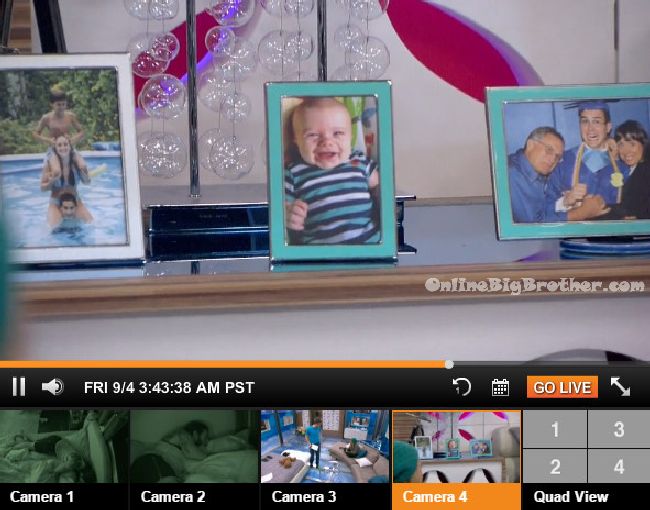 3:25am HOH room – Vanessa is talking to Steve. Vanessa says you are the most liked person in the house right now by far. You haven't pissed a damn person off. Steve says well I'm going to be a target next week. Vanessa says everyone understands. Even Julia said she know you would target them. Its an automatic move. There's no blood if you do it right. You have a right to try and win this game. Everyone knows there's a showmance and a sister relationship and you can't compete with that. You're at best 4th place there. You can't go into final 5 with a threesome that strong. Of all people Austin will understand the most. Julia understands and probably believes she is the least target of the three. You might piss off Liz but you can't get to the end without pissing anyone off. I am going to take you to the finals. What do you think you're going to do? Steve says the move that makes us less likely to get screwed over. (Nominate: Austin & Liz) Vanessa says so you're probably going to leave Julia off? Steve says I can't say but I think that would be the scenario that would least likely screw me over. Vanessa says if one of them doesn't win the veto… you can't play next week. Johnny and I can and we have to do what gives us the best probability of winning from the two that are left. With Liz you kill two birds with one stone. No showmance and no sisters. And you've got a weak pair. Maybe not the best situation. The one thing in Liz's favour is that Austin would make a less bitter juror. And Austin is more likely to win later comps and Liz isn't. Vanessa tells Steve that Julia told her if Austin & Liz were on the block and we agree to not vote out Liz she would keep the noms the same so that Vanessa wouldn't go up on the block. Steve says she would be a fool to not save her sister. So think this should be the plan – Put up Austin & Liz .. if Julia wins veto we promise her to not vote out Liz and then vote out Austin. Does Austin know he will go up? Steve says he knows it will be a combination of the 3.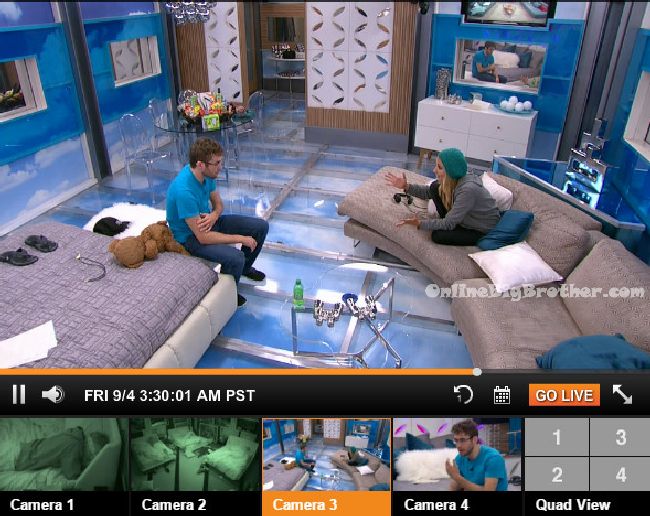 Vanessa says If noms stay the same I have a very strong way so that you don't get any blood on your hands by using information you already have to your advantage. Steve asks what is it? Vanessa says don't make me say it in case this person wins veto. Vanessa asks give me your word so that this information never back to this person. What did Austin tell Johnny before this HOH? Steve says that he was okay with one of the twins going. What if Johnny let that slip? You're welcome!
FLASHBACK and watch everything you missed: Live Feed 7 day FREE Trial!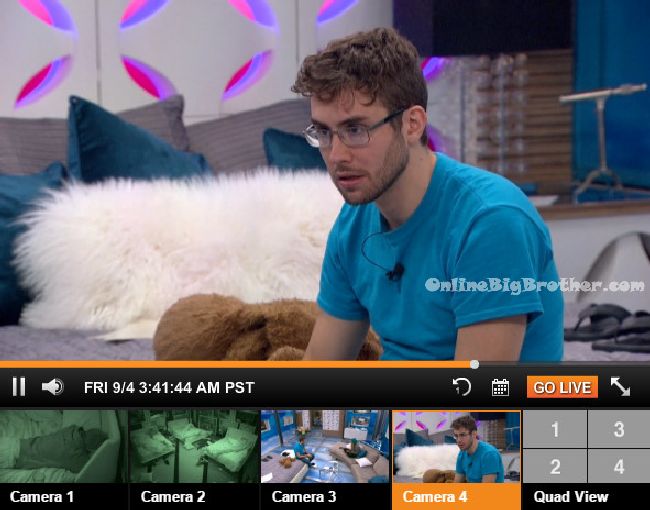 3:45am – 4:15am HOH room –
Austin joins them. Vanessa leaves so they can talk. Austin says that he let the twins know we're in danger. I said it could be any combination. I don't know if you talked to Johnny Mac about scenarios. I will want to talk to him because if I'm up I will need his vote. Do you know what you're thinking. Steve says he is too tired to make a decision right now. Austin says if I was to go up I would understand if that's the move you would choose. Steve asks do you think I should do something different? Austin says that's a tough question. I want you to do what is best for you. If Julia or Liz win HOH next week the chance of them going after you is zero percent. Unless the veto is used. I can keep them from coming after you. Steve asks why would that benefit you? Austin says I don't want you to go, I like you. Austin says the girls were so adamant they didn't want you to go up. Julia said no f**k that she didn't want you to go up again. Austin says putting them (twins) up might be the best decision and then if one of them comes down maybe I go up to secure one of them going. I don't know I am caught in a hard place. This is such a tough decision. The girls trust you more than Vanessa. I will try to sit them down and deflect them as much as possible. I don't want you to talk to Liz about this because if I go up on the block I will need votes. If I or anyone else is up next to Julia the other person will go home. If I end up going up I will understand and not hold it against you. Austin asks are you going to blindside them or tell them? Steve says I can't. Austin asks are you going to hint to them? Steve says probably. They end their conversation and head down stairs.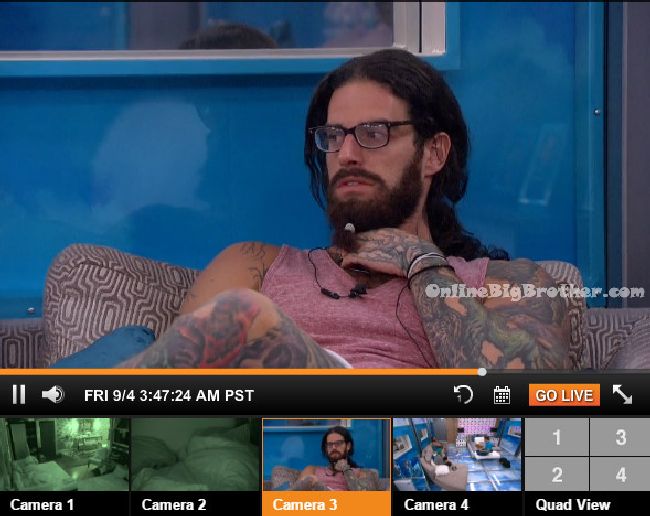 4:15am – 5:30am Steve has a shower and scampers around the house
If you've enjoyed the spoilers please consider a donation using the drop down box below. Simon and I work 24/7 all season long to keep you updated on everything that happens inside the Big Brother house.
[polldaddy poll=9059938]
Share it YO!
Tweet