POV Holder:
?
POV Competition
Sept 5th
POV Used
?
POV Ceremony
Sept 7th
HOH
STEVE
Next HOH
Sept 10th
Original Nominations:
? and ?
After POV Nominations:
? and ?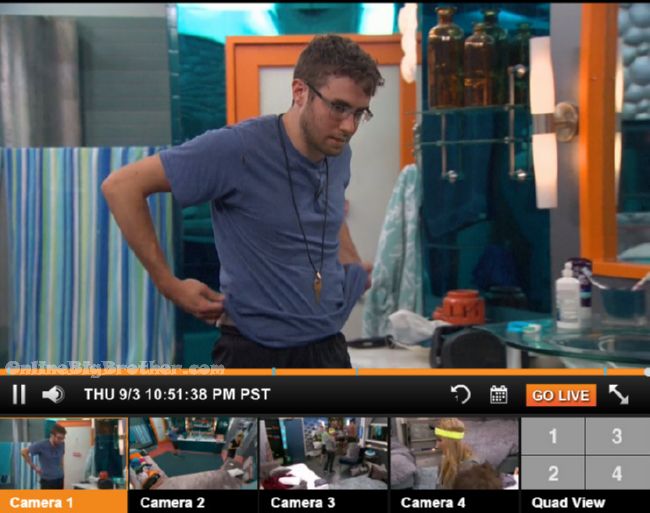 Steve wins HOH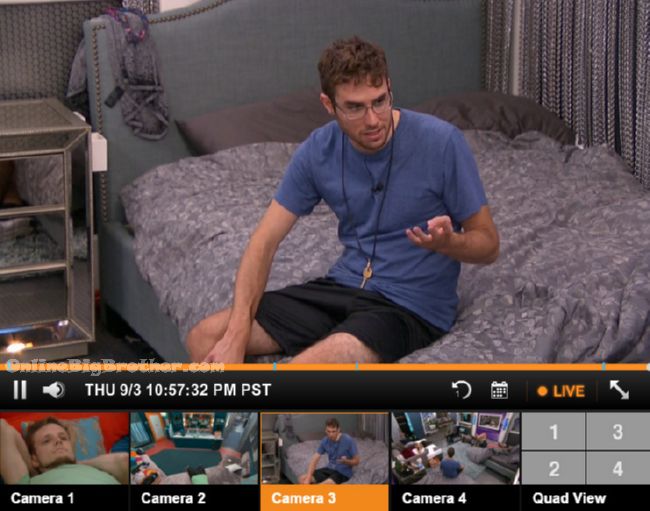 10:58pm Houseguests chit chat
Vanessa – what a day you guys
Steve – this morning I was puking in the sink
Steve – now we're final 6
Vanessa – you're final 5
Steve is going to go request port wine since it gives them the greatest amount of Alcohol.
Vanessa says the have nots room is going to get shut down, "LAst year they turned it into the reset room"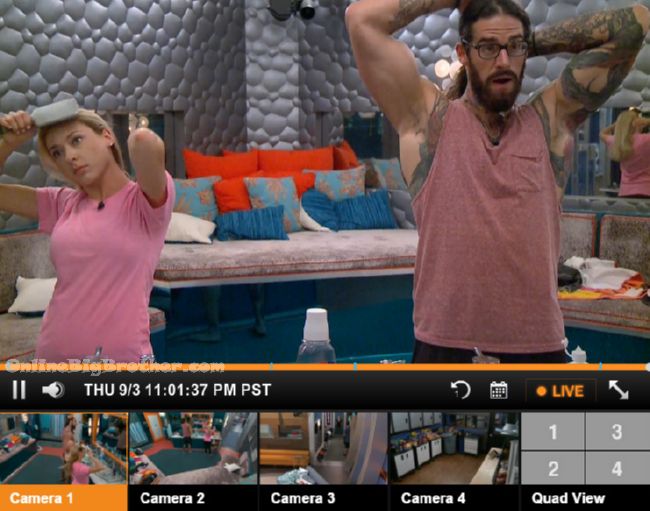 11:01pm Bathroom Austin and Liz
Austin saying him going up doesn't make sense "math wise"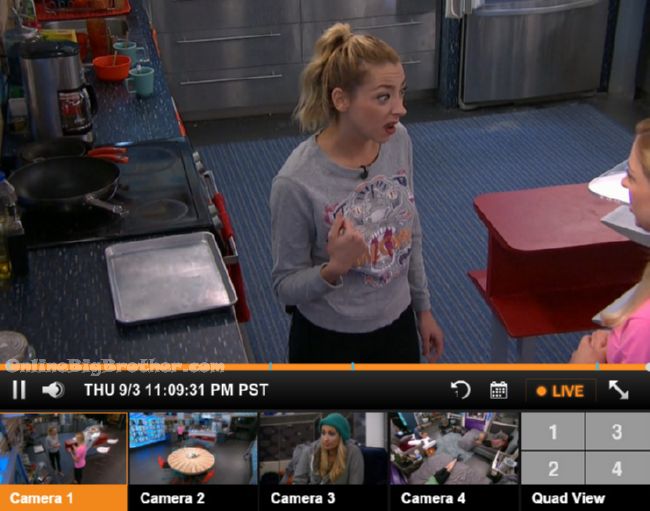 11:09pm Twins
Julia – I think we're good
Liz says Austin thinks he's good this week and Steve is putting them up.
Julia – He thinks Steve will put me up with you
Julia pissed
Liz – I think we need to go up and talk to him separately
'Austin's never been on the block'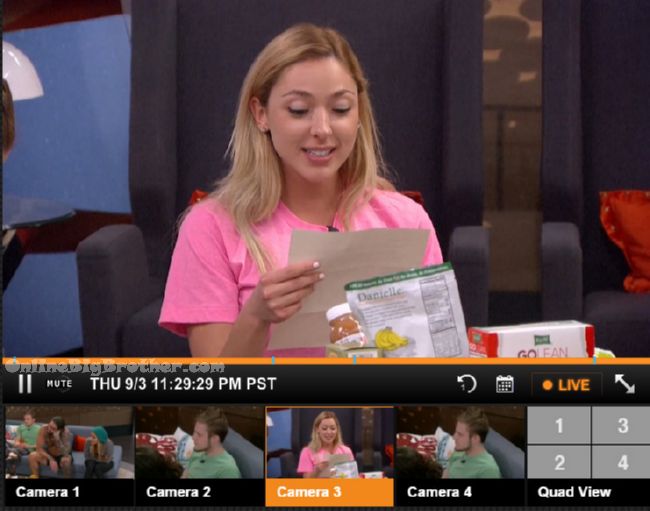 11:26pm
Vanessa – Where did everybody go
Twin – To Jury
THey laugh that James is going to be loving life in the Jury he's the only guy with all those girls.
The twins wanted to hear from Dad it's another letter from mom.
Liz read out her letter, "You are the perfect daughter"
Steve that's your fourth letter
Liz – Third.. Mom, angela, mom
They twins start suspecting that production re wrote her letter some of the phrases don't sound like what they're mom would say.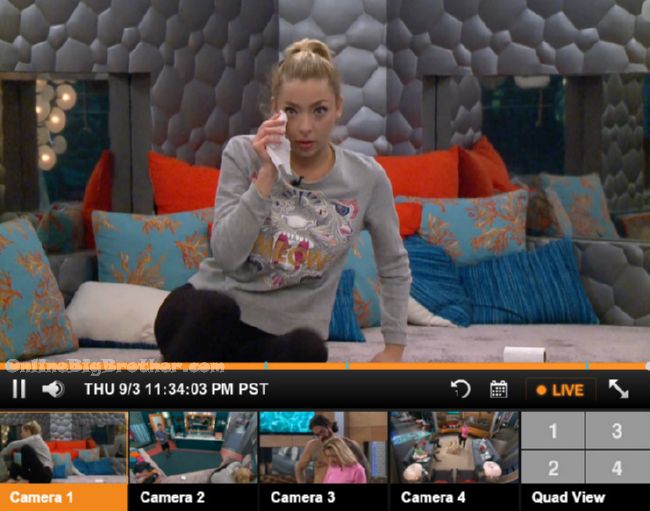 11:33pm Julia is crying says she misses her mom. Steve says he'll cry when he gets his letter just like he did the last letter. Austin rolls in Steve says there's a party in the HOH tonight have nots get to eat and drink all his port wine.
Austin says that's dangerous.
In the kitchen the twins are chit chatting..
Liz – I don't like how she writes letters.. I want to know wants Miami like..
Julia – she's probably so proud of us
12:00am Have nots are over for the season
Have nots done #BB17 @DawgsBigBrother pic.twitter.com/KkBrY6moa4

— OnlineBigBrother.com (@bigbspoilers) September 4, 2015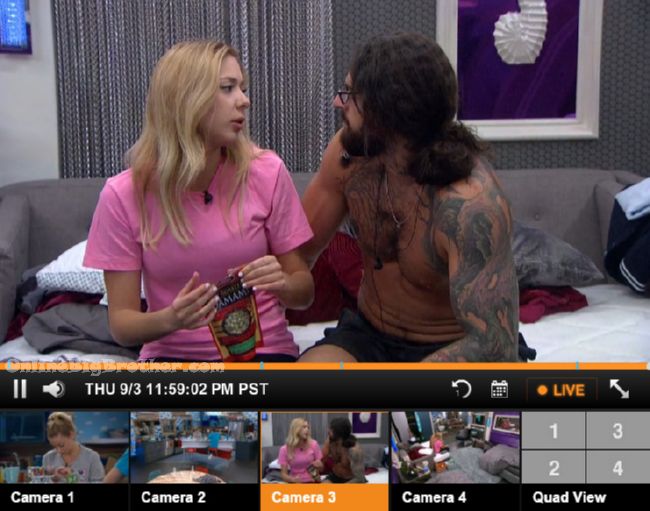 12:04am Austin saying their best play is to try and get Johnnymac up try and keep scamper alive.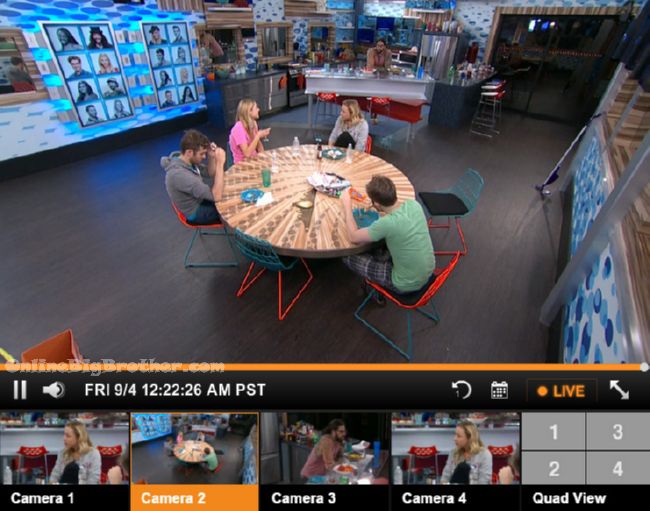 12:22am Austin keeping his distance
12:27am
Steve – Jason must be so pissed by this final 6.. none of his goblins
Steve points out how the first two weeks in the house there was the insiders and the outsiders..
The Insiders were Da, Becky, Audrey, James, Meg, Jeff, Jackie, Shelli, Clay. It was the group that hung out in the HOH when James was HOH.
Austin – we haven't lost any we're the alliance that never knew they were an alliance
Steve – no we did lose a outsider.. JACE .. all of jace's friends are still here
(That's hilarious)
Austin – he died for our sins
The Twins tell Steve he looks so much better now over his memory wall picture "You look cool now.. you've grown up so much"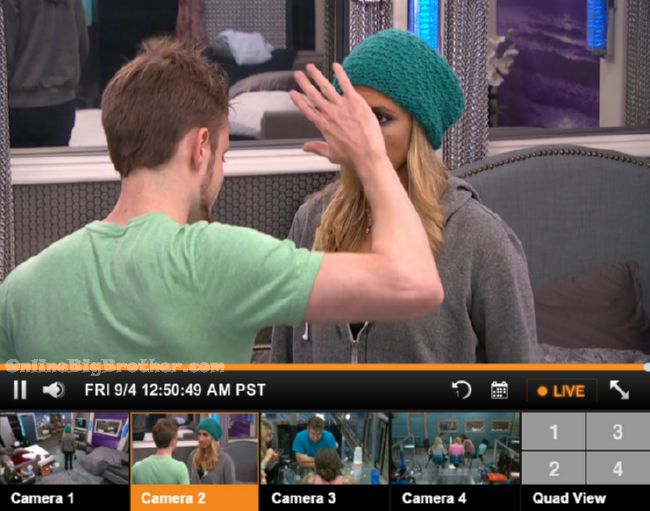 12:50am Vanessa and Jmac
Vanessa saying they need to keep the weakest one off the block so if Veto is played they aren't the ones that go up.
1:14am Vanessa stressing to Steve to not go to sleep. He needs to resolve his nominations tonight.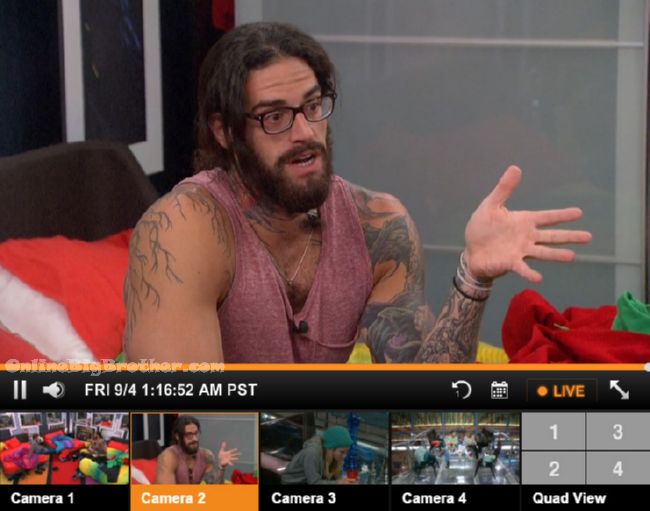 1:15am
Austin – I'm open to help you with anything you need.. Am I good with you
Steve – 100 percent
Austin – I need you final 4 final 3
Steve – I'm on the bottom of the totem pole with the scamper squad
Austin – not with me, you're not on the bottom of the totem pole with me
Austin says his biggest fear is the twins go up and the POV is used he's the replacement nomination
Austin says he can keep the remaining twin from targeting Steve the following week.
Steve saying they need to split the twins up it's final 6.
Austin – I will vote the way you need me to vote even if that puts me in a bad position with liz.
Steve says it helps all four of the if the twins get split.
Austin – next week you're not going up at all, I don't go up this week
Steve – I don't know what will happen with the replacement nom
Austin's willing to shake on it.
Steve can't make that deal if POV is played he would be in a tough position.
Austin explains to him if he goes up against a twin Johnny Mac and the other twin will vote him out.
1:30am Austin says a final 2 with Steve would be interesting
Steve asks if he would take Steve over Liz to the end. Austin says he would throw the final HOH.
Steve – you're not goign this week.. I don't want you to go anywhere
If you've enjoyed the spoilers please consider a donation using the drop down box below. Simon and I work 24/7 all season long to keep you updated on everything that happens inside the Big Brother house.
[polldaddy poll=9059938]