POV Holder:
?
POV Competition
Sept 5th
POV Used
?
POV Ceremony
Sept 7th
HOH
STEVE
Next HOH
Sept 10th
Original Nominations:
? and ?
After POV Nominations:
? and ?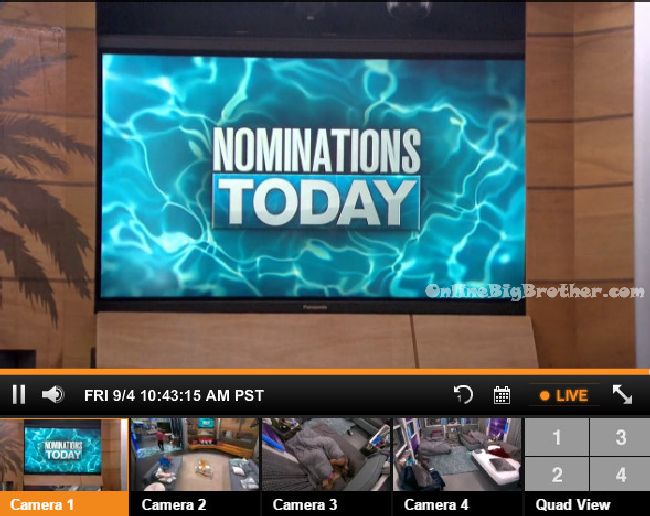 9:47am Big Brother wakes up the house guests. In the bathroom – Liz, Austin and Steve are talking. Steve says that he only got 3 hours sleep again. Liz asks him if he liked the bed. Steve says he did except the one light stays on. Austin and Liz head back to bed. Julia asks Steve if he listened to all his music? Steve says no, I only listened to one song and then I stopped and started talking to people. I wanted to make sure everyone had ample opportunity to talk to me. Steve starts scampering around the house whispering to himself. "This is purely a strategic move and I hope you can both understand. My hands are tied. You three have stuck together." Steve keeps pacing back and forth to the bedrooms. He walks up to Austin and Liz sleeping countless times and stares at them. "Sh*t they're out aren't they?!" "Alright Steve, I need to sleep or go wake them up. Those are my choices." (Steve plans to nominate Austin & Liz)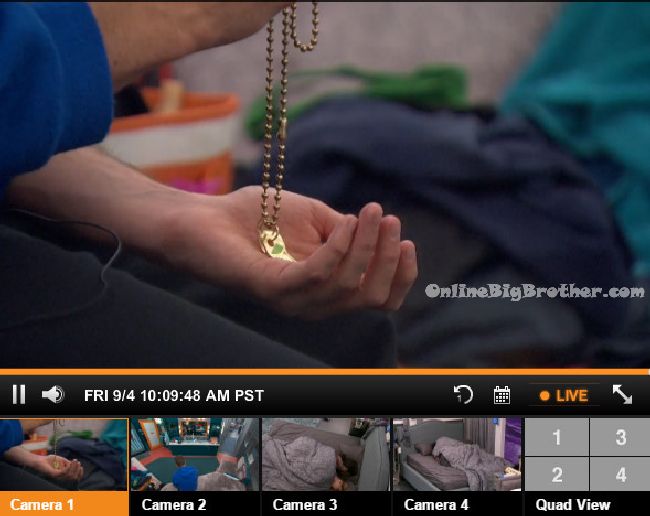 10:50am Steve gets into the bed beside Austin and Liz. He keeps moving around and wakes up Austin. Steve says I actually wanted to talk to you but you went back to bed. Austin gets up to talk to Steve. He says he'll talk to Liz after. Steve says I just want to let you know ahead of time I don't think I can put the twins up together. Austin asks why? Steve says I just feel like too much of a slap in the face. Austin asks so you want to put me up with one of them? Steve says I have the votes Austin. Austin says so I am good. Steve says yes, I have the votes. Austin asks Johnny is good? Steve says people have told me I have the votes. Austin asks so who would it be me and Liz. Steve nods. Austin asks so Liz is your target. Steve says I don't know. I don't want you going this week. Austin says all I know is I can control Liz. I don't have the same connection with Julia. Liz has a higher probability at winning than Julia. I can keep Liz from putting you up. Obviously I have to look out for my self. How come you came to that decision? Steve says because putting the girls up is just too much. I am sorry. You understand the position I am in and why I am doing it. Austin asks what Vanessa thinks of it, does she want me to stay? Steve says I have the votes. Austin asks I have your word that you want me to stay? Steve says you have my word. I am telling you because I didn't want to blindside you. I am sorry. Austin says its okay, It makes sense. I won't hold it against you. Just like I put you on the block and I told you, you have the votes. Either way which ever twin goes on the block I have the votes? Steve says yes. Austin says you're still good with me next week. Steve says thank you for your maturity.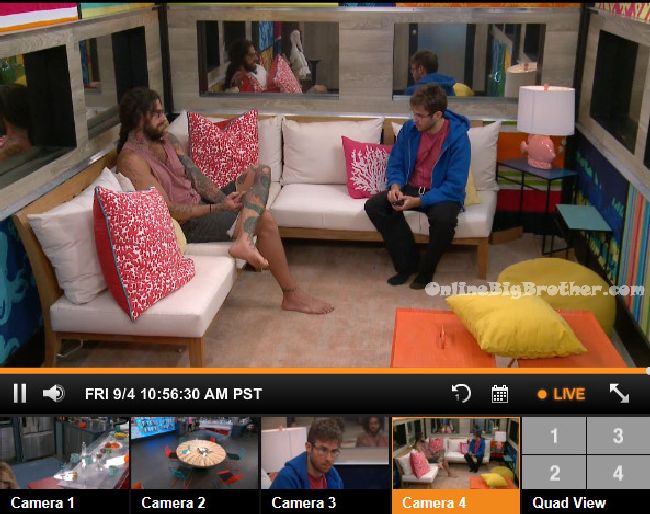 Steve talks to Liz next. Steve apologizes for taking a minute to listen to a song and then talking to Johnny Mac. Liz says not a problem. Steve says you understand I am in a nasty spot because you just kept me safe. I am in a really awkward spot. I do want to let you know that you and your sister are not going up together. You understand how the numbers are getting down. I adore you and your sister. Liz asks so you're thinking about putting me up? Steve says yes. Liz says I know your mind is made up. It just sucks. Liz says I just need fight for veto. I knew this day was coming. They hug and leave the room.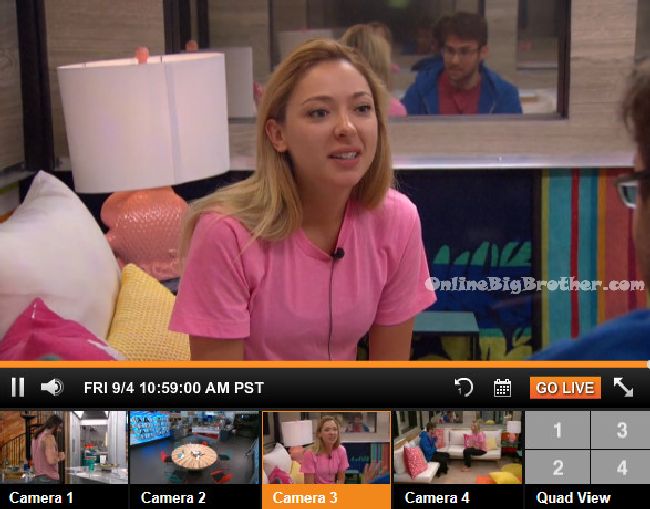 11:05am Austin tells Liz this is probably the best case scenario for you. They head to the bedroom to talk. Liz says one of us is going home. Austin says not if Julia wins veto. If Vanessa or Steve wins it .. forget it. Liz says it just sucks, I just won HOH. Austin says I know. If we win veto one of us comes off. Its not like our fate is sealed. He doesn't want to be in a final 4 with us 3. Liz says I just sucks because I couldn't even play. Austin says it doesn't mean you're going. Liz says this is war. Liz is crying. Austin says if you're ready to declare war on him, he will put up Julia if one of us come down. If you don't he might realize he made a mistake. Liz says okay. Austin says maybe Vanessa will help. Liz says I'm scared. Austin says he told me I have the votes. So its looking like he is trying to break up the twins. Julia needs to win or one of the three of us will definitely go.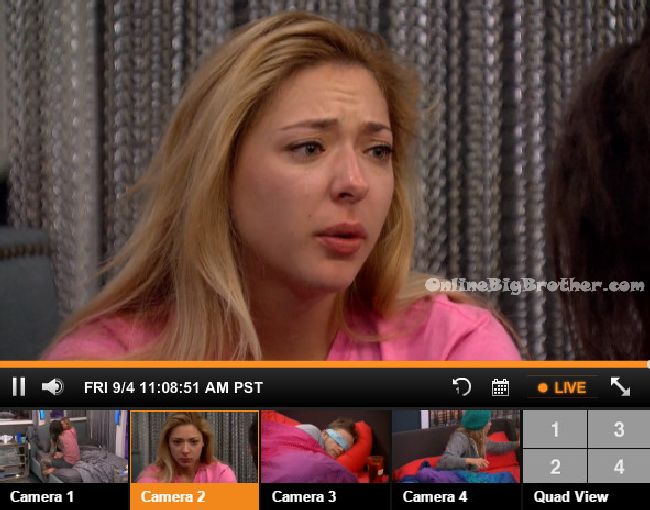 11am Cabana room – Steve talks to Johnny Mac and tells him that he is telling Austin he has the votes. We'll see how veto goes. Johnny says Vanessa is freaked out that you're not going to put him up. Steve says she thinks I'm not going to put him up? She wants me to put him up. Johnny says yeah. Steve says I get it she is freaked out. She is like F**k Austin, she comes first. Johnny says yeah.
Watch the NEXT WEEK of the Live Feeds for FREE! Click here for your: 1 Week Trial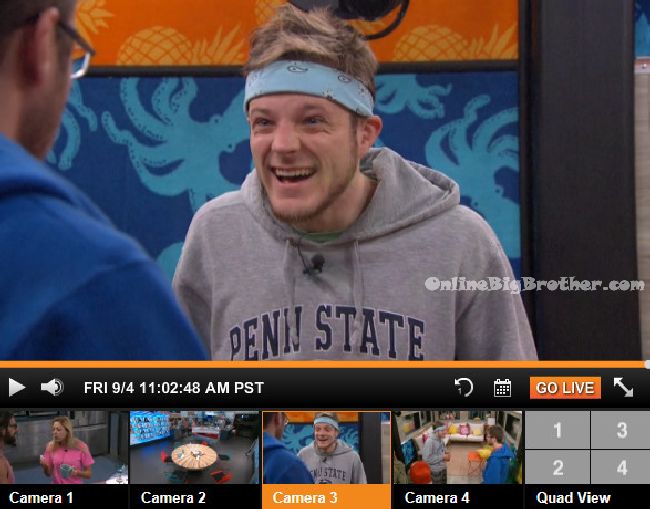 11:15am – 11:25am Austin talks to Vanessa. Austin says if you win you could use it on me. Vanessa says be very aware that he is with Johnny. I tried very hard. He kept asking about the fast forward. If he asks we never had a final 2. I will vote the way he wants. I won't break my word. If I use it on you. Austin says then Julia goes up and we can send her out. Liz is ready to kill. I'm trying to calm her down. Austin leaves and Liz joins Vanessa. He is putting me up. Me and Austin. Vanessa says think about it this way you have two shots. What is better you go up next to your sister or you go up next to Austin. Liz says I know that's what he said. Liz says I just won HOH yesterday. Vanessa says it wouldn't have mattered who you got out. It would have been the same today. I saw this move coming a mile away. Go out there and play for that veto. Be respectful like James was. Julia could win the veto. YOu have two tickets right now and its final 6! Liz says I never even put him up!! Liz starts crying. Liz says if I go you need to win this. A girl needs to win this. Vanessa says maybe Austin is the man of your dreams and he wins .. then you can spend all his money. Liz laughs. Austin joins them. Vanessa says Steve made me and Johnny Mac to promise to vote his way. I haven't broken my word but I will do what is best for my game. Liz says Steve told Austin he has the votes. So I am the target. Julia comes in to the bathroom and Liz takes her to the havenot room to talk.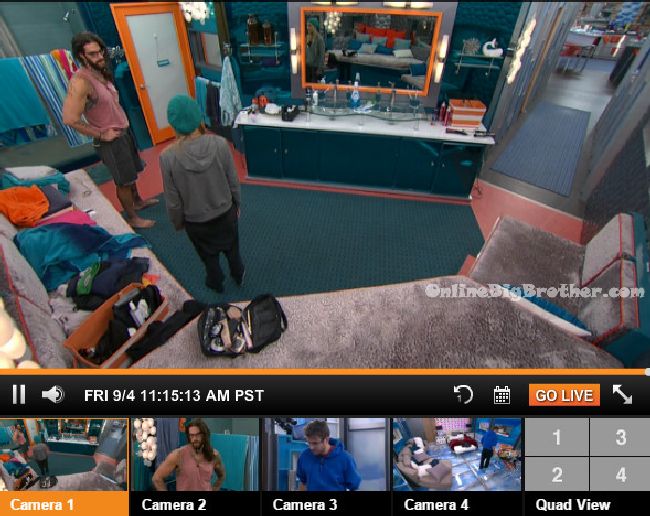 11:30am Steve asks Austin are we good? Austin says we are. Johnny Mac nodded to me in the kitchen. The only thing that worries me is Vanessa trying to flip it on me. She is down there talking to Liz right now. Steve asks do you trust her? Austin says I do but you never know. Vanessa and I have never been on the same terms since that week (The week Jason went home and Vanessa almost put Austin up.) Austin says this is more important to me. If I was married to her it would be a different story. I met her two months ago. Steve says thank you for saying that.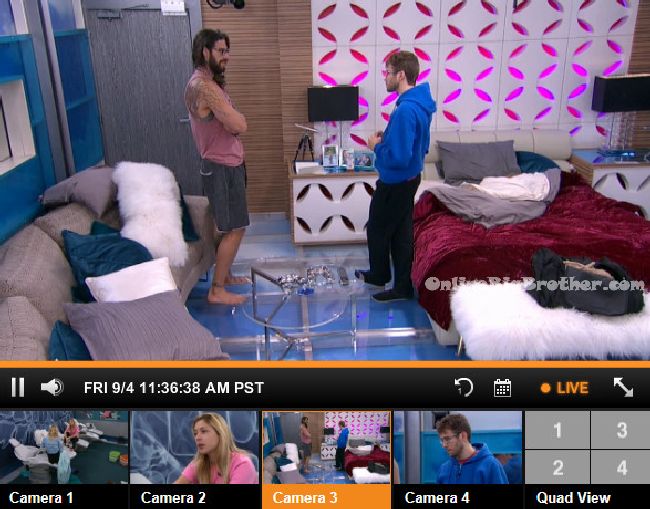 If you've enjoyed the spoilers please consider a donation using the drop down box below. Simon and I work 24/7 all season long to keep you updated on everything that happens inside the Big Brother house.
[polldaddy poll=9059938]