POV Holder:
?
Next POV
July 11th
POV Used
?
POV Ceremony
July 13th
HOH Winner Team 1:
Vanessa
HOH Winner Team 2:
Austin
Nominations 1 :
James & Johnny Mac
Nominations 2:
Jason & Meg
Battle of the Block Winner
?
Next HOH/ Next BOB
July 16th / ?
Original Nominations:
?
Current Nominations:
?
Have Nots
?
TRY the Big Brother 17 Live Feeds FREE for 1 WEEK:
Click here to ensure your live feed subscription supports OnlineBigBrother.com at no extra cost to you.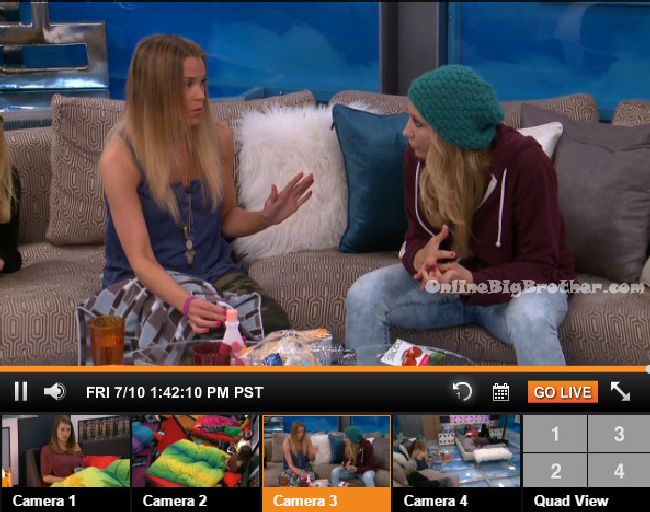 1:30pm UP in the HOH room.
Shelli, Austin and Vanessa are talking. Austin asks so how was my speech? Shelli says both of them were good. Clay joins them. Vanessa says my speech made sense right. Clay says yes. Austin says we just said we couldn't put you up because we made a deal with you last week if you wouldn't put us up. Austin says that I told Meg that I promised Jackie I wouldn't put her up because right away she came up and talked to me. Shelli says your concern was Audrey. Vanessa says but everyone has to think she is going up. Shelli says yes. She says that James said to Meg while he knew Audrey was laying in bed listening … he said to Meg listen don't worry about it there are bigger fish to fry there's this power couple we need to break up. James then came and told me he said this while Audrey was listening. This is perfect for sleeper cell because then Audrey will come to us and tells us so she will be calm and not freak out. If she doesn't come to us and tells us then it means she is trying to work with James and plot against us. Shelli says you know how sleeper cell is with Audrey but as we phase her out we will bring Liz and Julia in and guess what we'll call it "Sixth Sense". Vanessa says when we get out Audrey is when there is a speed eviction. That way she will not have time to talk to anyone. Clay says we just need to keep breaking down the in. Vanessa says our group is so strong for any kind of comps especially when we take out James or Jeff. Austin says then Jackie is all mine. Vanessa asks what if Jeff wins pov and takes down James. Clay says either Steve or Audrey. Austin says no they're our numbers. Vanessa says I think Jackie. Austin says no. Shelli is surprised. Vanessa says there's no one else. Vanessa asks what if James/Johnny win the BOB and Meg and Jason are left on the block. What if Jeff wins the veto and takes Meg down. Vanessa says who do we put next to Jason? Jackie? Shelli asks why are you going after Jackie? Vanessa says who is left. Do the math. She is highly manipulatable. Shelli says if Jason or James are still on the block and someone else wins it you keep it the same. Liz rings the door bell and comes in. Vanessa says I knew you were coming because of my "sixth sense"… Liz laughs and says OOHHHH!! Vanessa says just so you know they were all throwing your names (Shelli & Clay) out there asking why we're not putting you up. Shelli asks who? Vanessa says gave my word I wouldn't say names. One of them straight up told me not to trust you (Shelli).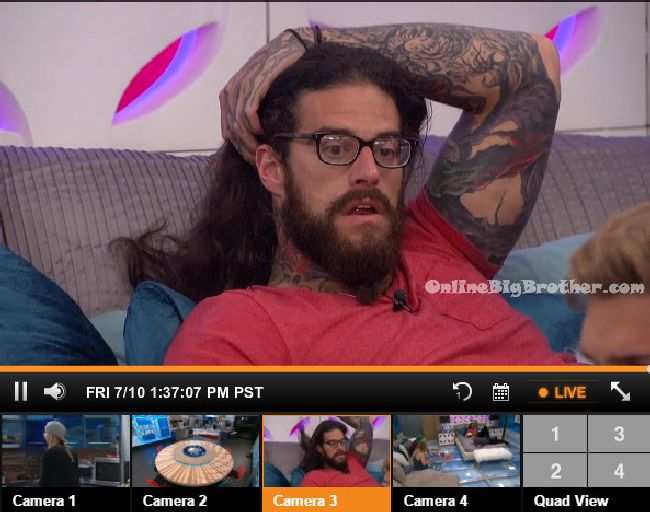 Vanessa says that Jeff said he realized he could never work with Shelli and Clay together because you (Shelli) didn't go after his target (Audrey). Shelli says this is why I called him the male Audrey. Vanessa says that Jeff woke me up in the middle of the night saying he needed to talk to me and then never brought it up again.. so I questioned him about it. I put him on the spot so that's the first thing he said. Vanessa says she needs Jeff to say something I can use against him. Shelli says it can't come from me or Clay because we can't be the connection. It has to come from you, Liz. You have to get close to him. Austin says if he touches one hair on your head! Shelli brings up how the others are starting to drop the twins thing. Shelli leaves. Austin says I think we still let Johnny Mac throw it. I think it will be hard for him to throw it against James. Vanessa says the producers are having a wet dream right now trying to think of how to make it so Johnny can't throw it. Vanessa asks when do you guys switch again? Liz says late Sunday or early Monday. Austin says with Jeff gone Jackie might be loyal. There's never been a vampiremance.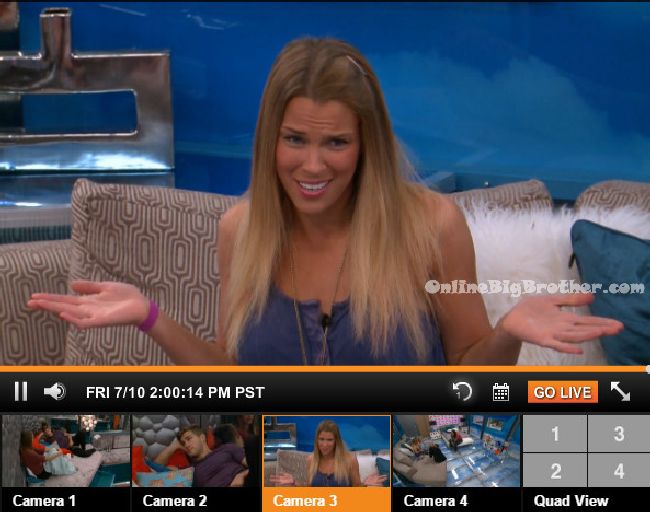 1:50pm – 2:30pm In the bathroom –
Clay lies to Becky and tells her that Audrey is the first target with Steve as the backup plan. The discuss the twins. Becky tells her the things that she is looking at to confirm the twins. She says two pimples on her forehead and three freckles on her chest. Clay heads up to the HOH room and tells Liz the signs that Becky is looking for. She knows you have them but will look to see if Julia has it. Liz asks what is Johnny looking for? Clay says the tooth that's a crown. Liz says I so want to tell Becky to stop talking sh*t about me. Shelli says she's not she's just trying to figure it out. Liz says Julia just needs to not talk when she's here. Liz tells Clay thank you. Vanessa brings up how Audrey said she wasn't the one to vote for Day and Jason told me it was her. One of them are laying to me. Austin says we just have to watch to see if Audrey does anything stupid this week.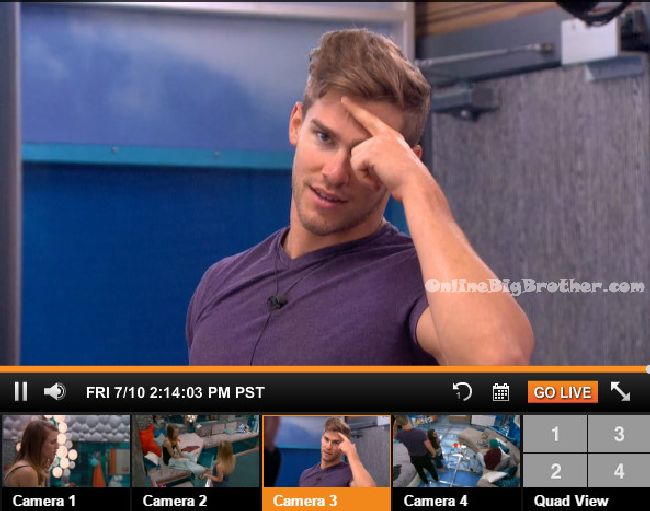 2:30pm HOH Vanessa talks to Liz about managing Austin's crush on her so that it doesn't blow up things and make things awkward. Vanessa tells Liz to manage his crush on her. Does he have a shot or not? Liz says I don't like him like that. I just want to make it clear to him that I like him as a friend. And we're on national television. Vanessa asks if it wasn't for the show would he have a shot? Liz says no. He also talks about his girlfriend. Vanessa says just tell him you know he has a girlfriend and you don't want to be the other girl. Liz says I don't know why I didnt think of saying that. She says that Austin said in the beginning he came in with a girlfriend of 8 months. Vanessa says no it was more like 2 years. Liz says I honestly thought Jace and I could have had something but then near the end I wondered what I saw in him. Vanessa says and your sister didn't like Jace at all. Liz says we're both so different. Austin comes up and tells them that Shelli is hosting the Battle of the Block. He tells Vanessa one of us is going to get slimmed. Austin starts talking about beer and how his girlfriend is a huge beer drinker… Big Brother blocks the feeds. Austin talks about having the podcast up in the HOH room. It could be about how to catch cheaters. Vanessa says I have a funny story about catching someone. Austin says the more interest I show in Jackie the closer he gets to me. I don't care, I'll play it up. Liz comes back up with a head band on and Vanessa sarcastically says oh a headband I wonder why?! Liz points out that she has a scar on her arm. I can't believe no one's noticed. Idiots!
Watch the 24/7 uncensored Big Brother 17 Live Feeds: FREE 1 week trial!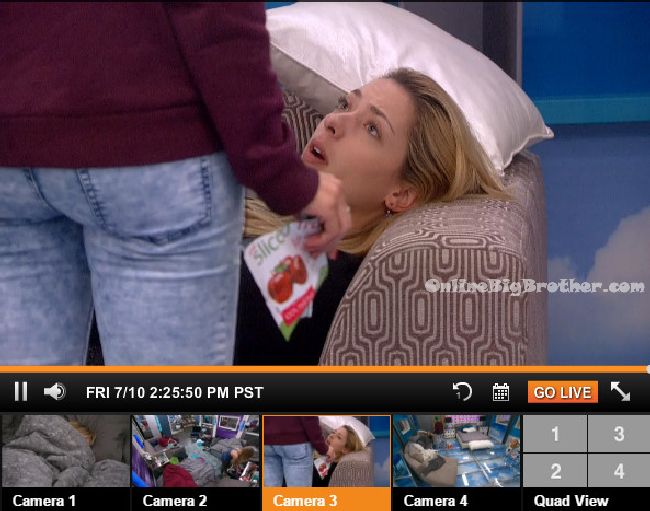 2:50pm Big Brother blocks the feeds for the Battle of the Block competition.
4:51 feeds still down

6:01pm no feeds for you
Live Feed subscription gives you CBS All Access thousands of archived shows. Live Shows like Big Brother, all the Big Brother Seasons, and 24/7 coverage of what is happening inside the Big Brother House. Plus there's flashback that lets you go back to any second of the feeds and rewatch what happened. Simon and Dawg will index the season just watch the parts worth watching. All this for $5.99 a month try it out 1 week free. Support our efforts and get your feeds via a link on this site. Live feed subscription Sign up
[polldaddy poll=8972565]
Share it YO!!
Tweet