POV Holder:
James
POV Competition
Aug 29th
POV Used
Yes
POV Ceremony
Aug 31st
HOH
Vanessa
Next HOH
Sept 3rd
Original Nominations:
Meg and James
After POV Nominations:
Meg and Julia
Have Nots
Johnny Mac, Julia, James, Meg
2:15pm – 2:40pm
Steve heads up to the HOH room. Vanessa tells Steve that Julia and Liz were freaking out. Steve says yeah I calmed them down. Vanessa asks why were they freaking out? Steve says because I talked to them last night. She wasn't even campaigning. Vanessa asks what were you talking about? Steve says most of it wasn't game at all. She said she had one person that would win. She didn't say who. She said she is going to do some hardcore campaigning but it hasn't happened yet. Vanessa asks I wonder if we got played a little bit. DO you ever think its in Austin's incentive if Julia is gone. Steve says no. Vanessa says it is, Liz is never taking Austin unless Julia is gone. Vanessa says what if James, Johnny Mac, and Austin vote the other way and it gets pinned on you. (LOL Vanessa just figured out Meg & James plan
"Operation Trojan Horse"
) Steve says nooooo! I can't see that happening. What!? And Austin blames it on me? Vanessa says yes, he would never admit it. Steve says that's dirty!! Vanessa says Johnny Mac would have to do it with out telling us. I don't think it will happen. Its sinister but.. Steve says I can't see Austin doing that. Vanessa says I am also nervous about Austin being on to you, me and Johnny so I have started throwing out negative comments about Johnny. I think you should do the same thing like I don't know where his head is at. Vanessa says if we had a preference to move forward.. If you won HOH the easy play is to target James. Vanessa says getting deeper with people that are less likely to win is better. Do you think Johnny Mac could win? Win the game? Steve says its not likely. But people like him. Vanessa says Meg was probably hinting to you that Austin is going to win …she is setting it up that argument right now so that you will vote against Liz to weaken Austin. Steve says ohhhh! Vanessa says people .. except me… no one will say an honest opinion. Everything has a reason. Vanessa asks do you think James will come after me? Steve says No, I think he is more scared of Aus-twins. Especially after my conversation with Meg. Vanessa says good then you can't vote out Julia because then guess who would go up you and me. Steve says I wouldn't vote her out. Steve gets called to the diary room.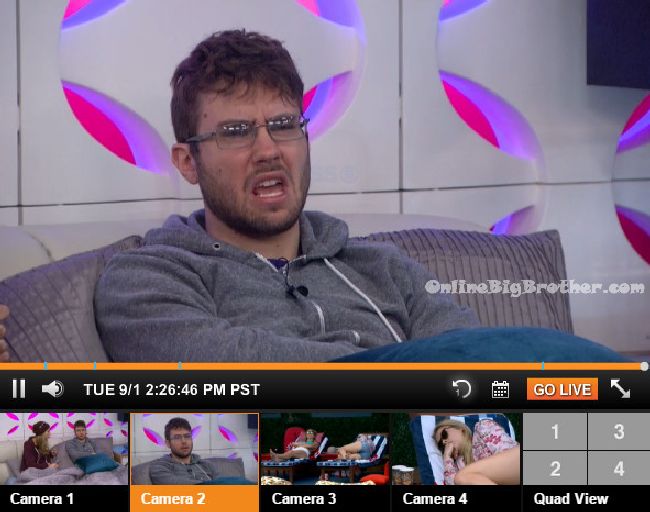 2:25pm – 3pm Backyard – Julia tells Liz if Steve dares vote against me after we saved him … he would look like the shittiest person. Liz helps Julia think about what to say in her speech. Just don't choke that would be so embarrassing. Julia and Liz head to the hammock. Julia says I had a wake up call last night seeing them talking.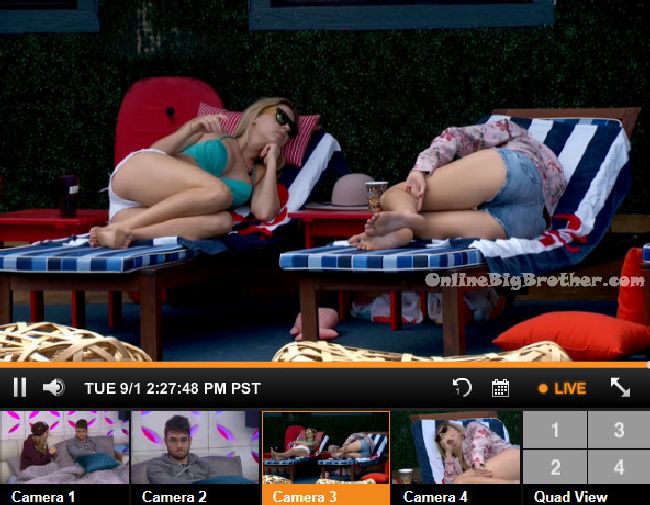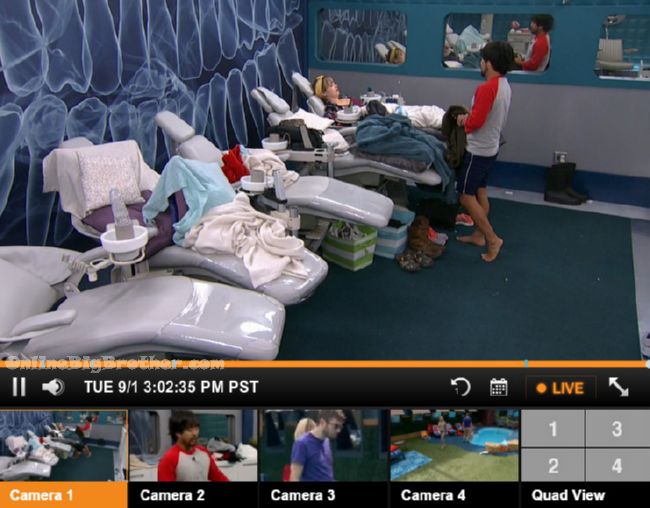 3:03pm Have nots Goblins
talking about how operation Trojan Horse will go down. They agree to go talk to Jmac and Austin separately. This way James can keep "Boy" and Vanessa occupied.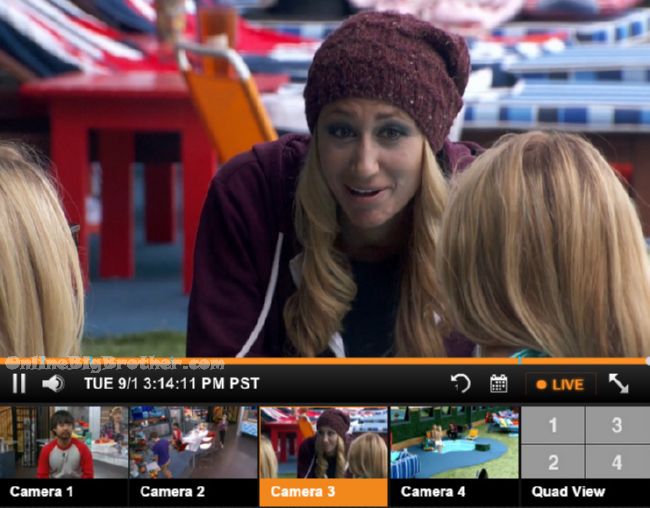 3:13pm Hot Tub Vanessa and the twins
Julia is nervous that the vote might flip
Vanessa doesn't think it will as long as everyone keep their word.
Vanessa knows it's going to be a couple rough days, Says there's no reason for them to flip.
Vanessa- They can't use the argument that Meg hasn't won a comp but you haven't won a comp
Julia says she talked to Steve this morning and Cried.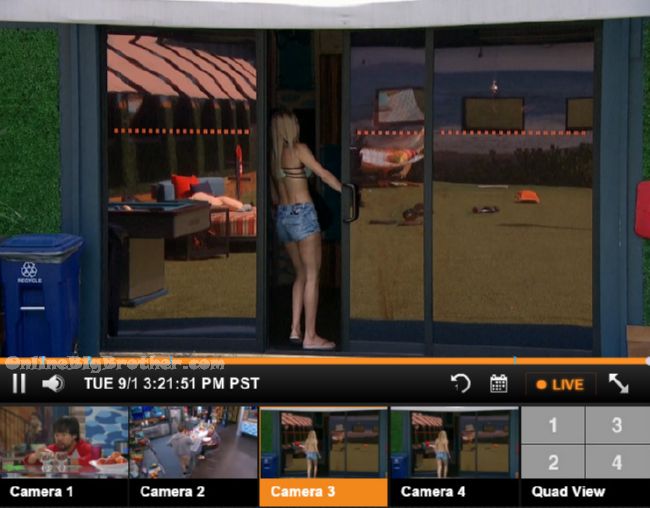 3:22pm Indoor Lockdown called
Freaks everyone out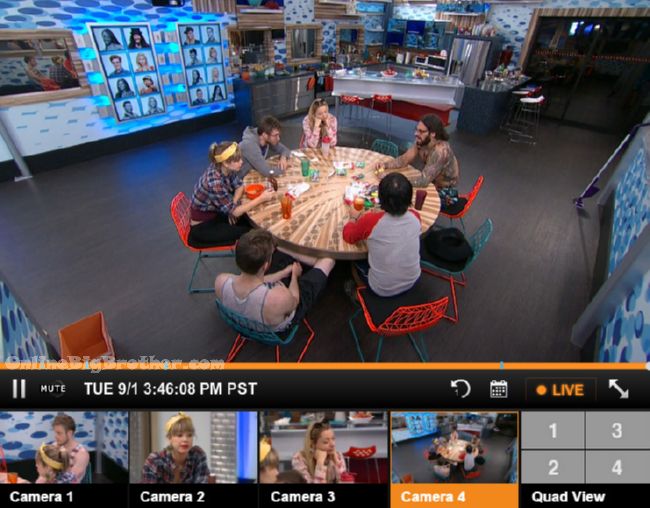 3:53pm playing around with candy.. chit chat
Austin is trying all the Candy
If you enjoyed the spoilers please consider a donation using the button below.
ALLIANCES:
"Goblins/Gremlins" = James and Meg
"The Generals" = anyone allied with Becky
"SOS" (Students of Sound) = Steve and Vanessa
Rockstars = Steve and Jmac
AUS-Twins = Austin, Julia and Liz
"Austin's Angels" = Austin, Liz, Julia, Vanessa
"Brass Tacks" = Gobins and Austwins
The new "Brass Tacks" = Aus-Twins, Meg, James + Vanessa
"Freaks and Geeks" "The Scamper Squad" = Aus-Twins, Vanessa, Steve
"The new Freaks and Geeks minus Vanessa" = Austin, Liz, Julia, Steve, Johnny Mac
"The Authority" = Austin, Liz, Julia, Steve
[polldaddy poll=9046808]
Share it YO!!
Tweet