POV Holder:
James
POV Competition
Aug 29th
POV Used
Yes
POV Ceremony
Aug 31st
HOH
Vanessa
Next HOH
Sept 3rd
Original Nominations:
Meg and James
After POV Nominations:
Meg and Julia
Have Nots
Johnny Mac, Julia, James, Meg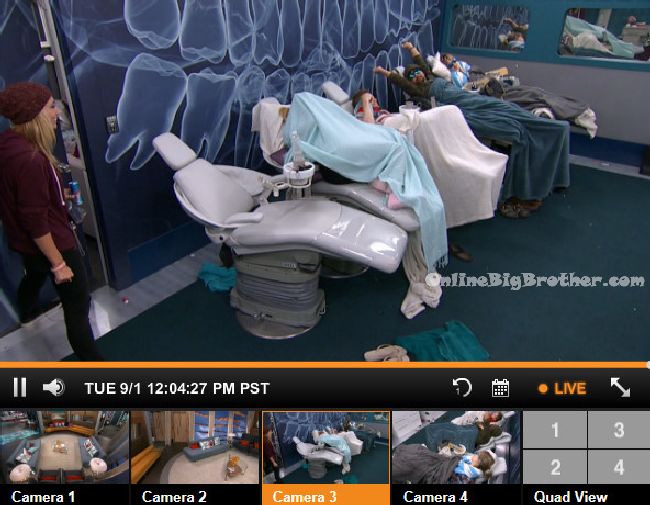 12:05am
Vanessa comes out of the diary room with the HOH camera and starts waking up the other house guests. Good morning my little havenots! Vanessa gets ready and heads outside. She tells Johnny Mac it sucks. I don't want to take photos of sleeping people. Vanessa says I feel like we should take a photo.. The least likely people to work together. They stand together and take a photo. Vanessa asks how was last night? I drank that wine and passed the f**k out. Johnny Mac says Meg came out feeling out where I stood and I said I was pissed at you and Steve. Just so they can't use that against me in the future. Then I went to bed and James and Meg didn't come back for 2 more hours. Vanessa says I wonder what they talked about? Johnny Mac says they're obviously going to try sh*t. I will let you know everything. Vanessa says it only going to be Meg. Its not in James's incentive to try. Right, I mean? Johnny says this HOH is big. Steve or I could win it and its almost checkmate. For the double we almost want to throw it. Vanessa says the problem is .. do you really believe Steve would do it? Johnny says I would have to talk to him more. Vanessa says I know I would and you would do it.. but I just don't know if Steve would. He cried after Jackie. Johnny says he would probably go after James. Or would he throw this HOH and let you, me or James go home. Vanessa says it doesn't make strategic sense for us to go for him. Johnny says he is really trying to prepare me. Vanessa says that doesn't mean he is trying to win it. Vanessa starts quizzing Johnny Mac on his days. Vanessa says she wants to to Steve to find out what Meg talked to him about. Johnny says whatever I hear I will let you know. Vanessa tells Johnny I like the 3 person thing you suggested. Johnny says its a little risky but if we win its almost checkmate. Vanessa says yeah its a good idea. Liz joins them.
Watch the NEXT WEEK of the Live Feeds for FREE! Click here for your: 1 Week Trial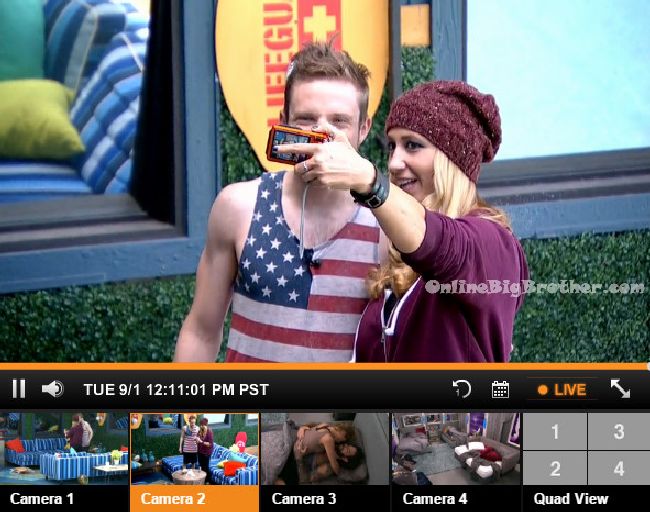 12:25pm – 12:40pm Havenot room – Meg says lets go take a photo. If we don't she will say we never took photos with her. James says just one picture. Meg says this is good for you. So next week she can't say you never took a photo with me. James says I'm a havenot. I'm tired. I didn't take a photo with her last time either. James goes back to sleep.
12:35pm – 12:55pm In the backyard they start taking photos. Meg joins them and complains about being so tired. They take a bunch of photos and then before 1pm Vanessa returns the camera.
HOH photo time @bigbspoilers #bb17 pic.twitter.com/faVXIvhifF

— Dawg (@DawgsBigBrother) September 1, 2015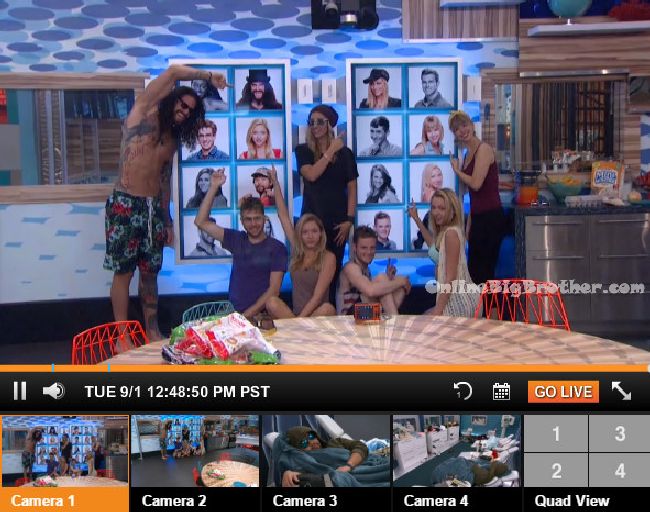 12:55om – 1:10pm Kitchen – Juju tells Liz that late last night she saw Johnny Mac, Steve, Meg and James talking. Austin was in the kitchen cooking. He said go out there but I woke up from sleeping. Liz says that's all you. JuJu says I was assured that I wouldn't have to do anything like that. Its just annoying. You know?! Liz and Juju head into the hammock room to talk. Juju says I swear if I go home because of that kid after I voted to keep him! Vanessa doesn't care. Austin doesn't care. All of you were promising me I didn't have to do anything and look what's happening. Liz says okay you need to have a poker face. Juju says I am pissed. Liz says I'm going to talk to Steve and see what he said. Juju says no I want to. Liz says no he won't tell you. Juju says and now Austin is saying Steve is talking sketchy. I feel like Vanessa doesn't care. I just feel alone. If I go home this week I will never talk to her again. What if Steve flips the vote .. then I'm gone. Liz says then Austin and I go after him. Juju says I am really pissed off. Liz says Vanessa has made it very vocal she wants Meg gone. So if he doesn't vote her out, she will be pissed. Juju says this is the worst feeling. I am never doing this again. If you put me on the block I am coming after you. I am never being a pawn again. Steve joins them. Steve says you have my vote 100 million percent!! Juju says me and her did so much to keep you here and if you flip the vote.. Steve says you have nothing to worry about.. Its done!! Juju asks can you tell me about what she said about me? Steve says at no point did she ask me for her vote. She hasn't even started campaigning yet. She will probably still talk to me but she doesn't have my vote. Juju asks should I not be sleeping.. should I be up scampering!? Steve says you have the vote. Nothing more needs to be done. There is no reason for you to be freaking out. There is 0% that she would have my vote. They hug and leave the room.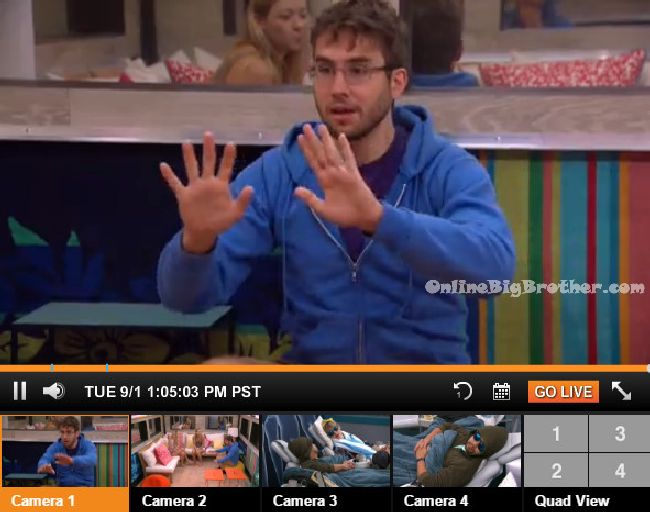 1:35pm – 2pm HOH room – Austin heads up to the HOH room to talk to Vanessa. Austin says that Julia was complaining that Liz was sleeping and they were out there talking. I was like this is big brother why don't you just go out there. They're just being so lazy about it. Vanessa says we don't want to leave them along for too long. Austin says this is the time when you need to stay up late and grind it out. I went to bed at 4am. This is how the exterminators got together by staying up late. Vanessa says Johnny Mac really likes you. He wants to make a move. He is feeling me out to see how close we are. Austin says to make a thing together. That's how James is too. We stayed up late last night. He thinks everything he says will go back to you so he is careful about what he says to me. Vanessa says James has never worked with people that can win things and I think that's attractive to him. We can both offer that to him. Have you thought about this .. people want to work with us because people hate us in jury. People really like Steve. Johnny Mac is turning away from Steve because it will be hard to beat. How ever wins HOH there are conversations to be had if they're on the other side. If I was on the block next to Julia would you be able to keep me? Austin says I would want to. Vanessa says yeah its better for your game. I could campaign really well and you would just vote with the house. Austin says Liz said to me if Julia went home, I would self evict. I told her don't think like that, there's only a few weeks left. Vanessa says if they were on the block its better they're on the block together (Julia & Liz).

Austin says you and I have had our thing. You and Johnny Mac have and your thing. Johnny Mac and I have had our thing. We are all equal distance from each other which is why its good if we came together. Vanessa says its down to us needing to get rid of people who can win. If Steve is up there its getting to the time to get rid of him. Vanessa asks do you think its better to keep Johnny Mac over Steve. Austin says we can beat Johnny Mac. Vanessa says she thinks he and her are fairly even in terms of the jury hating us. Austin says once Meg goes in you're done. Vanessa asks what will Steve do if he wins HOH? Will he go after James? You have to scare him into thinking James is coming after him. Austin says if Steve wins he has to put up James and Johnny Mac. Vanessa asks is that best for your game? James going is best for my game. Austin says I think Steve will throw it to go for the double eviction. Liz joins them. Liz asks what happened last night. Austin says Steve and Johnny Mac were up late with James and Meg. I've just seen too many times the impossible flip happen in past seasons. That's why you need to stay up late. Liz says I know. Austin says we're good but its something we need to be aware of. Austin says if Steve were to vote out Julia .. he would make 4 enemies. It doesn't make sense for Steve to do that. He's sworn up and down she has his vote. He's not a liar. He's not flipping it. Vanessa says I would be shocked if he did. Vanessa says if he ever asks they came to us about "Brass Tacks". James thought of the name. And it was never real. They agree to stay up late to stop Meg and James from talking game.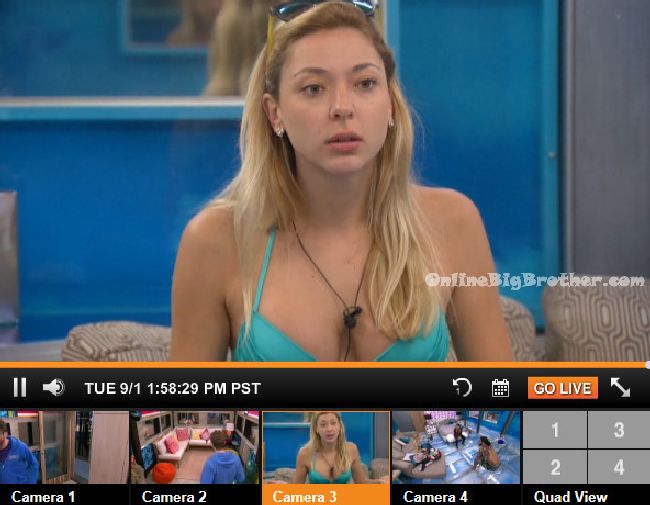 If you enjoyed the spoilers please consider a donation using the button below.
ALLIANCES:
"Goblins/Gremlins" = James and Meg
"The Generals" = anyone allied with Becky
"SOS" (Students of Sound) = Steve and Vanessa
Rockstars = Steve and Jmac
AUS-Twins = Austin, Julia and Liz
"Austin's Angels" = Austin, Liz, Julia, Vanessa
"Brass Tacks" = Gobins and Austwins
The new "Brass Tacks" = Aus-Twins, Meg, James + Vanessa
"Freaks and Geeks" "The Scamper Squad" = Aus-Twins, Vanessa, Steve
"The new Freaks and Geeks minus Vanessa" = Austin, Liz, Julia, Steve, Johnny Mac
"The Authority" = Austin, Liz, Julia, Steve
[polldaddy poll=9046808]