POV Holder:
James
POV Competition
Aug 29th
POV Used
Yes
POV Ceremony
Aug 31st
HOH
Vanessa
Next HOH
Sept 3rd
Original Nominations:
Meg and James
After POV Nominations:
Meg and Julia
Have Nots
Johnny Mac, Julia, James, Meg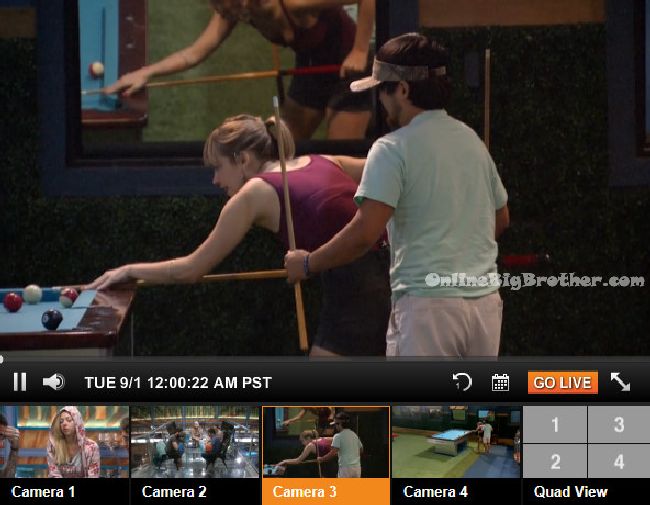 12am Meg heads out to the backyard to play a game of pool with James. She says that she can't sit there and watch that. Even if I was on good terms I couldn't sit there and watch that. Not that I'm not on good terms. James starts giving Meg pointers on shots. He gets behind her to "look at how she grabs the pole." Meg asks are you done yet?! James say that brings back memories. Meg says oh my god James!? James asks what its been 75 days! They finish their game and head inside. James brags that he's good at chess and could stomp their a$$ if he played them. Meg tells him to go play chess with them.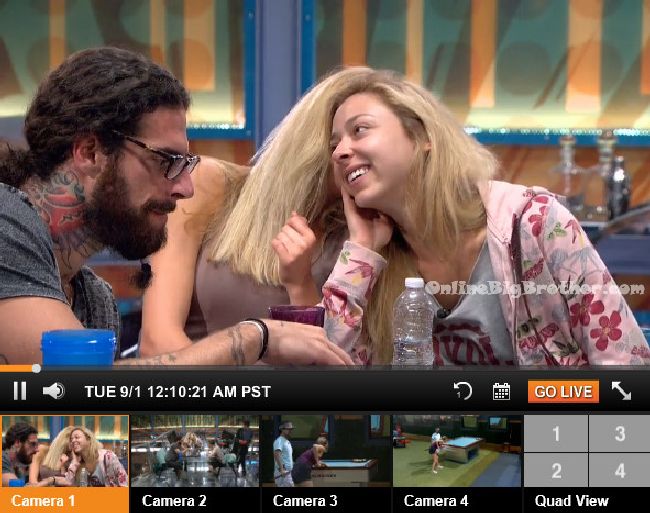 12am – 1:40am Outside the HOH room – Austin and Steve are playing a game of chess. Johnny Mac plays Austin next. James joins them and plays Austin.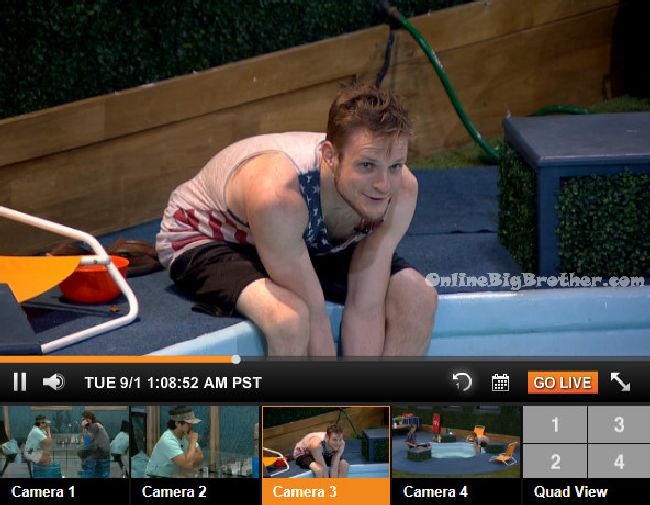 1:10am Backyard – Johnny Mac and Meg are sitting with their feet in the hot tub. Johnny Mac asks how she's doing? Meg says oh alright, hanging in there. I just felt like there was really .. its like a friendly fire. There was nothing I could do with nomination stuff. Johnny says right. Meg says that's the only thing that is really driving me nuts about it because trust me I put up the best fight I possibly could. Johnny says Me last week. She (Vanessa) was supposed to get backdoored. She won it (veto). Meg says now noms are done, now its time to figure out what the hell I'm going to do. Johnny says think about it, maybe change people's minds. Meg says oh I will, I'll be talking to you. Its too early now though. It almost blew up last week. Johnny says yeah I came back in angry at everyone. Johnny says I'm still pissed off at Vanessa and Steve. James needs to stay and fight like a wolverine or mongoose. Johnny asks what was the reasoning for you to go up. Meg says something about week 5 and then turned to wanting to break us up. Johnny says when I win HOH I'll be like "You evicted me!" Meg tells Johnny to watch out for James. (Watch out for his back) Johnny asks if James is good at the days? Meg says no. I've been trying to teach him. Johnny says I am ready to put Steve and Vanessa up. Meg asks I thought you two were okay. Johnny says he blew up my game. Meg tells Johnny that Austin and Steve wanted you to go up next to Meg. Meg says she said she wanted to break up the duo. She says when there is a trio. Johnny says they're going to bully us all out of here. Meg wonders what Steve's game play is. Johnny says he is going to have to win final 4 and 3. Meg says numbers are important right now. Johnny says I've made so many enemies. Steve joins them. He talks about his stuffed animal and they about survivor.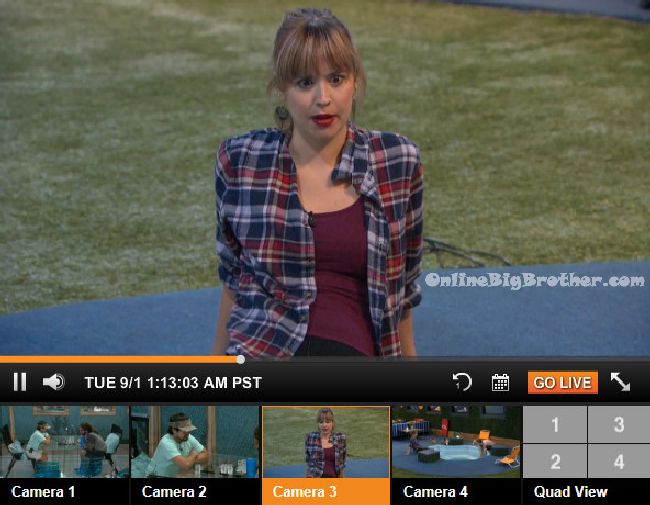 2:10am Bathroom – James and Austin are talking. James says I pretty much came to terms with Meg going home. I knew once Julia went up it sealed her fate. Austin says it opens you up now. Austin says I'm in a tough spot right now. Its at the point where I can't make deal or protect 3 any more. James says yeah Vanessa said that. Austin says I need to protect myself right now. Hopefully it doesn't come to a point where I have to choose between them or I'm f**ked. Or like she has to choose between me and her sister. James says at one point in time or another you're going to have to. Austin says I am hoping someone does it for me and its out of my control. I don't want to scumbag them. Or they can just keep winning HOHs. I hope you and I can be good going forward. James says oh yeah. Meg thinks that Vanessa is going to try and pull me in. Austin says it makes sense that she would pull you in. If I win HOH I am not putting you up. James says next week is going to be crazy before we go into Taxi car driver bang bang style! Austin tells James he wouldn't put him up. Austin says as long as you're here Vanessa will probably go after you. James says oh I see, use me as a meat shield. I understand. Austin says he didn't want Meg to go. Final 6, final 5 is when we start going after each other. James says if I did win HOH, Vanessa said she wanted to run scenarios by me. Maybe she is thinking about taking Steve and Johnny Mac out .. or maybe you and the twins. James wonders once Meg goes is anyone going to try and pull me in or is everyone going to try to take me out. Austin says I wont be trying to take you out. I'm not going to be a hot head.
Watch the NEXT WEEK of the Live Feeds for FREE! Click here for your: 1 Week Trial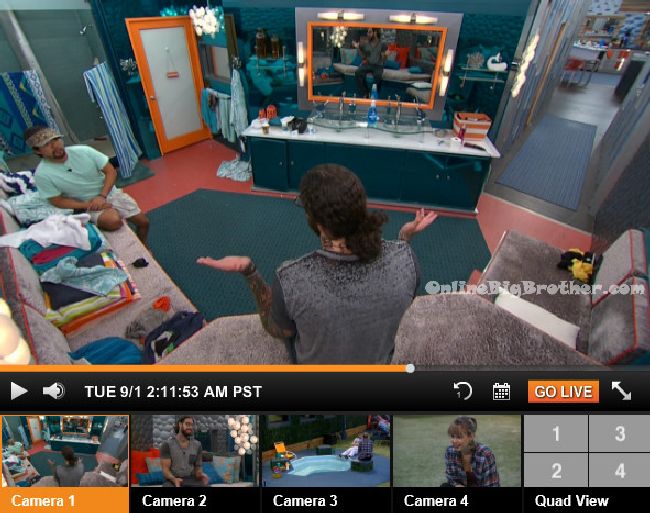 2:20am 3am Meg and Steve are alone. She says I don't get how people expect to win. Steve says do you mean me? Meg says yes but I don't know your game. Steve says exactly. I know why you are saying what you're saying. From your perspective. How many people do you think have a shot at winning. Meg says four. There are really only 2 people that have a shot. Steve asks why do you think I don't have a chance? Meg says numbers. Votes are extremely important. Meg says what happened this week, I feel jipped. I feel like I am going home because I am the expendable one. Meg says if Vanessa wasn't convinced she wanted me to go home, it would have been you or Johnny Mac up. Meg says lets just keep this between us. Steve says you didn't tell me anything other than the number 4 but I didn't want to ask names and you didn't want to say them. Meg says I don't know your game. I'm just looking from the outside but for you to win you would need to win from here on out. Steve say to quote Peter Brown from BBcan1 .. if you have to win there is something wrong with your game. They head inside to go to bed.