POV Holder:
James
Next POV
Aug 1st
POV Used
No
POV Ceremony
Aug 3rd
HOH
James
Next HOH
Aug 6th
Original Nominations:
Shelli and Clay
After POV Nominations:
Shelli and Clay
Have Nots
Austin, Liz, Julia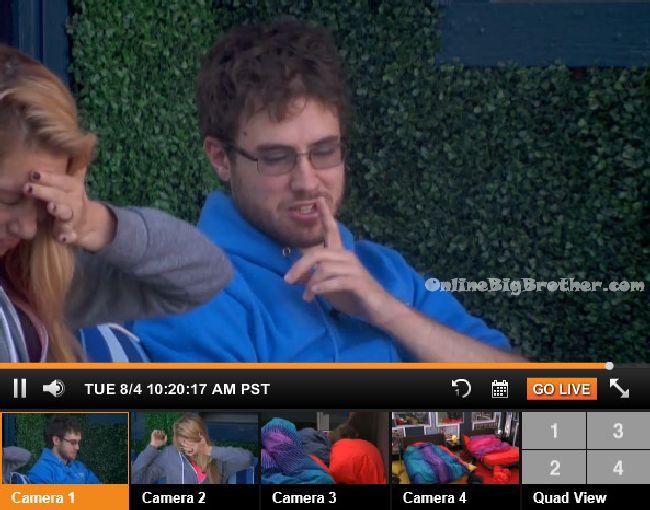 TRY the Big Brother 17 Live Feeds FREE for 1 WEEK:
Click here to ensure your live feed subscription supports OnlineBigBrother.com at no extra cost to you.
10am – 10:20am Big Brother wakes up the house guests. Vanessa and Steve are talking in the backyard. Steve says it sounds like what Shelli wants to do is me, you, her/remaining person and Johnny Mac. Vanessa asks remaining person as in? Steve says Clelli. Because Johnny Mac is super close with them, Johnny Mac is close with me. I'm close with you and everything works. Do you like that? Vanessa says yeah but I don't think its necessary to have an alliance because its already kind of a thing. Steve says right but I like that group. Vanesssa says yeah I like it but I don't think its extremely likely to get deep with that group. Steve says I think it could be a good group of people. Vanessa says definitely. Steve says we would talk once the eviction happens. Vanessa asks did you give her your vote? Steve says no, it was Clelli. Vanessa says well be very careful about what strategy you talk with them because its going to get dirty. Steve says they talked to me. Vanessa says good because if it gets dirty you don't want to other one to have info. You just have to be careful and think 2 steps ahead. Steve says I have been. Vanessa asks did Clay ask you who you would target? Steve says no. They told me I should go after one of the four. (Meg, Jackie, Becky, James) But I didn't say anything. Vanessa asks was it Clay that said it should be with Johnny Mac or Shelli? Steve says kind of both of them together and then Shelli added that I should be close with you. Vanessa says well that is good because that means she doesn't know. Steve says would you tell me if you hate it? Vanessa says no not at all but there has been talk of Johnny Mac not making it too much further .. unless he wins an HOH. Steve asks you think so? Vanessa says he's floating hard! I've heard it on both sides of the house. Steve says really. Who wants Johnny Mac out? Vanessa says all this talk about the floaters. Steve asks who are seen as the floaters? Vanessa says Aghhhh.. we already talked about this! You, Johnny Mac and Becky. Steve asks Becky? Okay?! What are you thinking about? Vanessa says about that thing.. Johnny Mac being related to Clay's cousin or something. Steve asks you think Johnny Mac and Clay are related? Vanessa says could be. Steve says they did that with project DNA too.. Nakomis and Cowboy. Steve asks why Johnny Mac and Clay. Vanessa says because there's some bond there between them. You know when Johnny Mac went up as a pawn .. Clay stormed up and volunteered instead. That always stuck out to me. Vanessa says Johnny Mac and Meg look like they could be related. You and Clay look like you could be related. Steve says you mentioned that .. the nose. We're too close in age though. Vanessa says not brothers but maybe cousins. Steve you got me there! Shhhh. Vanessa gets called to the diary room.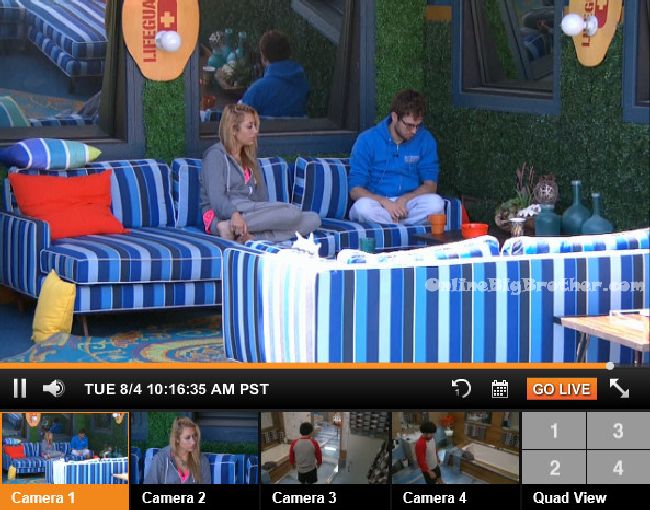 11:10am All the cameras are on the house guests sleeping..
11:30am – 11:55am James gets the HOH camera. He starts taking photos of the sleeping house guests. James goes into the havenot room and sits in the dental chair. Austin asks what he's doing? James says sleeping. James then pulls out the camera and starts snapping photos. James joins Johnny Mac on the backyard couch. James talks about how some of the people like that went home would have made it further if they didn't play so hard.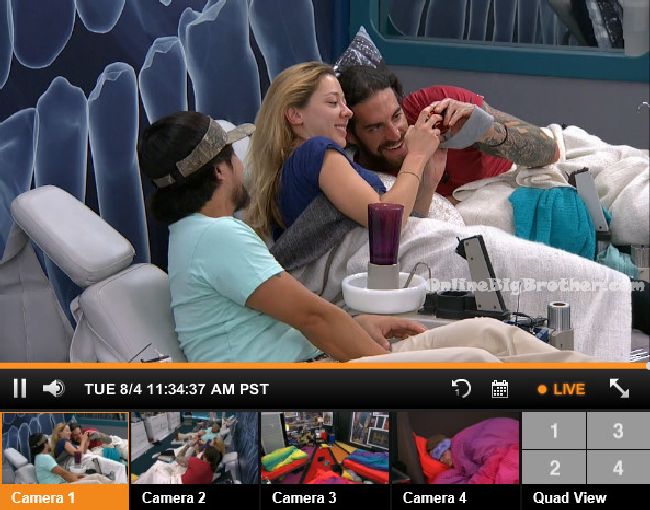 12:15pm The backyard photo time continues.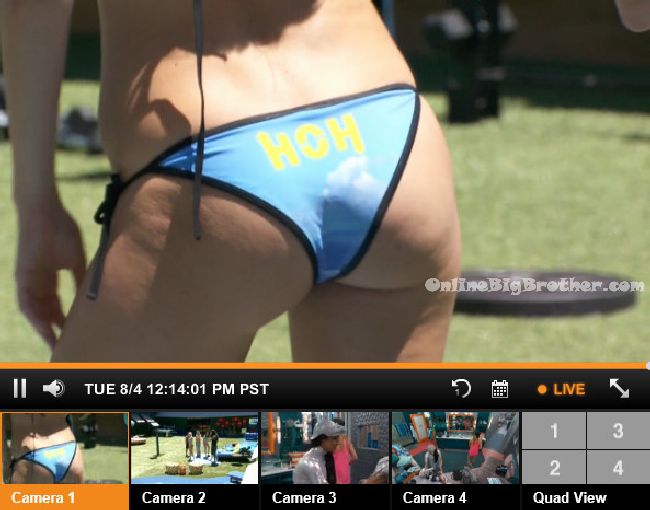 Becky, Meg and Jackie complain about having to clean up after people. Meg suggests they do a big clean tomorrow. Becky says I'm just going to clean up after myself from now on. Its disgusting how there are ants in the sink now. Becky and Liz head inside. They comment to Steve to not do the dishes or clean up .. let it be ant-y and let one of the others clean it up.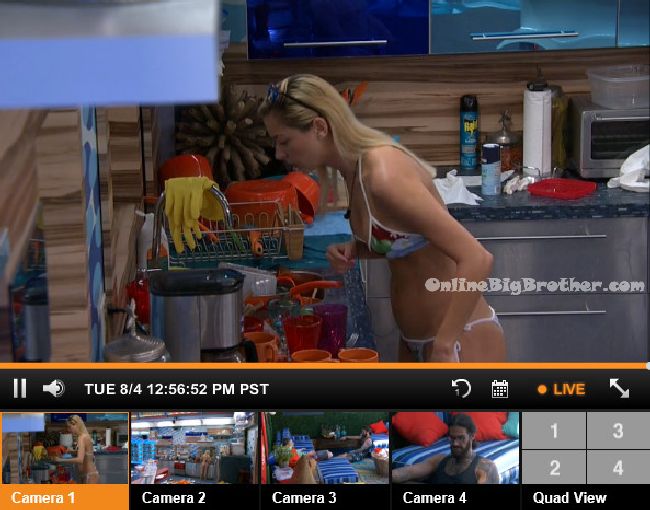 12:50pm Austin tells Johnny that Clay is freaking him out how he won't look or talk to him. I don't know if he's coming after me. I'm going to tell James unless Clay comes to talk to me .. I don't know man. Shelli has already apologized to me. Clay is making it sound like I should have gone up to sacrifice myself. That was the only other option. Johnny says yeah you can't do that. Austin says I'm going to give it the rest of the day. Johnny says I don't want to be left in the dark. Austin says no I'll let you know what way I'm going. Austin says Right now he is giving me the eyes like I'm coming after you bro! I'm like whoa.. I didn't put you up! Austin says I didn't have a chance for the veto. When you don't have the veto and you're not the HOH .. there's only so much you can do. I hope he understands that. I don't even know if he wants to stay or not.. 2 days ago he wanted me to vote him out and since then he hasn't talked to me. Johnny says we need to win this HOH.. You guys are definitely the only showmance left.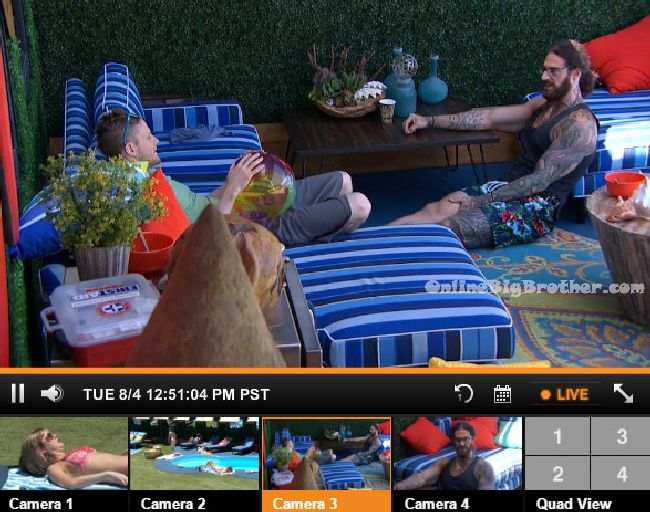 1pm Feeds cut to the live feed highlights ..
[polldaddy poll=9004995]