POV Holder:
James
Next POV
Aug 1st
POV Used
No
POV Ceremony
Aug 3rd
HOH
James
Next HOH
Aug 6th
Original Nominations:
Shelli and Clay
After POV Nominations:
Shelli and Clay
Have Nots
Austin, Liz, Julia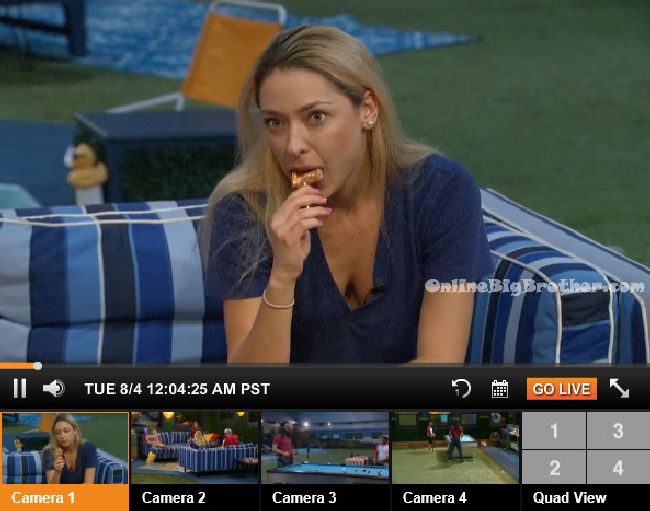 TRY the Big Brother 17 Live Feeds FREE for 1 WEEK:
Click here to ensure your live feed subscription supports OnlineBigBrother.com at no extra cost to you.
12am Backyard couches Meg, Liz, Julia, Becky and Jackie are sitting around talking about Thanks Giving shopping holiday. Becky says at her store they would make the same amount in the first 45 minutes as they would make on entire Saturday. Meg says that if Jason goes back to his grocery store job she's going to punch him. Liz says he should do something with a youtube channel. Meg says he wants to do something with fashion. Meg says that Jason's friends teased him he would get evicted the week before jury and that exactly what happened. They agree that jury might not even start next week it depends on when Julie says it starts.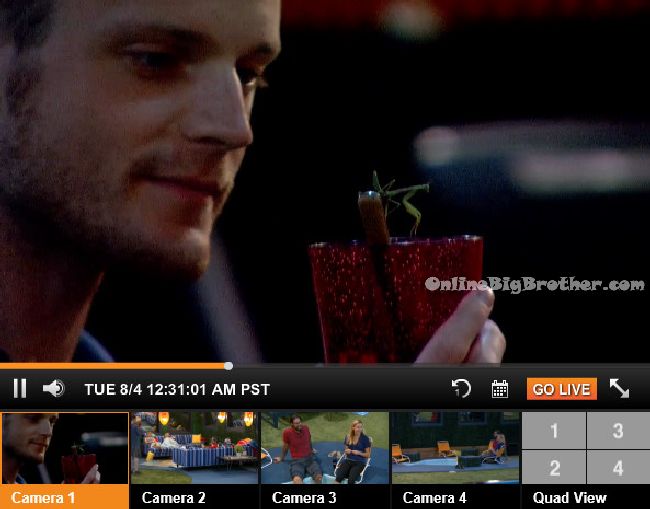 Meanwhile James and Austin are playing pool. They finish their game and Austin, Liz and Steve hang out in the hot tub. Johnny Mac finds the praying mantis on his glass. The camera zooms in as the preying mantis and then it jumps on Johnny Macs shoulder and runs around to his neck. The girls scream. It falls on the ground and they pick him up and put him on the sand castle.

Try the Live Feeds FREE for 7 DAYS! Click here for your: FREE Trial
12:45am Backyard James and Jackie are talking. James brings up how Shelli told them about Austin being Judas and how he was they mystery vote for Audrey. James thinks Austin won't do any more mystery votes because if it happened again they would pin pint him. Jackie says we'll see if he's wearing his top hat of not. Jackie says that Meg said they should steal it. James says yeah lets hide it so he can't be Judas any more. James says if you look at his picture on the memory wall it looks really creepy. That's his Judas character. Last week he didnt wear his top hat and the vote was 7-2 just what it was supposed to be. James says if he's wearing a top hat we'll be like Judas don't you dare!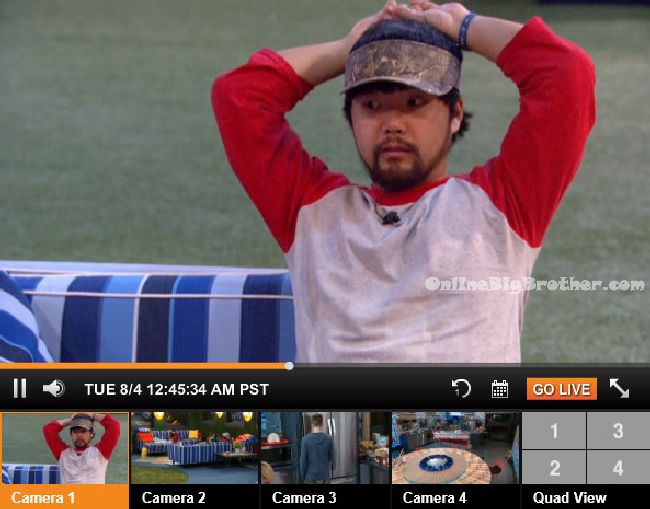 1:30pm Havenot room – Julia asks what did you guys talk about with Steve? Is he on board to keep Shelli? Austin says yeah. We're good. It going to be rough. Julia says that guy (Clay) is making it easy so. Austin says its not about him, its about upstairs. Liz says we don't know if he wants us to vote with him or not. Austin says it doesn't matter we can't! Clay is going rogue. He's dangerous. We can't trust him. Liz says I know. Liz says and they made a lot of good points .. like Clay is coming after Austin. Clay was saying that he's not going to talk to them. Basically saying he doesn't like Austin at all. Austin says that Shelli is rational and can be reasoned with. Clay is a hot head! He's going after me and James for taking her (Shelli) out. Julia says he would for sure go after Austin so he needs to leave.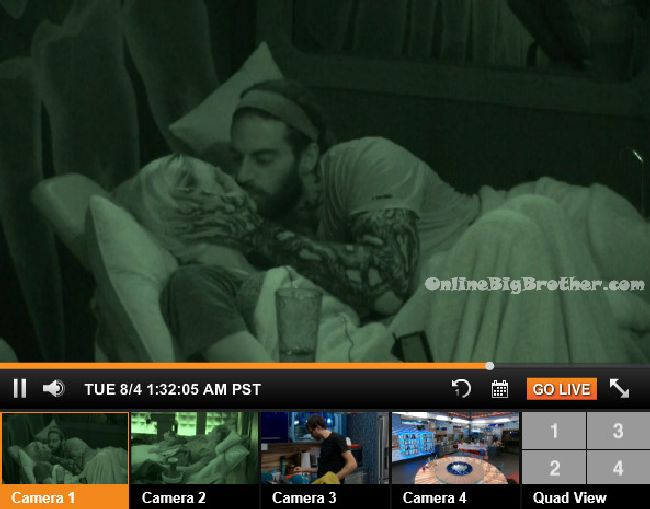 Austin "Just trying to give you a good night kiss… is that criminal?!" @bigbspoilers #bb17 pic.twitter.com/yxhhIRWWV7

— Dawg (@DawgsBigBrother) August 4, 2015

1:45am – 2amSteve joins James out by the backyard pool. He asks James if he can fill him in on what has happened the last 24 hours. Steve says so as you know Clay saw us talking last night for a very brief moment when he poked his head outside. So I think he got woken up late for a late night DR session and I was up at the kitchen table. Big Brother blocks the feeds. Steve says it was obvious they were trying to get you to use the veto and its interesting they didn't tell me what they did do. He told me what they didn't do. James says I got you. Steve says It's interesting that he left that hole there. James says the whole thing .. they had their backs up against the wall and Me, Jackie and Meg got mad because we were like why are ya'll trying to let Steve go all of a sudden when last week it was supposed to be Austin leaving. Steve says wait did they want you to put Austin up? James says they wanted me to put you up first and then Austin. When I told them I wasn't putting Steve up, then they shifted to Austin and spilled all the beans on him. They thought they did a hail mary. That's how I found out that me, I was possibly a target this week to go home. I don't know if I was to go home but I was definitely a target. Steve says based upon the impression I got ..there's a core there and they were trying to pull me into it. James asks this week or last week. Steve says last week. James says if I didn't put them up or get one of them out they would have been coming after me or Jackie. James says that the house is reconfiguring already. Steve says I am still the easiest expendable person. James says you have a lot more people on you side than you think you do. Don't let people use you for your vote. Steve says that's been happening a lot. James says vote how you want to vote. Clay is going to try to do what ever he can do to stay in this house. Steve says did you hear about the deal I made with Meg today. If I win HOH I get a kiss from her. James says I have to practically force her to give me a kiss.
James says that Meg, Jackie, Becky, Austin, Liz, Julia are all voting out Shelli. Johnny Mac is probably going to vote to keep Clay because he likes him. I told Johnny Mac to vote the way he wants to and you should too. Steve says I'm not entirely sure which way I'm voting. James heads to bed. Steve studies allowed.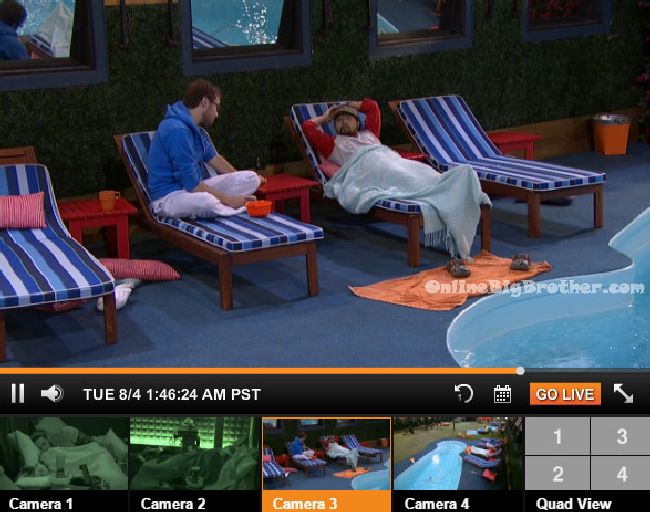 2:30am – 3:15am Shelli and Clay wake up and head out to the hammock. Steve says that this game is designed to kick our a$$ and it has done so to all 12 of us. Shelli asks have you cried in any of your DR's Steve? (Two nights ago Steve told Shelli he cried in the diary room) Steve says yes. Shelli says I just feel like I cry so much. Shelli asks what he thinks is happening. Maybe its going to be a 10 person jury so we won't have to split up. Steve says you guys are the most all American showmance this show has ever seen. They talk about the audition process. Steve says I didn't believe I had made it until I met Jeff (Schroeder) for the interview. Clay tells Steve that he would love to see him win. Steve says I would love to win too.. that's kind of the goal. Steve comments that he "connected" with a girl in sequester. Clay guesses which girl Steve is talking about because he had seen her too and figures that's who Steve is talking about. He says he ever told his parents about her. He says he wished she was in here. Steve continues talking about sequester and ..Big Brother blocks the feeds and then switches all 4 camera on the havenot roo.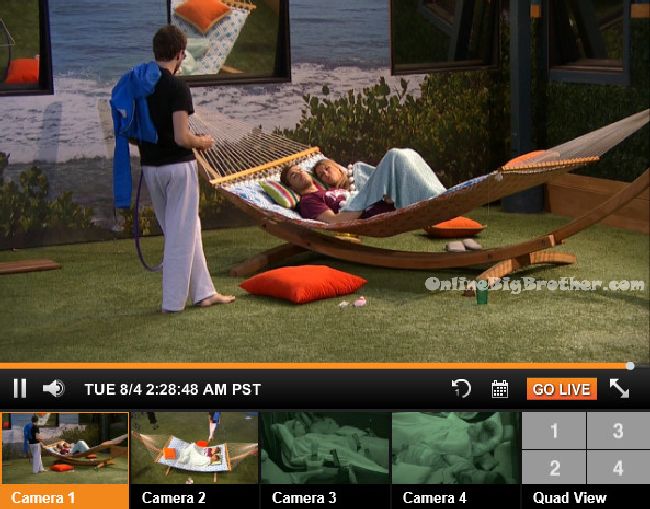 3:35am Shelli, Becky and Steve separate the nuts from the can of mixed nuts. (Shelli only likes certain nuts from the mix) Becky goes to get the squirrel hats to wear while doing it. They finish and Becky heads to bed.
3:50am – 4:25am Kitchen – Clay tells Steve that his game is probably over with. If Jackie wins, you might be a target next week. Steve says I've been a target for awhile. Clay says I heard that he was saying to backdoor you this week. Is that true? Steve says yes. Clay says Austin was the target. I don't know why he said that. Steve says I would be curious to how you found that out? Clay says its irrelavant. It doesn't really matter. Steve says I would actually be curious to know. Clay says no, I would rather not. It will be one of us this week and then.. be wary of that. You've got Shelli. Steve says thank you. Shelli joins them. Steve says I'm the easy target after you get split up. Shelli says Austin has a lot of people.. he played us. Steve asks how did he play you? Clay says we're the reason Austin stayed. Shelli says and he's the reason why we got put on the chopping block this week and the reason why one of us will go home .. and I can't get over it. Clay says Austin didn't want you in jury. Shelli says he's been putting his stamp into which ever group is in power. Clay says we risked our game to help him and he didn't do anything to help us. Its upsetting how he's still in the game. People are afraid to target him because he is 3. That's why it made sense to target him this week because then he wouldn't be in jury. Steve says I'm an easy target. Shelli says there are bigger targets. Steve says but if someone doesn't want blood on their hands .. I'm an easy target. Shelli says when James is in power he is totally different. He has his hand in everyone's pocket. Clay says we were James' plan this whole time. But he went around making deals with Johnny and the twins that he wouldn't put them up in exchange for safety. Now Johnny Mac feels like he owes him we he was never going up in the first place. Shelli says I will tell you what he (James) will not get my vote. Clay tells Steve keep that all between us! Clay and Shelli head to bed.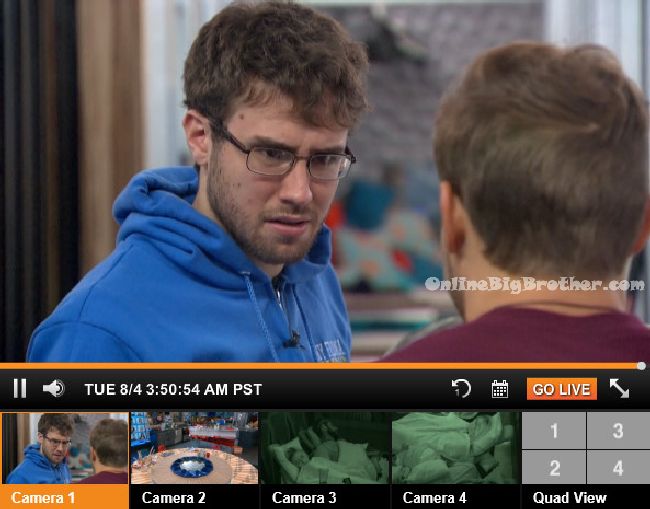 4:25am – 4:35am Backyard. Steve heads outside and says that was interesting. Steve says I'll talk to the feeds for a bit. I'll open that door with the one that stays. I'm on board with the freaks and geeks keeping Shelli. Clay admitted he has a final 2 with James so I think Clay is trying to play too much. I think Clay has more bridges. I think any distrust I had with Shelli I have rebuilt that. I do want to win HOH though. Steve goes back to studying the days. Steve says by the way Becky's my target if I win HOH during the double eviction .. she is saying way too much about me. Steve thinks none of the cameras are following him and says that's not good. Some one is talking! Steve heads to bed.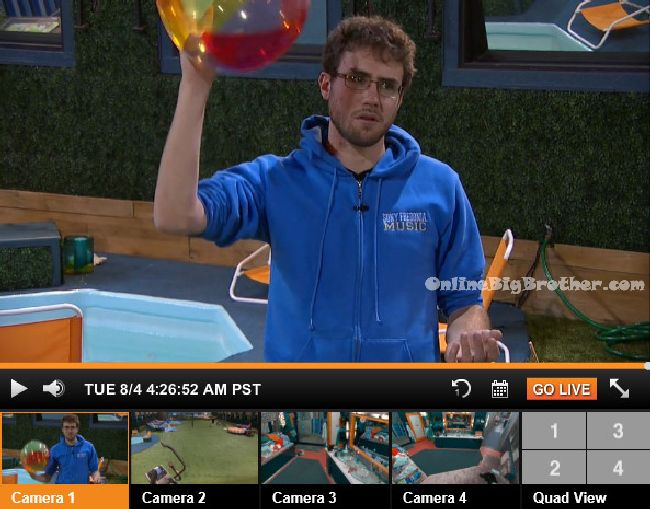 [polldaddy poll=9004995]