POV Holder:
James
Next POV
Aug 1st
POV Used
No
POV Ceremony
Aug 3rd
HOH
James
Next HOH
Aug 6th
Original Nominations:
Shelli and Clay
After POV Nominations:
Shelli and Clay
Have Nots
Austin, Liz, Julia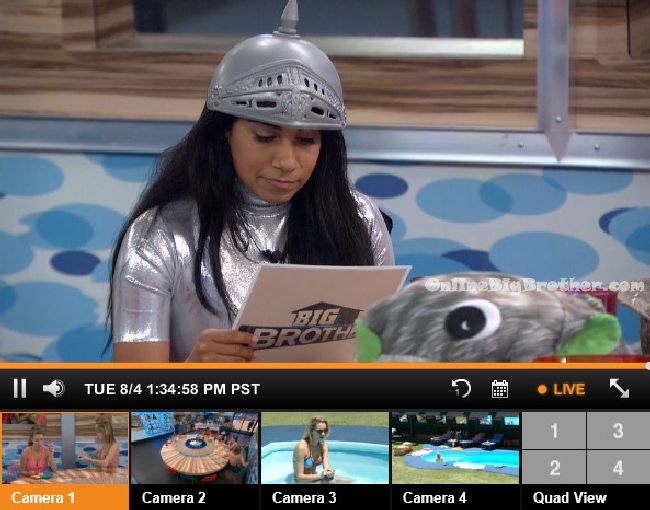 TRY the Big Brother 17 Live Feeds FREE for 1 WEEK:
Click here to ensure your live feed subscription supports OnlineBigBrother.com at no extra cost to you.
1pm – 1:30pm Big Brother blocks the live feeds and switches to the live feed highlights with Jeff Schroeder. The house guests had a task about answering question about celebrities/current events(?) & won takeout for a number of nights. Austin asks does that start tonight? Does that mean there's no havenots next week? Liz says that was fun. It gave us something to do. Johnny says I think they'll suspend havenots for you so you can have it too.
Kitchen – James ask what did ya'll think it was when I came out? Jackie says a half way party.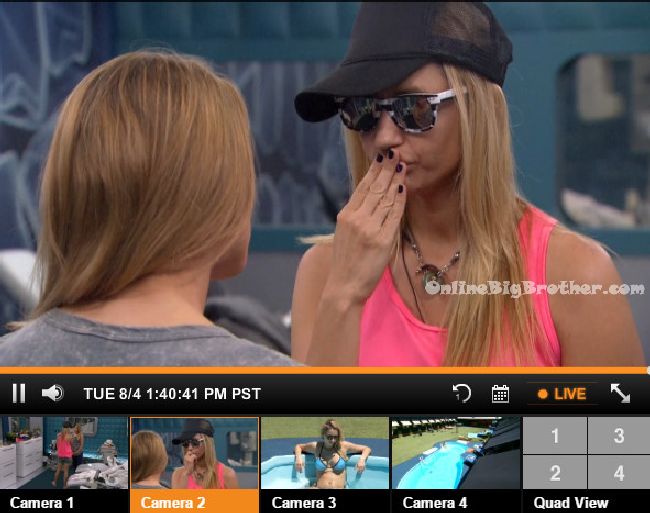 1:35pm – 1:50pm Havenot room- Shelli and Vanessa tells Shelli you need to give me your word you're not going to tell him what I am telling you. Shelli says oh my god you're scaring me.. Vanessa says give me your word! Shelli says I give you my word. Vanessa says you understand that if he finds out about this and stays it will ruin my game. Shelli says I won't say anything. Vanessa says that Clay came to her in the bathroom and said it looks like Shelli has no shot.. its going to be unanimous for you to go. I told him oh don't worry it won't be unanimous I'll keep my word to you (Shelli). He said oh you don't have to keep your promise .. that would probably be bad for your game. Shelli says Mmhmm .. I can already tell that he's switching. He came to me and was like when you go home can you contact my family and tell them I miss them. I didn't say anything .. I've helped him a lot in this game.. does he think I am just going to roll over and let them vote me out. Vanessa says there is no chance of you going. Austin and the twins are voting to keep you. So you have 4 in the bag! I would bet my life on it. Steve is going to do it after talking to me. Steve wants to keep you because he sees you as a bigger threat. He likes having bigger threats in the house. It shields him. In terms of game wise I think you have a better shot at winning. Steve came to me this morning about wanting to work with which ever one of you is left with me and Johnny Mac. Shelli asks really? Vanessa says he said you guys were talking about it. Shelli says we were talking about how we love working with you. I think Clay threw out Johnny Mac's name. Vanessa tells Shelli that Austin doesn't like how Clay hasn't come up to him to apologize so don't encourage him. I know that's awful but.. Vanessa says that she let Steve know that if his name did come out it wasn't from you. Steve said that you've been nicer to him than Clay. Shelli says its point less to campaign to Jackie and Meg they're going to vote how James wants. Vanessa says that Clay talked about how much he hated Austin and how he will go after them. Shelli asks he said that!? What is he thinking?! Clay joins them. Vanessa tells him how Steve came to her saying which ever of you are left plus me and Johnny should work together. Clay says not directly! We said we love working with you.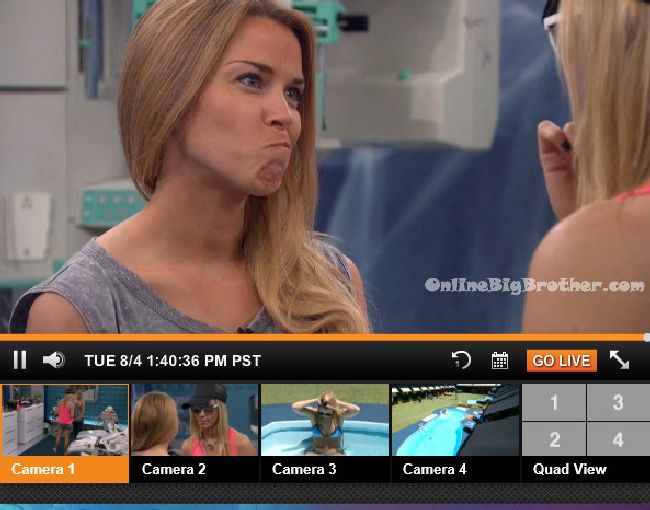 1:55pm
Shelli goes to Steve in the kitchen and tells him that she would really love to work with him. I really hope you vote to keep me. She says I've kept you safe when I've been HOH. I think we would be a good pair. I would be stupid to not want to work with you. Steve says thank you, I appreciate you saying that.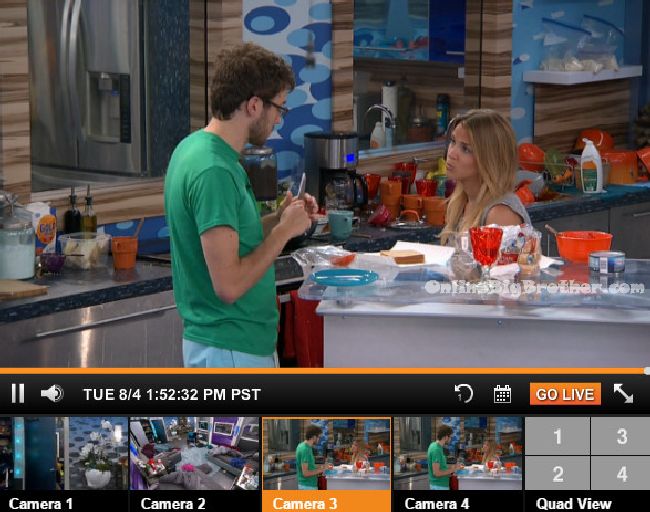 2:15pm Pool talk about random things and Shelli / Austin in the kitchen eating. JMac flossin'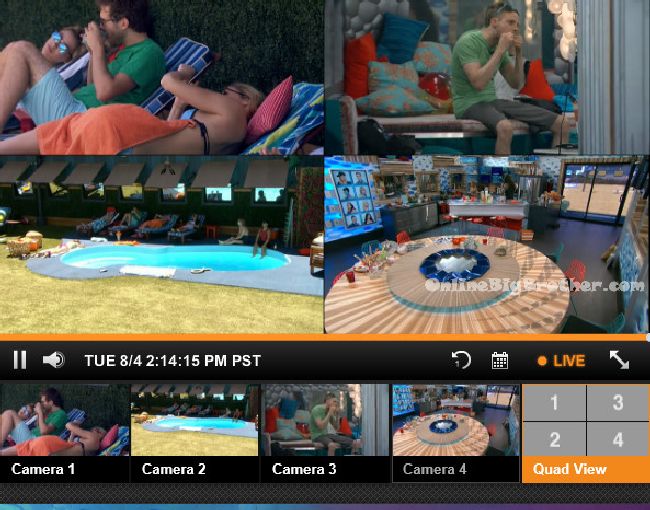 2:30pm – 2:35pm Big Brother puts the house guests on an indoor lock down. James tells Jackie we need to make a deal with her (Vanessa) about the final 8 just in case she win. Jackie says yeah so she doesn't f**k us next week. Then we can f**k her! Just kidding. James says if one of us wins.. throw Vanessa and Clay up together. Jackie says Austin said Vaneesa and Johnny Mac. James says yeah that's good. Who do you think would go home though? Jackie says they would vote out Vanessa.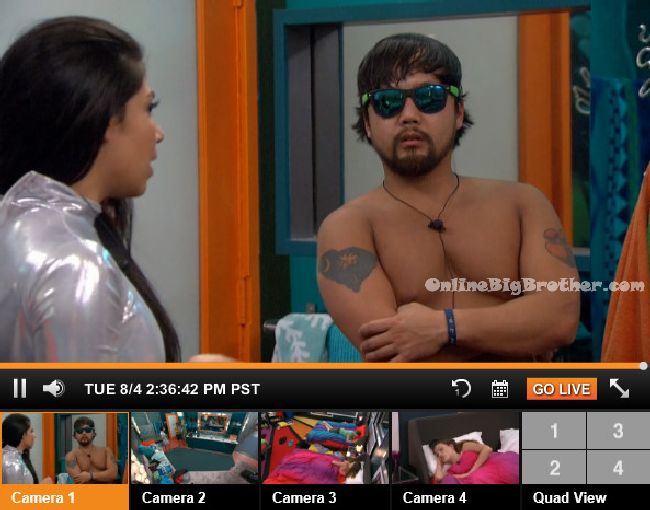 2:25pm – 2:45pm Johnny Mac and Becky studying in the comic bedroom. Becky tells Johnny that Shelli ratted herself out to Austin. She said I'm so sorry for making all that stuff up. He asked her what she made up and she told him. I don't like how Shelli plays. Becky tells Johnny about how Austin's alter ego name is Judas and it was Judas who voted for Audrey. Johnny says that's crazy. Johnny says we just need to lay low. There are still two big pairs as targets … the showmance and the twins. Johnny tells Becky we need a name. Becky says we'll need to think about it. Meanwhile in the backyard – James jokes about how is pull out game isn't strong and how he lets everyone know that. The pool crew cheer on Austin as he works out. "Dance monkey, Dance! James joins them. Becky wonders if they're on a lockdown for the halfway party. James says that trivia was fun today.

3pm Big Brother ends the lockdown.
[polldaddy poll=9004995]