POV Holder:
Clay
Next POV
July 25th
POV Used
?
POV Ceremony
July 27th
HOH Winner Team 1:
Jackie
HOH Winner Team 2:
Vanessa
Nominations 1 :
James & Liz
Nominations 2:
Clay & Becky
Battle of the Block Winner
James and Liz
Next HOH/ Next BOB
July 30th / July 24th
Original Nominations:
Clay and Becky
Current Nominations:
?
Have Nots
Shelli, Clay and Steve
TRY the Big Brother 17 Live Feeds FREE for 1 WEEK:
Click here to ensure your live feed subscription supports OnlineBigBrother.com at no extra cost to you.
9:15am Backyard –
Clay says saving Austin would be because we need him. Why do we need him. To spin something unbelievable James is going to know something is up. Shelli says well James likes guys. Shelli says I don't know. Clay says I know how Austin feels like when he says he's already won. Shelli says he said to me that if anyone saves me keep me to the final 3 and then send me out. Shelli says there's a difference in saying keep me till next week and keep me till final 3. Clay says I think he just doesn't think. I don't think he's a saboteur. Shelli says no, nothing has happened. Clay says the Audrey vote was only that week. Shelli says it wasn't even a bad idea. The bad idea was only telling the twins and not us. Clay says I don't think he did it intentionally to hide it from us. Shelli says it would be like us not telling Austin and Liz something. Clay was which we do that .. so its not that big of a deal. Clay says I'm going to need a massage some time this week. Shelli says I'm sleeping in that dentist chair too! I'm not a massage giver. Clay says oh you're going to have to learn. Shelli says when I say that you're like my brother .. I know the personality. I understand it. Clay says I want to meet him because I'll know if he is as soon as I meet him. Shelli says well before I knew you I explained how you are and you said I was right. Clay says I need some one that challenges me .. but its a thin line between that and pushing me away.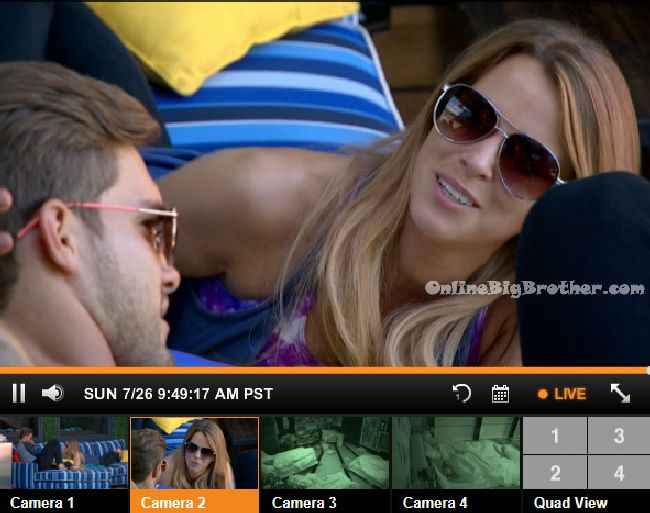 10am – 10:20am Big Brother wakes up the house guests. When the feeds come back – Steve and Johnny have joined Shelli & Clay outside. Clay and Shelli head inside. Steve asks if Ausitn was a wreak last night. Steve says he doesn't treat me well. Johnny says I understand that he's nice to me. Steve says its either we keep Becky or we keep Austin. And I know how much you don't like Becky. That was sarcasm. Johnny says I told her want you told me about not spending much time together. It sucks. Steve heads back to bed.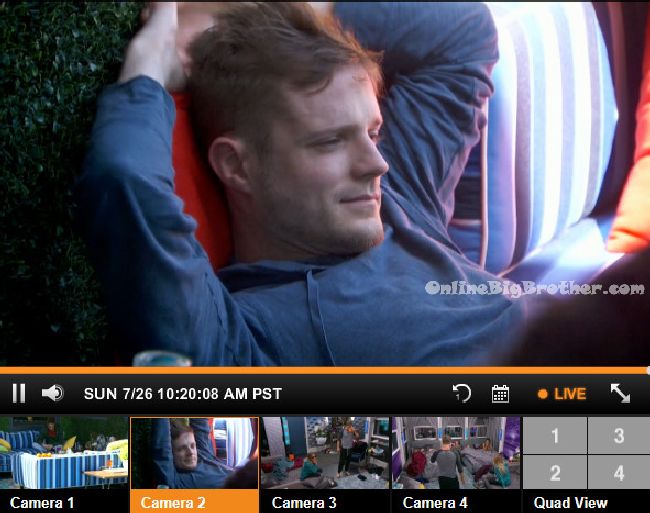 10:35am In the bedroom – Meg, Jason, Becky and Jackie talk about the twins and how its nice that they know they know so they can talk to them about it. Becky talks about how she was giving Steve advice on how she's given Steve on how to handle social situations. Meanwhile Austin has his head up against the comic bedroom door listening for empirical evidence to save himself from going on the block. Last night Vanessa told him to eavesdrop on Meg/James/Jason/Becky/Jackie's conversations to give her a reason to put one of them (Meg, Jason, Jackie) up.
10:40am Austin heads up to the HOH room to talk to Vanessa. He says that he listened at the door and heard 3 things from James, Jason, Becky, Jackie and Meg. Austin says A) they were talking about the twins. But the biggest piece of information was that Becky sat Steve down last night and said you want to work with us (Jackie, Becky, James and Meg) Here is what you've got to do in conversations when we talk game, you can't sit there being a freak and then we'll work with you. The other thing they were talking about was how I was hoping and skipping out of the DR last night. Meg said that .. I never saw her last night. Jason also said Julia I don't care what her name is I'll send her out the door. Vanessa says the only piece of useful information is the Steve thing. If he can confirm that .. that's all I need. Have him come talk to me. Austin says Becky said to Steve this is why we can't talk game with you. If you want to work with us this is what you need to do to talk game with us. Liz asks what did they say about me. Austin says just about your nicknames and how it doesn't matter that the other one is coming in we'll just send one out the door. Jason said that. Liz tells Austin to not stay out in the yard. You need to listen .. this is do or die. Austin leaves. Vanessa says Steve is supposed to be their next target .. why are they making a deal with him. If they're making a deal to work with him who's their next target? Liz says Jason is coming after me.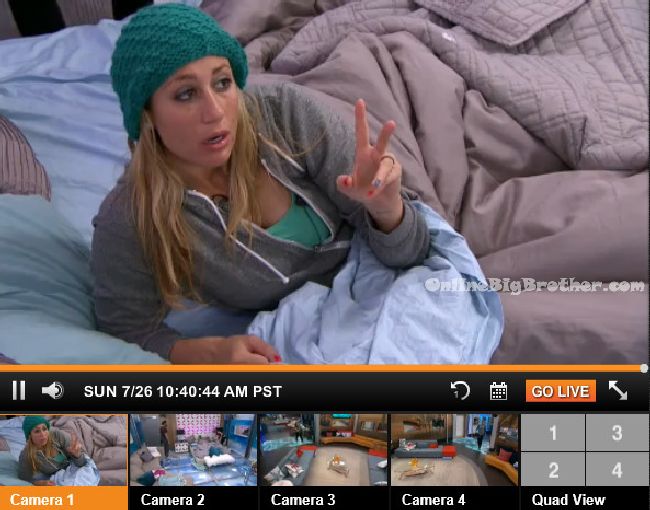 10:55am Vanessa says if I have a chance to throw an HOH to you or your sister this week I am going to because it would be so beautiful. I would love to. It would be retribution. There is nothing more I would love for you to go after Jason. (Vanessa is thinking if this next week is a double / throwing the second HOH that she can play in to Liz/Julia) Liz says I want to call him out so bad. That's the hardest part of this game not being able to call someone out unless you're HOH.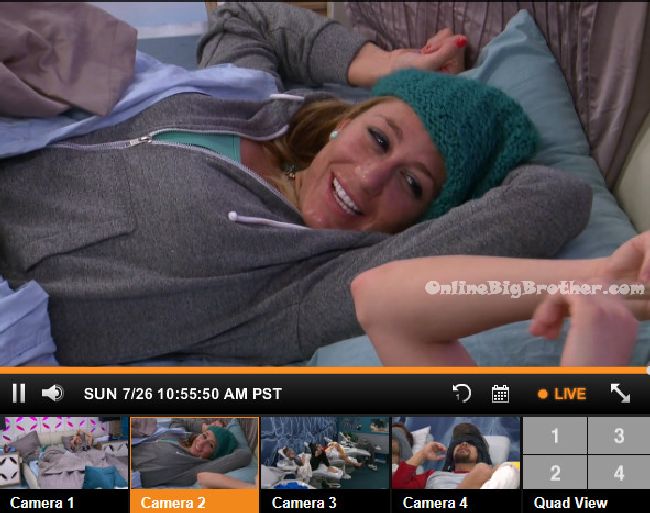 11am Bathroom – Vanessa tells Shelli about the info Austin told her about the others telling Steve what to do to work with them. Shelli says I think you should wait to see if Steve comes to you with that information. Vanessa says that's smart. Shelli says when I was HOH the first time and I was going to put up Liz instead of Meg. Austin came to me with information too. Vanessa agrees that she needs to confirm the information is real. Vanessa heads back upstairs. Austin joins Shelli and tells her what he heard when listening at the bedroom door.
Vanessa says if Austin was the vote to keep Day … and he admits it to me then I will know that Jason was lying because he said it was Audrey. Liz says that I'm scared of Austin because I think he will tell us anything just to stay. Vanessa asks do you think if he stays he would come after me? Liz says no way.. he kisses the floor you walk on. Liz says Austin is the last person we should be targeting when we're in power.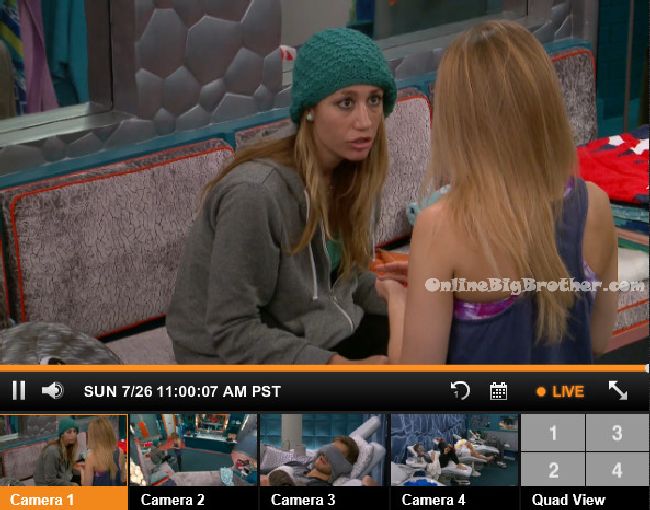 11:15am – 11:55am Havenot room – Shelli and Clay talk to Steve. Shelli tells Steve I know Vanessa clued you in on everything. Are you cool with all of that? Do you know of anything else in the house going on? Steve says the house is splitting. Shelli asks who is on the other side? Steve says James, Meg, Jason, Becky, Jackie. Shelli asks who do you think is the biggest threat? Steve says I don't know. Shelli asks do you think they're a 5 person thing? Steve says that would be my guess. Steve says he would rather Vanessa go after one of those three (Meg, Jason, Jackie). Who would be the easiest of the three to put up? Shelli says if she was going to put up Meg what she tell her. Steve says I wouldn't tell her anything. I don't owe her anything. Right now they're all sitting contently still thinking Austin is going up. Shelli says this next week which ever one of them that does not go home .. they're going to be on fire. Steve says they're going to be on fire any ways. Steve says I think Vanessa will have a really hard time putting up Jackie. I think she would feel like its a betrayal. Steve asks if Becky wins HOH who is going to boss her around? Shelli says Jackie. Steve says I think we need to sell Vanessa on what is the least amount of blood on her hands. Big Brother blocks the feeds. Steve says Jackie is already mad at Vanessa for backdooring Jeff. Clay says Jackie is going after Vanessa. Clay says I think the best game move is to get rid of Becky. Steve says who would go up to make sure Becky goes. Shelli asks Steve if any of them have approached him with a deal or about his vote this week. Steve says no. Steve says we can't to Johnny while Becky is still here. Steve tells Shelli that he, Becky and Jason were up late last night .. they were essentially yelling at me saying that I need to give out more information because they don't know where I stand. Shelli says and here you are. Steve says they have no idea what I'm doing. Steve says thank you for getting me in good with them (Vanessa). Shelli tells Steve that he needs to step up and win more. This will be a very important HOH with the twins coming in.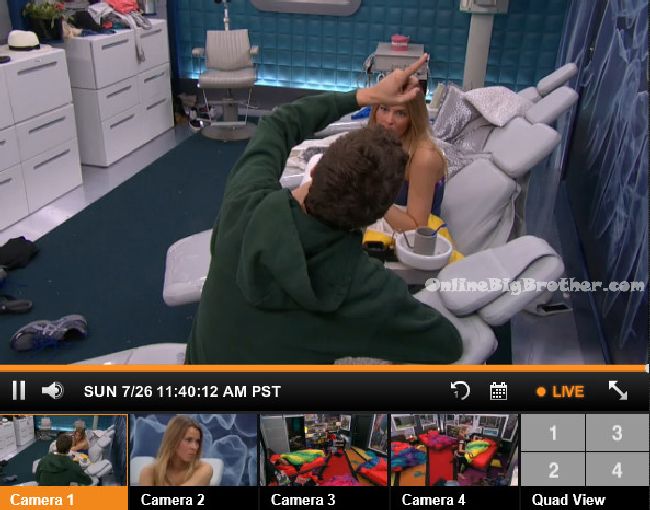 11:40am Austin says that he was asking in the diary room what things he is allowed to do. Liz says like Evel Dick. Austin says yeah but they said they couldn't give me anything. Big Brother switches the camera to the havenot room.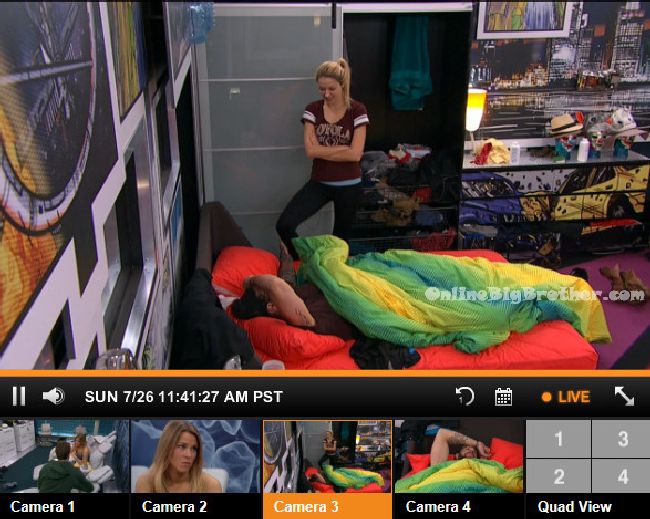 [polldaddy poll=8994045]
Share it YO!!
Tweet