POV Holder:
Clay
Next POV
July 25th
POV Used
?
POV Ceremony
July 27th
HOH Winner Team 1:
Jackie
HOH Winner Team 2:
Vanessa
Nominations 1 :
James & LIz
Nominations 2:
Clay & Becky
Battle of the Block Winner
James and Liz
Next HOH/ Next BOB
July 30th / July 24th
Original Nominations:
Clay and Becky
Current Nominations:
?
Have Nots
Shelli, Clay and Steve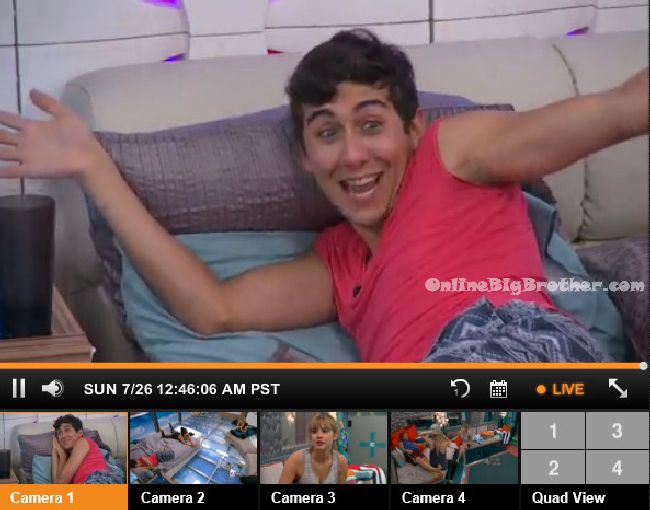 TRY the Big Brother 17 Live Feeds FREE for 1 WEEK:
Click here to ensure your live feed subscription supports OnlineBigBrother.com at no extra cost to you.
12:40am HOH room –
James, Jackie, Vanessa and Liz are talking. They talk about the possibility of America's Player or a Saboteur. They wonder if Austin could be the saboteur. Vanessa says all he cares about is getting to jury. Jason asks so which one of you flirted with Jace? Liz says me. I'm the flirt. Julia doesn't like Austin at all. They talk about how they called Liz – Helga and Julia – Cruella. Liz says we're running low on guys. Jason says yeah keep me around to the end. Jason says when I was coming in I said give me a lot of strong girls and I'll be the gay glue to hold the guys alliance together. Vanessa asks has there ever been 17 cast members. Jason says no, this is the largest cast. Vanessa says that's another reason we could have a saboteur.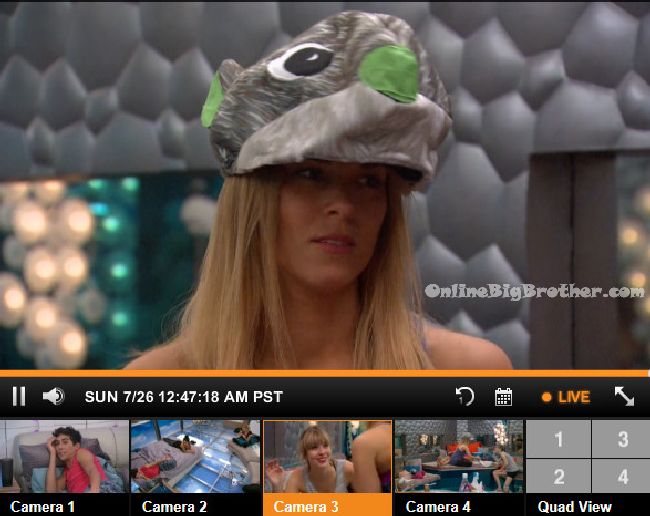 12:55am Bathroom – Clay and Shelli are talking. Clay tells Shelli that Jackie and Jason are up in the HOH room with Vanessa. Shelli is annoyed that Clay isn't up there with them and that he left them alone. Liz joins them. Liz says basically Austin is a lost cause. Shelli tells Clay she wants to go up there and listen / stop them from talking game. Clay and Shelli head upstairs. Vanessa tells them they were talking about the possibility of Austin being the Saboteur.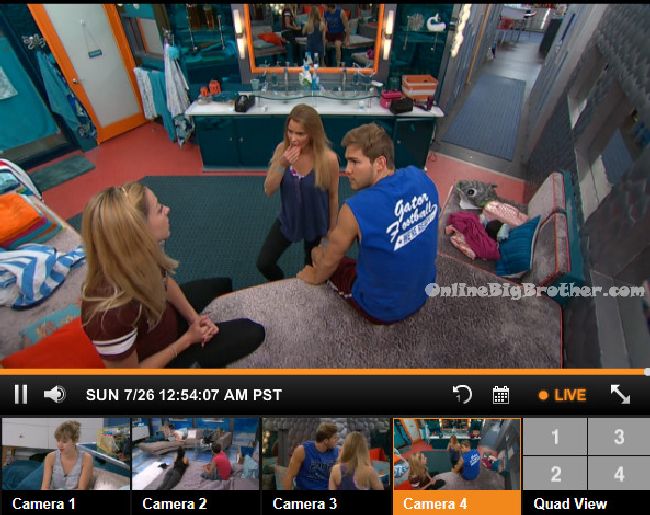 1am Austin and Liz are talking in the comic bedroom. Lis tells Austin that Shelli, Clay, Jackie, Jason and Meg are up in the HOH room with Vanessa. Austin's worried Shelli and Clay are convincing Vanessa to put him up. Austin says whatever I'll see you in a couple months.. or 6 weeks. Whatever its just a game. Liz says you need to come up with reason to put someone else up. Liz says if we keep you we 100% have the numbers .. when having the numbers are crucial. Liz says it almost wants me to throw in the towel. Liz says I just don't want you to go up on the block. This is so stupid! What pisses me off is that its not even about the Judas thing its about Jason. Austin says I know. In 3 months none of this will even matter. I'll be rooting for you. They head out of the bedroom.


1:10am Backyard. James asks Johnny what's up with you and Becky? Johnny says I don't think she really likes me. I can't tell. Usually you can tell but I can't with her. James says that's like me with Meg. She just likes me as a friend. Meg isn't even my type. Johnny asks what is your type? James says Meg's face but on a hotter body… whoa that's kind of shallow of me. Johnny says I'm one of the most shallowest people I don't really have relationships. James says I don't either. I just do the one night or a couple of weeks until we don't like each other any more.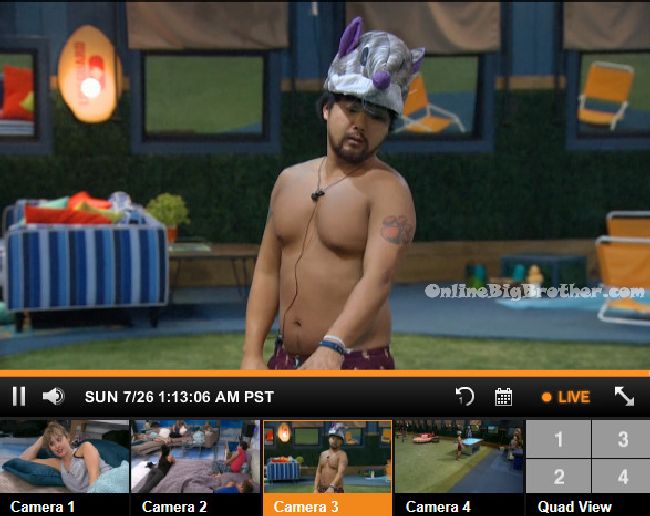 1:20am Liz and Austin are in the bathroom. Austin says my only hope is you, Clay and Shelli convincing her not to do it. Liz says you're the only person I want in this game… other than Julia. Austin says you're the only reason I'm still here. You were more interesting to me than that money. Liz says thanks you. Austin says money is just a thing. It was never about the money… it was just about my career and getting myself out there. Austin says I wonder if you would like me more if I'm gone so that you miss me. Clay joins them. Austin tells Clay I know you're trying to talk to f**king Jason but he is so two faced. The thing that he said to me about Shelli leading the charge and him and Jackie in the bed talking about you and then they switched the subject. Clay asks what were they saying? Austin says I don't know they changed the subject. Austin says Jason is already up there throwing my under the bus saying I'm the saboteur. Clay says even if you go up its not like its a done deal.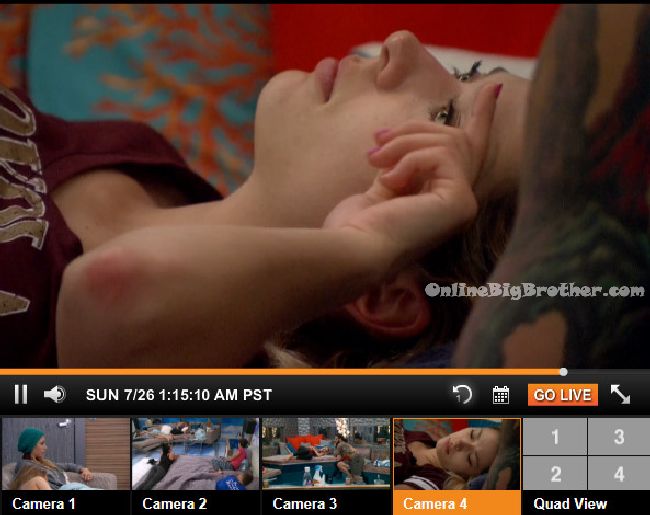 1:35am James comes up to the HOH room and takes a closer look at Jackie's butt.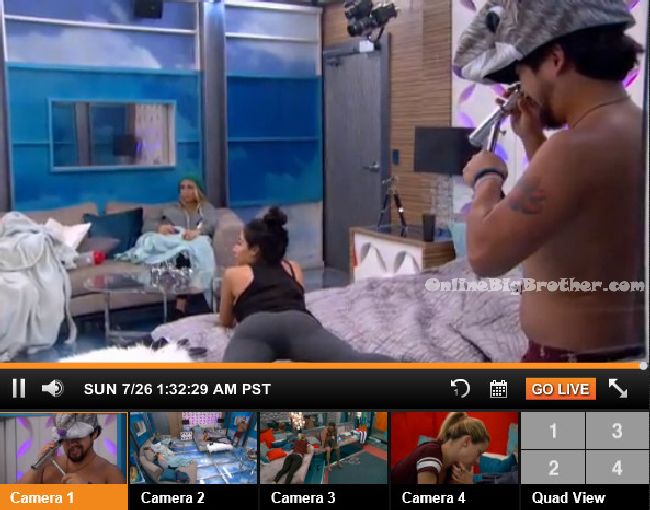 1:40am Hammock. Johnny Mac and Becky are talking. Becky talks about how she's now lost 3 comps in a row.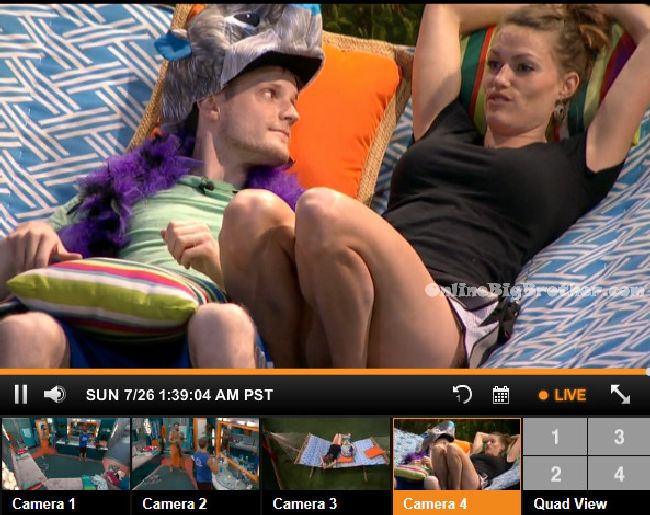 1:45am – 1:55am
James brings a Hula Hoop out of the diary room with a card and collects the house guests in the backyard. He reads the card that states – Your friends on the live feeds voted a hula hoop for you. Why not take it for a spin. They all test it out. After 10 minutes the house guests are over it.
1:55am – 2:35am HOH room – Liz is up in the HOH room talking to Vanessa. Liz says we need Shelli and Clay up here. We need to figure out who else to bring in. Austin joins them and asks Liz for a hug. Vanessa says I don't want to work with them (Jason, James Meg), no one wants to .. but you lied to me and made me try to work with them. Vanessa tells Austin to go think about it and come up with something. I will try and help you like I am but you have to do it. Austin says I will have to come up with reasons to get Jason or Jackie put up. Austin says that Clay said he would try to get me the votes if I go up. Austin tells Vanessa its not too late to take a leap of faith on me. Vanessa says Its not that simple. Austin says but it is. Vanessa says it isn't because I have my word tied to other people. Vanessa tells Austin to hide under the beds and hear something about them being disloyal to me personally and then jump out and say gotcha and then come up here and tell me. Austin says okay I will. He leaves. Vanessa tells Liz that he really loves you. Are you sure you don't feel the same way about him? Its okay if you do. Liz says I don't. Vanessa tells Liz its better if he goes. You're in a showmance twin sandwich. Liz says I love hanging out with him but am I in love with him .. no I am not. Vanessa says what did you do to him… he said he was falling in love with you. Liz says he was trying to kiss me before and told him I don't want to be known as a home wrecker. And then last night he leaned over and tired to kiss me. I was so mad. I don't feel the same way he feels about me. Vanessa asks Liz what if you, me make a side deal with Jason, James and Meg. Vanessa asks what's your loyalty to Clay and Shelli? Liz says you. Vanessa asks nothing more than that? Liz says no. Liz says that Austin isn't even nice to Julia.. every boyfriend I've ever had has put her on a pedestal. Vanessa asks who do you think has the biggest chance to win. Liz says you. Vanessa says thank you but who other than me. Liz says probably Clay.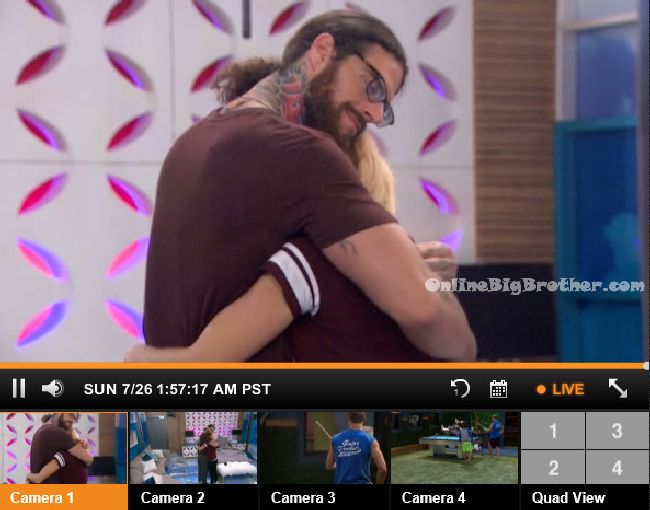 2:40am – 4:10am Havenot room – Shelli says that Liz was totally sticking up for Austin. I'm the one saying we should keep Becky up there and now I'm the bit*h. Shelli tells Clay about how annoyed she was that Clay didn't go up to the HOH room when Jackie, James and Meg were talking. Clay suggests they go up to the HOH room to talk to Vanessa and ask her about what they were talking to Jackie, Jason and Meg about. Shelli heads up to the HOH. Shelli tells Vanessa that she thinks they f**ked up with wanted Austin on the block. Vanessa agrees. Shelli says Becky is a huge target. Vanessa says and she has the ability to win. Vanessa says and Austin doesn't want to win. Shelli talks a mile a minute about how she wasn't a part of the conversations when she was in the diary room. Vanessa says the issue is that she gave her word to Becky that she was safe/wouldn't go home when she volunteered to go on the block. Vanessa says that she told Steve that he needs to win HOH next week or he is going up. Liz says if we safe Austin we need to tell him that he needs to volunteer to go on he block. And he will, And he will! Vanessa wonders if she should just put up Johnny Mac. Shelli says that she is nervous about Jackie.. which is another reason why Becky needs to go because they're a strong duo. Vanessa wonders if I still put up Austin and then you guys flip the vote. Shelli says I want to keep Austin because the other side flips all the time. Vanessa says I might as well just break my word with Jackie and put her up. She's coming after me regardless if I keep my word or not. Shelli says we will need to get Becky on board so that she isn't pissed when Jackie goes up next to her.
Shelli says the joke of the season is that an alliance is made and broken every minute .. why would we break up our alliance. Clay says It doesn't make sense to send one of ours home. Jackie joins them and the conversation ends.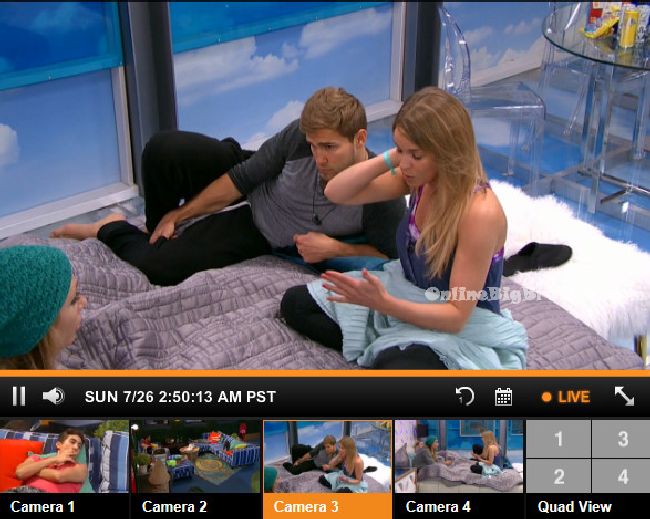 [polldaddy poll=8994045]
Share it YO!!
Tweet