POV Holder:
Clay
Next POV
July 25th
POV Used
?
POV Ceremony
July 27th
HOH Winner Team 1:
Jackie
HOH Winner Team 2:
Vanessa
Nominations 1 :
James & Liz
Nominations 2:
Clay & Becky
Battle of the Block Winner
James and Liz
Next HOH/ Next BOB
July 30th / July 24th
Original Nominations:
Clay and Becky
Current Nominations:
?
Have Nots
Shelli, Clay and Steve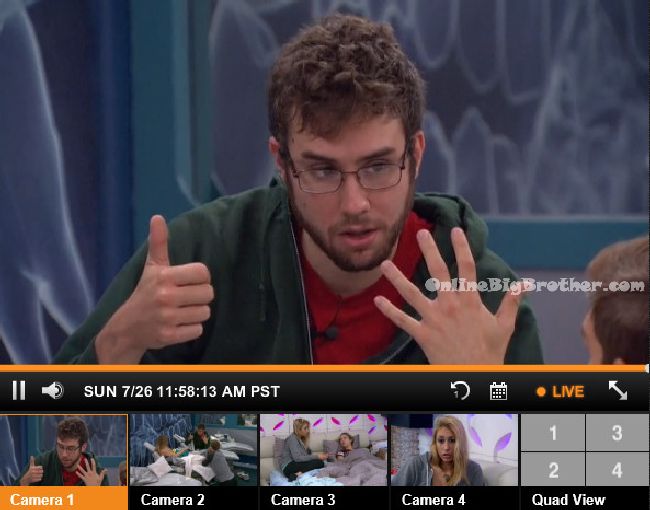 TRY the Big Brother 17 Live Feeds FREE for 1 WEEK:
Click here to ensure your live feed subscription supports OnlineBigBrother.com at no extra cost to you.
Steve says they all think Austin is going up and going. Steve asks how can I help you with Vanessa today? Shelli says if you hear anything else or anyone comes to talk to you let us know. Steve says I want this to go as smoothly as possible. I care more about it going smoothly for Vanessa than going after this person or that person. Steve says we have You, Me, Clay, Austin and the Twins support on this. They agree that Becky would be the best to go because that would then break the connection she has with Johnny and Jackie.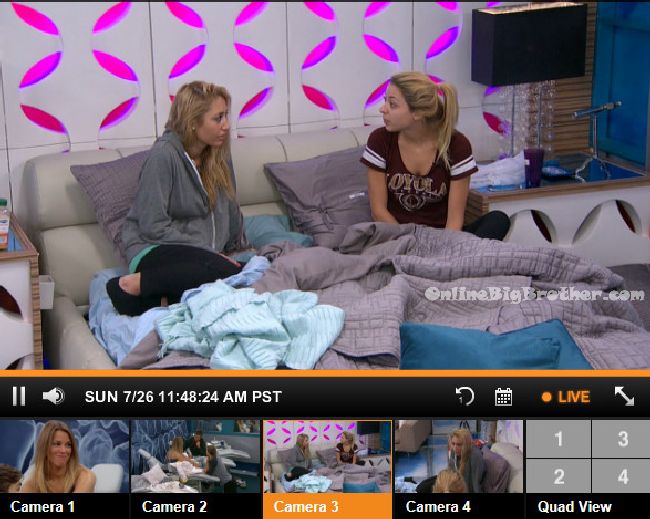 11:50am – 12:15pm HOH room –
Liz is talking to Vanessa. Liz says that she was outside with Jason and he said that he was up late with Becky and they were telling Steve how to not be so creepy. I think that's a ploy though for them trying to make a deal with him. So we can test Steve to find out if he tells us. Vanessa says there are two tests one to see if he tells me voluntarily and one to see if he tells me about it. Vanessa and Liz talk about the phone call. Liz says if DaVonne got it ..it doesn't make any sense the people that were picked to nullify their votes. Vanessa says I could try the strategy with Jason .. I know you're trying to work with me I will give you 1 chance to come clean with me about who really had the phone call. Liz says he would know because he was really close to Day. Vanessa says I actually think I can flip this on them.. one of them are going to squeal when I talk to them separately. They'll squeal because they know I have the power to put someone up right now. When I do this I need you to be in the room with the other two so they can't fill the other in when I talk to the next one. Vanessa thinks she would talk to Becky first because her back is against the wall and she's a bad liar. Liz agrees. Vanessa heads down stairs to the havenot room. Vanessa tells Steve and Shelli in the havenot room. I am on to something big! It has to do with the phone booth and the Jeff vote. Just wait! I'll tell you later. Steve leaves and Vanessa asks if Steve told her about the conversation. Shelli says not really. I'll tell you upstairs. Vanessa says I'm on to something big! Vanessa leaves.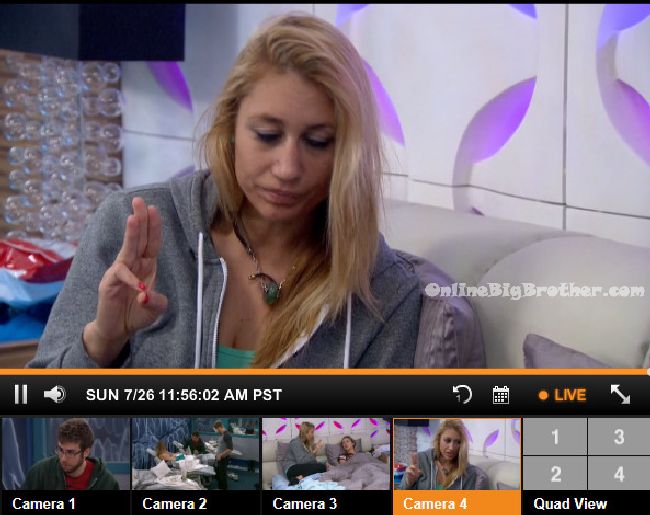 12:20pm – 12:35am havenot room. Shelli tells Clay I don't think we need to talk to Jason or Meg any more. Its like Steve was saying if we go after them we have targets for the next 5 weeks. Shelli says we can't make deal with everyone because then we have no one to put up. We need to stop it. Clay says Steve knows we have the numbers so there is no way he wouldn't come to us. Shelli says that Jason said that cameras give us more privacy than Steve does and that really hurt his (Steve's) feelings. They're not nice to him. We need to continue to be nice to him. Shelli says everything went the way we didn't want to because big brother had a better plan. Shelli says Jason & Meg are our people (the people they would put up if they won HOH).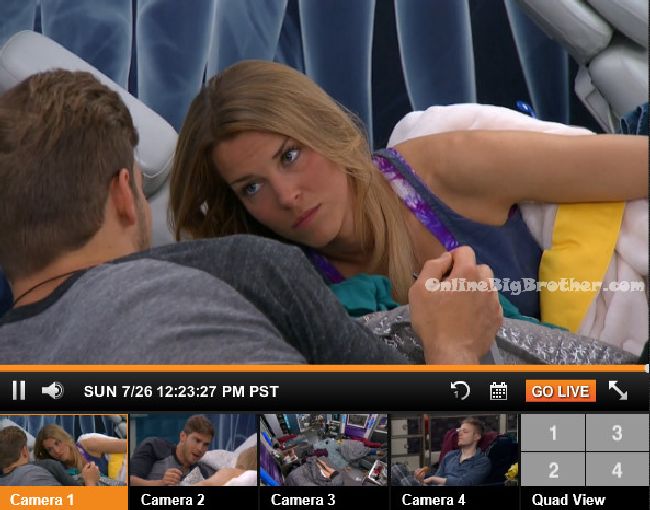 In the kitchen – Steve is messing with Liz and copying everything she says and does.
Steve copies Liz "Knife, Knife, Knife" @bigbspoilers #bb17 pic.twitter.com/Z4KGLOSOBG

— Dawg (@DawgsBigBrother) July 26, 2015

1:10pm Austin and Liz are cooking. Austin asks Liz did they (diary room) ask you about us kissing? Liz says yeah they did actually. Big Brother blocks the feeds. Liz tells Austin if its any consolation if I get to bring someone to Outback Steak House I will bring you. Austin says thank you. Austin says I think you will be allow to bring someone 6. Liz says I don't know why it would only be 3 people.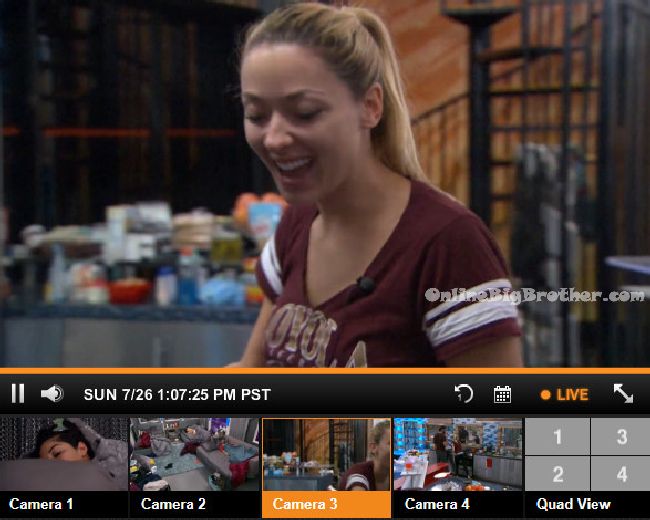 Being a housewife is hard work @bigbspoilers #bb17 pic.twitter.com/po4KXCy6Df

— Dawg (@DawgsBigBrother) July 26, 2015

1:15pm HOH room – Steve comes up to the HOH room. Vanessa asks I heard you had a conversation last night? Steve says it wasn't anything important. It was just advice that I need to stop eavesdropping .. get in on the conversation or leave. I think Becky was campaigning for a vote. Vanessa says something never sit well with me for the Day phone booth. Jason says that Day had it. Vanessa says I win HOH the week after the booth and the first thing Jason says to me is that Day had the phone booth pass. I don't believe it for a second. If Day had it the two people she would have definitely picked to not vote would have been Clay who was certainly voting against her and James who was certainly voting to keep Meg. 1000%! Steve says and the 3 people that sat out were Jeff, Jackie and Becky. That makes no sense! How did no one think about this?! Vanessa says lets go through all the people that could have had the phone booth. They go through all the people. Steve says I swear it wasn't me. Vanessa says I thought it was Jeff or Jackie. I asked Jeff what his message was and he couldn't remember. Steve asks why would Jeff make himself sit out? Steve asks wait could you make yourself sit out? Vanessa says yes. Vanessa says who is the glue between all those people? Steve says Becky. Vanessa says I think it was Becky or Jackie. Level one logic is picking your allies to sit out. How else can you spin the phone booth pass to your advantage. The biggest allies from both sides were left in the vote. Safety in future weeks from both sides. I won't eliminate your key person in exchange for safety in future x number of weeks. Level c logic is if either way it goes you're okay because you're aligned with both. Who is aligned with both Meg and Day.. Jackie. Steve says Jeff, Jackie, Becky. Vanessa says I don't think Becky was included, I think she got pulled in after. I believe strongly it was Jeff or Jackie. They made addition deals with Jason and Day. Day swore to me that she didn't know who had the phone booth. Steve says she could have found out later. Vanessa says when they came to her for a deal. Vanessa says the only person that didn't have protection is me which is why its so funny I got Jeff out. Vanessa says there were two mystery votes to keep Jeff. (Liz & Steve were the two mystery votes) I think it was Becky and Jason. Vanessa says I am first going to get Becky and say that info has come my way …do you know who had the phone booth pass and do you know who voted to keep Jeff. Then I will do the same thing with Jason. Everyone is petrified to lie to me after the Jeff thing. And the person that squeals to me will be safe. I need a reason to not put Austin up. Steve says can I come clean about something to you .. something about my life is not true and it has nothing to do with my education that is true. I can't tell you on the feeds though. Vanessa asks are you gay? Steve says that's an interesting guess. Steve says by the way when I do tell you don't say it on the feeds otherwise you will be grilled on it post show. Vanessa says okay.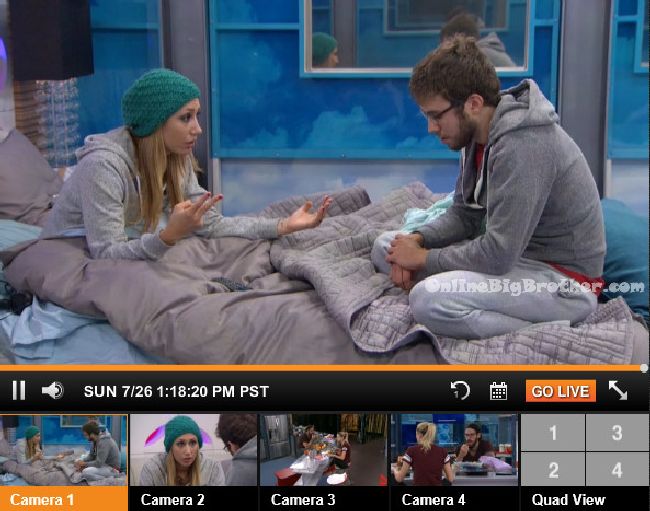 Its ironic the 2 mystery votes to keep Jeff are the 2 HGs Vanessa is telling Operation Squeal to @bigbspoilers #bb17 pic.twitter.com/M0nvzhXAN6

— Dawg (@DawgsBigBrother) July 26, 2015

2pm – 2:20pm Vanessa says I will start with Becky. Jason is the best at lying and so I need to most ammunition when I talk to him. Steve says what if none of them cop to it. Vanessa says then I'm back at square 1 and I have nothing. Vanessa tells Steve when I do talk to them I need someone to follow the one I just talked to .. to see who they go talk to. Steve says everyone thinks I'm eavesdropping. Vanessa says so you can wait one more day to clean up your image. Liz joins them. Vanessa says she thinks John is working with them. Vanessa tells Steve to contribute to the conversation. They go over the information again. Vanessa says who is going to be loyal to Jeff. Steve says so you're going to do what the squealer says? Vanessa says I'm going to use it to misappropriated my options. Steve says that John is just keeping the attention off himself right now. Vanessa asks do you think he would squeal to avoid going up on the block. Vanessa notices Steve twitching his foot and covering his mouth.. She says those are the two easiest tells that someone is lying. Steve says I didn't have the phone booth.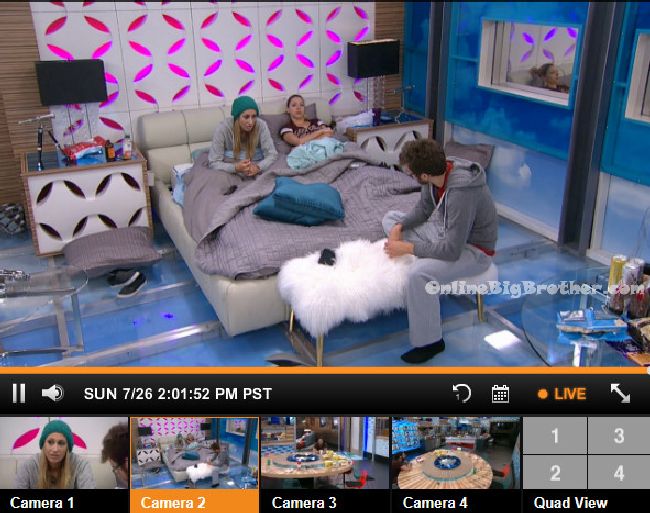 2:25pm – 2:50pm Shelli joins them and Steve leaves so Vanessa can re-tell her whole theory about the phone booth / mystery Jeff votes. Clay join them and Vanessa questions him if he farted. Clay denies it. Vanessa gets back to her theories. Vanessa says Jason lied to me. It was tied to him working with Jeff and Jackie. They have an alliance together. So now they think we're going to be the "retards" that will work with them? Shelli says I told you they were in an alliance together. Vanessa says it was Meg and Jason that voted to keep Jeff. Shelli says we're not talking to Meg and Jason today. Clay says we just established that we don't need Jason or Meg. Vanessa says I think Jason needs to go. I think I'm going to put her up. Everyone knows when I am HOH you don't lie to me! I'm going to get everyone up here that knows the answers to who had the phone call and who were the extra votes to keep Jeff and then question Jason. Vanessa asks what if I'm wrong… but I'm not wrong.
(Vanessa has it all wrong .. Jason told the truth when he said DaVonne had the phone call to nullify votes and it was Steve & Liz who were the mystery votes for Jeff. It was not Meg and Jason like Vanessa thinks.)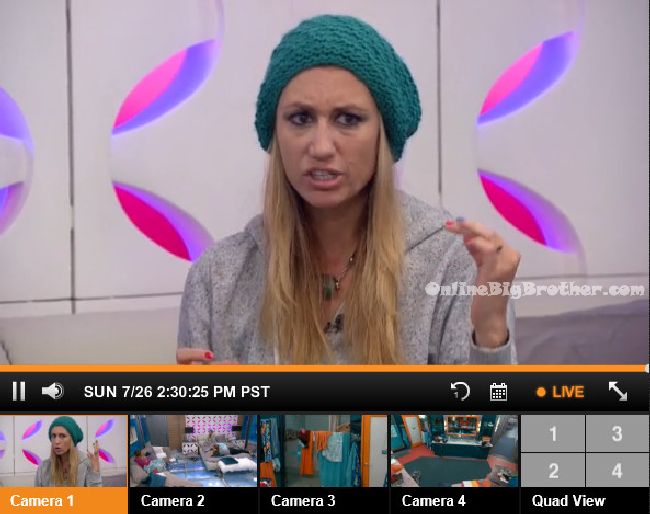 [polldaddy poll=8994045]
Share it YO!!
Tweet