POV Holder:
JohnnyMac
Next POV
July 11th
POV Used
Yes
POV Ceremony
July 13th
HOH Winner Team 1:
Vanessa
HOH Winner Team 2:
Austin
Nominations 1 :
James & Johnny Mac
Nominations 2:
Jason & Meg
Battle of the Block Winner
Jason and Meg
Next HOH/ Next BOB
July 16th / July17th
Original Nominations:
James & Johnny Mac
Current Nominations:
Jeff & James
Have Nots
No HAve nots this week
TRY the Big Brother 17 Live Feeds FREE for 7 Days!:
Click here to ensure your live feed subscription supports OnlineBigBrother.com at no extra cost to you.

9:30am Big Brother wakes up the house guests. Jason, Johnny and Becky are outside on the backyard couches. Jason comments that he had asked for big brother to give them a warning when the backyard would be closed and then today they gave us a half hour warning.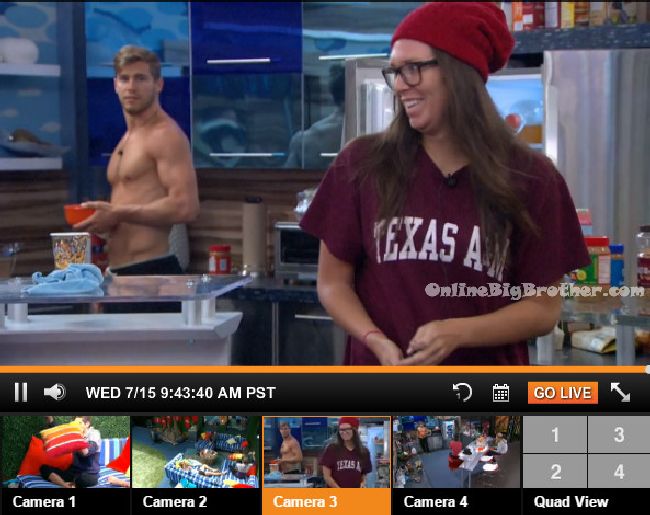 9:40am In the kitchen – Audrey, Vanessa, James and Clay. James says Audrey I really want that shirt but I'm waiting for you to take it off. Audrey says that she'll take it off today. James asks what else of Clay's are you going to try and wear? Clay says I don't know what else she can wear she's probably worn a little bit of everything. Audrey says next I'm going to wear his flesh. James says some Texas Chain Saw Massacre something right there. Vanessa says Silence of the Lambs.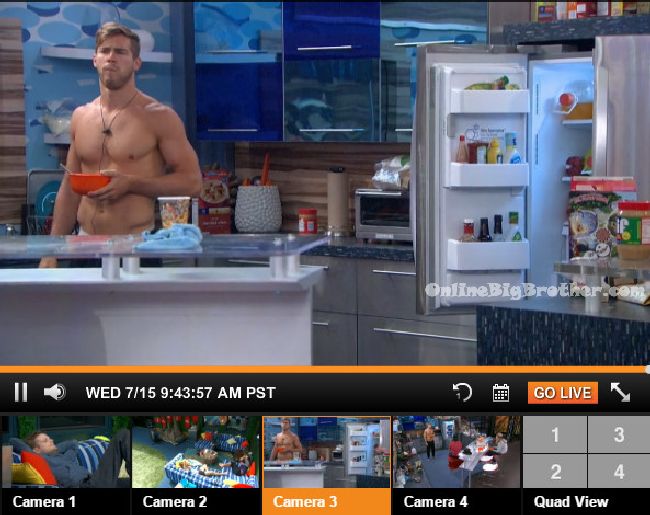 10am – 10:25am Big Brother tells the house guests this is a lockdown, go inside and close the sliding class door. Austin joins Vanessa up in the HOH room. Vanessa asks what happened last night? Did Jeff do any campaigning. Austin says no, not really. He was talking to Jackie in the hammock last night and then I saw Jackie talking to Becky in the storage room. So I think Jackie might be doing his campaigning. Vanessa asks is she any good, I've never heard her talk game.
Vanessa tells Austin that Steve thinks Liz likes him too. He is 22 years old, never had a real girlfriend or had s*x before. Vanessa says that Liz told him she like nerdy guys with glasses and Steve took it as it was for him. I think he thinks its flirting when she's nice to him. Poor guy. Austin says I know. Hopefully he doesn't do any jealous game moves. He could go after Julia, we could double date. Vanessa asks you want some real info.. I will give you the real info.. Julia told me that when they originally came into the house. Julia liked you and Liz liked Jeff. But then since then things are changing Julia said she would consider you but that Liz was starting to like you. This week Liz was more into you, so whatever you're doing its working. She really likes your personality. Austin asks what's wrong with this. Vanessa says you look one way but your personality doesn't match it. She likes your true personality. Austin says that's good. Vanessa says I would say its more of a crush but I definitely think you have a shot with her. Vanessa says the only real thing holding her back is the girlfriend thing. Austin says so I should explain it right? Big Brother blocks the feeds. When the feeds come back – Vanessa says that Steve commented on how you and Liz agreed to sleep in separate beds but then you started to. Austin says he's jealous. Shelli and Clay do it and its not a big deal. Vanessa says she will tell Liz about Steve's crush too just so she knows.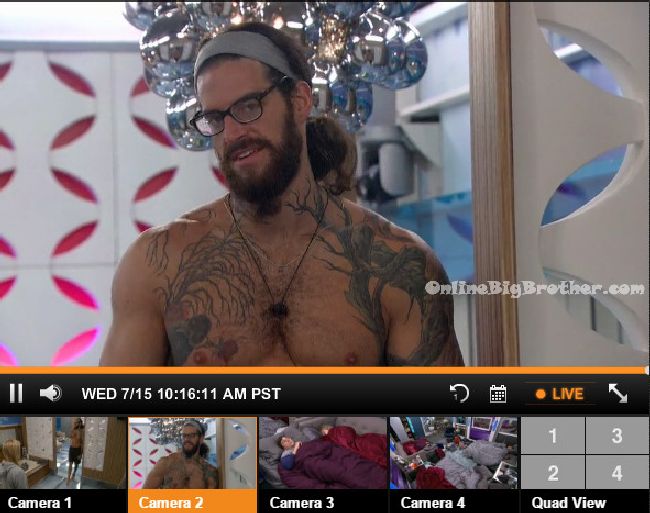 10:55am – 11:30am HOH room –
Austin and Vanessa are in the HOH room. Vanessa asks why is James saying he isn't going to campaign. Austin says he thinks he is now. Vanessa says its about time. I need to talk to him. Austin says I'm glad Meg told us that she is on board. I think Jason will be too. Vanessa asks what if everyone is lying to us. Austin says it would be too many lies coming together at that same time. It would be too good. Besides they trust and like James. Vanessa says if it was someone it would be Clay and Shelli. Austin says but last week they came through for us. They wouldn't do it. Austin says Liz needs to come through and win one (HOH). Vanessa says both (Julia & Liz) have done well in them (Competitions). Vanessa says I know about this alliance and you know now .. so we can talk about it. Its Clay, Shelli, Jackie, Jeff and Johnny. Shelli confirmed to me last night that it was a real thing. Austin asks why did she say it? Vanessa says because they were afraid Jeff was going to blow it up. Austin says he's glad to know that Becky isn't a part of it. Vanessa wonders if Jackie has convinced Becky to vote the other way. Austin says if they vote to keep him then we will have Jason & Meg. I am almost 100% certain Jason & Meg are on board with keeping James. Vanessa asks does it bother you that Shelli and Clay last week .. right after Jace was evicted and sleeper cell was on ..they formed an alliance with Jeff, Jackie and John. Austin asks was it after or before us? Vanessa say after. Austin wonders if it was just for added protection. Like Freaks & Geeks. Vanessa says they didn't want Steve. Austin says now I don't want him either.. now that he's messing with my woman. No one comes between me and my twins. Vanessa says relax. If they're able to do that in good conscience we can do the same with Becky. Austin says maybe we bring in James. Eventually me & you will need to go against Clay and Shelli. Vanessa says they created a 3 person alliance with Audrey before bringing us in. Audrey confirmed it. Vanessa says that Audrey said that Jason is being nice to me .. she asked what if I test him by giving him information and see if it gets back to you. I think she (& Clay) might have done that with us back in the beginning. Austin says if a Jason, Meg or James were to go after Clay and Shelli next week I would be okay with it. Vanessa asks if Jason or James win HOH do we try and jump ship so soon? Vanessa says it would be good to pull in Audrey because people are scared of her on a personal level. And you're scary on a physical level. I don't think anyone is scared of me on any level. Vanessa asks is Jackie now with John if Jeff is gone? Austin says I think so. I am going to continue talking to Jackie. Vanessa says I'm safe to try and make an alliance with Jason. Austin says you are. Vanessa says I am going to try and get a read on him. Vanessa says its more Clay than Shelli. Austin agrees and says I think Clay is playing a very duplicitous game. But the thing is he isn't winning HOH. Vanessa says never. Austin says if they're not going to be loyal we might need to test them. Austin says we need another power week to get these concerns figured out. Austin says that Jeff said he has a third vote but he won't say who it is. Vanessa says maybe Becky. Austin says if it is her then she's committed to the other side. Or maybe people are just telling him what he wants to hear.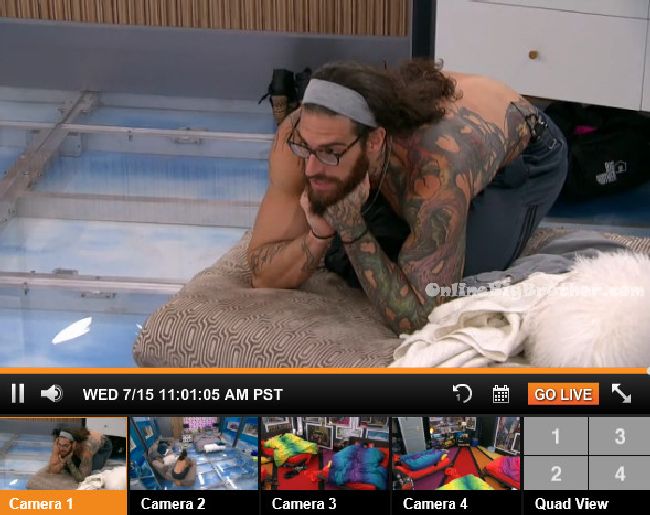 12:20pm – 1pm All the house guests are sleeping. Austin comes out of the diary room and wakes up Vanessa to talk about his diary room session. Austin says that he want to talk to Liz about his outside relationship so that it removed the road block between him and her so that things can continue to grow organically. He says he had flashbacks of how girls had hurt him in the past when he saw Jeff in bed with Liz yesterday. Some girls have hurt me pretty hard by cheating on me in the past. Austin says that he's never been able to fully connect with someone. Vanessa says that's a scary thought. Vanessa says I did some thinking about James and Jason .. statistically we're in favour to win comps but Clay not wanting to win skews that statistic. Austin says that he thinks they would go for Liz first before they go for me until the twin comes in. Vanessa asks if Liz went next week would you be okay? Austin says emotionally no but gamewise yes. Vanessa says if she goes we're f**Ked .. we lose two! Then all we have is Steve. Austin says then we're just the Geeks. I guess then we get aligned with Becky & Jackie. Jackie will go where the power is next week. Austin says I am still thinking about making a move on Jason. Vanessa asks are you kidding? Austin says I don't know I like kissing him. Vanessa says you're f**king with me. Austin says okay none of that. I really don't have any male competition when Jeff goes because Clay is locked off with Shelli. My strategy has been to knock off all the guys so its just me and the girls. Vanessa says Casanova and the clan. Austin says that Jackie is looking at me more. I noticed her making quick glances at me. I notice that kind of sh*t. Vanessa asks you're not going to drop Liz as soon as she says she likes you and go for Jackie are you? Austin says AHhhh.. I have a lot of horny goat weed pumped into me the last 30 days. Austin says I feel like situation is going to get even worse when Jackie see Liz is into me then she is going to get jealous. None of that will happen till Jeff leaves though. Austin says I could make my goodbye speech really awful and say now I get the twins and Jackie. Austin says that Becky gave me the green light to go after Jackie. Austin talks about his past dysfunctional relationships.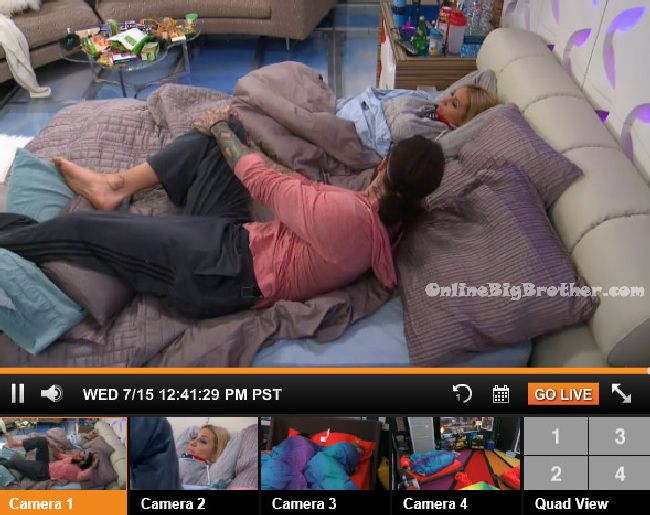 1:10pm Liz and Shelli talk in the bathroom. Liz says that Jeff asked her about her twin. He said I don't know who you really are. Have you heard my story.. I have a brother with a special type of relationship. I think you do too. Liz says I said wow, that's why everyone has been looking at me weird. Obviously someone just made 5k for spreading that rumor. He said that he doesn't think its that big of a rumor any more but that its been circulating the house over the last week.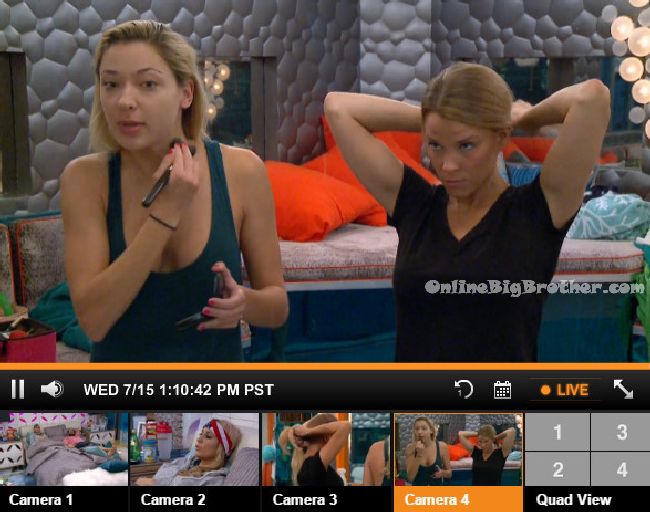 1:20pm Big Brother blocks the feeds…
Live Feed subscription gives you CBS All Access thousands of archived shows. Live Shows like Big Brother, all the Big Brother Seasons, and 24/7 coverage of what is happening inside the Big Brother House. Plus there's flashback that lets you go back to any second of the feeds and rewatch what happened. Simon and Dawg will index the season just watch the parts worth watching. All this for $5.99 a month try it out 1 week free. Support our efforts and get your feeds via a link on this site. Live feed subscription Sign up
[polldaddy poll=8972565]
Share it YO!!
Tweet