POV Holder:
JohnnyMac
Next POV
July 11th
POV Used
Yes
POV Ceremony
July 13th
HOH Winner Team 1:
Vanessa
HOH Winner Team 2:
Austin
Nominations 1 :
James & Johnny Mac
Nominations 2:
Jason & Meg
Battle of the Block Winner
Jason and Meg
Next HOH/ Next BOB
July 16th / July17th
Original Nominations:
James & Johnny Mac
Current Nominations:
Jeff & James
Have Nots
No HAve nots this week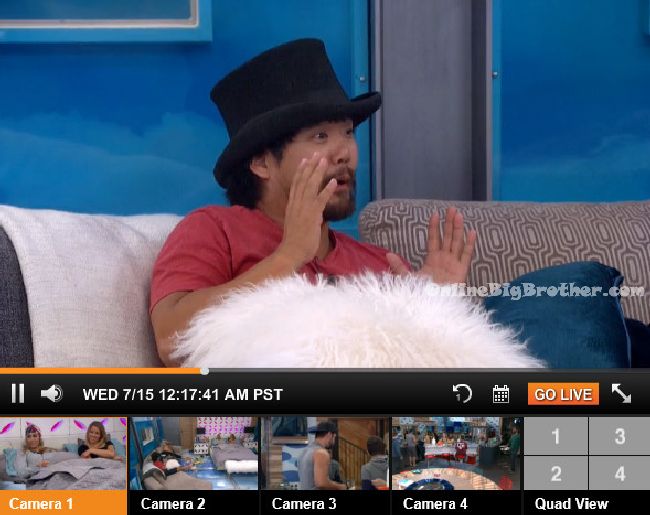 TRY the Big Brother 17 Live Feeds FREE for 7 Days!:
Click here to ensure your live feed subscription supports OnlineBigBrother.com at no extra cost to you.
12:10am HOH room
James, Vanessa, Shelli, Clay and Johnny are hanging out chatting. Clay says that Audrey's been wearing his shirt all day. I'm going to have to sanitize it. She won't even wash it when she gives it back. James says I'm that guy that gets kicked around from bed to bed. James says theres a delemma I want to talk about. Clay says James is kind of into Audrey. James says she has some curves. My mind is just a little weird right now. Vanessa says go for it games! James says its not like.. I feel like an a$$hole. I've never .. Vanessa says you're confused. James says yeah I'm confused, that's all. Shelli says you're curiously confused. James says yeah. Like does that make me… Vanessa says no. James sighs a big relief. James says I asked Clay because I just don't know anything about transgenders. Anything. I've heard about it, but that's it. I didn't even know like what gets all done. I'm so confused on that part and Clay kind of clarified that light. Clay asks clarified what?! James says like snipped.. Like no babies ..my type of girl! I know I will probably be hated but I just had to ask. Shelli says you're openly saying you're admitted you're attracted to her.. you're not saying anything bad.. James says the first day I saw her I was like damn! And when I was talking to the fairies they were like how did you feel about that. James says okay lets change the subject. Vanessa asks James if he and Jeff are still good. James says I can't shake the feeling that there is some plotting going on behind my back. Vanessa says you don't want to be played the fool. James says yeah. I don't know if he is but I'm not going to say he is. My gut says he is. I told him from the get go that I wouldn't do that. Audrey joins them. James says we were just talking about you. Vanessa tells Audrey she should sleep in the bed with Jeff. Audrey says no, I would rather sh*t in my hands and clap. James asks Audrey how do you feel about 1 night stands? Like if you sleep with this you have to be with this? Audrey says I haven't had one but I'm not above being selfish for one night. James says so you're saying there's a chance. Shelli asks what about someone that you do know well? James asks like someone you've spent a month with? Shelli asks like someone that makes you laugh. Audrey says well that's different, are you asking me for a one night stand? Shelli asks how would you feel afterwards? Would you feel awkward after? Audrey says only if it was awful. Becky joins then and says she wouldn't do it. James says we're getting no where with this conversation ..back to Audrey.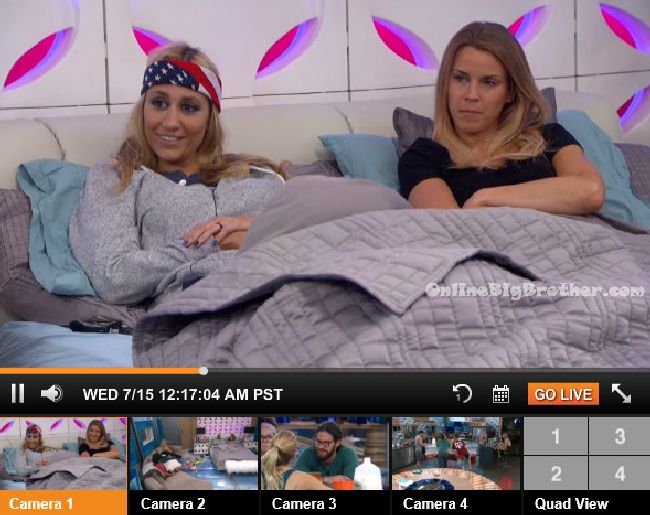 12:44am Storage room – Becky tells James that she is voting for him. She tells him that in the first week she said I like people like you that don't let their emotions get to them. I can tell you're going to be that guy. And you told me you would keep me safe and you did. Next week I kept my promise and didn't put you on the block. Even though a lot of people would expect me to vote for Jeff ..I am voting for you because you handled everything so well. I could tell when you wanted in the house you hold your emotions well and those are the people that I like to play the game with. That's what I'm making my decision off of. I'm not telling anyone. I'm keeping it between me and you. Act like you don't know. And if I am ever in your position I hope that I can get your vote. James says absolutely. They hug.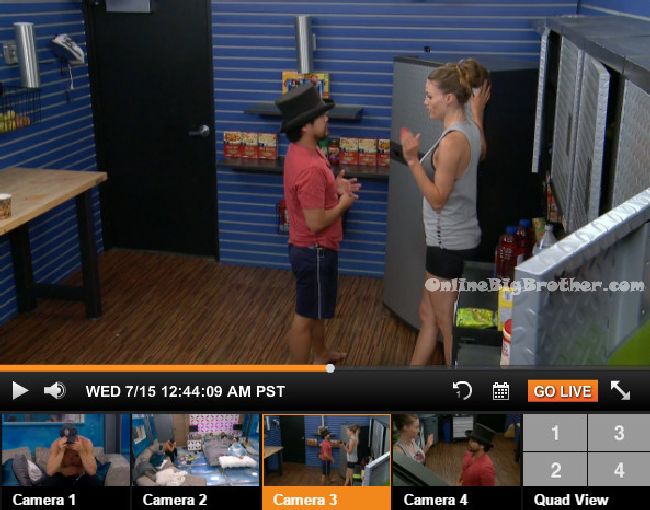 James leaves and goes to the bedroom and trashes the newly cleaned beds. Clay notice James running away and fills the others in on how James just destroyed the bedroom. Shelli asks what can we do to get him back? Clay says put Mayonnaise in his crocs. They grab the mayo and put some in the toes of James shoes. Meg says he might not wear those for days! They laugh. James clean up the room. Steve tells James they put Mayo in his crocs. James says gross!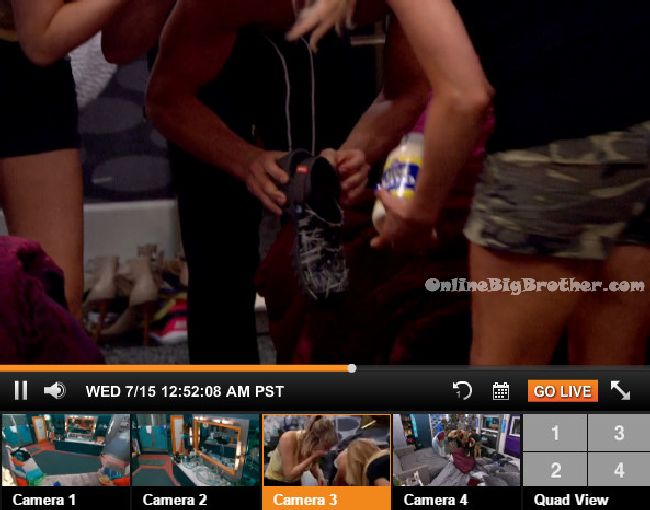 1am HOH room – Vanessa tells Steve that the showmance is heating up. Austin and Liz. Vanessa says its bad because they're not even hiding it. Steve asks have they kissed? Vanessa says I don't know, if they haven't it will happen tonight or tomorrow. Steve says its good because it takes the target off us. Vanessa says that once Julia comes in she's not into it at all. She is still fair game to be rational. Steve says we knew this with Austin in the beginning with Jace. Vanessa asks what is it co-dependant. Steve says Austin and Liz aren't trying to do the best they can do. Steve says the twin thing is out. Its public information. Its not confirmed but it might as well be. Nothing would change if it was.
Backyard – Jason says if the twins get in here they're going to be even stronger than the showmances. Jackie asks are we getting them out before or just waiting until they come in. Jason says I want to get them out before but with everything that's happened god knows if that's possible. It might not be. Its not my highest priority. Jackie says same here.
Steve steals Liz from Austin @bigbspoilers #bb17 pic.twitter.com/NtQC63bNkF

— Dawg (@DawgsBigBrother) July 15, 2015

Test out the Live Feeds FREE for 7 DAYS! Click here for your: Big Brother 17 FREE Trial
1:35am Steve tells James and Jason that he has major canker sores in his mouth right now. Meg says I don't even know what that is! Jason says if you get those you get meds for them. James says Umm.. I've got medication you can get. Steve says there is no medication for canker sores. I've had this my whole life and researched it, there is no medicaton. Jason says oh I'm talking about cold sores. James says oh we must have different diseases. Jason says the sores we have medication for is for different types of sores. James says herpes or something.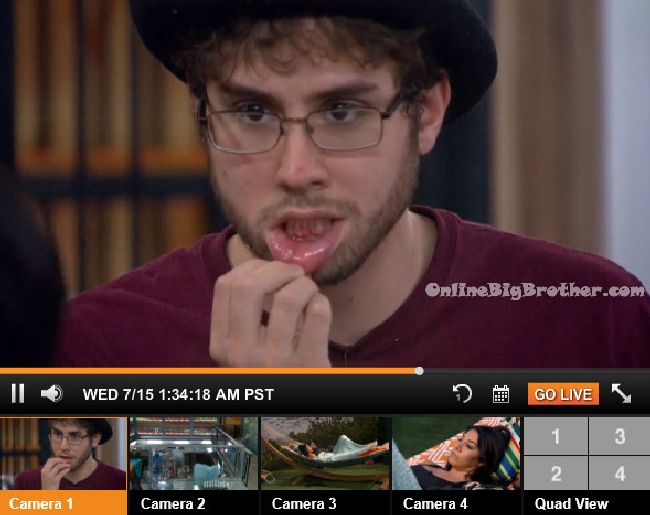 1:05am – 2:15am Hammock. Jackie and Jeff are in the hammock talking. Jeff says that he's getting a bad feeling about Shelli and Clay. I should have trusted my gut since the beginning. I don't think I have their votes. I don't want to participate in the fakeness. Jackie says this whole thing is fake. Jeff says Even Austin I was thinking I could trust him but his true colours are coming out. If I do go I want to share with you some information. I didn't even have a chance getting backdoored. I know how Jace felt now. Jackie says you have a lot of people on your side. Jeff says I don't think I have a lot of people on my side. Today it made it a lot more clear where people stand and the people I thought had my back I think have turned their backs on me. Jeff says I am going to fight to stay but do I want to be around this fake a$$ people. If I do stay that alliance means nothing to me, I'm going to step out of it. Jackie says no you stay in it but just don't be loyal to it. Jeff says that's how you get into trouble. Jeff tells Jackie that he was in another alliance that he will tell her about if he thinks he's going. Jackie asks who? James, Meg and Jason? Jeff says yeah. Jeff says Clay and Shelli are trying to be loyal to me. Jeff tells Jackie that the twin thing is real. I know for a fact. Jackie asks why don't they say anything? Jeff says why would you if you don't have to. Jeff says its going to be very awkward for me if I stay. I'm going to have to start over. Jeff says Jace hit the nail on the head. Alliances don't mean sh*t to these people. Audrey is the reason everything gets flipped upside down. Audrey is the reason why alliances are working in this house. Jackie says you can't trust anyone in here. Jeff says if I only get 3 votes it is you, Becky and Johnny Mac. Jackie asks Becky told you she would vote for you? Jeff says no not yet but I'm getting a good feeling about it. (Becky isn't voting for Jeff she's given her word to James.) Jeff says he told Liz that he knows more about her than she thinks he knows. You've been really hot and cold with me and I don't know why but I think I have a pretty good idea. My idea is something that would be really crazy or you're just crazy and she looked at me and winked. Jackie says why don't you just come out and ask her? Jeff says I will come Thursday. Jackie says it seems like you will be going. Jeff says I'm getting the feeling I am going. Jeff says over the next day if anyone shows me any weird signs I am just going to tell you everything.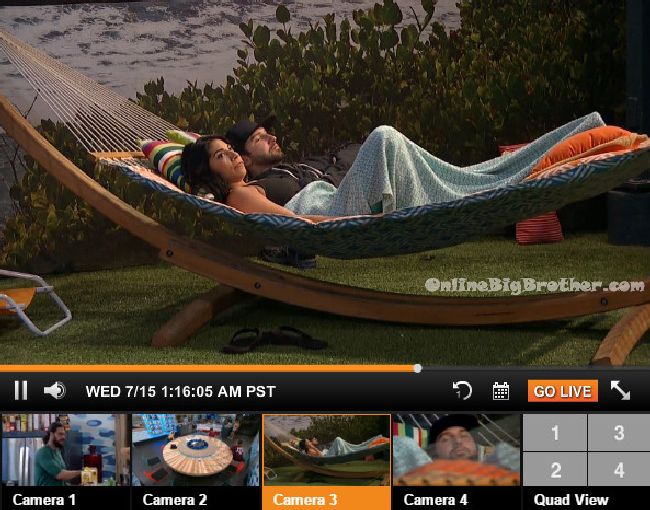 Steve "Do you like my entertainment?" Meg "If you could do 3 maybe I would be impressed" @bigbspoilers #bb17 pic.twitter.com/2HT1qW0dXf

— Dawg (@DawgsBigBrother) July 15, 2015
2:15am – 2:35am James and Jeff play pool. Jeff says you're the last person I want to be up against and over the last few days its been evident that you're the only person I feel I could trust. Jeff says I only know 2 people that are voting for me. Jackie and Johnny Mac. Everyone has been avoiding me. I'm trying to make it fair. I'm kind of getting backdoored and I didn't get a chance to fight. Everyone has been treating you the same and treating me a lot different. We both know that .. obviously my name has been thrown under the bus and yours was to. If I leave with Audrey being here she is in everyone's ear. She has the ability to change anyone's mind.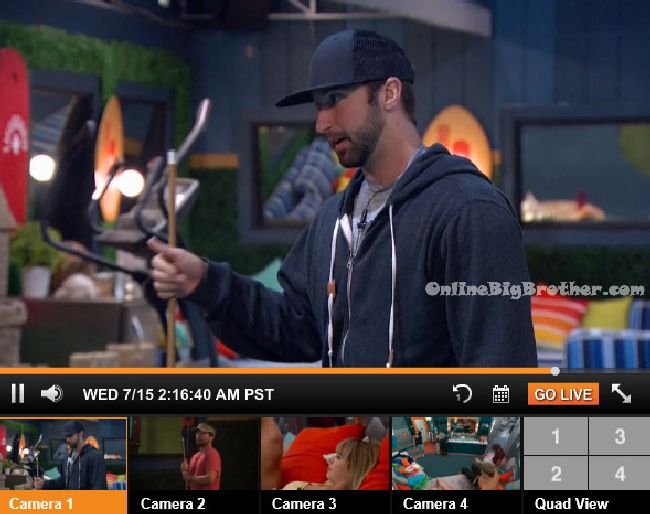 2:40am Bathroom Meg, Jackie, James and Jeff talk about the twins. Jeff says that Cruella hates me. james says she's probably over you when you're sleeping waiting to strangle you. Jason says Austin is all over this one until Cruella comes back. He'll be like what the f**k?! He knows. They're just seeing if they benefit. Jason says I bet you he knows that Helga (Liz) likes him and Cruella (Julia) doesn't that's why he's like I'm sleeping in the bed with Helga and then when Cruella comes he's like she can sleep with whoever.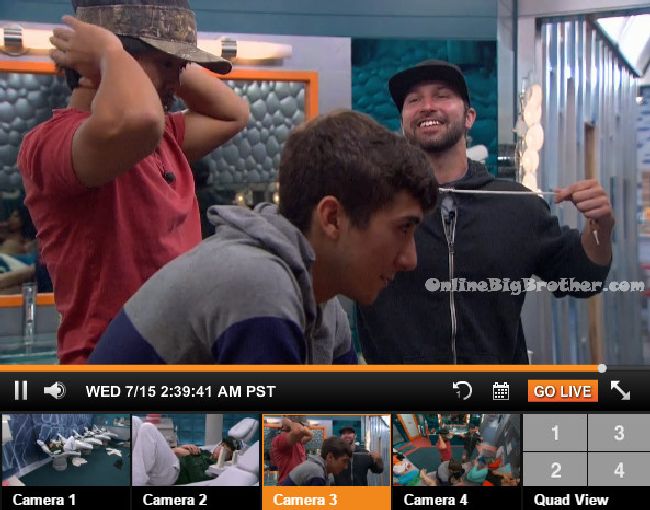 2:45am All the live feed views are on Steve in the havenot room. Steve sits in the dentist chair for awhile and then tries to hid from the camera. He then heads to bed.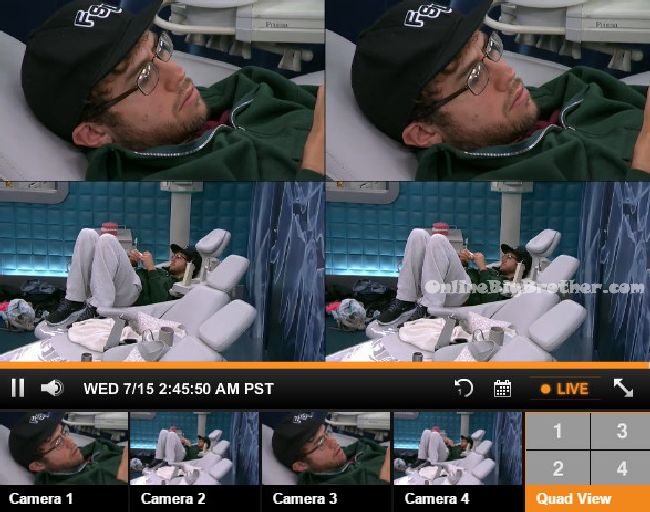 3am – 4:50am Jeff and James play another game of pool. Meanwhile Jackie, Meg and Jason are hanging out on the backyard couches. Steve gets out of bed and joins them. James and Jeff finish their pool game and join the others on the couch. Jeff and Jackie talk about their amazing race experience. Steve talks to Jason and Jackie about the twins. Jason says he would want to get them out before one comes in but doesn't think it will happen. There are other people that need to go. Steve and Jason discuss how the twins would come in before jury. Jason says then there would be 1 week to get one out before jury. Jason says he is 400% positive there are twins switching in and out. He says he talks to them like he knows. Steve asks what do you think they will do with the memory wall? Jason says he thinks they're split their picture and then add another key slot. Steve asks do you think Austin knows? Jason says oh yeah he knows. Jason says they can just end it now and bring them in. Stop making one sit in a hotel room and bring them in. James heads to bed. Jeff tells Steve to do what's best for his game. Steve says that his mind isn't made up yet. Steve says I will have a hard time when I'm in your position. Steve says there have only been 3 people in big brother history that have made it to the end without being nominated. Jeff says there's a different between being a pawn and target. Steve says Vanessa really put a target on her back with all of this. Jackie says she really did. Jeff says whoever stays won't forget it. Steve asks what happened that night during the falling out. Jeff says the night Vanessa called him out and how it seemed conveniently last minute. Jeff tells Steve the people that have shown the most loyalty are not necessarily the people that I hang out with the most. Jeff gives Steve advice on entering conversations by telling him to not just enter a conversation and sit and listen. He tells him to enter the conversation and join in on the conversation. Jeff tells Steve that Johnny Mac is the only person that's told me I have his vote. Steve says that was very sweet of him. Jason joins them and they talk about random things..

Live Feed subscription gives you CBS All Access thousands of archived shows. Live Shows like Big Brother, all the Big Brother Seasons, and 24/7 coverage of what is happening inside the Big Brother House. Plus there's flashback that lets you go back to any second of the feeds and rewatch what happened. Simon and Dawg will index the season just watch the parts worth watching. All this for $5.99 a month try it out 1 week free. Support our efforts and get your feeds via a link on this site. Live feed subscription Sign up
[polldaddy poll=8972565]
Share it YO!!
Tweet