POV Holder:
JohnnyMac
Next POV
July 11th
POV Used
Yes
POV Ceremony
July 13th
HOH Winner Team 1:
Vanessa
HOH Winner Team 2:
Austin
Nominations 1 :
James & Johnny Mac
Nominations 2:
Jason & Meg
Battle of the Block Winner
Jason and Meg
Next HOH/ Next BOB
July 16th / July17th
Original Nominations:
James & Johnny Mac
Current Nominations:
Jeff & James
Have Nots
No HAve nots this week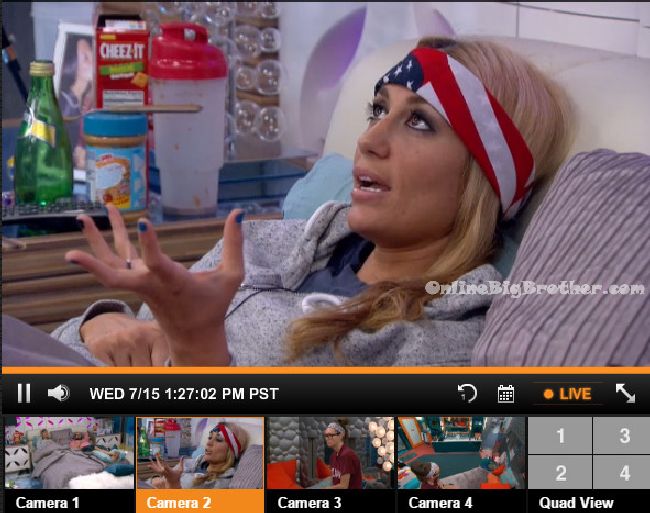 TRY the Big Brother 17 Live Feeds FREE for 7 Days!:
Click here to ensure your live feed subscription supports OnlineBigBrother.com at no extra cost to you.
1:25pm HOH room – Austin and Vanessa continue to talk about past relationships. Vanessa comments on her ex passing away and that after she dated girl that really abused her in every possible way. Austin says he doesn't think the twins came in here with a master strategy. I think they came in just to survive. Vanessa comments on how Audrey has been wearing Clays shirt for 3 days now. Austin says that he is going to talk to Liz today and tell her about his outside relationship so that she doesn't have a barrier in getting to know him better. He says he doesn't want to be presumptuous about how she might feel about him.
Meanwhile – Audrey and Shelli are in the bathroom. SHelli says don't worry tomorrow night I am coming back ..I'm going to let Jeff have one last romantic night with Clay. Audrey says the first double eviction happens when the the 6th person goes and that's when the first jury person starts. She say then later they have a second double eviction. Shelli is surprised there are two fast evictions. Audrey says I had a premonition that this next week we get out Jason and then the next week we get her out. Audrey says that she went up to Jason and told him that she thinks people are throwing you under the bus to me saying you said this, this and this to try and get me to target you. I think he is going to start building trust with Vanessa and her with him. He said that he isn't going to go after me if he gets HOH. But I don't know who he is going to go after. Shelli wonders if it will be her. Audrey says with Me, You, Austin, Shelli, Vanessa and Clay we should be good. The worst case is that 2 of them get into power and then we're in serious trouble. Audrey says if I win.. based on my conversation with Becky no matter what I am going to target him (Jason). But I need to make a deal with Becky. Shelli asks who would you put up with him? Meg? Audrey says yes, I know she would do it to me. Shelli agrees.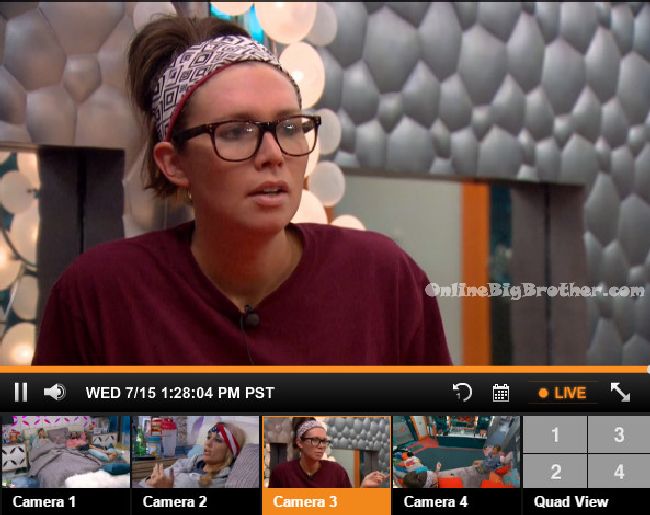 2:15pm Audrey, Shelli, Steve, Austin and Vanessa are talking in the kitchen about what the HOH competition might be. They wonder if it will be questions about the Gronk parties. Liz complains about her back being sore. Austin says he'll massage it out. She asks Austin if he will crack her back in the HOH room. Austin says yeah and they head up. Liz says that she's worried she will be messed up for the HOH competition. Austin says we can do stuff to prepare you. Austin says that Clay might be the one they go after next because he's been playing both sides. Liz says so if Clay is the next one that would be so funny. Austin says it would be good because obviously we can't go after him but at least it will keep you safe. Austin asks when do you think you're switching out next. Liz says Friday morning. Ausitn says I wanted to talk to you about something before you go. Just because I wanted to put something out there for you. Something about me in general, just about my personal situation outside of here. I feel like you and I have been connecting a little bit and I do like you. I don't want you to feel uncomfortable about anything so I just want you to know like the situation wasn't as clear cut. Like when I came in I kind of just said I was in a relationship but I didn't want to elaborate on it. I didn't think I would be doing anything but playing the game in here. But I do like the time we spend together and I do like getting to know you and I don't want to you feel weird. Big Brother switches the camera view to the kitchen.
Test out the Live Feeds FREE for 7 DAYS! Click here for your: Big Brother 17 FREE Trial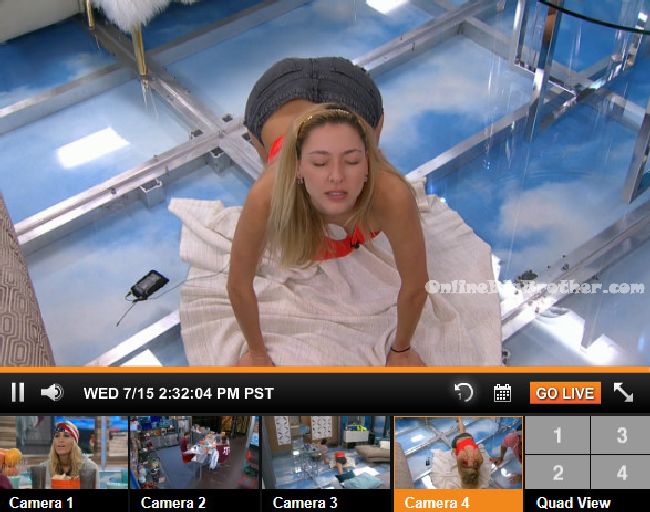 2:45pm
Vanessa talks to Steve about how the internal strife he is having and the thoughts that are coming up about his ex-girlfriend is likely due to you liking Liz and what is going on with her and Austin.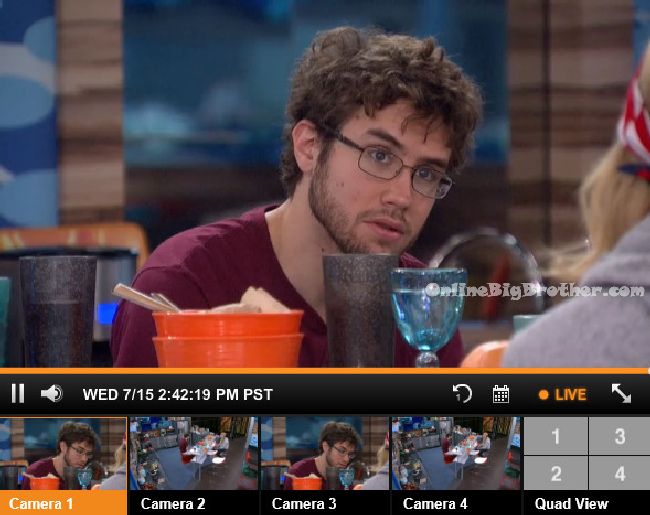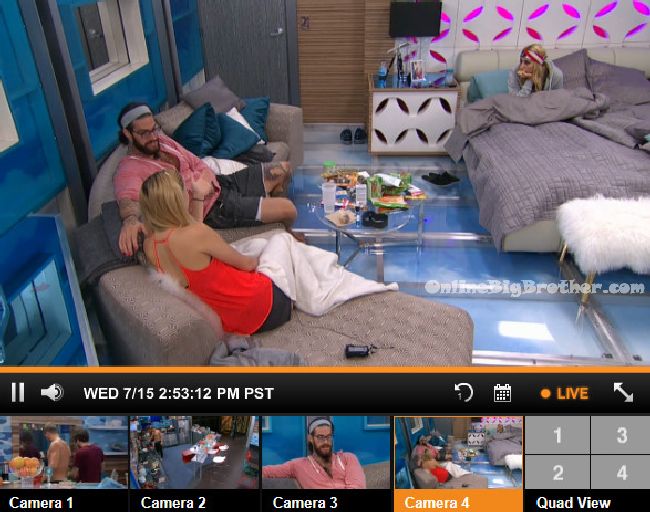 2:50pm – 3:10pm HOH room –
Austin says I would like to start having a better relationship with Meg because that's one step closer to James. He (James) already promised me your (Liz) safety and Vanessa's. Vanessa tells Liz to go out there and win the HOH because you and your sisters life is on the line. Liz says she will and that Shelli and Clay should go out there and try to win it too. Austin heads down stairs to eat. Vanessa asks Liz how are things? Liz says good, Austin talked to me about his .. did you know this was coming. Vanessa says no. Liz says he talked to me about his girlfriend. Liz says he did clarify. She said that he said he and his girlfriend are not on good terms .. we're on different paths. He said he came into the game not thinking he would meet someone like me. But obviously things have changed and he didn't want me to be uncomfortable around him. Vanessa asks so is he in a relationship or not. Liz says he said they both agreed not to hold each other back. Liz says this is being filmed and I don't want all my dirty laundry out there. I don't know if I want a romance to be out there. Even Shelli and Clay haven't even kiss .. I don't think they have anyway. At the end of the day he still has that girlfriend back at home. Vanessa asks do you want to hook up with him? Liz says I like him but I don't want to hook up with him on tv. I really liked Jace in the beginning but I wouldn't have even kissed him. I don't want people to think he and are the next SHay & Clelli. I came in here with my sister. I didn't come in here to f**king fall in love! Vanessa says just keep it fun and light. Liz says that will be very hard for him I think. Vanessa asks so you would have been okay with a fun and light hearted hook up? Liz says no not on tv. He literally has the best personality ever. I am so confused. Vanessa tells Liz .. that Steve said that he thinks you like him. He said that you said you liked nerdy guys with glasses. Liz says oh my god .. I said nerdy but not glasses.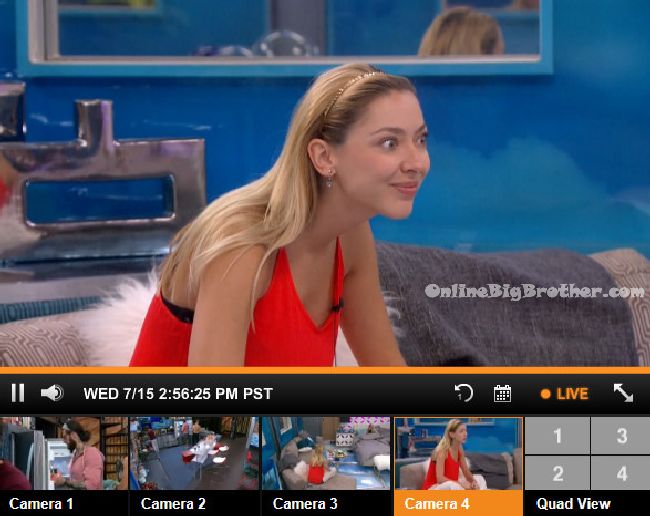 Live Feed subscription gives you CBS All Access thousands of archived shows. Live Shows like Big Brother, all the Big Brother Seasons, and 24/7 coverage of what is happening inside the Big Brother House. Plus there's flashback that lets you go back to any second of the feeds and rewatch what happened. Simon and Dawg will index the season just watch the parts worth watching. All this for $5.99 a month try it out 1 week free. Support our efforts and get your feeds via a link on this site. Live feed subscription Sign up
[polldaddy poll=8972565]
Share it YO!!
Tweet