POV Holder:
JohnnyMac
Next POV
July 13th
POV Used
Yes
POV Ceremony
July 6th
HOH Winner Team 1:
Becky
HOH Winner Team 2:
Shelli
Nominations 1 :
Steve, Jason
Nominations 2:
Day, JohnnyMac
Battle of the Block Winner
Steve & Jason
Next HOH/ Next BOB
July 9th / ?
Original Nominations:
Day, JohnnyMac
Current Nominations:
DaVonne, Meg
Have Nots
Steve, Jason, James and Meg
TRY the Big Brother 17 Live Feeds FREE for 1 WEEK:
Click here to ensure your live feed subscription supports OnlineBigBrother.com at no extra cost to you.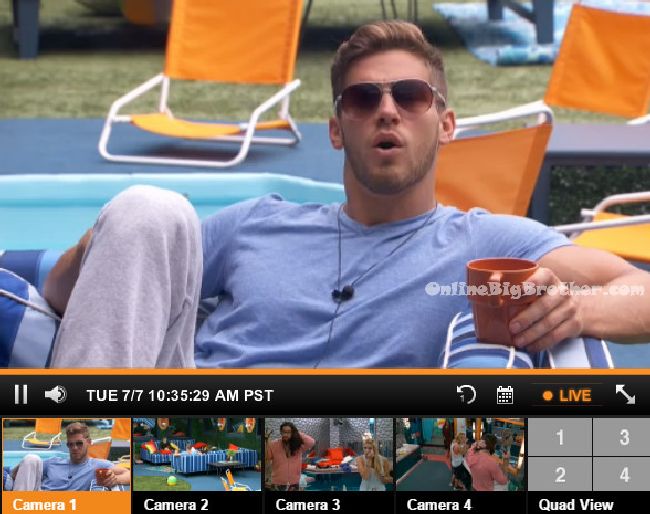 10am Big Brother wakes up the house guests. Johnny Mac is sitting alone in the backyard. Meanwhile in the kitchen – Shelli, Vanessa and Clay are getting ready for the day / to workout. Shelli and Vanessa head out into the backyard and start sprinting back and forth across the yard. Vanessa gets called to the diary room in the middle of their workout. Jason, Johnny, Becky and Clay are on the backyard couches. Jason says the havenot beds are the worst. Its just so awkward. Becky thinks they are the worst in history even more than the air plane chairs. Jason talks about the live feeds and how they're cheap at only $5.99. Clay asks about the cameras and Jason explains how there is always one close up and one farther away.
In the bathroom – Austin and Vanessa are whispering really quiet. Vanessa says if we don't win HOH we're f**ked. Austin says we need to get a group together that will be guaranteed to make it to jury and then after that see what happens. He (?) is trying to branch off with them.
10:50am Day talks to Vanessa. Day says I want to stay. I know you're close to Shelli. I think Shelli wants me out of here. I'm not ready to go. I think you're close to Shelli and you and I had a bond. You had said you don't want me out of here. Vanessa says and I meant it. Day says there are people in this house that betrayed me and I'm pissed about it.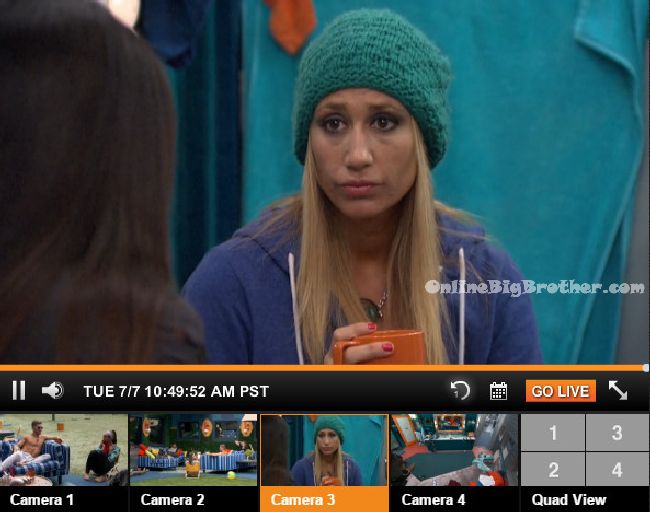 11am – 11:30am Hammock –
Austin and Vanessa are talking. Vanessa says that thing with Jackie was funny. AUstin says she basically said she was in to me.. unless I am crazy. Vanessa asks who would you be more into Jackie or Liz? Austin says probably Liz. Vanessa says yeah she's cute. I have to be honest though your girlfriend probably wouldn't be in to that conversation. I know I wouldn't. I would be like he's in the dog house. Austin says I hope Liz wasn't uncomfortable. Vanessa says you need to make a decision though. …I need your head in the game. Not that head though. Austin says that the cliques might be splintering. Vanessa says this goes in the vault. I've been extremely loyal to you. I think its very important that we divide the house in half and each have relationships on either side that we we won't get in a tight spot. I think the key is .. no matter what I am going to go on my initial instincts with everyone. I don't trust James. Especially for what he did to Jace. Austin says I went up to James and said we're cool. I told him we should work together because I don't want an enemy in the house. I think Steve needs to go in the next couple weeks. Right after Day got put on the block he looked at Day and smiled. I told Steve he never gives any information. Vanessa says that Jeff gives a lot of information but does he do that with everyone? He wants to make sure he is friends with everyone in jury. Vanessa says I think James would put me up. I should probably make a 1 week deal with him. Vanessa says you and Liz are spending a lot of time together. They'll put you up together. Austin says I was trying to put her in front of you so that they have no idea we're working together. Vanessa tells Austin "Don't go falling in love (with Liz) and then f**k me because I would be super sad. Austin says I'm not falling in love with these girls. I'm going to start hanging out with Jackie a lot more. Vanessa says I think you, me, Clay and Shelli could go really far. Austin says that Jason is kind of a free floater now. Vanessa says that Jeff says he's in good with him. Austin says let Jeff facilitate all these relationships. Vanessa says don't get pulled into anything. Vanessa says that she's worried about the "Sleeper Cell" alliance getting out. Austin says we can just say that it was fake to trap Audrey in another lie. Austin says if I won HOH I almost think it would be best to target Steve. I don't want to do the houses dirty work. Vanessa comments on how Steve is socially awkward. Vanessa asks is it better for Day to stay over Meg. Austin says I wouldn't want to because she's a big player. Vanessa says I trust Liz. Austin says I do too.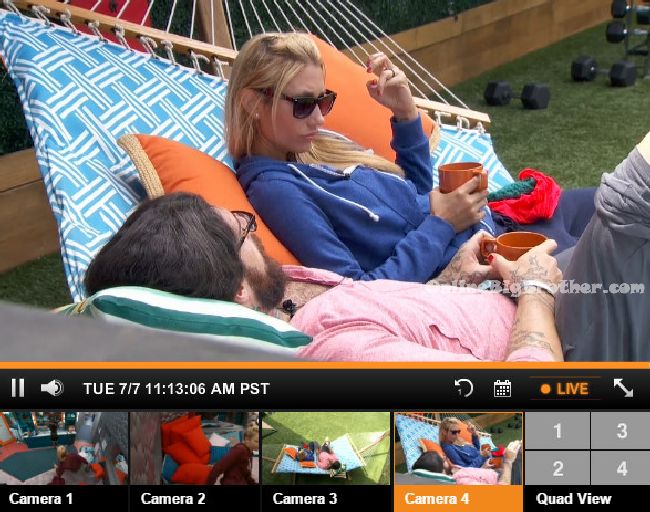 11:35am – 11:45am Audrey and Clay are playing pool and talking. Audrey says that the way he talks to her is very abrasive. Clay says yeah I come off a little abrasive. Audrey says I haven't done anything to f**k her (Shelli) over. Clay says I don't think you f**ked me over either you lied about a few things. Audrey asks why do you trust Jeff more when he threw you under the bus to Day. He is the one that is saying that I was the one going around saying all this stuff. Clay says he has come to me with information. Audrey says so have I. If you want to not get a villain edit then you can change that. Clay says I'm not trying to play a roll to look like on tv. If they want to spin that to make me look a certain way then that's their deal. Clay says Shelli and I want you here. Audrey asks you dont think you're playing Jeff's game a little bit. You don't think people in that group have his back over yours. Audrey says I would rather keep people like Vanessa and Austin in the game. Clay says us getting out Day this week instead of you has already made people suspicious of us working with you.
12pm – 12:35pm Backyard – Jason is talking to Day. Jason says I'm happy to scumbag everyone in here but you and Meg. Day says its just so early. I wanted to play with you and her longer. Jason says it could be an entire house flip and you could have the votes. Day says if my gut is correct ..they're out for blood for Jace. Jason says in his honor. Jason says my fear is if someone like Vanessa wins HOH it would be me and James on the block. Day says I could only save you. Day says its imperative for you and I to win this HOH or die. Jason says some times all you need is luck and some of these bit*hes have bad karma. Day says what we can try to control is to get these votes. Once I do we need to plan ahead. Day says I have Vanessa, Liz, Austin and you. John and Jason are my plan B's. I need all of my plan A's to come through. Jason says John is in the middle of all of it. Day says its two damn days I have to hope these people don't spill this tea to Liz. Jason says I don't think anyone will except maybe Steve. Day says because if that comes out I can't be attached to that. Day asks have you ever talked game with him (Austin). Jason says just once. Day asks how did that go? Jason says like I couldn't trust him if my life depended on it. Day says before eviction I have to talk to Liz. (Day plans on telling Liz that others think she has a twin and that she needs to vote for Day to stay to have Day on her side because the others will try and get her out.) Jason says don't wait too long maybe 2 hours before. Let them ponder all night .. they would probably go into the DR and realize that's their only option. Day says she (Liz) is going to ask who the group is …and I'll have to tell her I can't tell her because it will come back to me. Jason says she will have to buy it and realize that they got caught. That they weren't that good at switching it up. Jason says we will have to get Liz out before that 5th eviction. Jason says if she comes in we could use it to our advantage. They're going to need someone to work with. But I would rather nip it in the bud before that. Day says when Meg goes we need to get Jeff out so that we can get James back. He will have no where to run to. Days says I don't think that phone call was a coincidence .. I think they're rooting for us. Jason says you haven't told them that you've won the power. Day says no. Jason says you might have to do that so that it convinces them you have the numbers and they'll realize they don't want to be on the other side of it.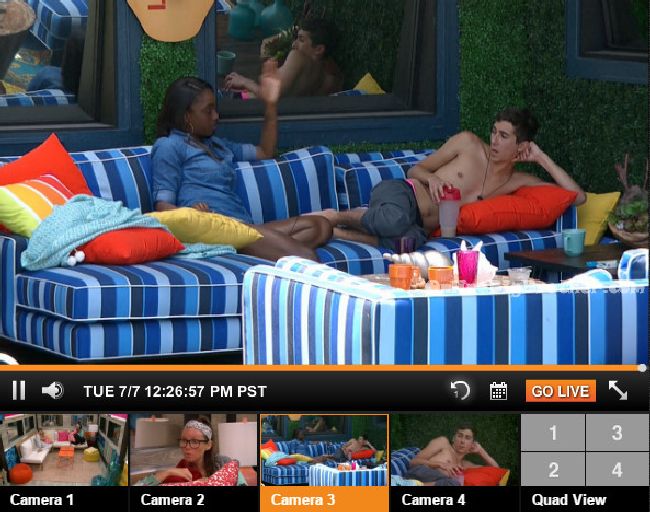 12:35pm Big Brother calls for an inside lock down.
Live Feed subscription gives you CBS All Access thousands of archived shows. Live Shows like Big Brother, all the Big Brother Seasons, and 24/7 coverage of what is happening inside the Big Brother House. Plus there's flashback that lets you go back to any second of the feeds and rewatch what happened. Simon and Dawg will index the season just watch the parts worth watching. All this for $5.99 a month try it out 1 week free. Support our efforts and get your feeds via a link on this site. Live feed subscription Sign up
[polldaddy poll=8961340]
Share it YO!!
Tweet