POV Holder:
JohnnyMac
Next POV
July 13th
POV Used
Yes
POV Ceremony
July 6th
HOH Winner Team 1:
Becky
HOH Winner Team 2:
Shelli
Nominations 1 :
Steve, Jason
Nominations 2:
Day, JohnnyMac
Battle of the Block Winner
Steve & Jason
Next HOH/ Next BOB
July 9th / ?
Original Nominations:
Day, JohnnyMac
Current Nominations:
DaVonne, Meg
Have Nots
Steve, Jason, James and Meg
TRY the Big Brother 17 Live Feeds FREE for 1 WEEK:
Click here to ensure your live feed subscription supports OnlineBigBrother.com at no extra cost to you.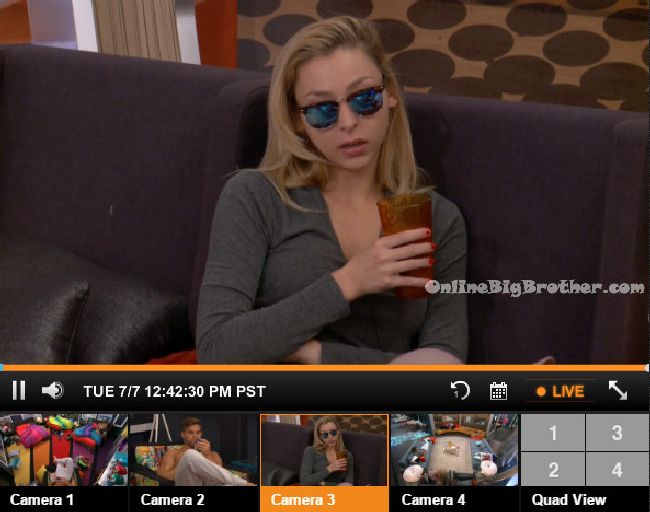 12:40pm – 1pm
Living room – Liz, Steve and Audrey. Steve tries to test the twin theory by asking Liz about Giselle the giraffe and Liz wearing sunglasses to hide the colour of her eyes. Steve asks what was the final name of the giraffe? Liz says ahh.. I forgot. Steve says Geoffrey. Liz says Geoffriza. Steve says Giselle. Liz says Giselle yeah. Steve asks why is everyone wearing their sunglasses inside? Austin says because we were outside. Liz says because its bright in here. Steve says but you're inside now. Liz says you're a ray of fricking sunshine. They talk about being locked inside to set up the HOH. Austin wonders if they're setting up a little HOH for us to practice. Steve says oh they could totally be doing that. Liz comments on how her sister has dropped her phone in the toilet a lot. Steve asks how old is your sister again? Liz says 24. Steve says she's a year older than you. Liz says Angela Grace. Steve asks didn't you call her Ang before. Liz says yeah. Steve asks is your last name Grace? Liz says no, Nolan.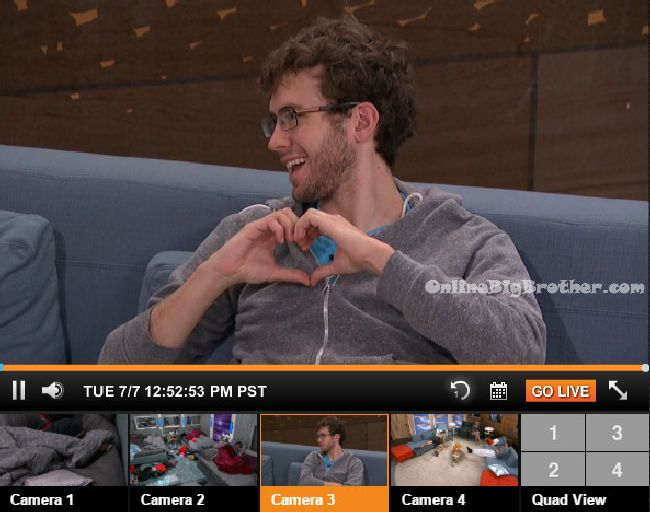 1:10pm James, Austin, Clay and Vanessa talk about the podcast they'll be doing tonight. 1:20pm Big Brother ends the lock down. James, Jason, Meg, Jeff and Liz head outside. Jeff tells Jason I don't know. Jason asks what do you mean you don't know ..its the same one as yesterday. They haven't switched them out yet. Jeff heads to the bathroom and talks to Clay about Liz. Clay says this one has thin thighs and the other had bigger thighs. Jeff says this one is not nice, dude. Clay says she's just not as funny and bubbly. Jeff says I can't wait to talk to her friend. Clay says that James was being awkward with her. Asking her if she slept good. We were talking about the podcast and he said maybe Liz should go again. I kind of want to tell him to calm down with it a bit.

1:25pm Out in the backyard – Jason says they're (Liz & Julia) so different. Makes you think ..Ya'll couldn't find better twins. There are more identical twins out there. Shelli comes out with the HOH camera. Shelli takes a photo of Liz and tells her she looks good! Liz says just basking in the California sun!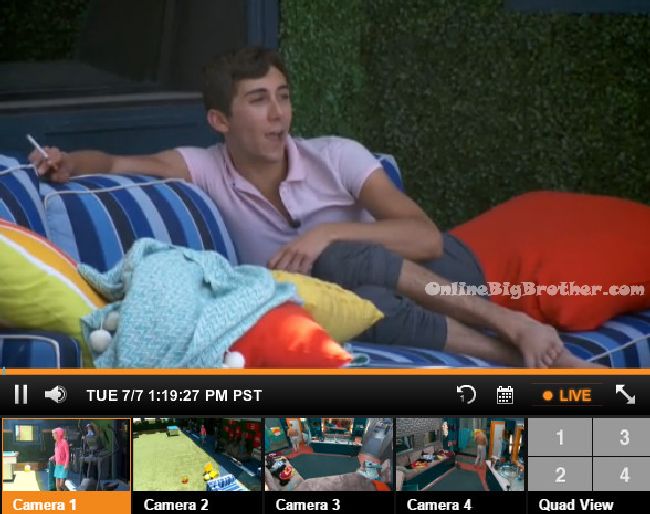 In the bedroom – Vanessa tells Steve to be careful when you say things like hey Shelli I saw you and Liz talking. That makes it sound like you were listening in. Maybe you should make it sound like you careless. Steve says thank you for telling me that.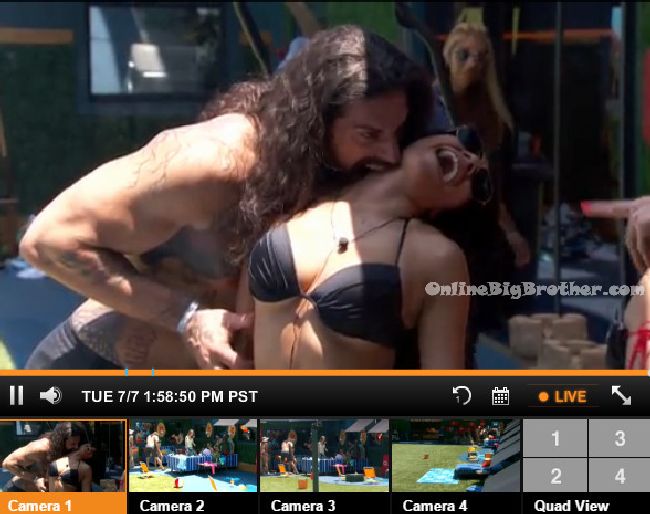 1:40pm – 2:30pm Hot tub – Jason, James, Meg are hanging out. Jason says a lot of people have nicknames in here. Jason asks Liz .. are you an Elizabeth? Liz says yes. Jason says see there are lots of people with nicknames. They start taking HOH photos. Jason comments to Clay how Liz and Liz # 2 are drastically different. Once they put them together everyone is going to be like DUH! Jackie, James, Meg, Jason are talking about Liz / Julia. Jason says the other one is the one with the personality. This one is the evil one. Jeff says this one is just trying to get her bathing suit completely off. James says they're totally different. This one just goes along with everything and says yeah. Jason says that's because she has no idea what is going on. Liz is heavily medicated. Liz joins them and the conversation turns to talking about big brother in other countries. Jason tries to blow up Giselle the giraffe again. He then says I just went down on her for 15 minutes and she didn't even appreciate it.
2:40pm – 2:55pm Clay and Jeff start a game of pool. Clay asks Jeff so Vanessa came to me today and said she wanted to talk game. Weird?! Isn't that random. Clay asks did you say you had a twin? Jeff says I do. They didn't ask you to include him? Jeff says no. If they did and someone went after him I would go nuts dude. I've always been the big brother to him. I would knock f**kers out for him. Clay asks is he smaller than you? Jeff says he used to be. Now he's a body builder. Jeff says look at this one (Liz) she doesn't care. She is just letting her v@gina hang out. This one is more jury house fun. Steve plays Clay next. Shelli joins them after having done her HOH blog and says she made up a nickname for her and Clay. "Shay"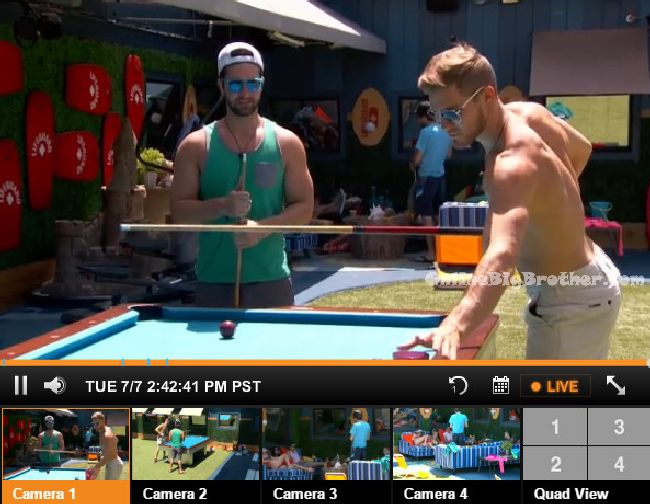 3pm Up in the HOH room – Jeff tells Clay I think she's on to us. What girl gets into a skimpy bathing suit and covers up her stomach and boobs. Clay says this one likes to cover up so that no one will notice the differences. She wears hats and sunglasses. She's not the main one, she's the stunt double. Jeff says I called her out 3 times to reenact the photo booth and she just ignored me. Jeff says this one has a big birthmark on her back too.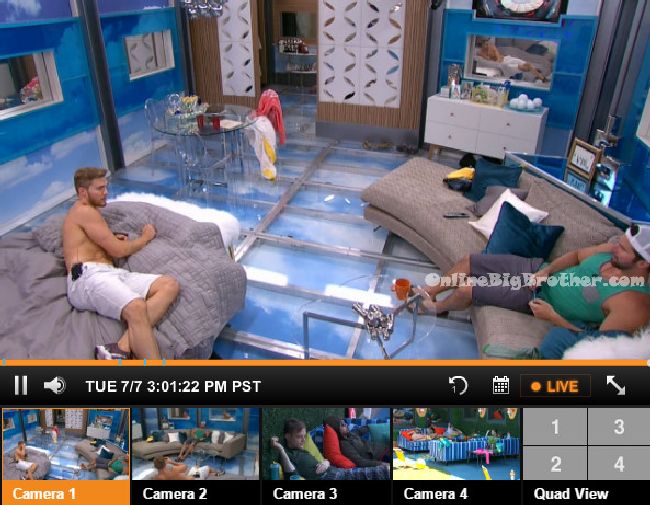 Live Feed subscription gives you CBS All Access thousands of archived shows. Live Shows like Big Brother, all the Big Brother Seasons, and 24/7 coverage of what is happening inside the Big Brother House. Plus there's flashback that lets you go back to any second of the feeds and rewatch what happened. Simon and Dawg will index the season just watch the parts worth watching. All this for $5.99 a month try it out 1 week free. Support our efforts and get your feeds via a link on this site. Live feed subscription Sign up
[polldaddy poll=8961340]
Share it YO!!
Tweet