POV Holder:
?
POV Competition
Aug 15th
POV Used
?
POV Ceremony
Aug 10th
HOH
Liz
Next HOH
Aug 17th
Original Nominations:
? and ?
After POV Nominations:
? and ?
Have Nots
?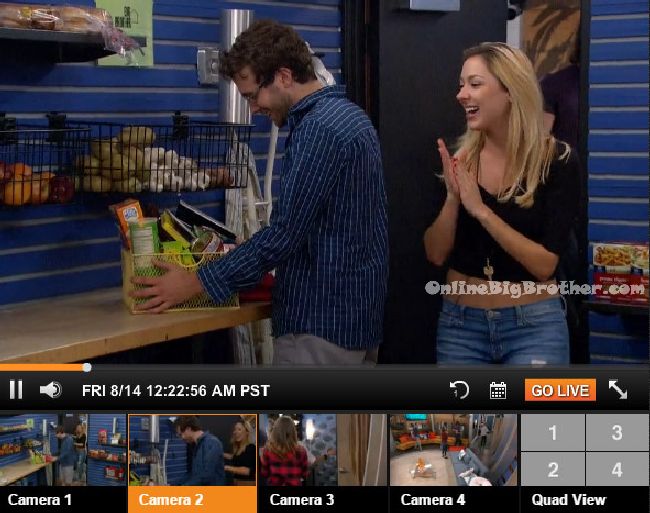 12:23am Steve comes out of the diary room and goes into the storage room to grab his HOH basket. Steve reads his letter from his mom.
Dear Steve,
Congratulations on winning HOH! I miss you so much but I am so happy to be seeing your dream coming true. I found the surprise you left for me. (Steve tells everyone that he left her a nice little note that he left in the couch.) It meant a lot and I keep it close. Jerry loved her Birthday present and even opened it early to make us payaya on the first night of our visit. Dad loved his fathers day present and we both loved the present you got us on the trip with Jerry. Allen said you nailed his birthday present perfectly. Your nephew Harrison is doing great. We'll plan a trip to see him some time in the fall. The best part is he is smiling and laughing a lot and we get lots of pictures and videos to enjoy. Allen and Caitlyn. The big news that you have missed is that Allen did propose to Jerry and she said yes. Jerry and Jason know that you will fully approve.
Dad and I flew to Orlando. Jerry expected it was to ask for Dad's blessing and we had already done it. He took Jerry to talk to her and of course we followed them and spied. We saw Jason get down on one knee and I even snuck some photos. They're thinking of getting married maybe it this February or March so we don't have to wait long. You should see the ring! WoW! Dad is still doing advertising for the paper and Jerry and Jason are going to build a brand new house. They chose a house model and all the details like counter tops. They picked a lot and it should be ready to move in a couple months from now. Dad and I just had our 25th Wedding Anniversary.
I am still writing for the paper every week and I have agreed to play in the pit orchestra. I miss talking to you and seeing you every day but you know Dad and I are here loving and supporting you. I think about you constantly and I am proud of you. Jerry and Allan and your extended family are totally there for you. Grandpa and I had some special time together at the family reunion it was such an amazing day and I took lots of pictures and Grandpa took me to all the places he grew up and where he and Grandma lived.
I love you so much and I know how much you love me too. My heart is with you every step of the way no matter what happens always remember that and what a kind giving person you are so keep staying true to yourself and staying strong. Keep hanging in there Steve, we believe in you. All my love Mom.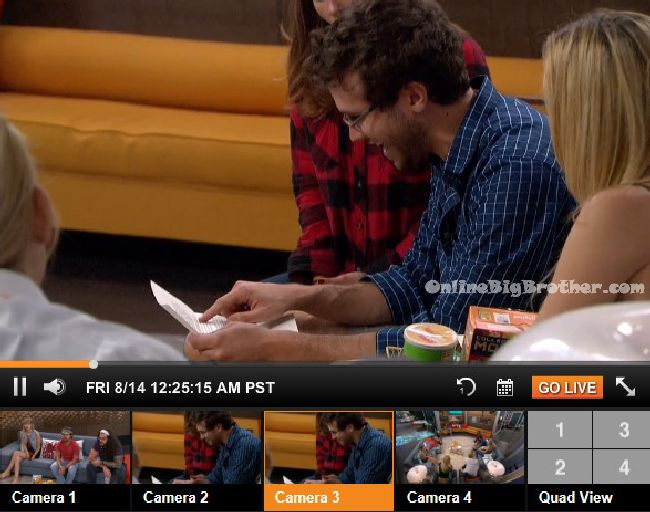 Steve says I needed this! Liz tells Steve you look exactly like your mom. Steve wonders if is is a havenot this week if he can't eat his HOH basket food.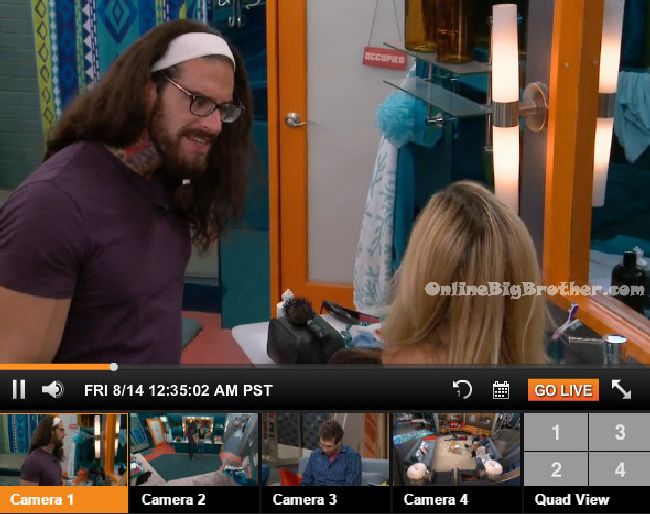 12:35am – 1:10am Bathroom – Austin and Liz are talking. Liz says that's what I'm trying to think. Austin says you're right she would have come after us. Or she would have targeted Steve maybe? Steve and one of us? Steve and Vanessa? Vanessa's her target. Liz says I want to give an explanation, its all game. Austin says that Meg and James will want to know why we're not going after Steve because Johnny Mac and Steve were supposed to be our targets. So that's why you've got to be like I promised him real quick safety if he didn't put me, Austin or Julia up. How about Vanessa making a deal with Johnny Mac right before this HOH to keep her safe next week? Where does that leave us? But she wants us to make a deal to include her?! Liz says she is so sneaky. Austin says I want to talk to Meg and James before shes in the room. She made the deal right before .. no front door, no back door. Liz says James and Meg don't even try and talk game with me I could just say its all strategic. Its nothing personal. Austin says why even go that far, you only have a couple of options .. that's you (Becky) and Johnny Mac.. just say that you have a deal to keep everyone else safe this week. I didn't have a deal with you two. Liz says will says I was HOH last week but that was for double eviction. Austin says but she went against the plan. Austin says that she (Becky) was the one that sat there and said she had a four group deal. Austin says you don't have to give too much information. You're in a position of power. Liz asks do you think its the best decision for me? My first target was Jackie, and Becky. Jackie is gone. I don't want to ruffle feathers with Meg and James because its two of them. Austin says taking Becky out is the best case scenario and taking Johnny Mac out would be the second best scenario. Austin says I am little worried about Vanessa, Steve and Johnny Mac .. because she could take them two and beat us in the final 2. Austin says even if Becky doesn't go this week and Johnny Mac does …Vanessa and Becky will still go at it. Austin says James does not like Becky. She called him a sexist.
THE PLAN – Liz plans to nominate – Becky & Johnny Mac
(Becky as the main target, Johnny as the secondary target.)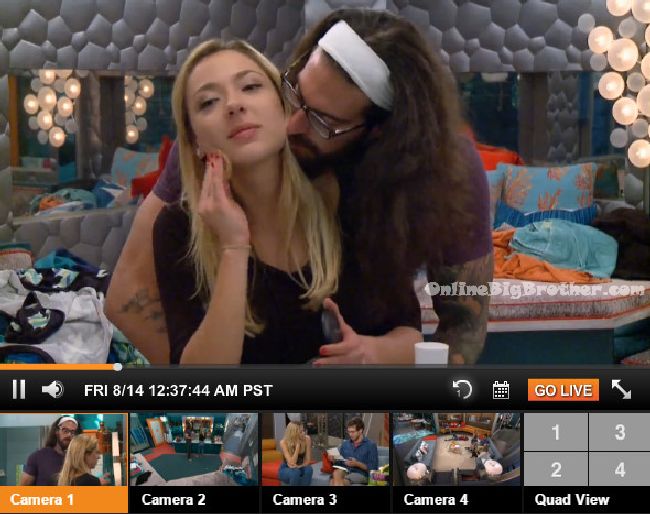 1:23am Vanessa talks to Steve and tells him that they want us (Aus-twins) to pull Johnny Mac in as the final 6th. Steve asks what? Vanessa says they want Johnny Mac to be top 6 but we can't just be like hey come join our 5 person group that makes them feel like sh*t. You and I should go to him and form a side 3 and say we think we can get those 3 to work with us. Lets make a 6. Then he will feel totally comfortable going up as the pawn. Steve asks would he make a deal like that going against Becky? Vanessa says he has no choice. She's going home. He wants to be part of a group. Steve asks do you think he will trust you after last week. Vanessa says I'm the trustworthy one, Becky is the untrustworthy one. What did I do. She (Becky) doesn't like people who ask to give their word. I speak big brother, she speaks a different language. This is a smart move for him game wise. Vanessa tells Steve this is shaping up good for us! "SOS" has a real shot. Vanessa says we don't want the Aus-Twins having all the power, we should have our own 3. Vanessa says Becky is 100% the target. Steve thinks Johnny Mac would be more likely to agree to the 3 / 6 person deal if we do it after he is nominated. He will feel like we're saving him. Vanessa says that's good.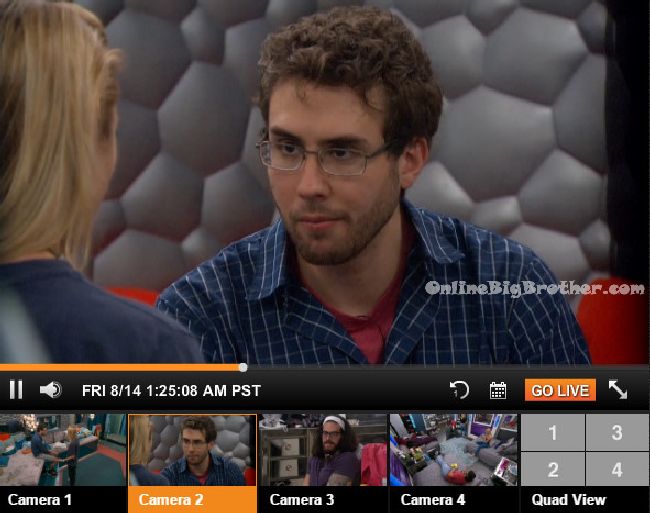 1:45am
Liz comes out of the diary room – "Who wants to see my HOH room!!" Julia looks at Liz's HOH letter. Steve comments on how he thinks big brother rewrites the letters. Austin says they definitely do. Big Brother blocks the feeds.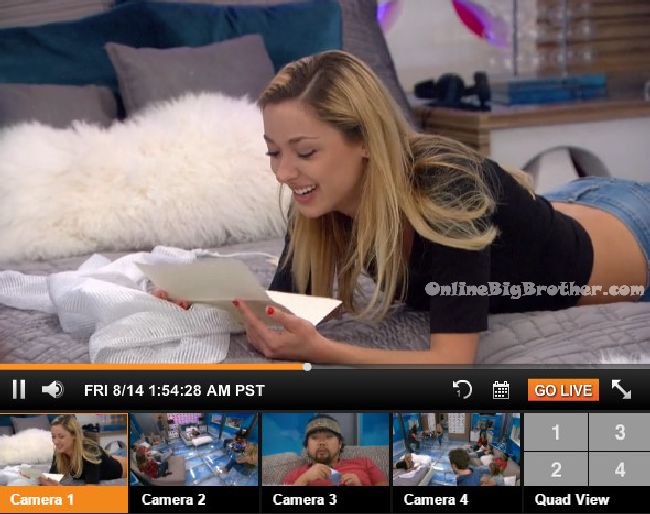 2:10am Cabana room – Liz talks to Vanessa. Vanessa tells Liz we need a name. I thought of one. "BRASS TACKS" get it lets get down to bass tacks! Lets get down to bass tacks top 6! Liz asks what did he (James) say? Vanessa says he loved it so I'm sure he's going to tell Meg. Liz says I told him we need to talk to you two together. Liz talks about what she will say to Becky. Is there anything you want to tell me? What happened last week to make you go back on the deal to putting up Vanessa? I want to catch her in a lie. Did you tell Johnny about the 8 person deal? Like how did that get out? I want to know. Vanessa says I already know how it came out .. Steve told me that Johnny and Shelli heard from Becky. Liz says see so there. Vanessa says but I wouldn't worry about it too much you don't need a reason. She's a big threat. She's never really talked game with her. Vanessa asks will you do me a favour. Please just feed her the line I'm not really big into making deals any more. Liz says no deal, no deal! Just please if you could say that it would make me so happy. The poetic justice of it! I want her to have the same feeling I had. Like that she is going f**king up! Vanessa tells Liz she already talked to Steve about making the alliance / deal. Vanessa tells Liz to tell Johnny that he, Steve and Vanessa are the people you trust the most. I want you to know that if you go up, you would be just the pawn. And if you do that then we would be interesting in making a long term deal. Liz heads up to the HOH room. Vanessa talks to Steve. He feels bad about crushing Jackie's dream and being the one to send her out. Vanessa reassures him this is just a game.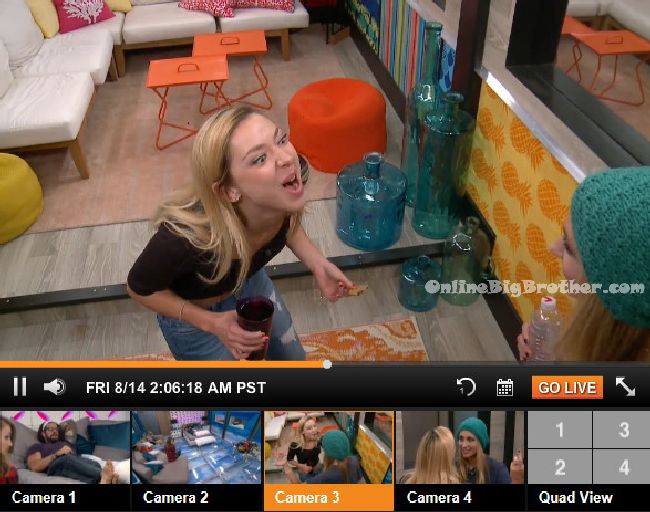 2:10am – 2:30am Liz comes up to the HOH room to talk to Meg and James with Julia and Austin in the room. Liz tells them obviously they got hit hard today with Jackie. We still want to work with you guys. Austin says this is the "BRASS TACKS!" Liz says last week made us closer. Vanessa told me she already talked to you about keeping you safe. Austin says we want this to be the brass tacks! We want this to be the 5 like legitimately and like Vanessa is like 6. Meg says she is worried where Steve got the info. Austin says we will need to dig. Liz says maybe he had a plan if the veto got used too. The deal we want to make with you guys is to keep you safe. At the end of the day the 3 of us and you two need to be together more an with Vanessa. We like her but .. brass tacks! Liz asks who do you think I should put up. Meg says its getting down to numbers. Liz says we really like you people. We trust you. Austin says we love you guys. Liz says this all brought us closer together. Becky tries to come in. They comment on how she's freaking out right now. James says Vanessa told me a lot about Becky like how she was targeting me, the generals and how she cut me off. Meg and I have y'alls backs. Austin says final 5 is huge too because that's when someone will probably come back. Meg says that Becky thinks she is probably going home. Austin says she thinks Vanessa is running the show and she's not. They talk about who leaked the 8 thing. Meg wonders if it was Becky or Vanessa. Meg says there is a lot of manipulation going on with the people left in the game that can manipulate. That's what I think happened today. Meg says Johnny listened to Steve and he said not to use the veto. Meg says Steve & Johnny Mac don't have open communication. Just keep open communication with them. Meg says in the bathroom today I said what if Steve wins and throws a curve ball putting me and Jackie up sending one of us home! James asks how do I go about it with Vanessa. Austin says its a 6 person thing .. but if we have talks within our 5 person thing then obviously we don't tell her. Any thing she tells you she should be telling us. They talk about how depressed Johnny Mac has been since last week. Austin says someone needs to put him out of his misery like a dog. Meg tells them that Becky said she needed to sell her soul this week. James and Meg leave. Liz tells Austin and Julia that Vanessa is so sketchy she came up to before this and told me she already told James about the 6 person alliance. Austin say we can't go after her yet but when it comes down to it we might have to have someone take her out.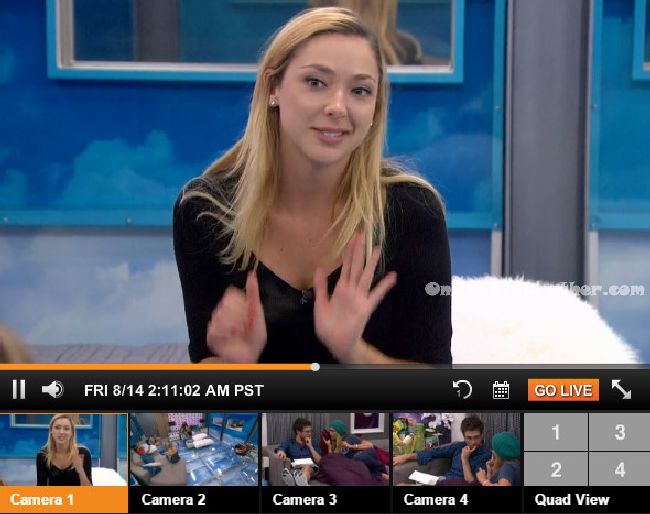 2:33am – 3:15am HOH room – Becky comes in to talk. Liz says I know it was a hard loss for you but some times the Steve's of the house win and do some crazy sh*t. Is there anything I need to know to make my decision easier. Becky says I did make a decision that was best for my game. I knew it was best for my game and didn't want to put people in a tough spot. That's why I told you before the HOH and after that you guys were safe and would never touch my block. I wanted to keep you guys clean and I got very dirty from it. My group was not with me and that was extremely hard. After the blow out fights Vanessa was identified as the bigger target. I wouldn't have put up Vanessa if everyone had gone Shelli, Shelli, Shelli. I would have put up Johnny Mac if that was the case. Becky starts tearing up. I was in a tough spot. You're saying that you actually came to a consensus to go after Vanessa? Becky says yeah. Austin asks why did they turn on you? Becky says it changed Tuesday evening that it had switched and I didn't have people behind me. Shelli had offended Meg. Liz asks how the 8 person thing got out. I heard it could have been you or Vanessa? Becky says I would hate to rat them out .. 3 of the 4 of them were in the bathroom and Vanessa said there were two group up there trying to get me out. Vanessa knew she was in trouble and that's why she called our two groups in. Becky grabs cereal and "creates a graph" about what was happening the week Austin almost went up and Jason went home. Becky tells them about how when Vanessa was HOH she told James to throw the BOB that he was with Liz. Becky says that Johnny knows he is being used as the ultimate pawn and that he will go home eventually. He is looking for a group. He is so scared. He is a free agent right now. Becky says that Meg and James are great. They hug and Becky leaves. Austin says we can't put up Vanessa we're way too deep with her but I think we should put up Becky and leave her to take out Vanessa. Then Johnny Mac has to go home this week. You (Julia), Me, Meg and James we have the votes. Liz asks whos the pawn. Austin says Becky has to be the pawn. Liz is pissed about Vanessa telling James to throw the BOB with her.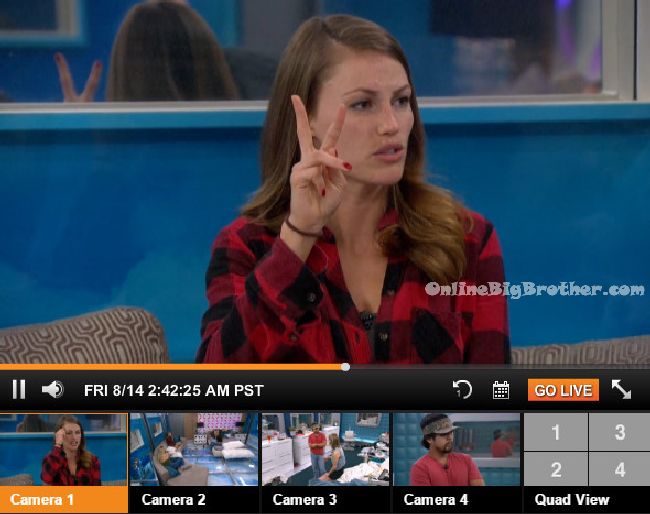 2:35am Havenot room – 2:50amMeg and James are talking. James says that he is worried that something might be said that puts doubt in their (Aus-twins) minds. Like okay there might be dirt. Meg says there's not though. James says I know. We need to be super tight with our mouth. They will use anything against us. Other than that I think we're good. We just need to lay low and not talk game with anyone. We don't want to put any doubt in their mind. I don't even remember everything that was said from Becky about Austin and the twins. Meg says I wanted to make a 6 with them this whole time. James agrees. We have nothing to worry about. Y'all said Vanessa had something with me. She comes to me and talks to me because I talk straight and don't lie. Whatever you say to me I don't tell anyone. We need to buckle down. Meg says Becky was in here with Steve and I hated it. I should have just acted on my own. Meg says now you've got me worried. Do you know that Vanessa told Steve that Jackie was going after him. James asks do they know that? Meg says that's what I was trying to elude to up there. James says oh yeah the manipulate thing. Meg says there are questions in my mind, I didn't want to say too much. James says I wouldn't say too much more about it. Meg says part of me feels like we were played by them a little bit. James says I would rather roll with them than Johnny Mac, Steve, Vanessa. Meg says I want Vanessa out. James says they might put her up and backdoor her. Meg says we have to get away from Becky. James says we can't too much she will know. Meg says I'm scared about what she will say. Except they've seen how she acts. James says and they know about the generals. Meg says so they aren't putting us up? James says not that wouldn't be brass tacks! I wouldn't be surprised if they took out Vanessa. James says I think Becky will go up. Becky and Johnny Mac and if one of them comes off Steve will probably go up. Meg says okay we just need to have summer camp this week. James says I don't think they would try and f**k us and be talking about making a final 5 with them. That wouldn't be brass tacks.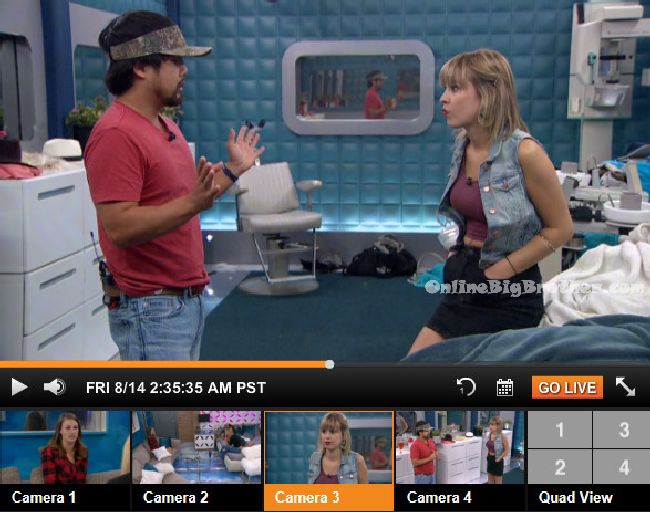 2:50am – 3am Living room – Steve and Johnny are talking. Steve says I just couldn't make a relationship with her (Jackie). Like there was a wall up between us. She was the person I was most distant with. I just felt she was going after Austin. Johnny says I don't think we were ever target but we were very expendable. Johnny says I think Vanessa and Austin have a final two and that the twins are expendable. Steve says we need to play dumb this week. She (Vanessa) has no idea we know what's up.
Steve heads to the bedroom. Meg talks to him about how she is getting the point we are all alone. I have James unless he is playing me really well. Its hard to figure out what's going on in here. Steve says I noticed today. Meg says all I can say is that it wasn't true about Jackie but you can figure that out.
3:20am Havenot room – Becky tells Meg about her conversation in the HOH room about how and why she did what she did. I made sure I owned everything and without doing anything to expose you, James or Johnny Mac. Meg says well there's not much they don't know.