POV Holder:
?
POV Competition
Aug 15th
POV Used
?
POV Ceremony
Aug 10th
HOH
Liz
Next HOH
Aug 17th
Original Nominations:
? and ?
After POV Nominations:
? and ?
Have Nots
?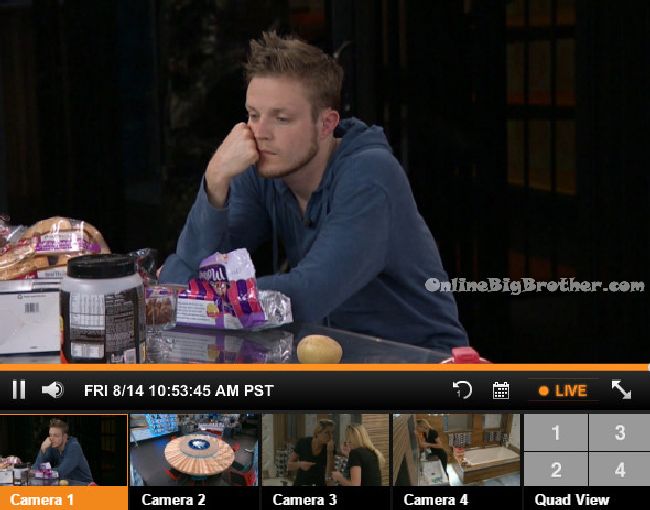 9:45am Big Brother wakes up the house guests.
10:55am – 11:10am HOH room Austin is called to the diary room. Liz wakes up to start getting ready for the day. She tells the camera that she does not know who to put up today .. well that's not true. I just hate being the bad guy. Well not really I have to put someone up as HOH. I just hope this decision doesn't come back to bite me in the butt. Liz joins Johnny Mac in the kitchen. She finds tons of ants in the sink and freaks out. John asks Liz is there anything more you wanted to ask me? Do you know what you're doing? (For her nominations) Liz says she still had to talk to a couple more people. Johnny tells her if I go up, can I not be a havenot? I'll be a havenot for the rest of the time I'm here, if I'm here. Liz says thats a great plea bargain. Johnny heads back to bed. Austin joins Liz in the kitchen. Liz tells him about her conversation John. She says he asked to not be a havenot if he was going to be nominated. Austin says no! Are you f**king kidding me! Liz says Audrey had to do it.
Watch the NEXT WEEK of the Live Feeds for FREE! Click here for your: 1 Week Trial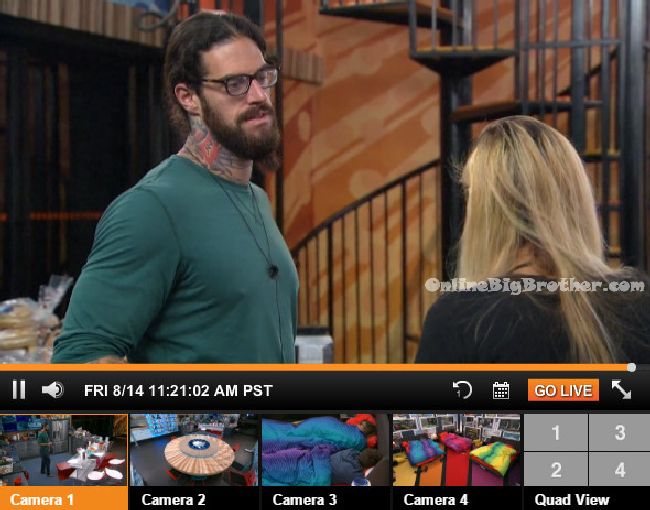 In the bathroom – Vanessa tells Steve that Johnny Mac said he didn't want to be a havenot if he was going up. Will you be one with me? Steve says he will. I'll do it. Steve asks he told you that? Vanesssa says Liz.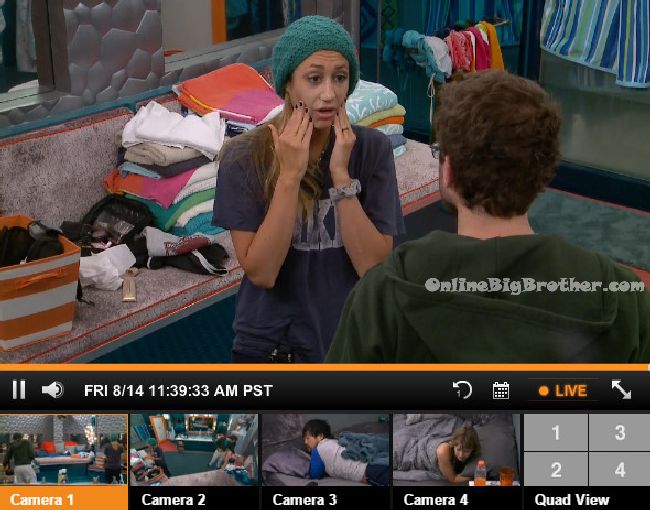 11:45am – 12pm HOH room – Liz tells Julia and Austin that John asked her if she needed any other information from her. I said no, I needed to talk to a couple more people. Julia asks are you going to tell him. Liz says he asked to not be a a havenot if he goes up. Austin says he has to, its his time!! Who are you going to make a havenot then? Julia says you don't owe that guy anything. Austin says we need to talk to Becky then James and Meg and then Becky again. Austin says I want to ask Becky who they were going to target last week. Liz says she will probably say Steve. Austin says fine. Liz says then we'll tell Steve. Austin says then we'll talk to James and tell him we found out he was told to throw the BOB. We'll tell him we just want everything out in the open for Brass Tacks and that we're more mad at Vanessa. We need to tell both Johnny and Becky that they're the pawns. We will tell Becky she is secretly staying. That Johnny Mac could be in trouble or there could be another target in mind. Liz says I'm just afraid of her staying and coming after me. Julia says she will go after Vanessa first. Austin says Johnny Mac could do the same thing, he's been good. We need to tell James that we don't want any secrets and that we're on to Becky and Vanessa. Austin and Liz agree they would rather have Shelli come back from jury especially if JMac is gone. She would align with us then. Liz asks am I total bitch for putting Jmac up and putting him on slop? Austin says no because we will tell him he is safe and that he'll be in there with Vanessa and we want them to get close. Vanessa joins time. Julia tells her about Jmac not wanting to be a havenot. What the f**k is wrong with this kid! Vanessa says there's not many people left and Steve just got his HOH basket and if he was one he couldn't eat it. Austin says he doesn't know what is wrong with Jmac? Maybe be doesn't want to be here. Liz says he said he wanted to be on a team! It not a team home boy its called an alliance! Vanessa asks why the f**k is he in the diary room all the time.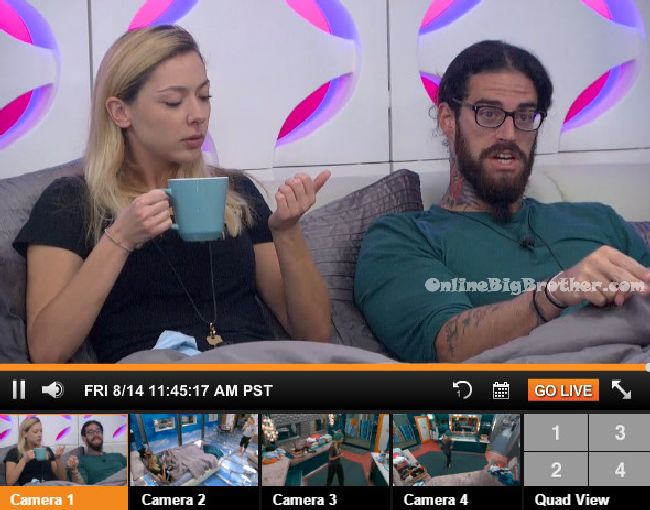 12:07pm
Big Brother switches the feeds to the live feed highlights for an HOH lockdown… its likely time for the havenots to be picked.
ALLIANCES:
Goblins/Gremlins = Jackie, James and Meg
Generals = anyone allied with Becky
SOS = Steve and Vaenssa
Rockstars = Steve and Jmac
? = Becky, Shelli, Jmac, Steve
Freaks n Geeks = Austin, Twins, Steve, Vanessa
AUS-Twins = Austin, Julia and Liz
"Brass Tacks"  Gobins and Austwins
The new "Brass Tacks" = Aus-Twins, Meg, James + Vanessa
"The Scamper Squad" – Aus-Twins, Vanessa, Steve
[polldaddy poll=9025485]