POV Holder:
Steve
POV Competition
Aug 8th
POV Used
Yes
POV Ceremony
Aug 10th
HOH
Becky
Next HOH
Aug 13th
Original Nominations:
Shelli and Steve
After POV Nominations:
Shelli and Vanessa
Have Nots
Meg, James and Jackie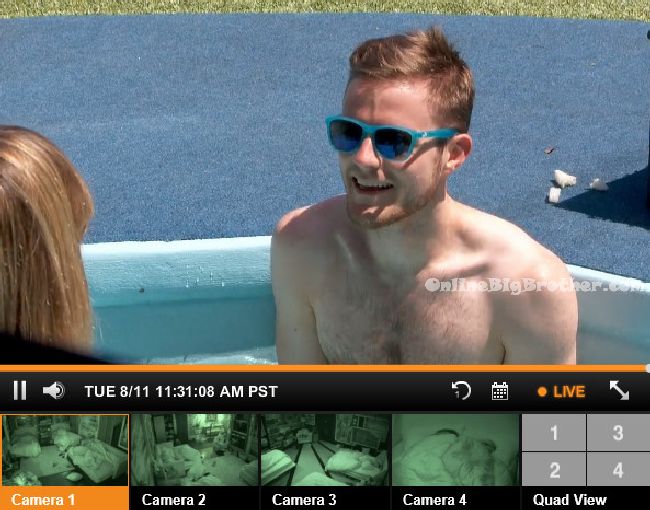 – The live feeds are going to be crazy leading up to Thursday's Eviction –
Watch the next week for FREE with the 7 day Trial!
11:30am Backyard Hot Tub – Johnny Mac and Meg are chatting. Johnny says I asked for something weird last night.. Nair. Its been a month since I did it. Meg says the 50 days have got to go. They are taking for ever! Like its only day 55! At least we're more than half way. DO you think we'll get takeout tonight? Johnny says yeah. Becky gets her HOH camera and starts going around the house with the blow up shark "Gronk".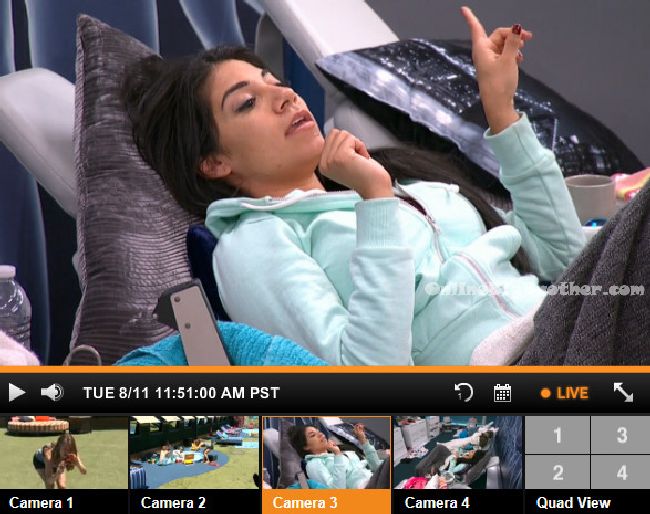 Jackie says that Vanessa thinks to this day and this is not true .. that Meg and Jason were the votes for Jeff (Steve & Liz were the mystery votes). And the you, me, Jason and Meg were in an alliance and that's why I was so upset with Jason on the block. James says Shelli and Vanessa tried to f**k us. Jackie says and split us all up. Whatever .. we'll split you up! You split us up, we'll split you up!


12pm – 12:20pm Comic bedroom – Vanessa tell Steve that she is feeling better. I had a really bad day yesterday. Steve says I'm glad to see you feeling better. Julia comes through asking what she should wear. Steve says your birthday suit. Julia heads into the comic bedroom. Vanessa tells her I can't stand her (Becky) I find her so f**king cold. I can't fake it, I'm not a phony. I'm so not a phony. Vanessa says she owes me an apology. What she did to me wasn't cool. She can't pretend it didn't happen. Julia says I can't believe she can't even be like.. Vanessa says have a conversation. Julia says everyone that goes on the block deserves an explanation. Vanessa says yeah especially when there was a deal for it to be someone else. Julia says she thinks like you're some evil person. Vanessa says I'm really not, like give me the benefit of a conversation. Julia says even James had the decency to go talk to Shelli. Steve comes in and talks to Vanessa. Steve says that right now John and Shelli think that I'm with them because we're the 3 people and not the 8. Steve says how about I tell them we made a 2 week deal the week you were HOH. I don't want to burn any bridges with John and Shelli. Vanessa says how about if within the 2 hours of the vote if I don't have the majority you can vote the other way. I think I will have the majority. Vanessa asks so I can count on you. Steve asks can you give me till tonight. Vanessa says I don't really have a choice do I? Steve says I don't want to like to you. Vanessa says okay. Steve says I do want to give you my vote. Vanessa says I have given you a lot of information. Steve says a lot of people are pulling me in a lot of different directions and I want to do the right thing. Vanessa says well I've told you a lot of information and you wouldn't know f**k all if it wasn't for me! Steve says I know. You're completely right and I'm being really sh*tty. Vanessa says I know f**ker. She laughs. The reason I told you all that was so it would work for us. Steve says I know, I want you to stay. I just don't see how it can happen. Vanessa says if you and Austin + twins vote for me and I think I can get another. I'm not targeting them. I'm targeting Becky!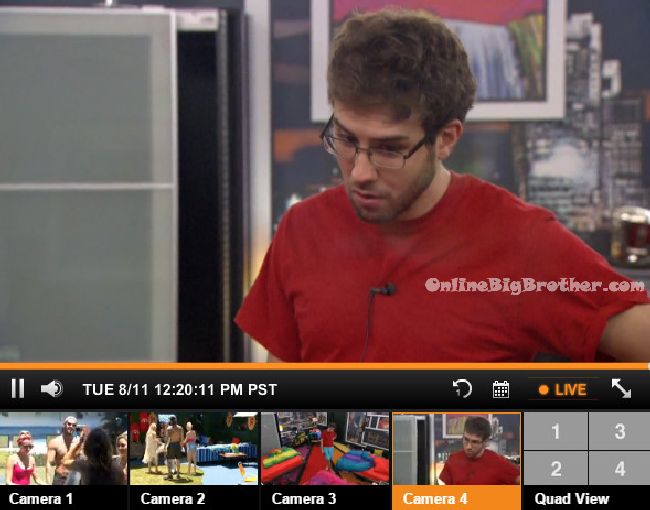 Bathroom – Steve asks Johnny are you sure all the goblins (Meg & Jackie) are voting against Vanessa? Johnny says yes. 100%! Steve says we made a two week deal when she (Vanessa) was HOH for my safety. And I kind of want to give her my vote because I promised it to her. Johnny says dude, she's coming after us .. deals over! Steve says I know! But the point is that it won't make a difference. If everyone else votes the way they should .. it shouldn't matter. Johnny says I'd say no. Steve says you know my struggle and I know I need Shelli here but its kind of like what you did for Jeff. Johnny says I hear you .. I wouldn't do it but I have done it in the past. Steve asks how much would it piss Shelli off? Johnny says it might thats why I would say don't do it. You might be okay if you tell everyone before hand. Steve says I'll talk to Shelli about it. If she is upset about it, I won't do it. Johnny says I promised her (Vanessa) I wouldn't come after her till final 9 but she came after me. Steve says I'll talk to Shelli.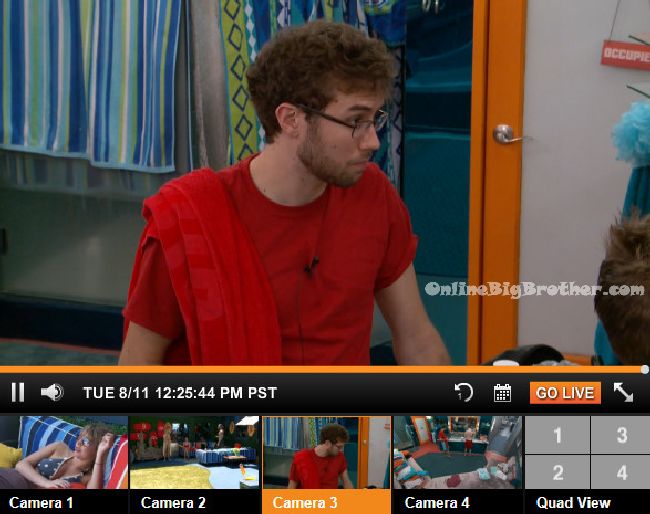 12:30pm – 12:40pm HOH photos in the backyard: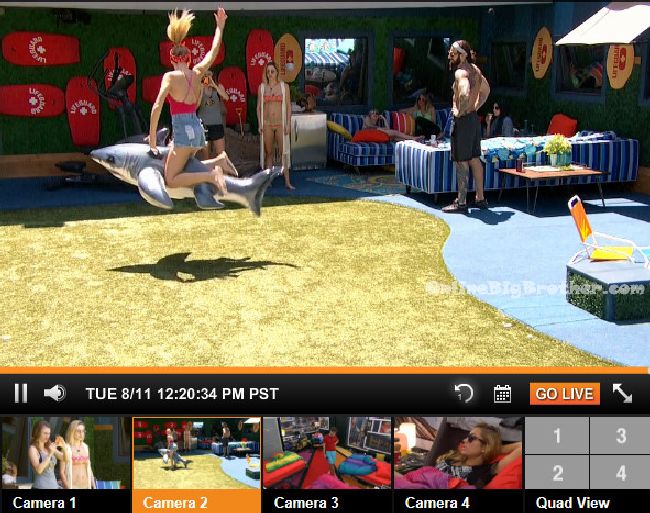 12:55pm – 1:10pm Havenot room – Meg says that Vanessa came into the bathroom and was super chill. She seems fine with me at least. Jackie says we have to wait until Wednesday to do anything. If we did anything now it would get turned around. Meg says I think people are underestimating Shelli's relationships in the house. James says for our game its better for Shelli to go. Jackie asks do we vote for our game or for the group. Jackie says but you told her you would vote for her. So she will probably come at you. James says I don't think Becky will want to switch. Jackie says if she wins and things go wrong we're f**ked. I would be like get me out of here. I would feel so bad. But If Shelli says and wins I would be so angry. I would rather feel bad than angry. James says you have to look at statistics .. whos more likely to win HOH? Jackie says there is no way we get Shelli back on the block. James says unless we win again but then we have to get more blood on our hands by putting Liz up with her. James wonders if Becky will hold a grudge afterwards. Jackie doesn't think so as long as we get her (Vanessa) out after. Jackie asks who do we talk to first? Meg says Austin? James says just ask all bullsh*t aside .. who do you want to go home. Jackie tells James she (Vanessa) is going to come talk to you first. James asks what should I say. Jackie says tell her to talk to all of us together. Step into our office (havenot room).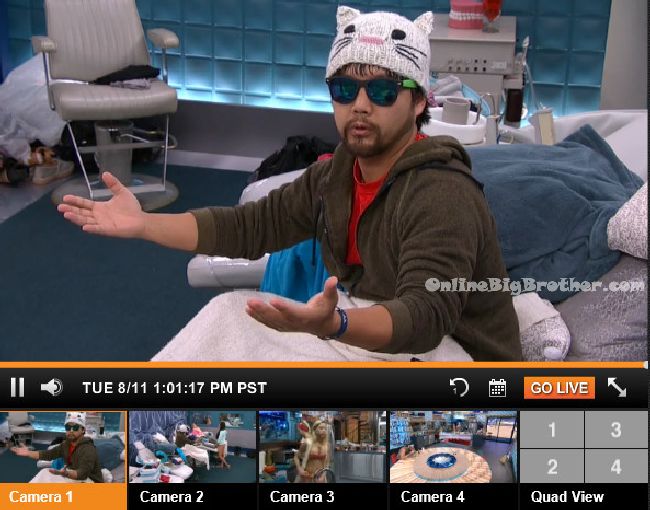 1:45pm – 2:20pm Quiet day in the BB house. The Shelli, Julia, Steve, Jackie and Johnny Mac are hanging out by the pool chatting about random things. In the havenot room – James continues to talk about how Shelli stole back the Clay hoodie he was wearing. We're all adults here why couldn't she just ask for it back. James says he is 90% sure during week one when I was HOH .. I think Becky threw out "the generals" alliance name and I said it was stupid. Meg says we're not letting her run our game this week. James says we need to go with our gut. I knew I couldn't trust Clay and Shelli. Becky knows if Shelli stays she could take us out. She's convincing us that its a good idea but its not. Its the same thing with Steve we know he is going to take out Austin. James says the whole house knows Shelli is going to take me out. Maybe that's why Becky wants to keep her. Meg says that's what I'm saying. I'm worried Jackie will feel guilty about this week if we go against Becky. I tried to tell her we're not betraying her or putting her up. We're looking out for our best interest. James says its like Becky says actions speak louder than words .. you have to show us you're trying to protect the group. Like me passing up 5K. Meg says Johnny mac we can't convince but Steve I think we can because he feels bad.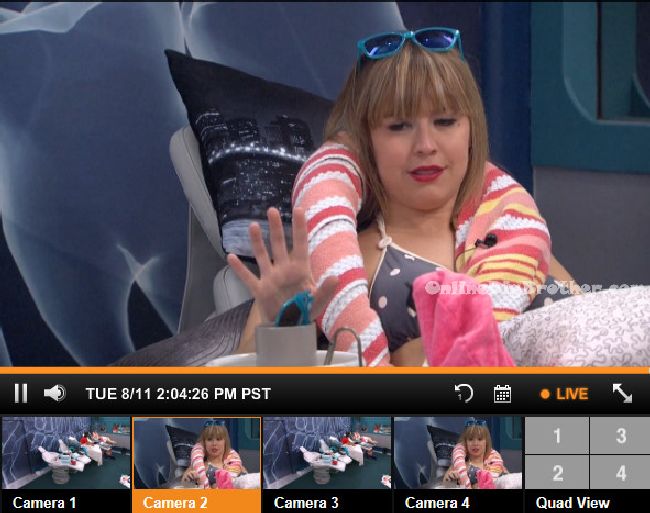 2:20pm – 3pm James asks do you think Shelli and Becky are still really good friends. Meg says 100%, I don't think she had any intention of getting Shelli out this week. She is thinking about what is best for her not for the group. James says I think we're fighting against the whole house. Meg says as soon as we get out Vanessa and Becky we're golden. Becky has to go sooner or later. James and Meg head to the bathroom. James says why do I have the feeling we're going to get screwed over again. James says that he kicked Shelli's slippers under the couch. Jackie tells James that Vanessa only acts a fool while Shelli is here. Once she's gone she won't. James says that Shelli will get two chances to win HOH (Double Eviction) and if she wins I know I'm going up. James says look at everyone that's left .. it was someone that had an issue with Vanessa, Clay & Shelli.
James talks to Steve and says he want to talk to Vanessa to find out what she wants to do. Does she even want to be here? Does she want votes? Steve says I think that's a great conversation to have.
[polldaddy poll=9015303]