POV Holder:
Steve
POV Competition
Aug 8th
POV Used
Yes
POV Ceremony
Aug 10th
HOH
Becky
Next HOH
Aug 13th
Original Nominations:
Shelli and Steve
After POV Nominations:
Shelli and Vanessa
Have Nots
Meg, James and Jackie
3:10pm Austin and Liz wrestling around..
(There's a direct correlation with Austin decreasing his rubbing, kissing creepy and Liz increasing her affection)
3:23pm Backyard Goblins
James mentions how when the three of them are all outside everyone goes inside.
James – we're the outcasts
Jackie – that's because we keep sending people home
Jackie – it's not like they hung out with us anyways
Meg – I'm not worried
Jackie – this is normal
Meg leaves
James wonders if people get sick of the game eventually.
jackie thinks they do unless you play a laid back game.
Jackie says Austin and the twins have been doing nothing in the game all they do is nod and agree.
Jackie – they will make top 5
Meg comes back says everyone inside is acting weird.. "they're all sitting alone eating"
Jackie – Shelli is by herself, she's missing clay.. it's hard
They laugh that James sent Clay home and took his T-shirt.
James – Clay was my friend too..
Jackie – she likes to be in control
Meg – it's kinda ridiculous
James – it's just a frickin shirt
Meg – I would have made a joke about it.. like WOW.. COOL
James says Vanessa is pulling a Audrey right now but she'll come out wednesday guns blazing.
Merg – witching hour is wednesday
Jackie – Witching Wednesday
They start talking about wanting to get Shelli out this week. They have a laugh about production editing them to show how bad they wanted Vanessa out then flipping that they want to keep her.
They agree Shelli knows the dates too good she'll win the HOH on Thursday.
James – she's gotta go this week.. I'm going to be a bully and a villain on her way out.. See you never.. Tell clay Hi.. just to pour salt on the wound
Jmac joins them .. Followed by Austin and Liz.. chit chating
3:40pm Steve and Julia wrestling while Shelli watches (Hides)
They start whispering about Clay's shirt they took back from James. They don't know James knows what happened. Shelli says the shirt is still in it's hiding spot.
Vanessa joins them. Steve reaches out to turn the have nots door handle makes a move on Julia puts his arm around her.. Everyone laughs..
[envira-gallery id="127673″]
3:58pm Steve, Shelli and Julia
Julia and Steve say they won't vote for Donald Trump
Shelli – why not
Steve highlights Trumps lack of political experience as a reason he might not be the best candidate
Shelli agrees that is a valid reason
Shelli – You big into politics steve
Steve – Yes
Julia – have you heard of Marco Rubio
Steve – he has no shot.. he's too far to the right
Julia – ohhh
Steve explains the 5 battle ground states are "Middle-ish" that is why moderate candidates do better. Adds it doesn't matter what the rest of the country votes it all depends on those 5 states.
Steve says McCain probably would have won if it wasn't for Sarah Palin he was a middle candidate. Mitts Romney was far right so Obama onw.
Steve says the tea party is pushing for a hard right person and if that person runs they will not win the election in the battleground states. Adds that the tea party has a lot of money to influence the convention.
Steve – "The Tea party, they are shooting themselves in the foot"
Steve says Bernie Sanders is an independent senator.. he's the only person in congress that is not a registered democrat or republican. Bernie is competing against Hillary to be the democrat candidate.
Steve – I think it's cool if someone like that runs they have a good shot of winning the election"
Julia – how about Hillary clinton will she win
Steve – yes, she has all the money
Julia – Cool
Shelli – Yes
Steve – Who Bill CLinton chooses to sleep with has no bearing on how they can govern the country
Julia – He almost got impeached
Steve – yup
Julia – that's a big deal what was the last president that was impeached.. Nixon
Steve- no he resigned before he was impeached
Steve brings up his break up story, "We were taking a test in Static and Solids"
They laugh "static and solids"
Steve – Yeah, Solid things that don't move.
(I'm not American but always interested to hear Americans opinions on there politics)
4:20pm Backyard Jmac, Austin, Liz, Meg, James
Talking about Pluto
Jmac – Pluto Sucks …
James – it's small
Meg – why isn't is a planet
Jamc – cause it can't even
James – sustain life
Jmac – It's too small mmhhh rwaaa RWWHWAHAWa
Meg says it's strange they made it a planet then took it away
Jmac – it's too small or it's actually a moon of another one .. mmhhh rwaaa RWWHWAHAWa
They asks Austin near the hot tub why isn't Pluto a planet.
Austin – I'm f****g pissed about that.. are you kidding me,m pluto is important to me.. it's the underdog
Jmac – Pluto is bullsh1t
Austin – they determined its size is.. I forget
Jmac – "Jupiter is way too big he needs to calm the hell down"
Austin tells them him and his friends use to get "High on pills" and watch Michio Kaku documentaries. Michio Kaku is his favorite astrophysicist
They start talking about reality shows
Meg – you ever see Survivor
She says she has a friend that was on it
Austin says he use to the first 5 seasons. Brings up a story about bouncing at a bar and a guy from Survivor was there . She recognised him and asked him about it. The guy pulled out this photo album that he carried with im and showed him all these pictures from survivor.
Austin – I wondered will this be me if I get on a reality TV show.,
James- did you watch Amazing race.. did you watch my friend Jackie
James – I have a friend from Big BRother 17 Meg.. She's kinda slutty
Meg – WHAT OH MY GOD there's been none of that
[envira-gallery id="127688″]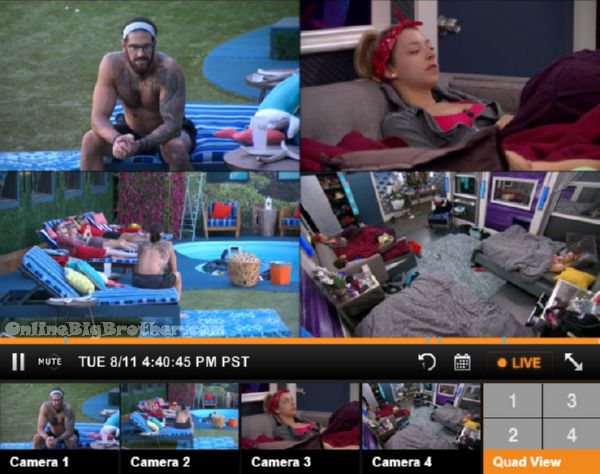 4:40pm chit chat
[polldaddy poll=9015303]