POV Holder:
Clay
Next POV
July 25th
POV Used
?
POV Ceremony
July 27th
HOH Winner Team 1:
Jackie
HOH Winner Team 2:
Vanessa
Nominations 1 :
James & Liz
Nominations 2:
Clay & Becky
Battle of the Block Winner
James and Liz
Next HOH/ Next BOB
July 30th / July 24th
Original Nominations:
Clay and Becky
Current Nominations:
?
Have Nots
Shelli, Clay and Steve
2:55pm HOH Vanessa, Clay and Shelli
Talking about keeping Austin and rolling with their original alliance.
Clay saying they've been together for a long time, their loyal and they all trust each other. CLay doesn't trust the other side.
Shelli is all for them sticking with Austin and the twins.
Vanessa says she scared the sh1t out of Steve that he needs to win the HOH. She made sure he knew everyone throws his name out as a target.
Vanessa says if the other side wins HOH it'll be a twins and Austin Vanessa split up.
Vanessa – I wish I could Backdoor Jackie but I can't.. Becky's a bigger threat but JAckie is a bigger social threat she took jeff's place pulling those two corners together.
Vanessa asks if she should go the scare routine or the "I want to work with you and Meg"
Shelli anc Clay go that route don't come out aggressive
Clay – You're a straight shooter
Clay says he was talking to JohnnyMac and asked him who he would put up thinking it was the twins but Johnnymac said James, Jason or Meg
Clay – honestly we don't need Jason or Meg.. we do need people to target.. We have plenty of numbers especially with Johnnymac on our side. Ideally Becky leaving is best for our group.
Shelli – Leave becky alone let her stay (LOL from this moment on Clay is saying to keep Becky)
Clay – what about Jason.. if he doesn't tell you the whole truth.. Becky you're right she volunteered.
Vanessa asks if they can get Jackie and James to be down with getting Jason out
Clay – Jackie no way
Austin joins them. "I was in the DR for a hour and a half.. really just talked to them because I feel so shitty"
Shelli – we're up here working for you man
Vanessa – I'm running on 8 cylinders.. It's probably better you don't know what the plan is.
Shelli and clay tell him the other side is laying low doing nothing because they think Austin is dead in the water.
Austin says he caught them making fun of him this morning. Says it was Meg, James, Becky, JAson, Jackie. It's obvious they are working together, they sleep together they stay up together. Shelli agrees. Vanessa asks which one is the most dangerous. Austin thinks it's Jason because of his mouth and brain for this game or JAckie
Vanessa recommends he lay low and get informations, "Just listening be around and hear things being said.. hear people talking shit about me"
Austin – I would love do
Jackie comes in…
Conversation goes to Liz being pissed at Austin. He says things are different between them he's hoping they can move beyond this personally
Jackie leaves.
Clay – She peeps around everywhere it's so annoying.
Austin leaves..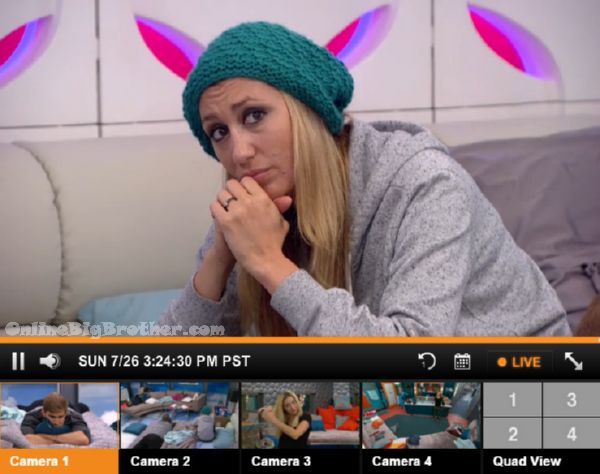 Vanessa – "We've been working together since week f***g two, I'm not being manipulated by the other side again.. "
Vanessa thinks they were manipulated to get Audrey out last week. Clay says no way Audrey had to go.
Shelli – I'm so much less stressed
Vanessa – the game is so much easier without her
Vanessa – made them all very happy
Clay – and she was that vote.. she had something
Vanessa – If I backdoor Jackie and break my word to her she needs to go home.. I would rather keep my word to Becky over Jackie
Shelli – she volunteered
Clay – Becky can't go home .. it's not right.
Vanessa – why does she (Jackie) have to come in like that.. irritates me..
Clay never trusted JAckie
Vanessa promised Jackie she wouldn't backdoor her.
Vanessa – What's it worth a s a promise made to someone gunning for me and am I stupid for keeping to it.."
Vanessa says she's really irritated by JAckie coming into the HOH, "I need to catch her in an lie a reason to go back on my word"
Vanessa – I know she's not loyal to me I can know it in my gut I can feel it"
Clay – oh of course she's not
Vanessa – I should just put JAson up I don't go back on my word.. But she's (Jackie) going to win comps.. she's got that fire in her eyes.. she was as strong competitors on Amazing Race to
Vanessa warns them they have no one on their side that can win those endurance competitions. The ones where you need to be small. The other side is filled with people that would excel at those..
3:28pm Jackie Comes in
[envira-gallery id="124237″]
3:30pm Liz and Austin
Austin excited about the other side being so obvious they are in an alliance.
Liz – why are you worried you are good
Austin is upset about getting manipulated by Jason.
liz – that completely blew up in our faces..
Austin – you got to tell Julia it was all a misunderstanding.. I'm so upset she thought I didn't like her..
Liz – I'll tell JUlia she's does everything I say
Austin – I would do anything for both of you
Liz – I wish you would have been acting like it
Austin – I was do you believe it
Liz – I do
Austin says he heard JAckie says "Vanessa got Clay, AUstin and Sheli up there again i'm going up there to shower"
Austin runs to tels Clay and Shelli what he heard. THey don't think it's enough.
Austin – I'm trying
(They've given Austin orders to collect information any kind of information she's been doing a lot of sneaking around. It's funny because in the early weeks he had such a problem with Steve doing that. )
3:40pm Jackie and Vanessa HOH
JAckie asks how Austin is handling it
Vanessa says he's being very mature about it, "He's pacing around everywhere like a caged Lion"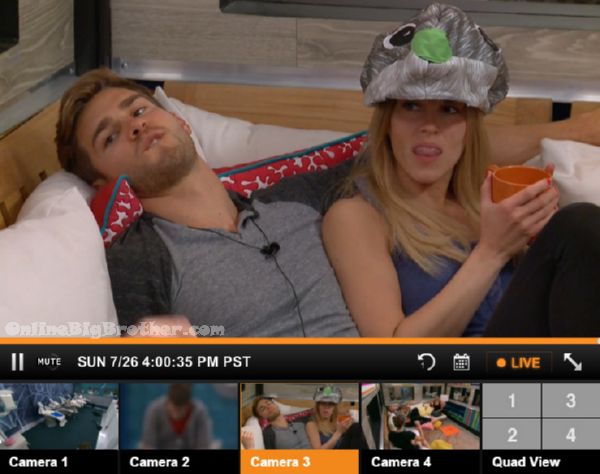 4:00pm Hammock room Clay, Jackie, Shelli and Becky
Chit chat.. Zzzzz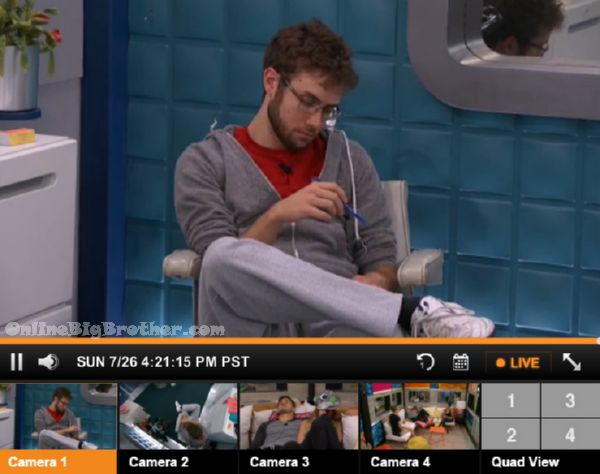 4:22pm Steve just alone in a room
Becky comes in.
Steve – I'm just outta it
Becky – nothing at all is going on
Steve – very night oriented cast
Becky – ya
Becky brings up everyone is thinking the construction in teh back yard is for the steak house dinner that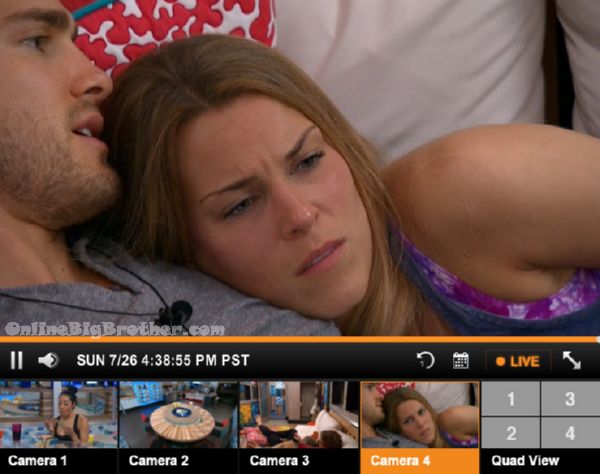 4:38pm Shelli and Clay
Clay saying they should be up in the HOH more with Vanessa.
Shelli – NO we're trying to squash that Image
Clay wants to make sure they are still good with the people they aren't with because when that side wins the power they don't want to be targets.
Shelli agrees but still doesn't think they should spend too much time in the HOH and they don't want to be there when Vanessa tells them Austin isn't going up.
4:48pm Johnnymac and Vanessa
Vanessa asks him who had the phone booth power. John thinks it was Austin. Vanessa doesn't think it was Da because she allowed Clay and John to vote.
Jmac – do you think it's Double eviction next week
Vanessa – ya I think so
Vanessa tells him Jackie was going to put him up as a pawn and Vanessa talked her out of it.
Vanessa – do you feel like you can trust Jackie
John – I feel like we could the only thing linking usa was Jeff.. she seems more trustworthy than Jef was. "Tough to know what's she's thinking"
VAnessa is pissed when people lie to her about stupid things Says it was disappointing that Austin lied to her she really wanted to work with him long term.
5:22pm Jackie, Jason, James, Meg Bathroom
Talking about Steve hiding all day
Jason says he can't start playing the game day 40
Jackie – ya fuc*k you
Meg – Next week it's 1/2 way
Jackie – we're going to make it we're all going to make it (LOL.. one of you won't be)
James says he told Jeff if he won he would buy Jeff a truck for 10 grand
Jason – I told my girls I would buy them some teeth.
Jackie – I feel like I would want to get everyone something, Like a party
Meg – If I won I would throw the biggest party
[envira-gallery id="124256″]
5:27pm HOH Johnnymac and Clay
Jmac saying that Becky came to him and asked him if he wanted to work with Clay and Shelli because she wanted to.
JohnyMAc – If I win during Double eviction I'll go after the goblins (Meg and Jason the original gobles were PEE and AShley from BBCAN3)
Clay asks if Becky will be pissed if he wins HOH and Jackie goes.
Johnny mac doesn't think so.
Clay says he doesn't care about jackie he's not close to her, Points out Jackie is closer to jason and Meg.
JOhnnyMac – those are the people i would go home against Meg possibly James.
Jmac is worried Becky will take Jackie over him.
Clay says the other side is going after Steve,m They don't want steve to go Johnnymac doesn't want Steve to go.
Clay brings up they were making fun of Steve and that's not cool steve is a good guy.
jmac says JUlia really spends a lot of time with him and Steve.
Clay – that's great Sheli loves Julia.
Clay says Austin might go up but if Vanessa can catch Jason in a lie he's going up, "Beck is safe"
Clay – Vanessa is now 100% sold on Becky staying
Clay starting to lay groundwork for Ausitn not goign this week.
Clay – Worst case scenario Jason, James, Meg win they will target the twins and Austin.. so maybe keeping Austin is in our best interest.."
Clay explains if Vanessa save Austin he will be indebted to them. Austin controls the twins that's three votes they control.
Liz comes in.
5:45pm James and Jackie
James saying if he wins the HOH he's not going to put a couple up he's going to put one of them up so not to make too many enemies.
Clay joins them. They start talking about how Construction has been building in the backyard all day. the outback steak house dinner is going to be a big deal.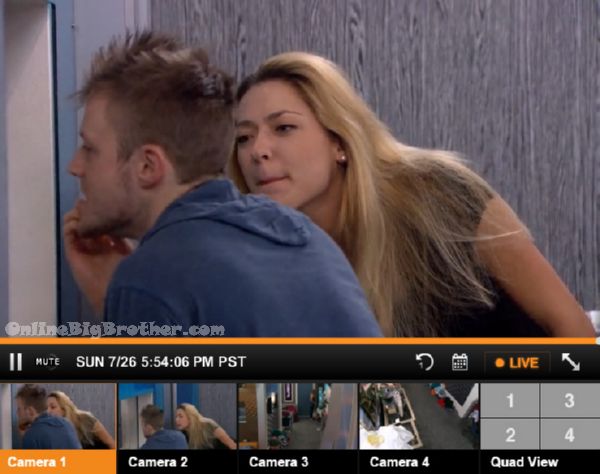 5:54pm Jmac and Liz
talking about her sister Julia's fake tooth.
6:09pm Feeds down for outback steak house dinner.
7:30pm Feeds still down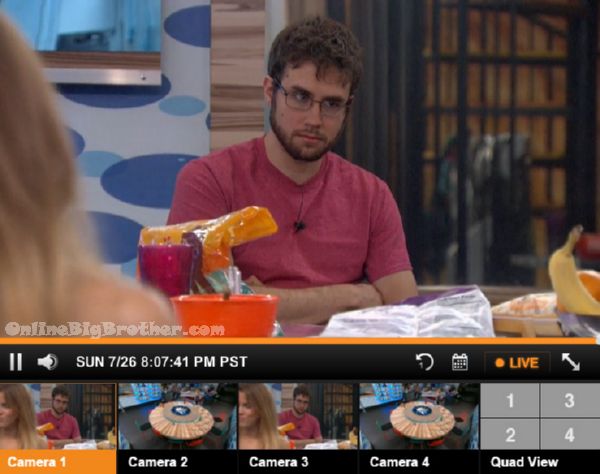 8:09pm Feeds back
[polldaddy poll=8994045]
Share it YO!!
Tweet