POV Holder:
Next POV
Aug 1st
POV Used
?
POV Ceremony
Aug 2nd
HOH
James
Next HOH
Aug 6th
Original Nominations:
Shelli and Clay
Current Nominations:
?
Have Nots
?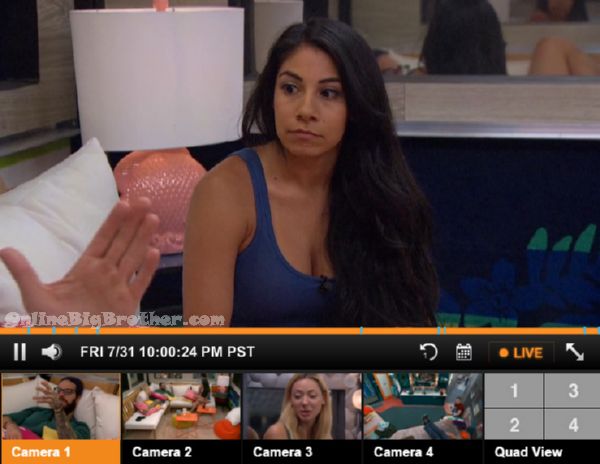 9:53pm Hammock room Austin and Jackie
Austin says he wasn't to play in the veto and keep the noms the same. He's worried if one of Clay and Shelli win they will start so much trouble.
Jackie says they have the votes to get who they want out this week. (Ie Shelli or Clay)
They agree they all have fun together they want to make it to jury and have a blast.
Jackie says Shelli and CLay's paranoia puts a damper on things.
Austin heard that Shelli and Clay were trying to get him and a twin up
Austin says Shelli and Clay are going to go hard as f*** "it's going to be crazy.. going to get ugly"
Austin says he was really worried that JAmes was going to put him up especially after Shelli made that deal with him on the wall. "It means a lot it's HUGE it's everything.. he had the power.. that's the real deal … he's got my loyalty now
Jackie – that's awesome .. he is a good guy
Austin – I got you 100%..
Jackie says she's feeling the same
Austin tells her to not worry about the twins he's recommending she goes and talks to them.
Jackie says she wants to play in the POV yet she's not sure
Austin wants to play so he can "Keep things moving the right direction"
He warns Sheli and Clay are going to fight very hard to win the POV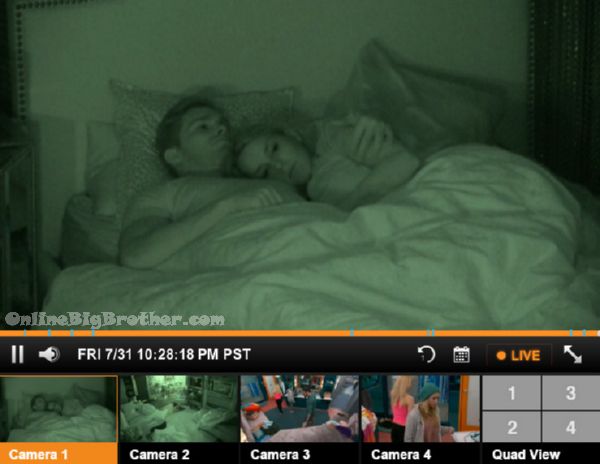 10:28pm
Production calls Clay out that he doesn't have his microphone on
Shelli give him shit for not wearing it says it's going to make people suspicious of them.
Shelli says the twins are flipping "We helped them since my first HOH"
Liz comes in. they tells her they've been working them since the beginning Julia can't trust the other side.
Shelli – Vanessa said she had some sort of a plan.. did you hear it .. I wonder what other targets are out they're
Clay – if we stay together all they have is three people
Clay says all they need is to get Shelli off the block.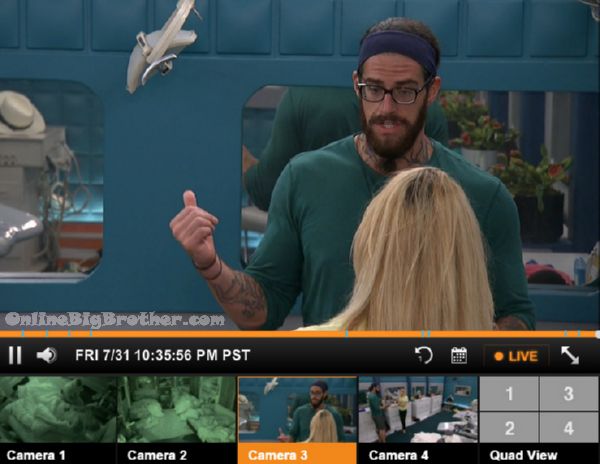 10:34pm Austin and Julia
Austin says right now they have to keep the nomination the same.
Austin – they are already throwing us under the bus.. they are freaking out they can't take it.. they were working everyone in the house and now they have no power and they can't take it
Austin wants her if the POV is played one of them might go up to guarantee Shelli/Clay go hom
He says it will be very scary to be on the block against one of those two.
Austin – they will throw everything in the fucking world at us to get us out
Julia wants Clay or Shelli out.
Austin does to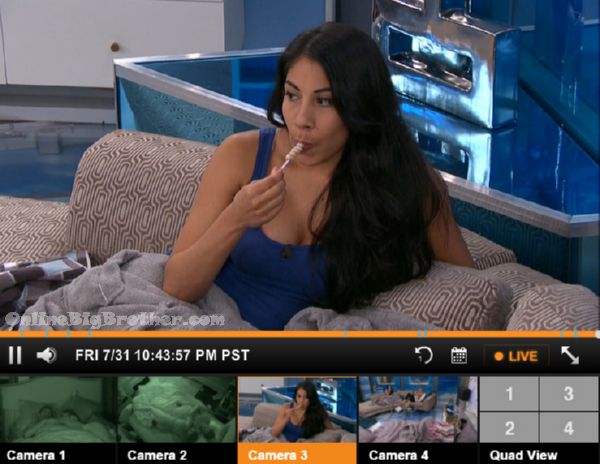 10:39pm HOH James, Jackie and Meg
Jackie _ i'm good with Austin.. and if we can get in with the twins we're pretty much good with the whole house
James – pretty much
Jackie says Austin is itching to work with someone after what he went through last week
Jackie – he said he really wanted to play the veto to make sure the noms stay the same
Meg doesn't think Austin will win it "He's not good at comps"
James thinks Austin playing might be their best bet he'll want to win it to make sure that a twin doesn't go up.
James has noticed Clay and Shelli are putting in some work earlier today.
Jackie – they talked to Austin
They agree Clay/Shelli are realizing they are dead in the water. Meg points out the crazy thing is they all thinks Clay is the target not Shelli.
James – it's the best move that could ever been made
Jackie – they can't win
James – the odds are stacked against them..
[envira-gallery id="125348″]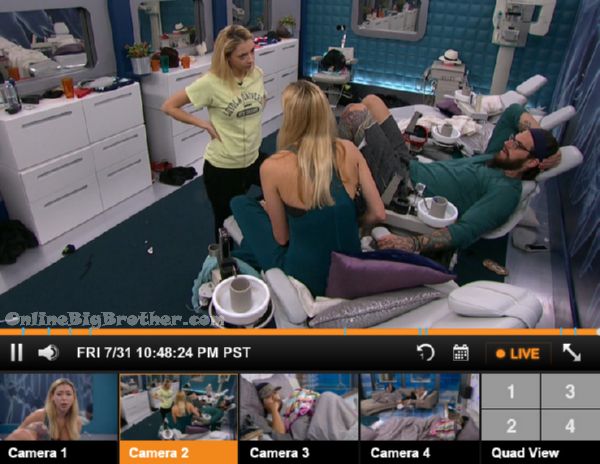 10:45pm Austin and the twins
Telling them they owe James for not putting them up.
Austin tells them the target is Shelli. He stresses to Julia they can't use the Veto period or one of them are going up.
Austin – one of us will be the replacement if Clay wins it..
Liz – if we win what do we do (LOL)
Austin – we don't use it
Clay comes in..
Austin – Vanessa has some ideas I think it could be good
Austin tells him last week he went to bat for him Austin will never forget that
Clay tells them if they win the Veto use it on Shelli. as long as veto is played they have the numbers if htey get Steve up.
Clay Leaves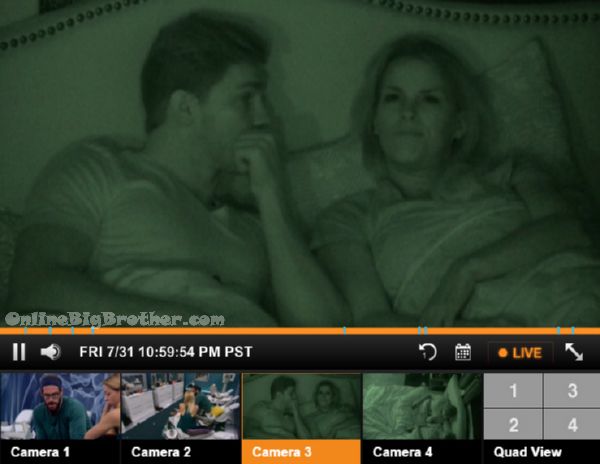 10:57pm Shelli and Clay
Clay reporting back about his conversation with Austin. Clay is thinking they can control 5 votes in jury they'll tell james that to get Steve up. Clay wonders if that is what Vanessa has planned.
Shelli says Meg is more angry at them Jackie is a bit more unsure.
Shelli tells him a final 4 with John and Becky would be a sweet deal.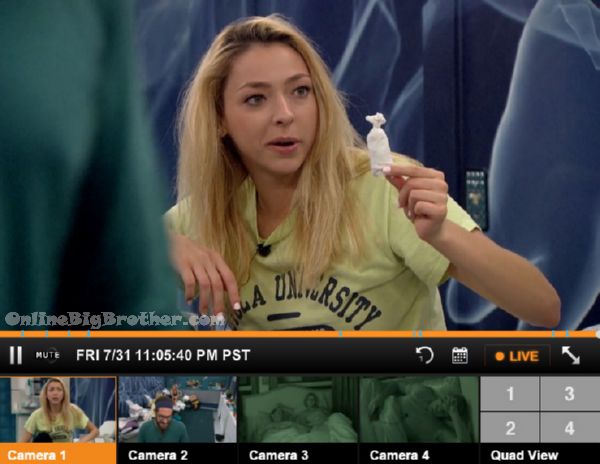 11:01pm Austin and the twins
Austin makes sure they know they can't throw the veto if they are picked. They need to hold the veto power because if the veto is played they will go up. (I think the twins finally understands)
They start giggling and having fun. Austin says the room has evil spirits in it from Audrey. Julia pulls out a voodoo doll
Julia – dude what is this is this some voodoo doll that Audrey made
Julia throws it
Austin – it is a voodoo doll..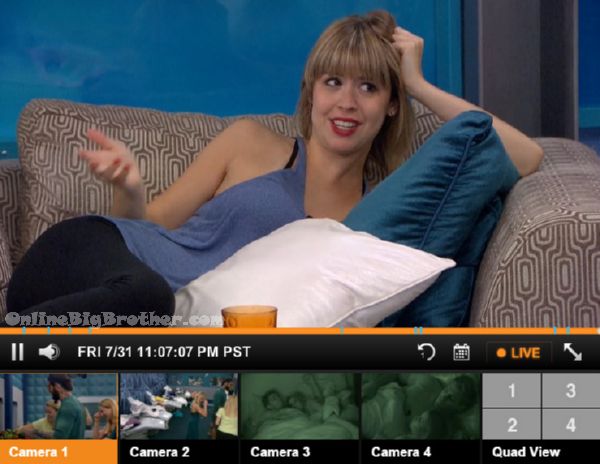 11:10pm HOH Becky, James, Jackie and Meg
Becky about Steve – He doesn't even know how to talk game if he tried this guy is going to make it to the end.
They all seem to agree Steve will win all the competitions near the end of the game like Ian did.
Meg – Once all this shenanigans stop we have to play the easy game .. stop the shenanigans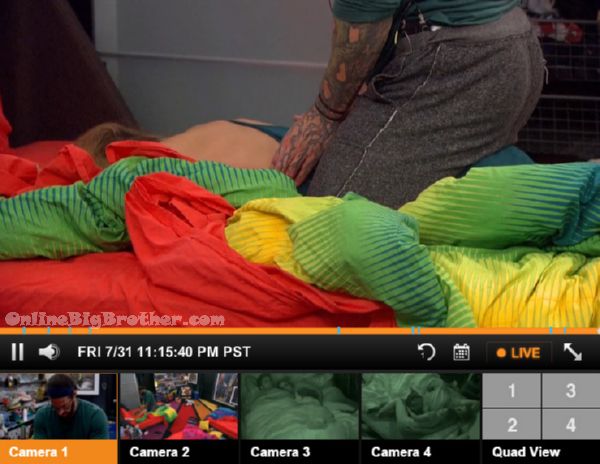 11:22pm Liz gets a Austin massage
She asked him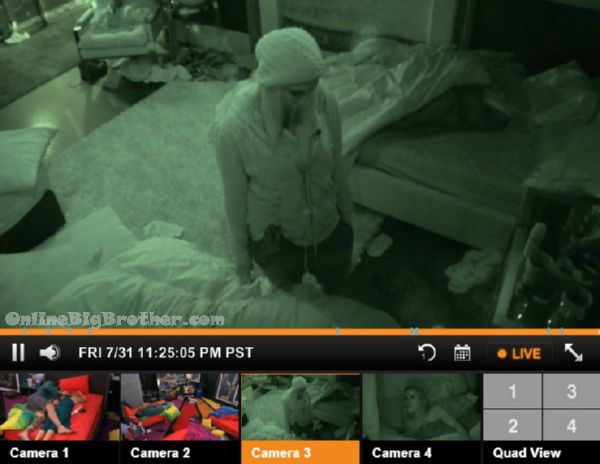 11:28pm Shelli, Clay and Vanessa
Vanessa warning them about bad mouthing the twins and AUstin because they will need their votes.
Shelli says James was saying to the twins they were trying to get them put up this week
Vanessa- do you honestly think we went up to the HOH last night and tried to get the twins on the block.. Why in the world would we try to get the twins up it's asinine"
Shelli – are we foolish for thinking if Steve goes up there we have the votes.
Vanessa – No, I can't guarantee it but they listen to my guidance a lot
Shelli is worried James might try to spin a deal with Austin and the twins.
Vanessa says they need to get their sleep she needs to talk to Austin.
Vanessa leaves
Clay – "Is she being kinda weird"
Shell sigh's. She doesn't think so just the day has been hard on them.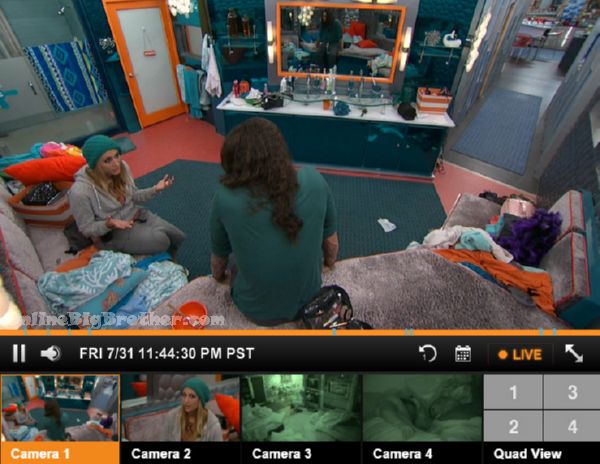 11:39pm Bathroom Austin and Vanessa
Austin says they have to survive this week he wants to help Shelli and Clay but he's at James' mercy if he uses it the twins go up.
They decide to make a deal with James after the POV.
She asks him if it's weird if she goes up to the HOH.
Austin – no we're all on the same page like last week
Vanessa says becky is doing a bad job she's running to the power.
Vanessa runs up to the HOH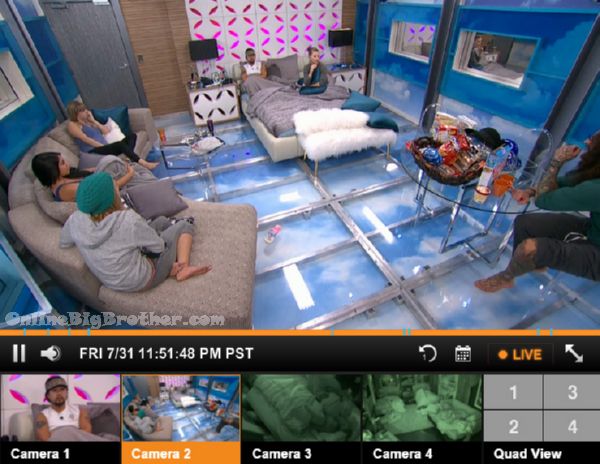 11:48pm Vanessa in the HOH with JAmes, Meg, Becky, Jackie and Austin
Chit chat in the HOH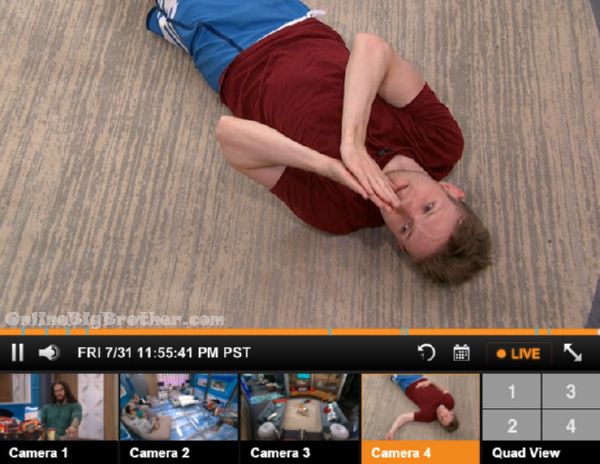 11:52pm Jmac and Julia
Talking about Teeth while Jmac works abs
John says he's only in dentistry for the money some people do it because they have a passion but he doesn't
Julia say she worked with this one dentist that had a pet tiger and drove a big a$$ hummer
Liz joins them says they have to give back the wackstreet boys headsets.
Jmac – that was my swag
Jmac tells them the "Med" Students looked down at dentistry students.
Jmac says Dental school is very hard a lot of people don't make it.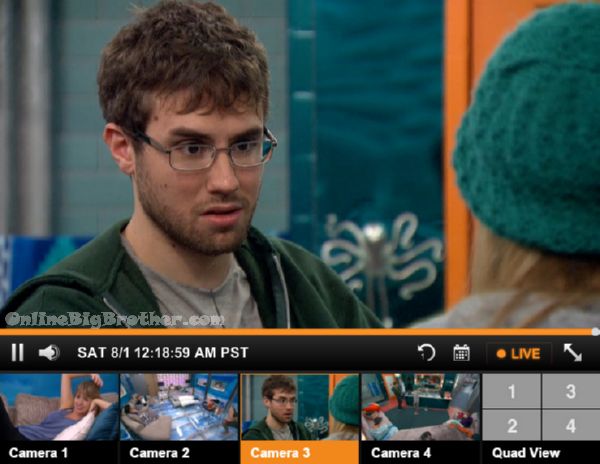 12:19am Vanessa and Steve
Vanessa says he will dave Clay shelli if she wins the veto
Vanessa will make a deal
Steve – you know who would go up if you used it.. Liz or Julia..
Vanessa says she has information about Becky
Steve says they need Becky picked to play Veto because that will get the other side of the house thinking "Why did they pick Becky"
Steve – whoever they pick will be seen as with them
Vanessa says if Steve goes up he can rely on the twins, Austin, her Meg and JAckie's vote.
Steve wants to keep Clay and Shelli. Asks if jackie wins the HOH who goes out.
Vanessa – one of the twins
Steve wants to leave as many layers between them and the house. If they lose Shelli/Clay they lose a layer.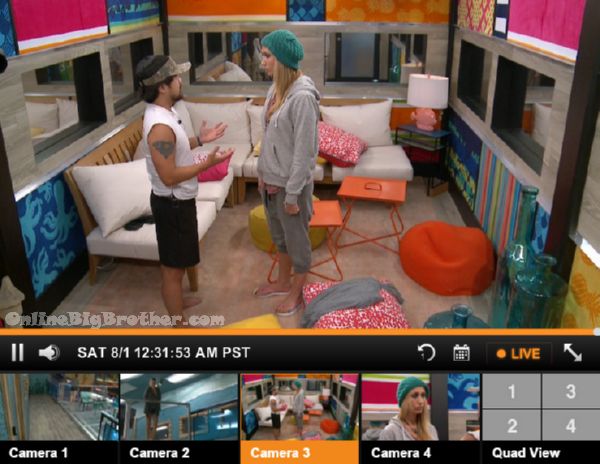 12:28am Vanessa and JAmes
Vanessa says she told Shelli she will play to win the POV but she will not use it unless she has James' blessing.
James – at all costs I want Noms to stay the same.
James tells her he wants Shelli to go this week. She asks if he would rather she threw it. If she had a guarantee she wouldn't go up she'll throw the POV.
James says if she goes that route it's awesome but she should do whatever is best for her game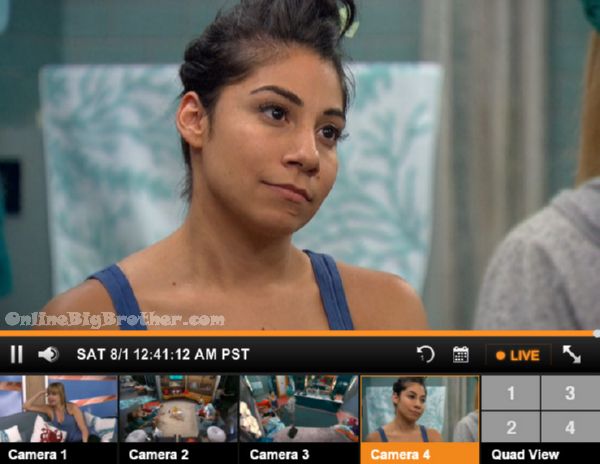 12:38am Jackie and Vanessa
Vanessa wants to get a group of people to work together to just survive the double eviction.
Vanessa – Shelli and Clay want me to play in the veto if they get houseguests choice, But I told James I'll only use it if he's down, To rebuild trust.
Vanessa says she's got some ideas for a target they can all get behind for double eviction.
Vanessa tells her Clay and Shelli wanted Jason to go
Jackie – Vanessa we're not stupid we knew that
Vanessa explains it was better for her game for JAson to stay she got a lot of blood on her hands getting him out.
Jackie – I know I know
Jackie says her and Austin are starting over
Vanessa- there's a lot of options
12:51am Jackie and James
James says he talked to Vanessa and she's worried about a backdoor plan. James told her not to worry she's not going up and if she does play in teh POV he would prefer she threw it.
James – we made a big move I think we'll be OK
Jackie – I think so
[polldaddy poll=9004995]