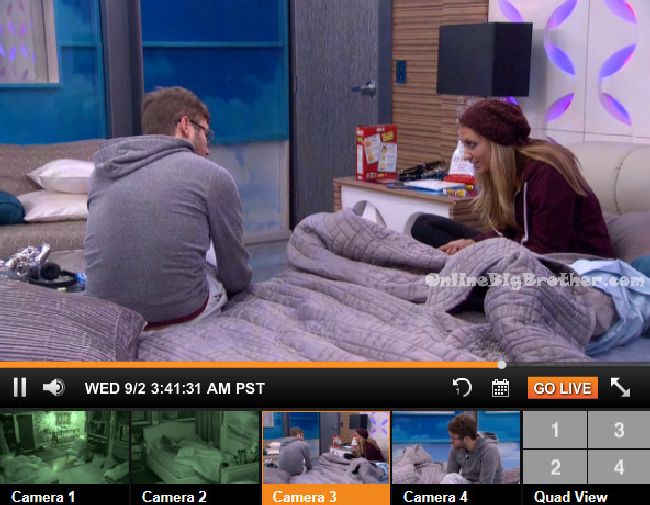 3:25am – 4am HOH room –
Steve wonders if he made a mistake with his speech showing people he is a good public speaker. Vanessa says no because there are a lot of good speakers left in here. Steve wonders if the 25K America's Favourite is on top of the other money. Big Brother blocks the feeds. Steve says I am not sure James will go after us. Once Meg goes James is going to be closest to Johnny. Vanessa says Austin could persuade James to go after the twins. Steve asks does he want that?! Vanessa says not that he wants it, he knows it has to happen. I think deep down he wants to win. Does Austin want to be the one to have to do that?! It needs to happen soon. Put yourself in his shoes. If it doesn't happen soon, he is f**ked! Steve says it needs to happen soon. Vanessa says he's going to have to do something that is going to piss her off forever. Steve asks are they not aware he can't go to final 3 with them? Vanessa says they're not aware. Completely not aware. Steve asks is Liz that unaware? Vanessa says she hasn't thought it through. Maybe you could be the one to have the talk with James. About what Austin's preference is and that he won't be pissing very many people off. Steve asks do I talk to him now? Vanessa says no, after Meg goes or if he wins HOH. Steve says that's Austin's place. Vanessa says no he's scared to do it. Steve says I would need Austin's blessing before I did that. Steve asks who do we want to go next week. Vanessa says its a toss up. Worst case is if James wins HOH. Steve asks what do I do if I win? Vanessa says we talked about this. Steve says you say James and Julia. Vanessa says I think that's the best case scenario. That way the votes are guaranteed. If Liz wins and pulls Julia down then Austin goes up as the pawn. Steve asks if James wins? Vanessa says you would need to make a big move. People would expect you can't put up Johnny Mac. You would put up the other one and have Austin's blessing. Vanessa says if I go up, you're going up next to me. Ideally one of the Aus-twins wins and take out James. Steve asks should I win this HOH or throw it. Vanessa says if James is out then yeah throw it. Steve says but if James wins veto then Johnny will go. I don't want him to go. Steve says I could go up. Vanessa says you would have the votes. Isn't it better to be up next to Johnny Mac and not have to vote him out. They agree to talk more tomorrow. Steve says he's nervous.
10:45am All the house guests are still sleeping.. no wake up call yet.
11am Big Brother wakes up the house guests.
If you've enjoyed the spoilers please consider a donation using the drop down box below. Simon and I work 24/7 all season long to keep you updated on everything that happens inside the Big Brother house.
ALLIANCES:
"Goblins/Gremlins" = James and Meg
"The Generals" = anyone allied with Becky
"SOS" (Students of Sound) = Steve and Vanessa
Rockstars = Steve and Jmac
AUS-Twins = Austin, Julia and Liz
"Austin's Angels" = Austin, Liz, Julia, Vanessa
"Brass Tacks" = Gobins and Austwins
The new "Brass Tacks" = Aus-Twins, Meg, James + Vanessa
"Freaks and Geeks" "The Scamper Squad" = Aus-Twins, Vanessa, Steve
"The new Freaks and Geeks minus Vanessa" = Austin, Liz, Julia, Steve, Johnny Mac
"The Authority" = Austin, Liz, Julia, Steve
[polldaddy poll=9046808]
Share it YO!
Tweet