POV Holder:
James
POV Competition
Aug 29th
POV Used
Yes
POV Ceremony
Aug 31st
HOH
Vanessa
Next HOH
Sept 3rd
Original Nominations:
Meg and James
After POV Nominations:
Meg and Julia
Have Nots
Johnny Mac, Julia, James, Meg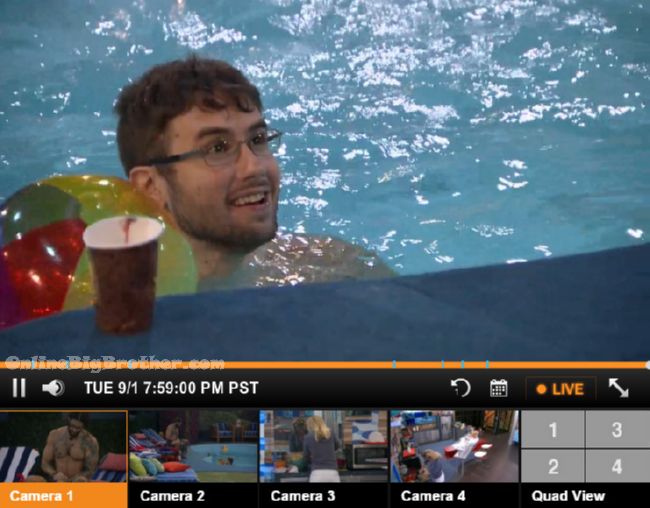 7:43pm Austin and Steve Poolside
Austin going over a conversation with James.
Austin says James is worried what he tells him about Vanessa he goes back at tells her. He's really stopped the targeting Vanessa talk.
Austin – He's either going to make a play against me or try to bring me in.
Austin – I want Johnny mac to know I really trust him next week
Steve says Johnny Mac will go after James
Austin – I trust Johnny i feel like I made a mistake I feel I should have gone after James.. But I thought he was going to come back
Austin feel that the POV will be used next week so he's not sure if James should go straight up.
Steve thinks it's risky to not put someone up
Austin – James is the play to protect the scamper squad
Austin says James told him he only have to worry about Steve and Johnymac and if he's cool with them Austin doesn't need to win HOH at all.
Austin thinks James is trying to tell everyone he's in deal with everyone
Austin – He's going to find cracks and fissures
Steve – your target is still james
Austin – it has to be
Austin says this next HOH might be bad to win because then you can't play in the double. Steve says double might be Thursday it happened before.
Austin says double eviction are scary big players go out during that.
Austin warns him about James.
They agree Jeff getting out changed the game for a lot of people
Steve says jason leaving really helped him. Says Jason told him "Cameras give us more privacy than you do"
Austin – that's aggressive.. I thought he was cool because you were super fans
Steve says jason didn't like him "He wanted to be the super fan of the season"
Steve – He wanted to be the voice that I'm going to be now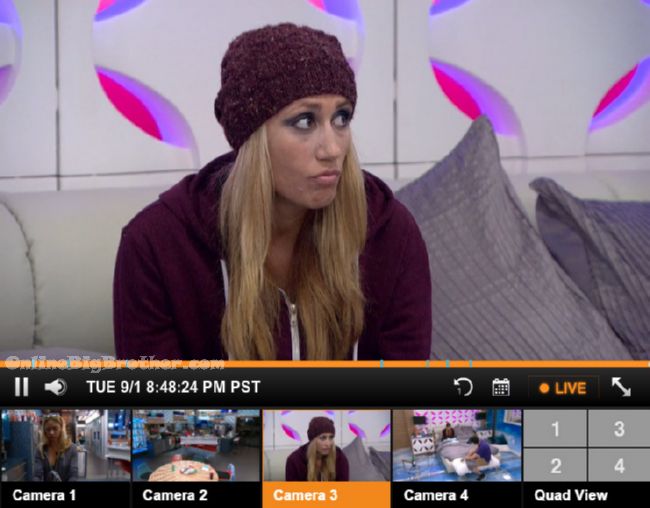 8:39pm HOH Steve and Vanessa
Vanessa- what is up with you
Steve – Not a whole lot
Vanessa asks if Julia and Meg campaigned
Steve says they haven't mentions that Austin told him Julia is worried
"I'm reassuring her every way possible"
Vanessa – she has nothing to worry about as long as you, Liz and Austin stick to the plan.
Vanessa and Steve agreeing James is the target.
Steve – the question is how
Vanessa – well uhh use Julia as a pawn again
Steve – Again
Vanessa – quite frankly, ensure the vote goes the way you want.. use me as a pawn I prefer you don't
Steve- I really don't want to use you as a pawn
Vanessa – Austin can be a pawn, put Austin's a$$ up there, it hasn't been
Steve – I've been up more than all of you put together
Steve asks what happens after James goes
Vanessa – you me and John are final 6 where you can't play I will likely win if you are not in it than we basically.. I'm OK to do what needs to be done.
Vanessa – I could get a lot more people's blessing making this move
Vanessa – Austin has to throw final 6 HOH..
Steve – with that six.. great question
Vanessa- he could target Johnny mac.. it's not in his best interest.. I think he throws it
Vanessa- Johnny winning is best me winning second best
Vanessa – where does that leave us if they go after Johnny
Steve – Scamper squad final 5
Steve says if you need to win a competitions you've done something wrong in your game.
Vanessa – I've Johnnymac wins a twin goes home
Steve – it'll be one of the three I don't know which.. probably not Julia..
Vanessa – the next week Johnny can't play they think we are with them there's two of them.. James in the mix RANDOM
Vanessa starts going on and on about how Steve's done so much in this game.
Vanessa says if Johnny takes out a twin the following week they will put up Johnny and James
Steve – that makes 5 me you James or Johnny and Twinstin
Vanessa – I'm fine, I want your word this never goes out side this vault of a room
Steve – Vaenssa I understand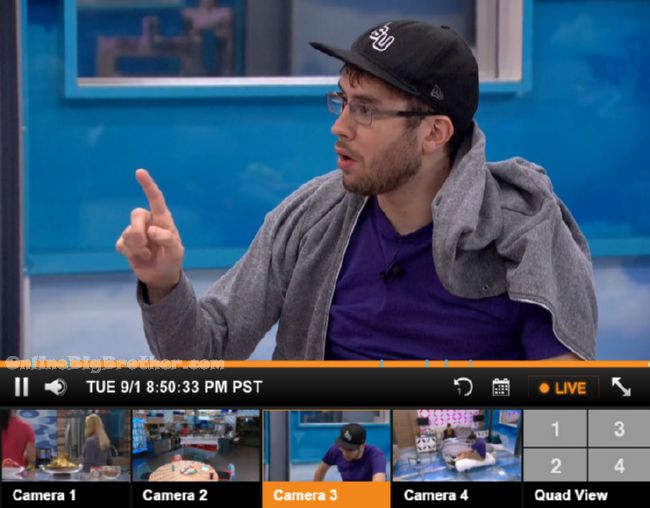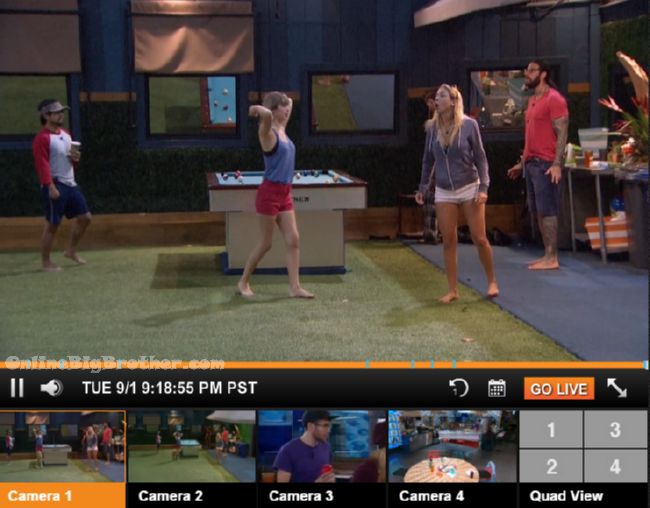 9:15pm Backyard Someone with a mega phone outside the wall. JAmes, Meg and Johnnymac hear what they think is Austin wants Julia out.
Austin and the twins joint hem outside.
9:18pm The mega phone user comes back can't hear what they are saying. Big Brother calls a indoor lockdown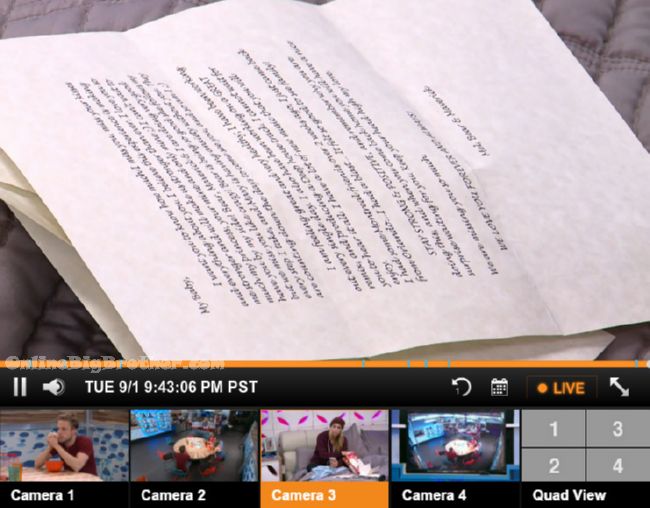 9:44pm Vanessa's HOH Letter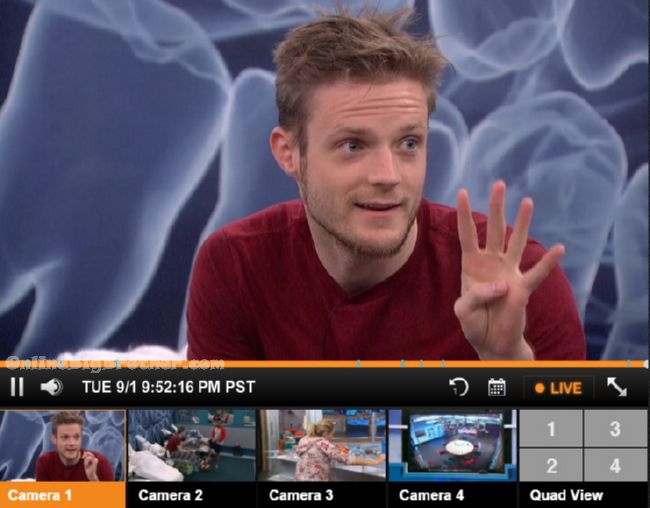 9:51pm James and Jmac
Jmac says he just read the manual it say they cannot talk about what was said outside beyond the wall
James saying they need to get Austin on board
Jmac says Austin might vote out Julia he would try to blame it on Steve or him.
James – we could pin it on Steve
James – Austin would have to vote secretly against..
Meg comes in. James says they are trying to figure out how to get Julia out.
Meg says she's got a weird feeling Austin wants to vote Julia out.
James – if Austin is on board we have to protect Jmac and Austin..
James- Steve and Vanessa are really close
Jmac isn't sure if Austin and Vanessa are tight he says they'll find out this week.
James- if Steve wins HOH again he's going to take me out
Liz rolls through grabs the lotion.. When she leaves
Jame s- shit that was bad
Jmac- you were campaigning finding out where my head is at
James says Meg will spend all day tomorrow with Steve to make it look like they are friends.
Meg – we could really flip the house
Jame s- make it fair for everybody give us a fighting chance
Jmac – YA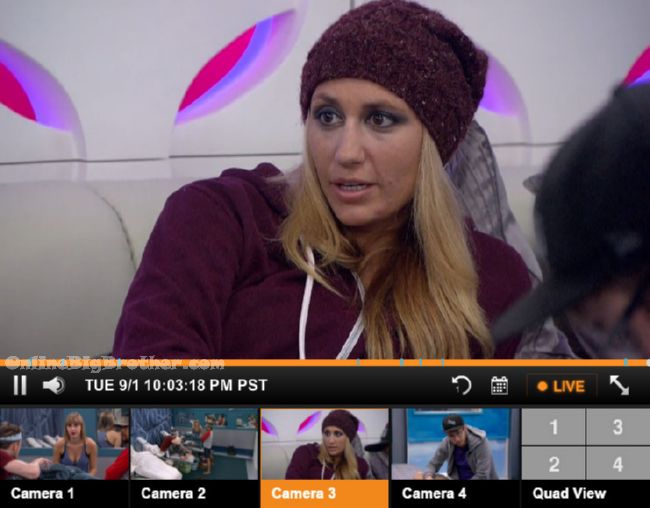 10:01pm HOH Vanessa and Steve
They agree when they hit final 6 and James wins POV they'll take out Johnny mac. Austin joins them.
Vanessa mentions that Johnnymac is pending a lot of time with the goblins
Steve – he was in there all day
Vaneesa – he's got a weird look on his face he looks shell shock
Vanessa says she would love to hear what Meg and James' campaigning will be
Vanessa says it doesn't make sense for Johnnymac to flip the vote.
Austin points out there's no point in them getting Jmac's vote they need more to flip it this week. Steve and him aren't flipping. Austin thinks Meg and James sho9uld be more focused on positioning James favorably for the next week.
They agree a scamper squad member will get to the end. Steve says it's very likely they'll have two scamper squad members in final 2.
Vanessa says that alone is a win.
Austin goes on about how great their group was points out that the LIZ-Julia-Austin grouping has never been done before twins making this far with a showmance.
Vanessa says she's going to write a blog about Big Brother. Breaking down every episode and the strategy is.
Jmac rolls in.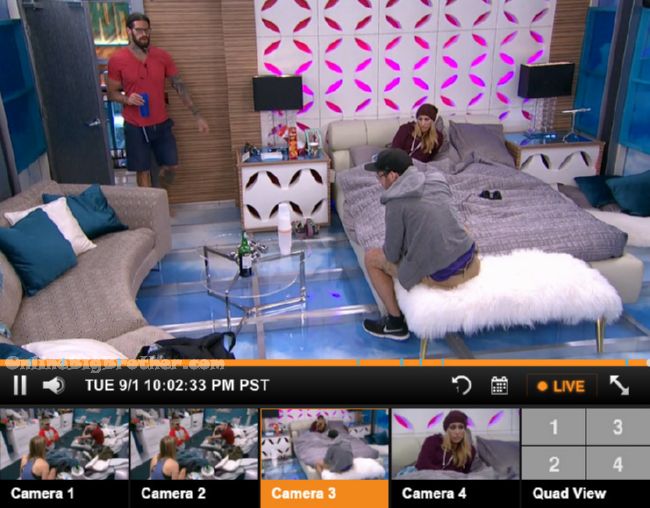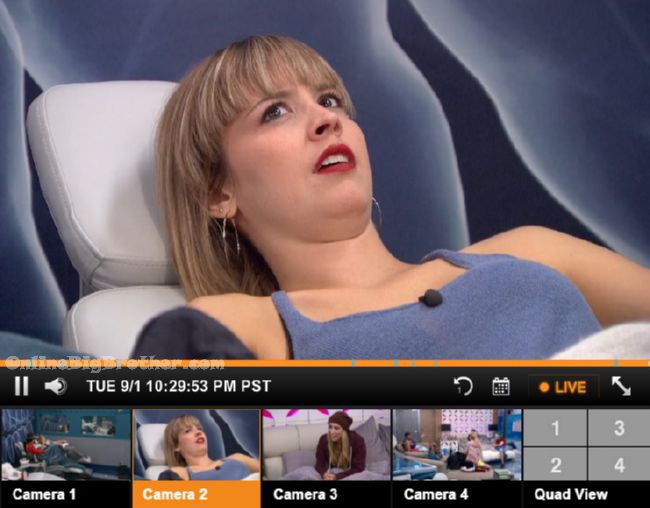 10:28pm Have nots James and Meg
James saying might be Steve, Vanessa, Austin and the twins have a final 5 deal
Points out Steve, Austin, Vanessa and Jmac are up in the HOH
Meg – You're lying
James – only people downstairs are us, Liz, and Julia
James- maybe I'm getting paranoid
Meg – They voted him out last week, Sure they are not playing chess.
James- they're all in the room
The goblins are worried Jmac is playing them and he's going to tell Vanessa and Steve about their plans to flip the house.
James – Johnnymac has no loyalties to us.. I'm worried about the deal he made for Vanessa to not put him up
James – shit I htik we shouldn't have talked to him.. first.. we should have talked to Austin first
Meg – we heard that thing what were supposed to do
James- ya that's true..
Feeds cut
When they comes back
James – Johnny mac johnny mac where's your head at… I have a feeling they are all upstairs.. Maybe the whole damn house has a secret alliance against us..
Meg – I'm going this week then
10:42pm James comes back after doing some recon
James- they are all up there. when the f*** does Johnny Mac hang out in the HOH room.. I never see Johnny Mac up there even when he's not on the block.
James – he might think the house is split but it's really all together.
James- should have known.. It sounded like he was protecting Steve
Meg – I know, Why would he tell you he's putting up Vanessa and Steve up though.. what's the point of that.
10:51pm Jmac comes back says there was no game talk going on up in the HOH.
11:08pm
Meg – If Johnnymac is lying to us you are f****d
James – I got Veto's to win
11:30pm Have nots Goblins wondering who the underdogs are if it's not them.
Austin, Twins, Jmac and Vanessa on the sky bridge playing chess.
11:38pm
James – I'm looking forward to see your fun side
Meg – I never said I was fun I just like going out
James – lets do something
Meg – there's nothing to do I made up all teh games in here
Jame s- Go play chess
Meg – I HATE CHESS
James- you better like it tomorrow
Meg – I will I already planted the side we'll play (Steve)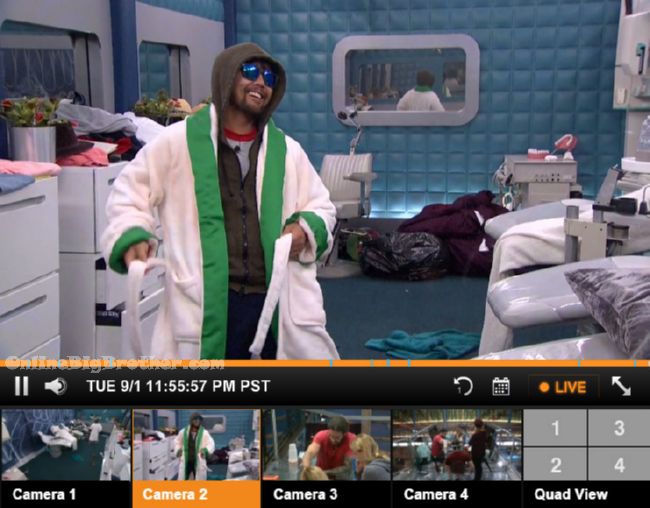 11:55pm Chess still going on..
James and Meg still goofing around in teh have nots
If you enjoyed the spoilers please consider a donation using the button below.
ALLIANCES:
"Goblins/Gremlins" = James and Meg
"The Generals" = anyone allied with Becky
"SOS" (Students of Sound) = Steve and Vanessa
Rockstars = Steve and Jmac
AUS-Twins = Austin, Julia and Liz
"Austin's Angels" = Austin, Liz, Julia, Vanessa
"Brass Tacks" = Gobins and Austwins
The new "Brass Tacks" = Aus-Twins, Meg, James + Vanessa
"Freaks and Geeks" "The Scamper Squad" = Aus-Twins, Vanessa, Steve
"The new Freaks and Geeks minus Vanessa" = Austin, Liz, Julia, Steve, Johnny Mac
"The Authority" = Austin, Liz, Julia, Steve
[polldaddy poll=9046808]