POV Holder:
James
POV Competition
Aug 29th
POV Used
Yes
POV Ceremony
Aug 31st
HOH
Vanessa
Next HOH
Sept 3rd
Original Nominations:
Meg and James
After POV Nominations:
Meg and Julia
Have Nots
Johnny Mac, Julia, James, Meg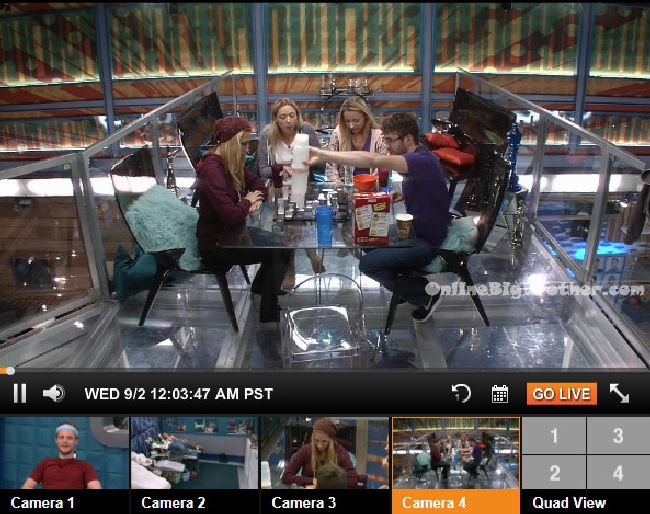 12am Vanessa and Steve play a game of chess. They use two shakers together with protein power as a sand timer. They start their game and it make their moves really fast. The twins join to watch. Steve starts making mistakes and getting confused because its going so fast. Vanessa ends up winning. Vanessa says to the twins wasn't that fun! Liz says no that she gets anxiety from it. Austin joins them. Julia asks if they're locked in till Thursday. Like what is happening. Did we do something wrong? Austin and Vanessa play a game of chess with a minute timer for each move.
12:05am Havenot room – Meg, James and Johnny Mac are hanging out. James says he doesn't think this week will be a days HOH comp. I think this one will be a quick one and then a days comp for the double eviction on the next one. James asks who would you get a letter from? Johnny Mac says I think from my dad. My brother is back at school now. I don't think my mother would want to write one. Johnny Mac leaves. James and Meg continue to talk. James says that he's really strict with his daughter. She's a handful. I hope she gets it out of her system.
Watch the NEXT WEEK of the Live Feeds for FREE! Click here for your: 1 Week Trial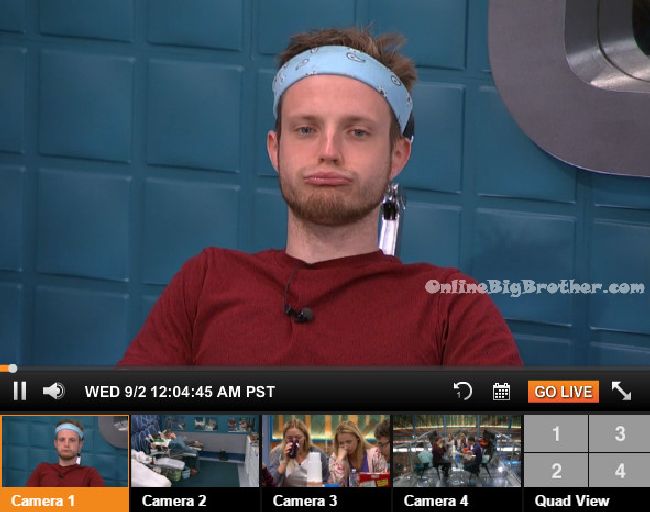 12:50am Cabana room – Julia asks Johnny Mac if she can talk to him. Julia says I am so awkward, I guess this is my campaign. I didn't want to do this. Obviously they have been talking to you. Johnny Mac says Meg is trying to get my vote. Julia says obviously, whatever that's cool. I just wanted you to know that you're 100% not my target. And I haven't won HOH so I would really love to win. Johnny says so would he. Julia asks so yeah .. what would you like to ensure that you would vote for me? Johnny Mac says Mmmhhmm.. wow I can get a deal. I was already on page to keep you so yes ummm.. don't put me up next week. Julia says okay. So if I win I won't put you up. Alright. Johnny shakes her hand. Julia says okay this was easy! They leave the room.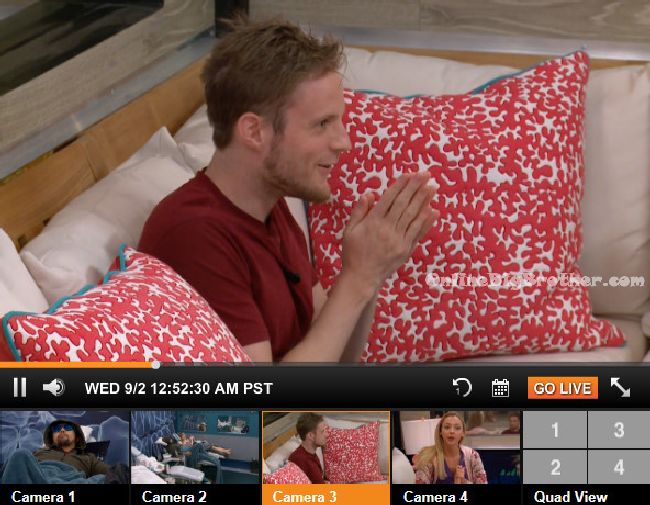 1:10am The twins play each other at chess. Julia whispers to Vanessa what was said in her conversation with Johnny Mac. She says he said he's voting for me and asked to not put him up next week in return. Austin says that's good. Vanessa starts giving advice on chess moves to make.

1:30am
Johnny Mac, Meg and James go to bed.
1:38am HOH room – Vanessa, Steve and Austin are talking. Vanessa says everyone else is sleeping. There's no scampering. We drank coffee and prepared for it. They talk about how James and Meg have been in the havenot room all day. They talk about random things. Austin says he said he wanted to be on big brother when he was 16. Vanessa says you stuck to your dream. Mine change every five years. I went from law school, gambling, to DJ'ing. Steve says being a gambler sounds awful. Vanessa says it was awful. Not fun, not as cool as everyone thinks it is. It actually makes you feel like sh*t at the end of almost every day. You're surrounded by seedy people. You never have a wow I accomplished and gave back to the world today. None of that, its like I took advantage of a loop hole today. And took advantage of people. Steve asks you take advantage of the casino or other players? Vanessa says it depends on what game you're playing. Steve do you play against other people. Vanessa says sports betting and poker, yeah! Its stressful. Steve says its sounds like big brother.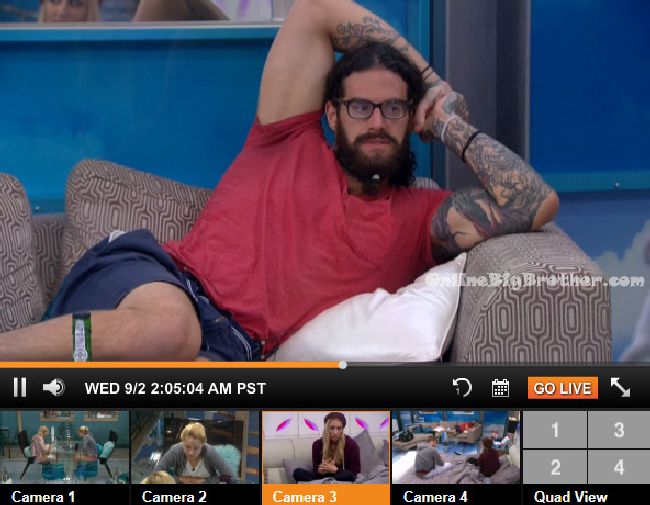 2:20am Bathroom – Julia tells Liz about her conversation with Johnny Mac. He said that he is voting for me. I told him he's not my target. I agreed not to put him up .. but I would put up a pawn.. maybe Vanessa and then backdoor him. Liz says you can if you want to .. if James got off the block. And you could be like look you put me up last week so .. Vanessa you put me up last week so.. and I told him (Johnny Mac) I wouldn't put him up so I am going to need you to go up as a pawn. Liz says but then if she wins the veto.. Julia says then he gets backdoored. From here on out though its about the numbers so like you have no choice. And we all have to trust each other. She might be like Steve might change the vote.. Liz says whatever, we'll come to that bridge when we cross it. Julia says from here on out he (James) is going to be on the block and if he doesn't win the veto .. then he is going home.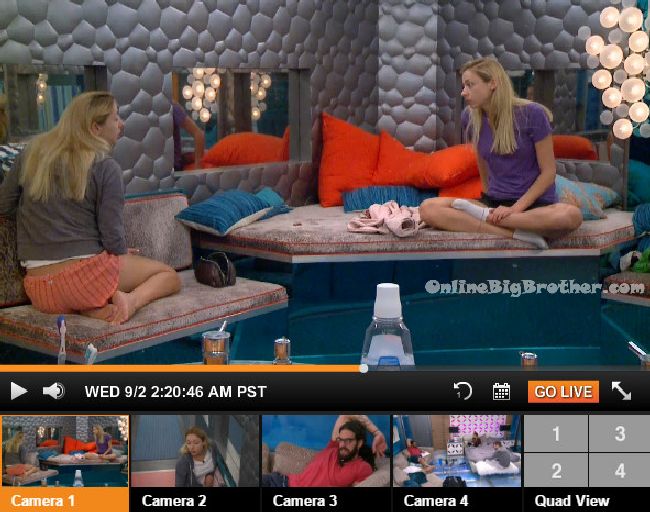 2am – 3am
Vanessa says I've realized that if 1 of us wins HOH this week… there's like a 90% chance we will all make it to the point in the game were we all get 1 week left. Austin says I know. Steve says well you won't be winning HOH next week. Vanessa says no but one of y'all. Austin says it ensures us all top 6 and day 85 because of double eviction. Vanessa says we'll be 5 out of 6 which is 15% chance that they even win. Four out of us will definitely make top 5. No matter what. Steve says wouldn't it be cool if the winner of this game was in scamper squad. Austin says its almost impossible for the winner not to be from scamper squad. At the very least we have 4 votes on the other side. Unless everyone hates us. They start talking about past events and how things would have changed if things happened or didn't happen. Julia and Liz join them. They confirm Julia has the votes and talk about how Meg hasn't campaigned. They go back to talking about past events of the season. Austin heads down stairs. They realize he is down talking to Meg in the bathroom. Vanessa tells Julia to go "Talk-block" her (Meg). Austin has to know if he does it (votes out Julia) you (Liz) would lorena bobbitt him. Julia and Liz don't know what that is so Vanessa explains its a court case where the lady chopped off the guys d!ck. Julia says I love it. I'm using that for the rest of my life. Julia leaves.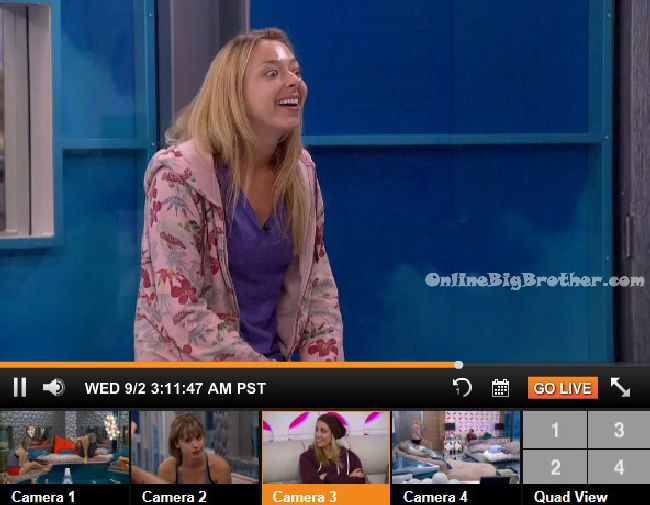 3:10am Bathroom – Austin tells Meg I always wanted you guys in the game to keep the target off of us. Meg says I know. Austin says its just sh*tty. Julia joins them. Austin says That's my biggest nightmare and that's why I talked to James to see if we were cool. Meg says he's a wild child. Austin says Its not what I wanted. He's the wild child. Meg says Its just a sucky situation. Austin says we had a lot of fun together. You guys made the last few weeks so much fun. Meg says alright I guess I'll talk to people tomorrow.
See what they can't show you on TV Try the live feeds for FREE!