POV Holder:
?
Next POV
July 18th
POV Used
?
POV Ceremony
July 20th
HOH Winner Team 1:
Liz
HOH Winner Team 2:
Shelli
Nominations 1 :
Jackie & James
Nominations 2:
Jason & Johnny Mac
Battle of the Block Winner
James and Jackie
Next HOH/ Next BOB
July 23rd / July17th
Original Nominations:
Jason & Johnny Mac
Current Nominations:
?
Have Nots
?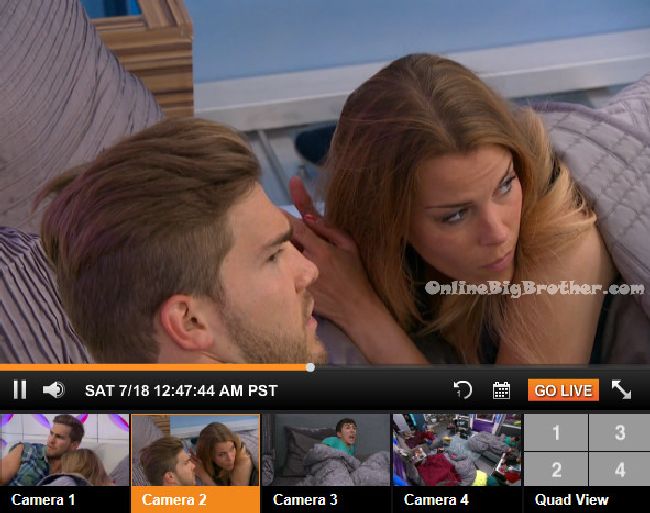 TRY the Big Brother 17 Live Feeds FREE for 1 WEEK:
Click here to ensure your live feed subscription supports OnlineBigBrother.com at no extra cost to you.
12:20am HOH room – Shelli says I'm interesting in what she (Audrey) is going to come up with? Clay says she already told you. She was haing a rough day. Shelli says wait when did she tell you this? Clay says remember in the hammock room. Shelli says she hasn't talked to me. Clay says regardless… what she said to James is terrible. Shelli says bad!! Clay says you would be crazy not to use it to get her out of the game. I know you like her on a personal level and that sucks but she's done this over and over and over again. Shelli asks what if I told you I was America's Player and I had to keep her in the game. Clay says I would cut you lose. Shelli asks you would help cover for me wouldn't you? Clay says yes. I know its not a for sure thing but after we win veto and use it how could you not send her out of the game after what James said. And I believe him 100%. Shelli says I believe James too. Shelli says if I'm not able to for reasons of the POV to do it then I want to find out why she did it. She went to James before the BOB in preparation that I would be dethroned. Because if I was dethroned then she was already working on throwing my name out there and when I wasn't dethroned she suddenly didn't come up to talk to me. Tomorrow I know we'll talk. I'm interested to find out how she back peddles. Clay says she is just so paranoid. She thinks Austin is out to get her. Shelli asks what does she mean about Austin. Clay asks did you ever said you don't trust Austin? Shelli says yeah. Clay says she thinks we don't trust him because he is going to go after Audrey. Shelli says lets not mention Austins name around her any more because she is going to use that against him. Shelli says I'm afraid she is going to tell Austin we don't trust her. Clay says its okay Austin will believe us over her. If someone wins veto and will use to to take someone down will you use the chance to put her up? Shelli says I will just have to see how it goes. I'm not like Audrey, I won't answer 8 days in advance. I'm not even going to catch myself saying that. If you try to backdoor her on a week other than a double eviction she has 4 days to campaign, to blow up our alliance, tell everyone everything that she knows, to stir people up, to mix up stories. Clay says I get that but that if one of us win on a double eviction and it means she is in jury. Shelli says conversation have to be had. Clay says Its just her saying that today all distraught and upset. She feel bad about what she said. She is paranoid. Shelli says she it paranoid we will backdoor her. Shelli says she's flipped out because I made a mistake and she will never let me live it down .. after all the things I've done for her.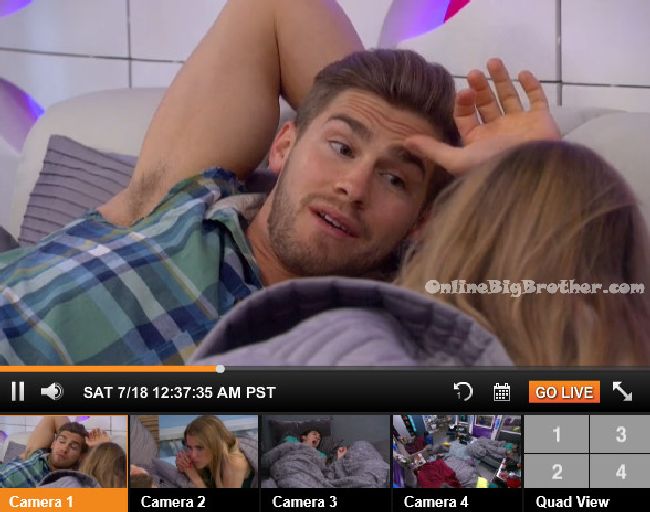 Clay says hearing what she said and did today enrages me. I don't care if she didn't go home this week.. I would make it my personal mission to get her out. The fact that she threatened.. or planted seeds about you and me need to be split up. That you would go home over her. I would make a deal with the devil to send her home! I would! I would promise everyone anything just to send her home. The fact that she is so unappreciative of what you've done. I don't even want to take credit for helping her out or being by her side. Shelli says I think she was appreciative she just couldn't wait it out. She thought-out every single angle of who she could target around me. I can't roll like that. Clay says her own interest is the only thing she cares about. Your interest is almost equal to mine and Vaneessa right underneath yours. Loyalty is everything in this game and when they don't show it back. I would not care, I would tell her right now, your a$$ is going up! I would campaign against her. Shelli says I just don't want the house blowing up. Clay I won't have any sympathy for her. Shelli says I would ask that you don't say anything at all. Clay says that James came up to him and said he would tell him if he ever heard anything about them. I know James wouldn't fabricate it, it sounds exactly like what she would say. She is so ungrateful! She is digging her own grave. Shelli says I kind of wish she would come up here right now. Clay asks how would you talk to her without saying it. Shelli says there is so much I could talk to her about. I won't tell her about James. About how her paranoia is grating on me and I can't handle it. She can't see my loyalty and let go of this one thing lets me know this will be a problem. Clay reiterates his conversation with Audrey earlier. Clay says then at the end she said swear to god Shelli won't backdoor me. I looked at her and said the fact that you would even question or assume that Shelli would that kind of pisses me off. I started to walk out and she said well you never said that she wouldn't. I said I'm not even going to entertain that and I walked out. Clay says if you're talking behind someone's back you're naturally paranoid. She is going to do this whole sad sob story to you and I just want you to remember what James said. The fact that we can't even trust her to talk game around her because we don't know who she is going to run to.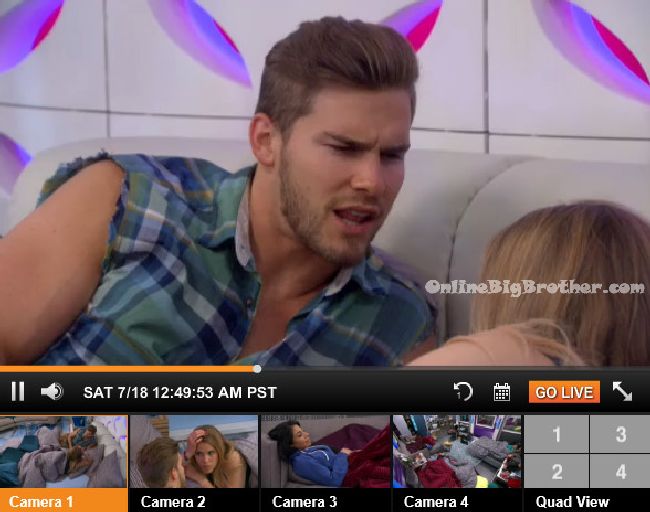 12:50am – 2am Shelli says I feel like I can trust Jason more than I can trust her and I put him on the block. Clay says this would be a great time .. it you did put Audrey up and it all fell into place.. this would be a great opportunity to mend things with Jason. Shelli says but I would be taking his target out so who else is he going to target? Clay says but she's targeting us too. Clay says as long as she's here is is going to go around and plant these little seeds like she's been doing with Johnny. We don't know who else she's saying these things too. You work a deal with Jason. Him and Meg talked about a final four. We don't promise that but.. Shelli says that kind of would be a cool final four. Clay says yeah. And present it like… Shelli says I had the chance to put up Meg to send you home or the chance to put up Audrey and send her home. Tell him you want to work with him. Tell him whatever deal you want 1 week, 2 week, 3 week, to the end. Clay tells Shelli know that I am just giving you options and not telling you what to do. Shelli says she knows. Clay says it really seems like Jason wouldn't come after you even before you put him up. Shelli says there 6 people that have not been up on the block: Shelli, Clay, Austin, Vanessa Liz, and Audrey. Problem is now we are forming relationships with everyone in the house that its .. Clay says we have to turn on people. Shelli says I think HOH is the way to go. Every week we need to win. Clay says I think we need to restructure our alliance. I think Austin & Liz shouldn't be in it. Shelli says well we already have an alliance without them. Clay says we wouldn't tell them that they're out. We need to find you, me, Vanessa, Steve and Johnny. We need to find a group that me, you and Vanessa are okay with. James might be one of them. Jason might, Meg might. Shelli says yeah how weird is that, I feel more drawn to the other side.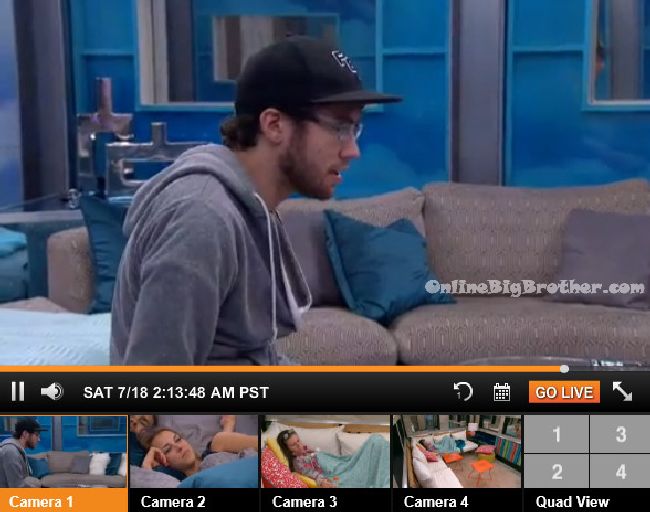 2:15am – 2:40am Steve joins Shelli & Clay in the HOH room. Steve says everyone is in bed. Shelli asks do you want to set us up for what happened on what day. They start studying the days events so far this season. Steve comments on how every season gets hated on. Every season. Shelli asks what do you think the plan should be? Steve asks is Jason your target? Steve brings up that he thinks the veto will be the prize / punishment one. Steve says it happened week 4 last season. Shelli asks should I care about winning the veto? Steve says it depends on what you think will happen. Steve says Jason is the target right.. Clay asks who should go up to keep Johnny Mac safe. Steve goes to look at the memory wall and says who's that nerd with the glasses? Shelli says I know how is he still in the game?! Steve says so the options in theory are Austin, Myself, Liz, Audrey, Vanessa, Meg, Clay and Becky. Put Clay up, he is winning too many competitions. Steve says I don't know because I don't know where your relationships are. Steve says there's the obvious but is she coming after you. If your goal is to minimize blood ..whoever you put up would most likely go so it wouldn't matter who went up. Clay asks what if Johnny came off and Audrey went up next to Audrey. Do you think honestly that Audrey would have a chance to stay? Steve says she is really charismatic. Clay says I wouldn't say she is charismatic .. I would say she's manipulative. Steve says she did something last night. She brought my necklace into the game. I thinks I'm using it as a tool. I do not want it to be a part of the game. Clay asks do you think its bad to put her up next to Jason? Steve says yes. Clay asks so you think its better she is up next to a Johnny? Steve says yes. Steve asks is she your target? Shelli says I am trying to figure out if she is a target. Clay asks could you or would you ever work with her? Steve says no. Clay asks so you want her out of the house? Steve says he doesn't want to work with her and avoids having conversations with her. Shelli and Clay ask Steve questions about how America's Player works. Steve tells him how it worked on season 8. Steve says if she is America's Player and its the same as season 8 she doesn't control her vote. Clay says that's why we think she (Audrey) gets so paranoid before evictions. Steve says one thing you can't predict is popularity. Last season Zach was a bully and loved. Amanda Zuckerman was hated for a lot of the same things. Evel Dick was a trash talker and loved. Clay asks do you think Audrey could be America's Player. Steve says it seems like its really out there. .. I don't think so. Whenever the house has tried to guess on it, they are wrong.
Click here for your: 7 DAY Big Brother 17 FREE Trial then its only $5.99!
2:30am – 3am Cabana room – Audrey talks to Jackie. Audrey says I need to win HOH. Jackie says I feel like I need to win from here on out. How stressful is that. Audrey says I couldn't tell if she (Shelli) was excited to stay in power or not. I feel like it was pretty even teams. Jason joins them. Audrey says that she is going to go up after Steve comes down. I think he is nervous he is going to go up. Jason says I just want to know if theres a plan in the works. She just told me to win the BOB but obviously I didn't do that. There is no way I wouldn't go home over Johnny Mac. I'm the ignorant kid that yells. Audrey decides to go up and see what happening. Audrey goes up and says Jackie and Jason wanted me to be the scape goat to see if you guys are awake. I think they want to talk to you. Shelli says we're just talking about past seasons of big brother.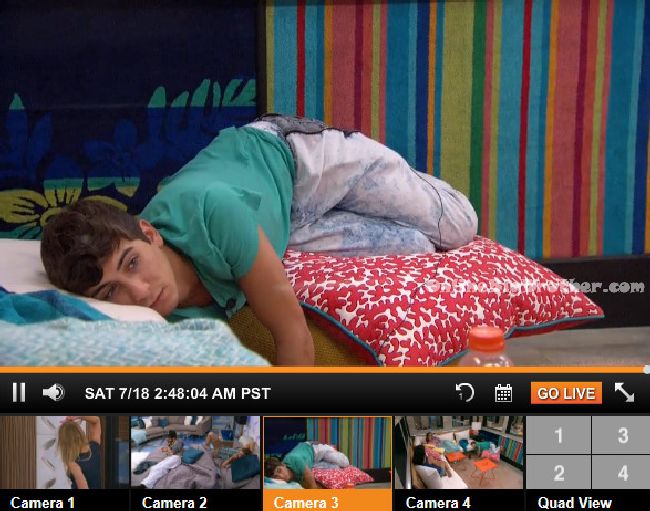 3:10am Clay and Steve come downstairs. Clay tells Jackie and Jason that Audrey just said she came up because you wanted to talk to Shelli. Jason says this is exactly why I don't tell her anything. Jackie tells Clay to tell Shelli I will talk to her tomorrow. I don't need Audrey telling people I need to talk.
Share it YO!!
Tweet