POV Holder:
James
Next POV
Aug 1st
POV Used
No
POV Ceremony
Aug 3rd
HOH
James
Next HOH
Aug 6th
Original Nominations:
Shelli and Clay
After POV Nominations:
Shelli and Clay
Have Nots
Austin, Liz, Julia
TRY the Big Brother 17 Live Feeds FREE for 1 WEEK:
Click here to ensure your live feed subscription supports OnlineBigBrother.com at no extra cost to you.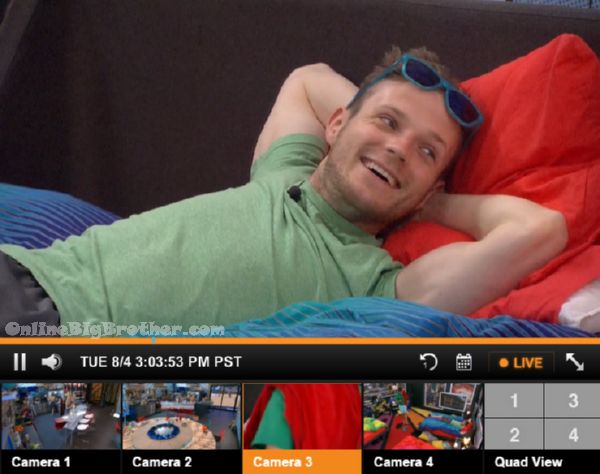 3:02pm Jmac and James
Jmac asks him how often he "Hooks" up
James – that's personal questions .
James answers he tried to hook up once a week sometimes he over achieves sometimes he under achieves.
James doesn't like to hookup with strangers he usually has 1 or 2 girls going. Adds it's important he has 2 in-case one of them is working.
Jamc says he's only brought one girl home to meet his parents. When he lived at home he wasn't into dating girls it wasn't until after he left for college.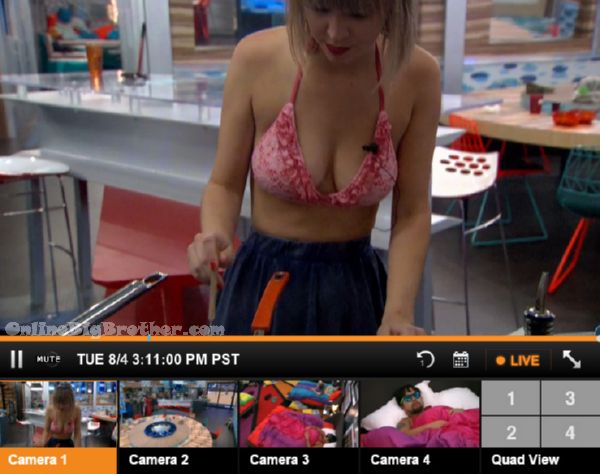 3:11pm Meg frying up some bacon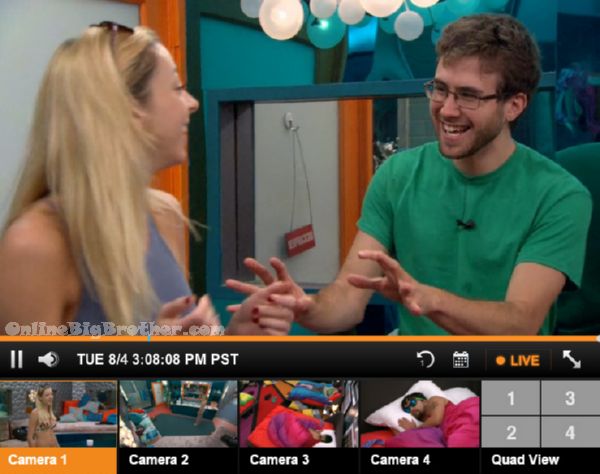 3:08pm Steve scares Liz
Steve and the Twins #BB17 @DawgsBigBrother pic.twitter.com/NssVCnsvKY

— OnlineBigBrother.com (@bigbspoilers) August 4, 2015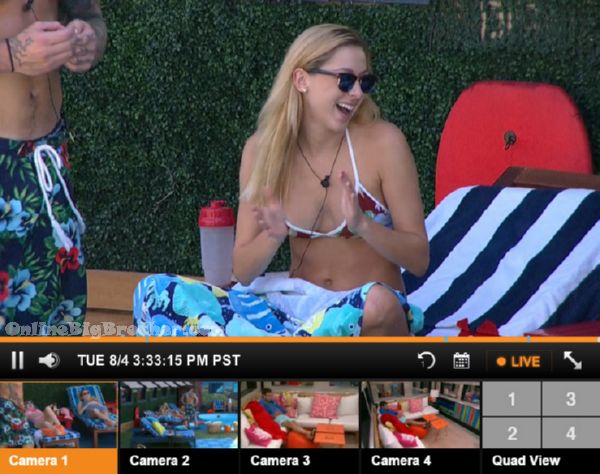 3:14pm Backyard Austin and Liz
They're talking about voting out Clay this week and dealing with a pissed off James. Shelli needs to stay she has no relationship with Meg, Jackie and JAmes. Clay is closer to that side of the house. Austin says Jmac is America's player now and he got a mission to become their ally, 'Notice how he's always around us"
Austin – no one it taking us out right now.. we should be able to win (HOH) we have enough people
Austin thinks Shelli will be a much bigger target.
Austin is going to tell JAmes to pull Shelli up in the HOH and She'll cut a deal. Austin believes they're reasons to vote out Clay are sound moves if they explain it to James it'll be OK. What he going to do he's not HOH anymore and Clay will be gone.
Austin says it's game and personal "He's throwing me under the bus"
Julia joins them. Liz says Steve and Austin are voting to keep Shelli with them.
Julia – YAY
Julia says she was looking at the memory wall they have 5 votes.
Meg joins them.. They start talking about Clay being a jerk to everybody.
Julia – What his strategy to be an a$$hole
Meg – Yes
Austin – Clay hates me
Liz – At least Shelli is trying to be nice
Meg – he hates everyone.. Shelli will do that same thing
Austin – She more desperate to make deals.. he's intimidating he's walking around like he's going to beat me up.. why ?
Austin says Clay will put him and JAmes up he'll try to split the sides of the house.
Austin – he's making me feel really low saying I hate Austin I want to take him out
James joins them. Says Clay being a jerk is his strategy.
They laugh at how paranoid Shelli and Clay got when Austin was in the HOH. They thought Austin was cutting some big deal with JAmes etc etc..
James – me personally I don't trust Clay
Liz says Clay was closest to Audrey
James – in a weird twisted way Audrey warned me about CLay.. don't trust Clay
Meg mentions that Shelli and Clay are still not admitting to some of their lies.
Julia says Meg is probably the closest to Clay other than Shelli what has he been saying
Meg says she hasn't talked to Clay seriously since the veto meeting. Other than Shelli Meg doesn't think Clay has talked to anyone.
Julia – Wowwwwwwwwwwwwwwwwwwwwwwwwwwwwwwwwwwwwwwwwwwwwwwwww
Meg says Clay was livid when Austin went up to the HOH to talk to james. Meg points out when Shelli goes Clay is going to be rampaging around the house vengeful he'll become the number 1 target.
[envira-gallery id="126123″]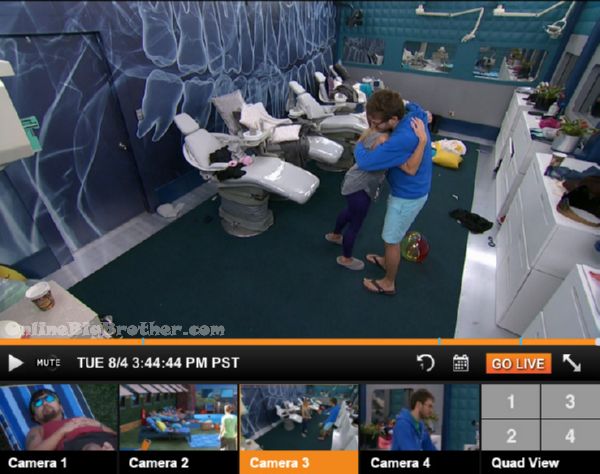 3:44pm Have nots Steve and Shelli
Steve – you have my vote
They hug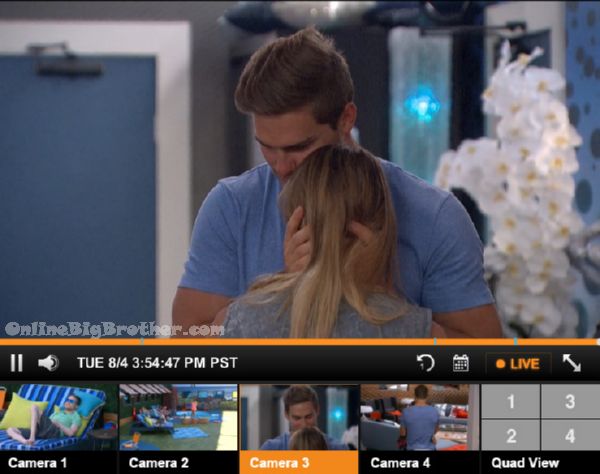 3:54pm Clay and Shelli sad
Clay – it's going to be OK I promise you
[envira-gallery id="126134″]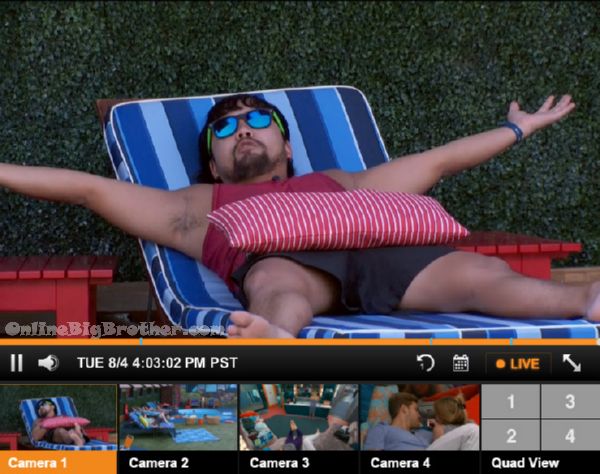 4:03pm James telling the outside group about hunting boar then doing the butchering. The image above shows how he lays the boar out on while butchering.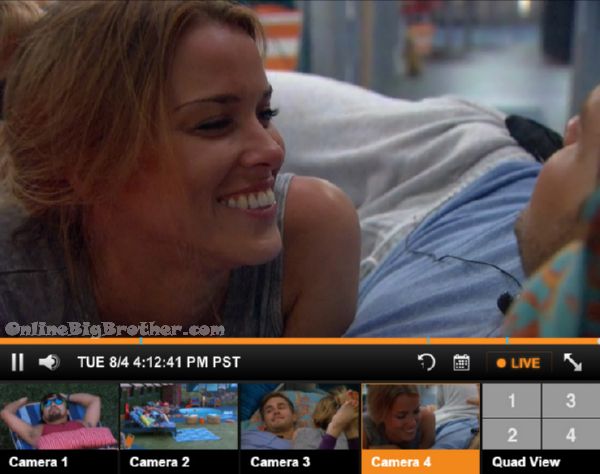 4:11pm Clay and Shelli
Clay – you are one pretty little thing
Shelli – right back at you pretty boy
Shelli says they're a target because they're so close the house know they will not turn on each other. Just like the twins but the twins are relatively new together in the game they've been together since early.
Clay wants to take her out on a date after the show. He knows they'll be apart for another 2 months. Shelli says she'll be an expensive date because he'll have to fly her to Texas. That won't be a problem for Clay.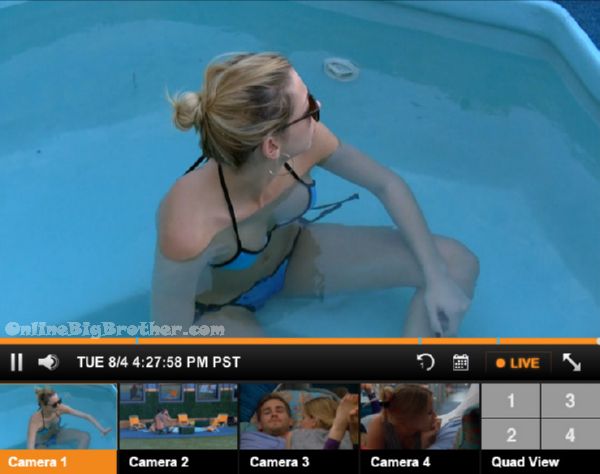 4:24pm Backyard Austin, Steve and the twins
Steve says James has been trying to secure his vote.
Julia – they make a good point Keeping Clay, people will go after him
Liz doesn't want Clay to stay
Austin – Ultimately we decide it and they will have to deal with it
Austin says it might take him having a fight with Clay tell everyone after he's done with him.
Austin says if Clay wasn't so weird about him he would be fine to keep Clay
Austin – did we actually do something to him I don't think we did it was either him or us
Austin proposes they get Vanessa to talk to James about why they want to keep Shelli.
James rolls in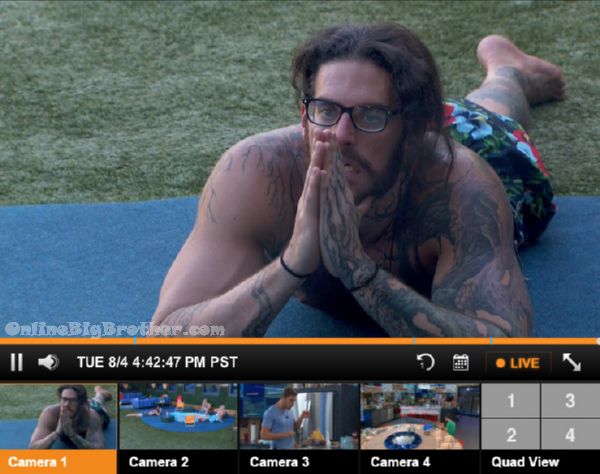 4:42pm Austin tells the Twins James can't play HOH next week if he's pissed at them for Keeping SHelli it'll be short lived.
They are now agreeing jmac cannot be trusted. Austin says Jmac is boring but gets called into the Diary room the most they're must be a twist.
(Twins are very much on board with keeping Shelli, Julia is a bit on the fence but only a small amount)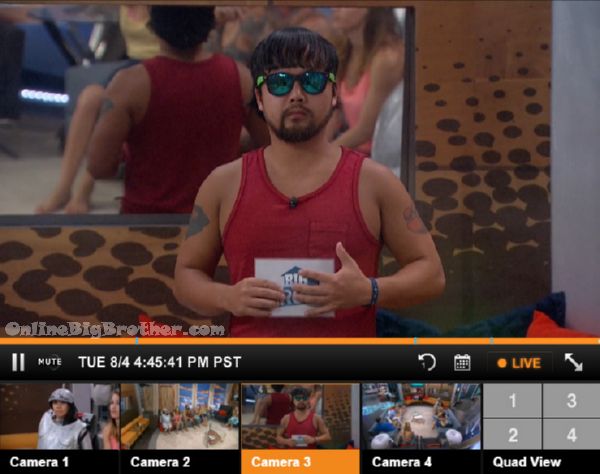 4:45pm James reads out a card from Production
Feeds cut..
[polldaddy poll=9004995]