Quick Big Brother Spoilers
Head of Household:  Turner
Nominees:
POV Players:
POV Winner:
Veto Ceremony:
Havenots: 
Lock your ranks in before midnight
The Spoilage
WOW things are changing fast. as of 11:40am sounds like Brittany/Taylor going up with Michael as the primary target.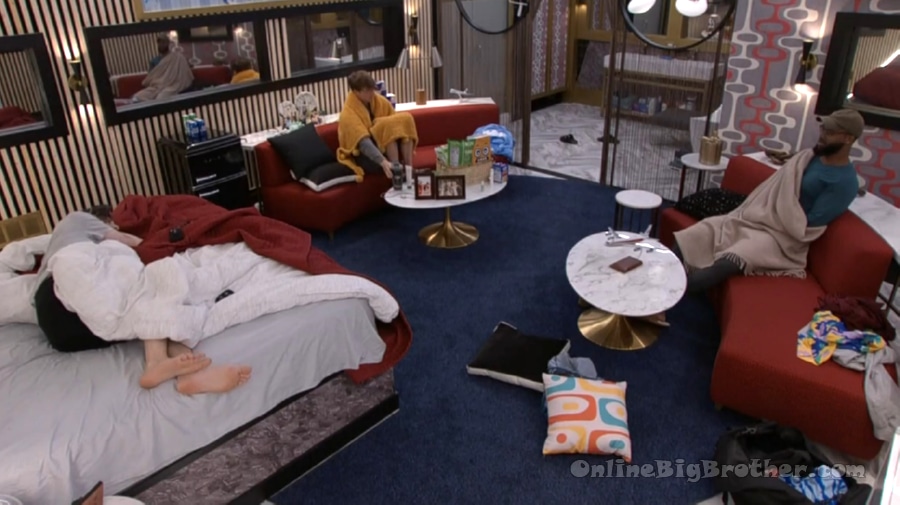 10:30 am Monte, Turner and Kyle
Monte says the week of Taylor's HOH there was some weird sh1t that was going on.
Monte- Brittany was in here talking Taylor's head off and Micheal was in here agreeing with it. They convinced me I was like Hell that's a good idea.
Monte brings up the meeting at the pool table where nobody said anything other than Kyle. "Nobody said their opinion I was like what the f**"
Kyle – I brought you Joe said before he was gone Michael and Brittany are playing both sides..
Monte – 100%
Kyle says Michael came down and warned him that they were going to try and get rid of Alyssa. Then 20 minutes later Joe comes down and gives him the pitch.
Kyle – 20 minutes later Michael comes down and says right after you had that conversation with Joe he ran right up to Taylor pitching Kyle's not going to do it Alyssa needs to go you need to convince him
KYle – Micheal is saying that to me.. I'm like holy sh1t what's going on. So I spoke to Brittany she is like we have to keep Alyssa. We had the conversation in this room they don't say anything. I'm like what the f**
Monte- you had another conversation with them again before the pool table conversations and they still didn't say anything
Kyle – nothing
Monte laughs
Kyle says after he didn't use the veto Brittany and Michael came to him said "thank you so much for not using it we need Alyssa moving forward she's going to be a number for us"
Monte – Ohh my god
Kyle – I was like holy shit.. After I talked to joe I was like Bro they are playing us so hard. That was Joe's advice when we was going on the last day he was like Bro Michael, Taylor, and Brittany are like a thing.
Kyle says he's certain Michael, Brittany and Taylor are a solid three
Monte agrees "What I was about to tell you in the bathroom. the telltale sign was when Michael picked me over you cause I was like wait a minute this almost makes no sense. "
Monte – especially since they were so concerned about you and Alyssa why not pick you.
Monte says during the week they were really "milking" the fact that Kyle and Turner didn't want to get rid of Alyssa the week before now we have a reason.
Kyle- Michael and Brittany said that?
Monte – yes in this very room. I knew something was up at that pool table nobody said anything.
Monte says Brittany, and Michael were trying to sway him and he played along with it for a bit. "They were coming for you hard"
Monte- Brittany was here, Taylor was there and Michael was over there. Michael and Brittany started going on like how you and Alyssa's relationship is like they weren't sure about it. If we come to find out if Kyle and Turner had anything to do with Alyssa staying.. blase blase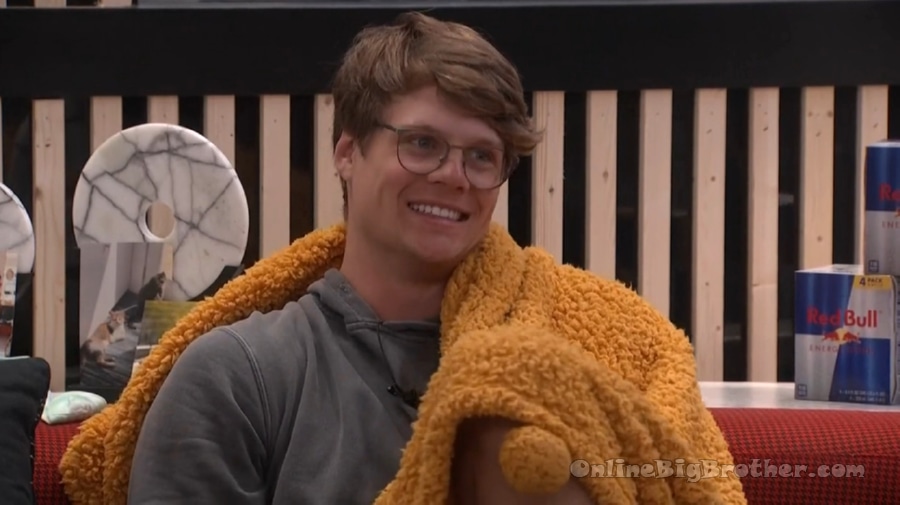 Monte – Michael said something outlandish he said something about the week of my HOH. He said something about like was Kyle the one that convinced Daniel to use the power of veto. I was like what the F**
Kyle – convince no dude
Monte – you don't need to convince me I know what time it is. They are building the case and they are trying to build it to me that you guys need to be the first ones out.
Monte – they were saying 'if anything happened on that side so that Alyssa stays then we need to target them'
Kyle – Taylor won't even look me in the eye.
Kyle brings up when he went to talk to Joe and Taylor after not using the veto. "I said I feel uneasy about that conversation (pool table) multiple people voiced their opinion to me and never said a damn word"
Kyle – I asked them straight up do you think people are having conversations with you that are different than what they are having with me? Nothing they didn't tell me anything. They were protecting Brittany and Michael.
Monte – the fact that joe told you guys that they were trying to form something with him last week. I had nothing I swear to you guys I had no idea they were trying to think past the seven until this past week when they chose me and started talking all this shit about the two of you
Kyle says it's like Brittany and Michael tried to set him up during Taylor's HOH. They were the ones that warned him about the new plan to put up Alyssa.
Kyle – I'm telling you behind closed doors they were talking mad shit to Taylor and Joe.
Turner says they were telling him they wanted Alyssa to stay
Monte – I think they tied to pull the okey-doke on you
Kyle – f** that dude.. Why?
Turner – yeah f** that
Monte knew it was going to be either Kyle or Joe out this week so he wasn't surprised to see joe gone.
Monte says that Michael gave Brittany the veto win. "He knows every single game. I'm convinced if there is an opportunity for the man to win a veto he'll win"
Turner says after hearing all this about Brittany, Taylor, and Michael it's liability leaving them in the game "Two of them have to go up"
Monte – if Michael wins this veto.
Turner – Even if he wins, say it's Michael/Taylor one of them will go home. If he wins Brittany goes up Taylor goes. If he doesn't win Taylor stays Micheal goes. there's no situation one of us goes up.
Mont e- do you think.. right now there is a slim possibility we will get the opportunity again where there's a chance he doesn't play in the veto. that is a consideration here.. if you put up Brittanya and Taylor
Kyle- I was think ing that too there's a shot he doesn't play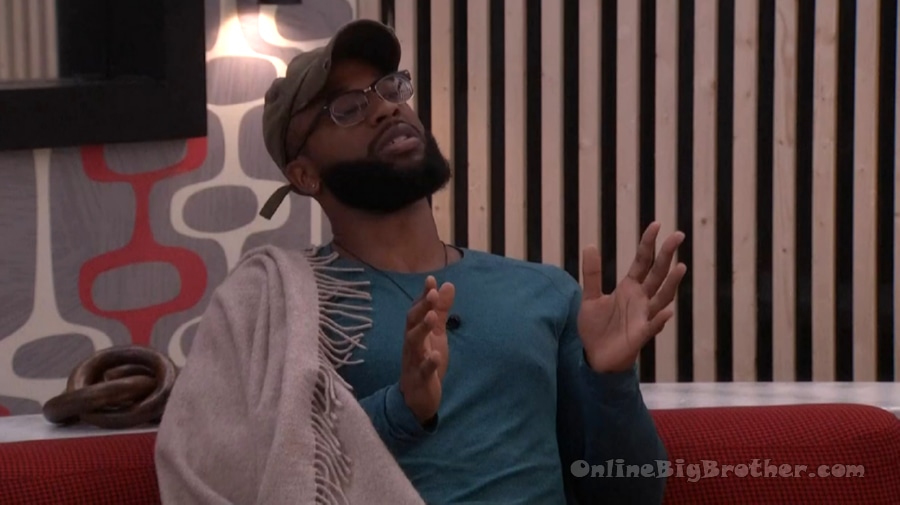 Turner – he's already going to win the game hand voer f**ing fist
Kyle – he's won the game.
Monts – he handed Brittany that veto
Kyl e- why would he want to win again and bring it up to 7 comp wins
Monte says it was obvious he threw the Veto.
Turner – we have to get one of them out this week (Taylor, Michael, Brittany)
Kyle – we will look back at this moment and be like we should have taken that shot.
Monte- what will be the narrative why?
Turner asks Monte if he has any issue with them taking this shot.
Monte – No I would easily vote Michael out. Everybody would honestly
Kyle – everyone sees him winning the game.
Kyle – Turner you always come through with one of the most influential HOH's of the season. Turning point one and now we have turning point two.
Turner – It started the leftovers and ended it.. what can I say
They keep going back to the conversation at the pool table.
Turner – for nominations what's the best case scenario Michael/Brittany or Brittany/Taylor?
Monte – Taylor/Brittany .. you know why? that's the only hope he doesn't play
Worst case Taylor goes Brittany won't win a thing
Turner says the other side (Terrance and Alyssa) are not about Michael staying.
Kyle – The only risk is Micheal gets chosen to play and Michael wins.
Turner says worst case Michael wins takes Brittany down Taylor goes. "which is super wild she doesn't really give him anything"
Monte – remember when she told us she would the two of us up when she first one the HOH (Taylor)
Turner laughs
Monte – sometimes I think she plays a very confident role and all that stuff like strategic game moves I'm just not sure she's there and I think Michael and Brittany feel like they can tell her exactly what to do. it's the same way Nicole felt. Same way as Ameerah felt.
Monte says Mike and Britt were 100% the ones behind getting Alyssa out during Taylor's HOH.
Turner – Any idea of a speech that will be a reason that won't expose?
Turner asks Monte if he's down with this plan.
Monte – 1000 percent. the logic behind it makes too much sense.
Turner – one of them has to go this week.
They agree that Brittany and Michael are big fans of the game.
Kyle- if you did this you took out Ameerah and Michael
Turner – that would be crazy
Monte – taht be some shit
Turner – they were part of the reason we got this far but they dug their own grave by F**iung everyone.
Kyle – we got us to this point us sitting in that room establishing the leftover. They were tools us three used.
Turner says just like Monte says he had to pledge allegiance to the house to stay last week they did to so they area ll besties with the outsiders. "I know how they feel about those people"
Kyle – we're in the same boat you have allegiance to them we have allegiance to these guys at the end of the day we started it. Let's be honest Terance doesn't trust me.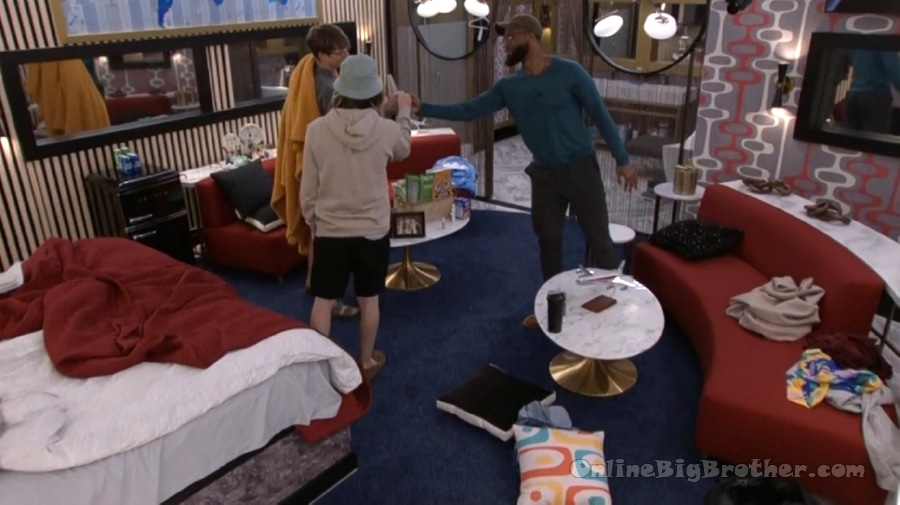 11:26 am they pound one for Joe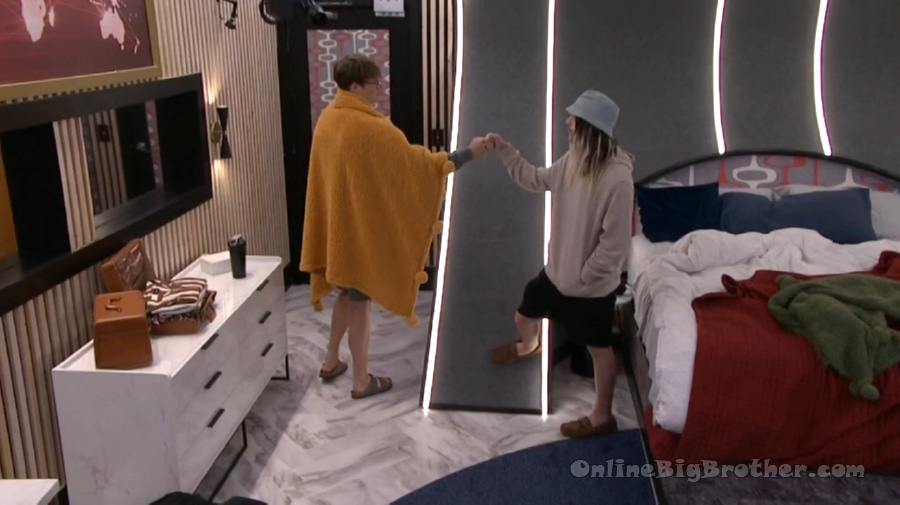 11:30 am Kyle and Turner
Kyle says he's thinking they share what happened last week with Monte and he can go downstairs and make amends with Terrance and Alyssa.
Turner – that is what I was saying
Kyle – do we tell him everything?
Turner – we can say Joe spilled the beans either way
Kyle sighs.. "I don't know let me think about it. that conversation he's not bullshitting"
Kyle says he hadn't talked to Monte for 2 weeks and now that he has "he's a homie"
Kyle – he was the scapegoat last week.
Kyle – I feel good about those noms Taylor/Brittany backdoor Michael.
Turner – the f**ing afterparty whoever the f** their names are will be stoked.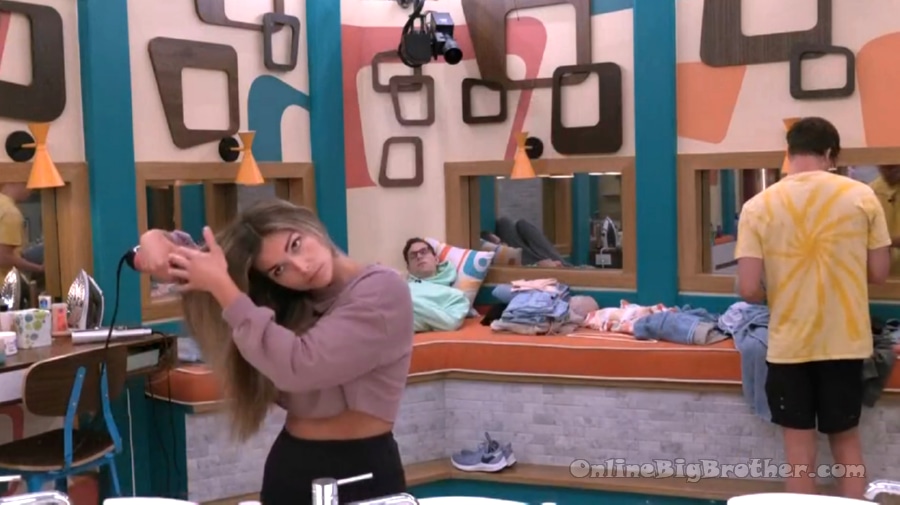 1:26 pm getting ready for the nomination ceremony.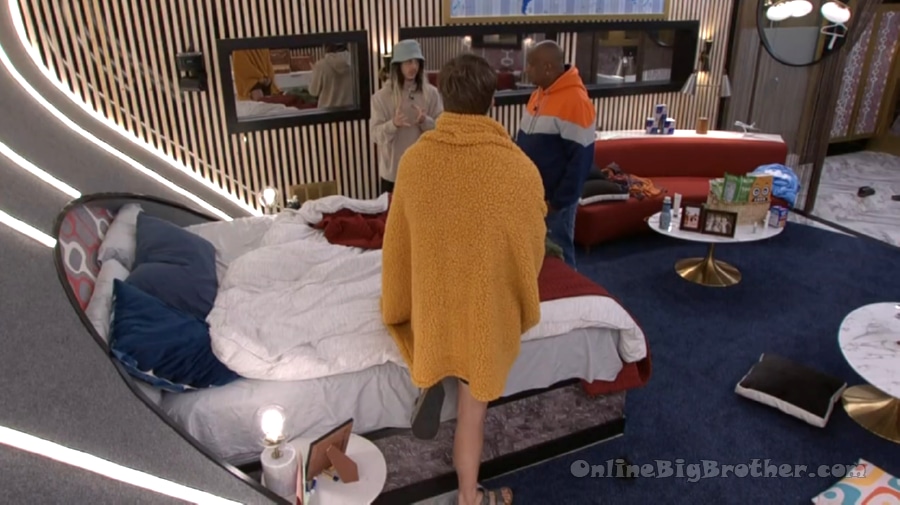 1:38 pm Turner and Terance.
Turner – I'm going to put up Taylor and Brittany up and try to backdoor Michael if he wins we'll kick Tayklro out is that okay with you?
Terrance – I'm solid
Turner – I'm riding or die with the afterparty.. Ideal Michael Second taylor
Kyle joins them.
Turner says that it's clear Monte is not with these people he wants them out so there is a chance they can pull him in .
Terrance says the only worry he has is he tried to betray Monte.
Turner – you aren't even on his radar that's a thing of the past. We can do multiple weeks in a row getting those three out.
Turner – the afterparty totally safe this week that is my ride or die. then we take out Michael and Taylor
Kyle – they will lose their shit. They are like Cocky walking around so happy Brittany and Taylor they have no idea.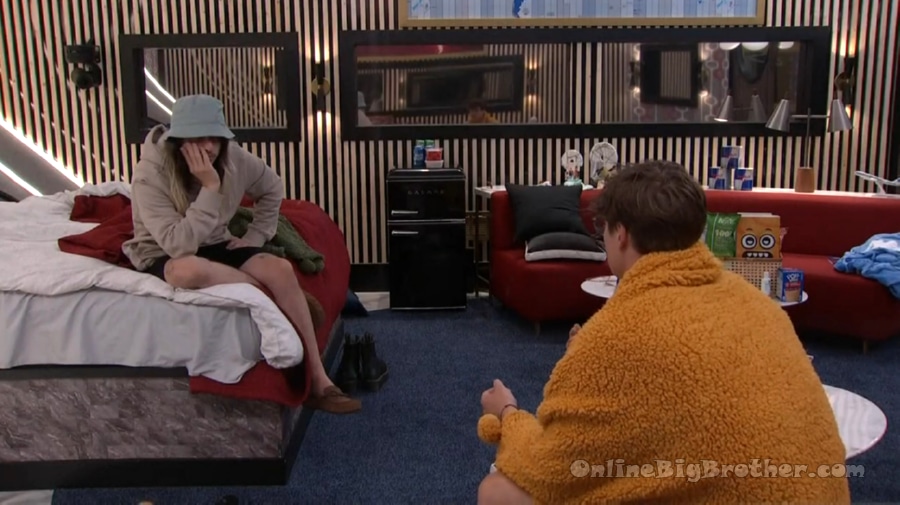 1:48 pm Turner and Kyle Agree they will talk to Monte together and tell him what happened last week.
They talk about how Turner will pin as much of his noms on Joe. saying that it was Joe that told him they were trying to recruit him to take Turner out.
Kyle – everyone will know Michael is the backdoor target.
Turner – Michael was in here saying 'I don't think anything happened on the inside
Turner – I was like the same as outside.
Kyle- it's pissing me off how much they are downplaying their week. We didn't do anything
Turner – you do realize we are in the same alliance.
Kyle – with Monte onboard I feel way more confident about next HOH
Turner – it'll be you, Monte, Alyssa, and Terrance. A 5V2 with the people I trust. If we can get Michael out who is a POWERHOUSE
Kyle – Dude we have a good shot to make it to final 2 there are not a ton of people I am super worried about. There's Michael and Brittany and that's it.
Turner- Michael and Taylor
Kyle- that is what I meant.
Kyle – Brittany is a liar dude..
Turner – all of them.
Kyle – I trusted them so up until the last HOH if Michael hadn't won and shown his cards so much I would have still trusted them.
They talk about changing the same of the Pound to the city council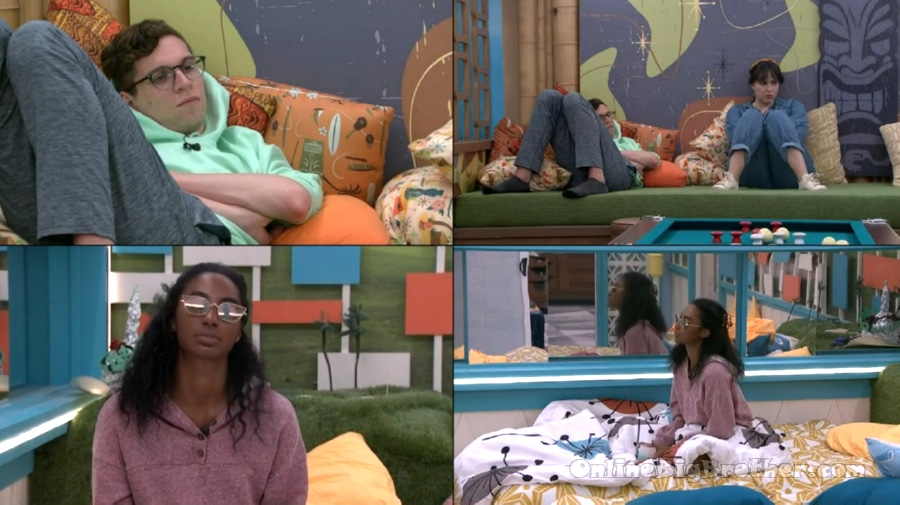 2:10 pm targets
Without reader support this site and these spoilers wouldn't be possible.
Please consider a donation to keep the madness going.
Any amount is greatly appreciated!