Quick Big Brother Spoilers
Head of Household:  Turner
Nominees: Taylor and Brittany
POV Players:
POV Winner:
Veto Ceremony:
Havenots: 
Lock your ranks in before midnight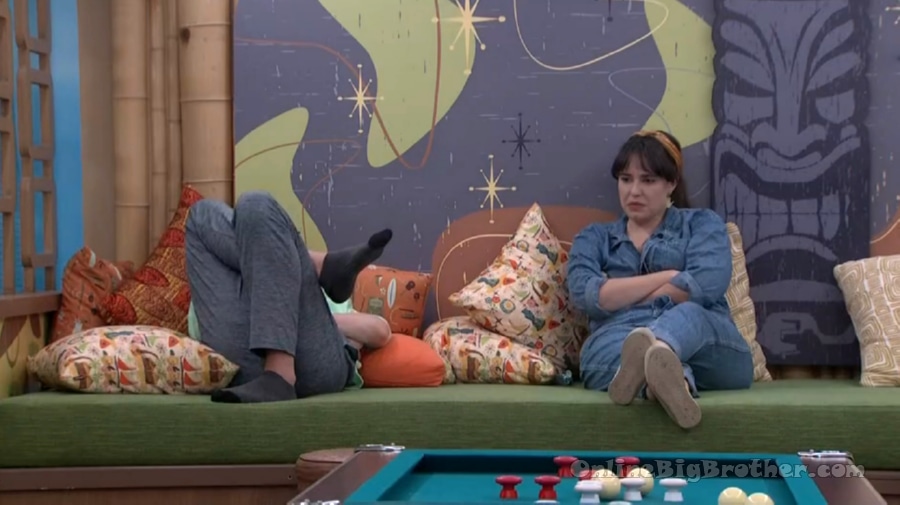 2:00 pm Michael and Brittany
They've been whispering for a bit.
Britt – maybe they are wanting to take a shot at Monte/Taylor. they don't care about us enough.
Michael – could be
Britt – I just don't think they would take a shot at us before them.
Michael – I'd be surprised especially if Kyle is in his ear
Michael – And Taylor had said she would put Turner up as a pawn.
Britt – so did Monte..
Michael – She almost did she said she was going to.
Britt – I forgot about that
Michael – I really want to talk with Kyle
Britt – I want to find out what happened without trying too hard
Michael – everyone is saying ohh Kyle you can get Alyssa to do anything
Britt – it's like her worst Big brother fear
Michael – that's what happened
Britt – she just doesn't know how bad it is. Her entire game is defined by blunders of trusting Kyle.
Michael – Kyle used the veto on her that one week then didn't use it to save her last week
Britt – I think she knows there is no shot at her winning
Michael – yeah
Britt – Terrance was saying Joe was trying to deny how close he is to Monte.
Michael – we'll just never know what was actually said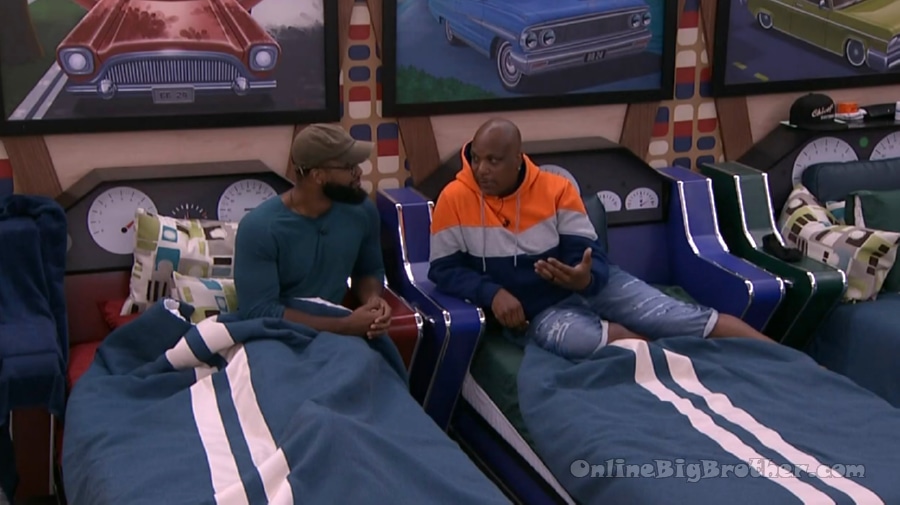 2:20 pm Terrance and Monte
Terrance – Dyre Fest.. oh man it was crazy bro I'll be honest with you. I wanted to check the temperature with the showmance Bro that was my priority because at the end I wanted to see what was going on with Joe. The Indy vote was kinda throwing me off with things.
Terrance – Bro who you got? who you with? Why you change your vote at the last moment?
Terrance – Initially I put up him and Turner. I said like bro just talk to me let me know what is going on. He was really vague not really giving me shit. I was like alright bro. Then his story was getting kinda crazy.
Terrance – he was saying 'I can go inside the house I can flip things I can show you I will sacrifice myself if it don't work I'll go home the next week I'll make sure you're safe'
Terrance – those are the things you can promise nobody Bro
Terrance – I'm still looking at the showmance. He's going off the rail, you make me flak up on you. F*** it pull Turner down put Kyle up
Monte – then the vote takes care of itself.
Terrance – gave me a couple more days to think and see which one is the more dangerous Is Joe more dangerous or this showmance?
Terrance – Joe was making himself look crazy bro just the things he was saying.
Terrance – he was working everybody having all these private meetings .. Bro he was walking like Pooch to everybody.. you got a minute? you got a minute?
Terrance – even when the veto is over with.
Monte – I was always close to Joe but I warned him you can play this game and play multiple sides but it'll come back to bite you.
Terrance says he was never included in Old Skool he was just in the room when Nicole formed it and he was added in.
Monte – on my side of things when it came to big Brochella it was a little bit confusing to me how Michael made his selections. He was forming what he thinks is the best combination to get jasmine out this week.
Terrance – the whole thing was to get Jasmine
Monte- it had to have been.
Monte brings up how Michael threw last week's veto to Brittany. He adds that Micheal could have easily won that veto he's a beast of a competitor they can't beat him at this point
Monte says if anyone wins the veto they have to use it to put Michael up. Terrance fully agrees.
Terrance goes on about how Joe "Pooched" himself over played making evicting him an easy decision for them.
Monte says Kyle has been dialing back in a lot of competitions.
Terrance – I watched him not knowing how to play cornhole to this man sitting there studying it and developing a concept and beating the shi1t outta turner. Turner was good already because he played with his family.
Feeds flip to Alyssa, Brit and Mike chatting.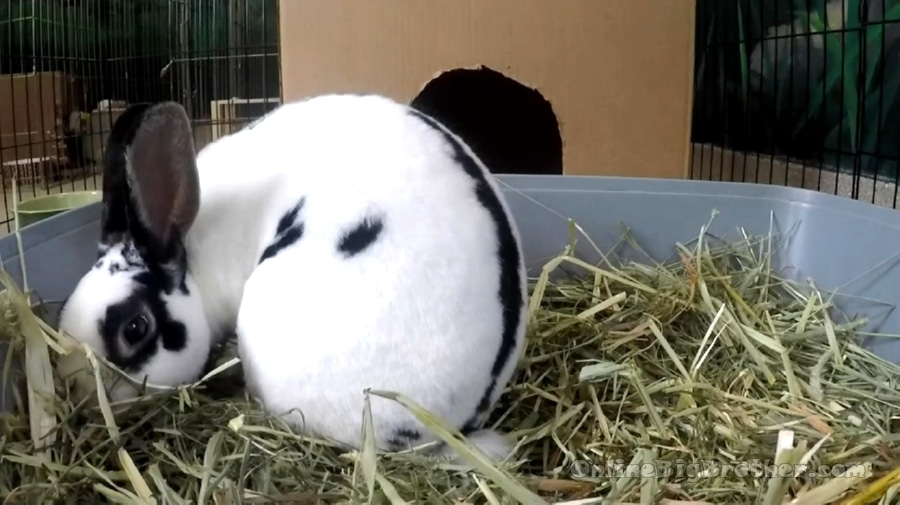 3:05 pm Bunnies
4:31 pm feeds return Taylor and Brittany nominated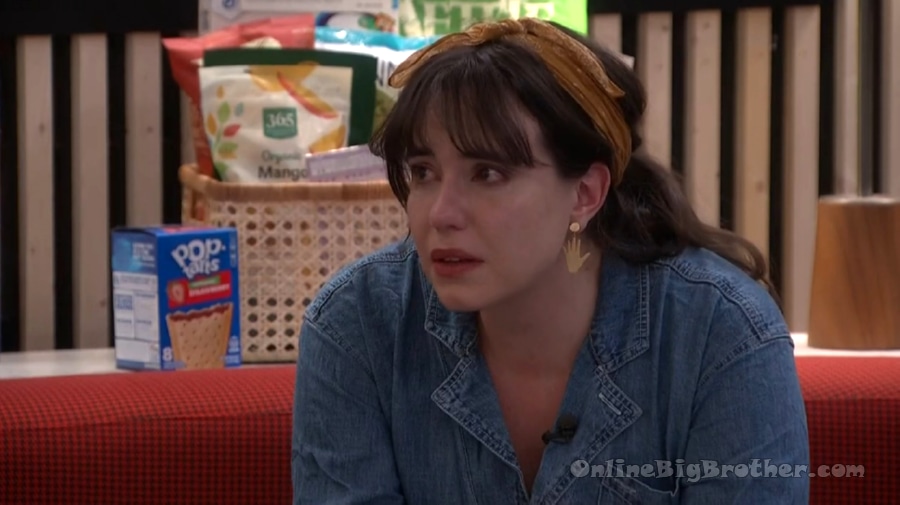 4:32 pm Brit and Turner
Britt – My head is hurting right now.. ohh my god
Britt – I don't know how Joe would say something like that if it wasn't true
Turner – he said Taylor asked me to go to the end with her and Brittany. Joe said no and killed it but clearly, Taylor has plans that do not include me.
Brit – Ohh my god and she told me like after I have a strong suspicion that Joe would want to go not only final three. her proposal was Michael, me, her, Monte and Joe stays he's a 5th.
Turner – you are not going home this week. I'm sorry you were the one that got the shit end of the stick here
Britt – I understand. I'm just trying to processing I felt pretty close to Taylor and I'm just kinda processing like ohh shit why were you playing.. why were you saying things and trying to maneuver and you didn't even try to tell me first? Give me a chance to say HEY. That's not fair I didn't agree to anything. She didn't even propose a final 3 honestly what reality did she think? it doesn't make sense.
Turner – I hope you understand why I put Taylor up and yo got wrapped up in this. I didn't want to go rogue against the leftovers but at that point I'm like okay Taylor clearly has plans that don't involve me.
Without reader support this site and these spoilers wouldn't be possible.
Please consider a donation to keep the madness going.
Any amount is greatly appreciated!