Quick Big Brother Spoilers
Head of Household: Turner
Nominees: Brittany and Michael
POV Players: Nicole, Taylor, Michael, Brittany, Turner, Jasmine, (Joe is host)
POV Winner:
Veto Ceremony: Michael/Brittany
Havenots: Alyssa & Indy
Lock your ranks in before midnight
Festie Besties:
Turner & Jasmine (She's also safe)
Joe & Monte
Daniel & Kyle
Brittany & Michael
Alyssa & Indy
Ameerah & Terrance
Nicole & Taylor
How Nominations will work: One pair will be nominated
How the Veto Player Pick will work: Turner/Jasmine, nominated pair, and drawn pair
– If one of the pair wins the veto, the other is also safe.
– If the nominated pair comes off the block, Turner would nominate another pair.
– Eviction: One of the pair on the block will be evicted
– Last pair standing gets a power.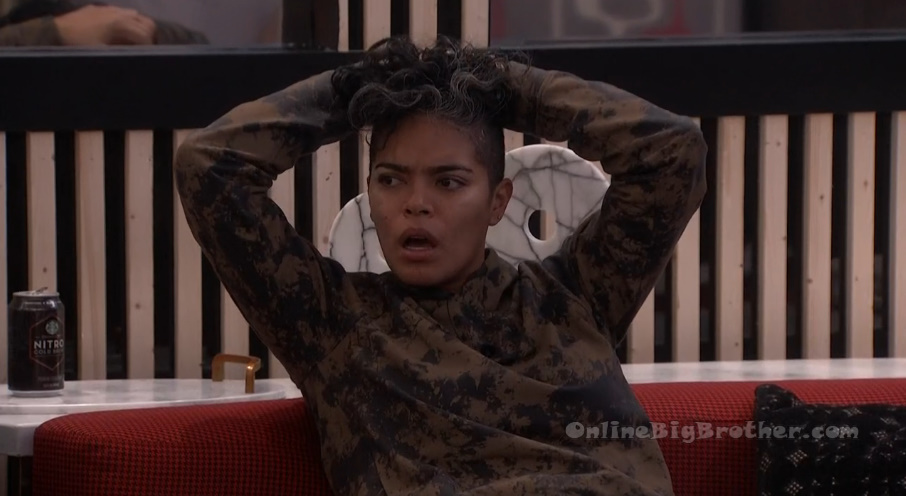 12pm HOH room. Nicole and Monte are studying the days / events of the season. Daniel joins them. Nicole brings up how yesterday Taylor told her its okay if she quits. Its okay if you bow out or somewhere along those lines. (When Nicole was notified that her mom was diagnosed with cancer) But she said it in a way that.. like did you really just say that to me?! Monte – and you walked out I heard. Nicole – well I immediately flipped it. So when someone talks to me in that way or in a manner of energy / negativity .. I immediately what to hand them their a$$ on a silver plater. And so the best way I know how to do that is to reverse .. do like reverse psychology… and like reverse like speech. And I was basically like that is not even in my vocabulary. That is not even an option and I went on this mini tangent where I was like I am here for a reason. There is no way that I am going to quit! I am not going to let anyone allow me to quit and then I made a point to where I was like I already know if something happened to my mom that my sister is not even going to let me know because she knows that I am doing this partially for my mother. So I went on this whole thing and I honestly don't even remember what I said. When I am angry or mad, I am an angry cleaner. Like I folded this sweater like 5 times. When I left I was so angry I had to go blow off steam. When I left I ran into Ameerah because she was in there when Taylor said what she said I said to her in a sarcastic way ..will you let me know when I'm ready to quit?!!?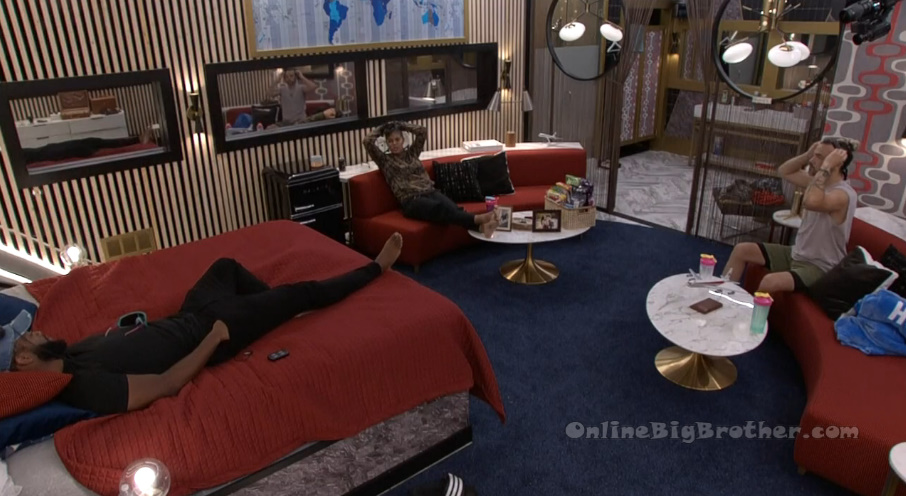 Bathroom. Indy, Alyssa, Daniel, Kyle and Joe.
Alyssa says that she wants to get two dogs when she gets out because one would be lonely. Indy says that she wants to get one but hopes she will have a boyfriend so he can help her take care of it. That's why I don't have a dog.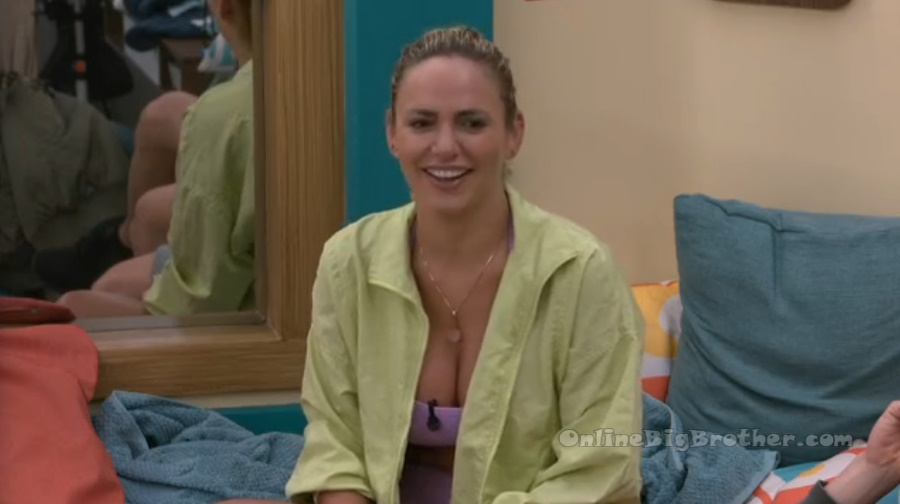 12:32pm Bathroom – Kyle and Turner.
Turner whispering to Kyle about the HOH gang talking about Taylor – … they called her a b***h and I was like dude! What the f**K! It just feels so f**ked up. I just feel so bad. (its very hard to hear since Kyle is showering and they're whispering.) Turner – I'm going to go up in a second and see if the conversation has shifted. Kyle – what were they talking about? Turner – what I just said. Kyle – up in your HOH room? Turner – yeah. In my room so I was like okay I am going to go. Kyle – who is up there? Turner – Daniel, Nicole, Ameerah.. that whole gang and then just Monte and Brittany is there too but they're not adding any fuel to the fire.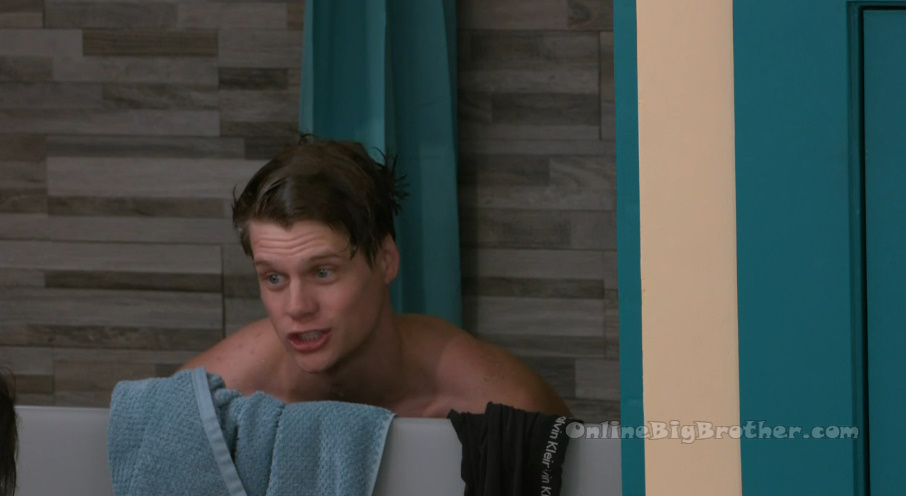 12:40pm – 1pm Kitchen – Jasmine and Terrance.
Jasmine – did you hear us in the bathroom this morning? Terrance – no. Jasmine – that someone came into the bedroom last night and said that Indy said that me and Turner and you and Ameerah are probably going to have to see the block. Terrance – that we have to see what? Jasmine – to see the block. And I'm like if thats the case, who are your targets? And that is between me and you. I am like what?! Terrance – low key! I am happy who initially did but shorty can go too! Jasmine – and who are you (Indy) to be saying something like that. How about you win something first! That was just out of pocket for me. Like get out of my face! They speculate on what the twist is for the people who stay.

1:30pm Workout Room – Nicole and Indy.
Indy – how are you feeling? Nicole – I'm okay. I know I need to talk to her (Taylor). She asked me to talk yesterday and I said when I am ready I would come so I am okay. Yesterday was just a lot. Indy – I know, for everyone but especially for you. Indy – has Daniel ever said anything about me? Nicole – he's never said anything about you. Do you feel.. Indy – No, I am just afraid since I am not interacting a lot with people the last few days. Nicole – I think by now .. like think about the 8 that have been havenots know what you're going through so I don't think you should be worried but also you have to realize we don't all have connections in the house and that is okay. You don't have to be everyone's best friends.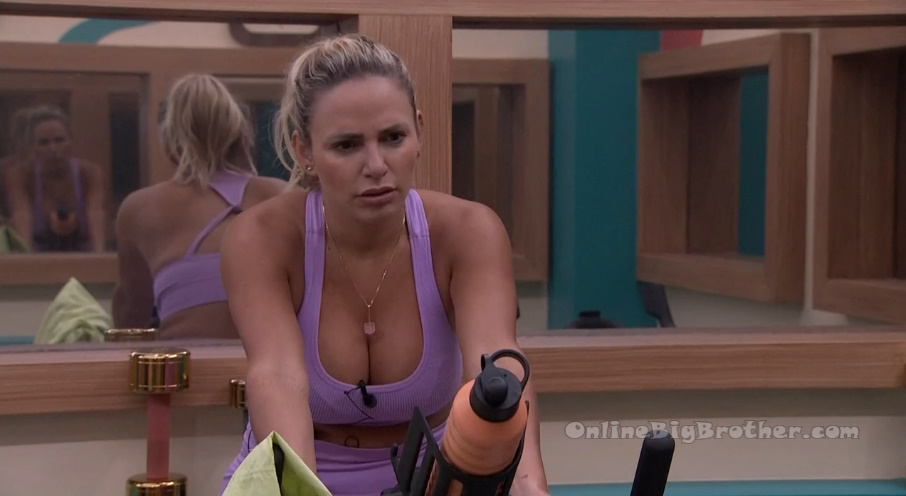 1:47pm Big Brother opens up the backyard for the house guests.
2:03pm HOH room – Turner and Monte.
Turner – You have no idea what people have been through and why they are the way they are. Like this is kind of off topic but when I came up here I was here for like 2 minutes and then left. Monte – I saw what happened. Turner – I felt so awful because … okay Taylor can be annoying sometimes and we're working with her in an alliance … Big Brother switches the feeds.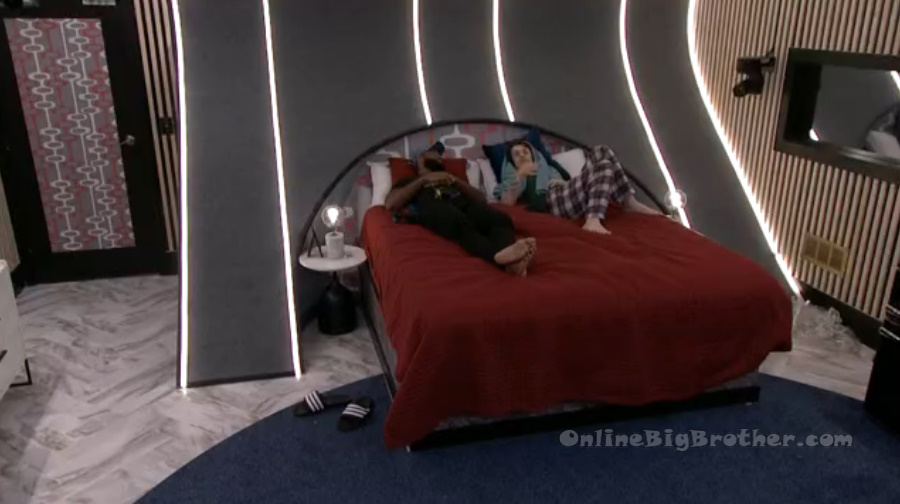 2:05pm Nicole comes up to Taylor in bed and tells her that she wants to talk to her… but she just wants everyone to enjoy the outside right now. I just want to make that very clear. Taylor – Yeah, yeah.. and I will get outside too.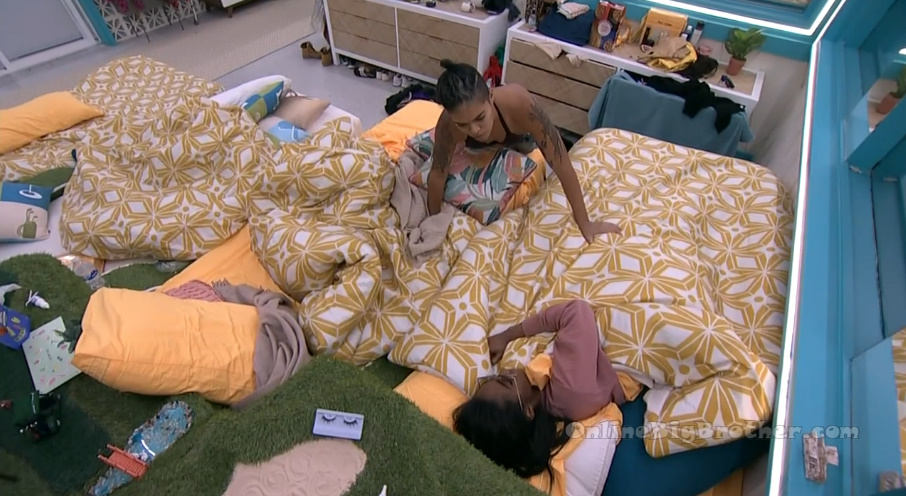 Joseph "Dude, I'm coming in!" #BB24 @bigbspoilers pic.twitter.com/ueiWI4mTmN

— Dawg (@DawgsBigBrother) July 24, 2022
3:03pm Bathroom – Daniel and Nicole.
Nicole – Indy has already mentioned to Ameerah that she thinks you and I are too close and then I was with her when she was on the bike and she asked me pretty much if you were to be on the block with Jas who would I send home? She was like I am just making sure you're aligned with the women… and its like B***h! She was like I don't ever want to ask what alliance you're in and I go but I'm not in an alliance and I was like so what do you want to ask me? And she also said the same f**king thing to Jas. Now she has already talked twice about it. And so me and Jas were talking and she was like listen when it comes to fem fatal and when it comes to Old School… in her eyes you have priority over Terrance. Daniel – in who's eyes? Nicole – Jas's eyes. That you're ours, like we're going to protect you. So I just wanted to let you know that I will definitely be trying to distance myself from you especially when we're in the room at night going to bed. I want her to avoid her talking about it. Daniel – sure. She sucks! They head to the storage room.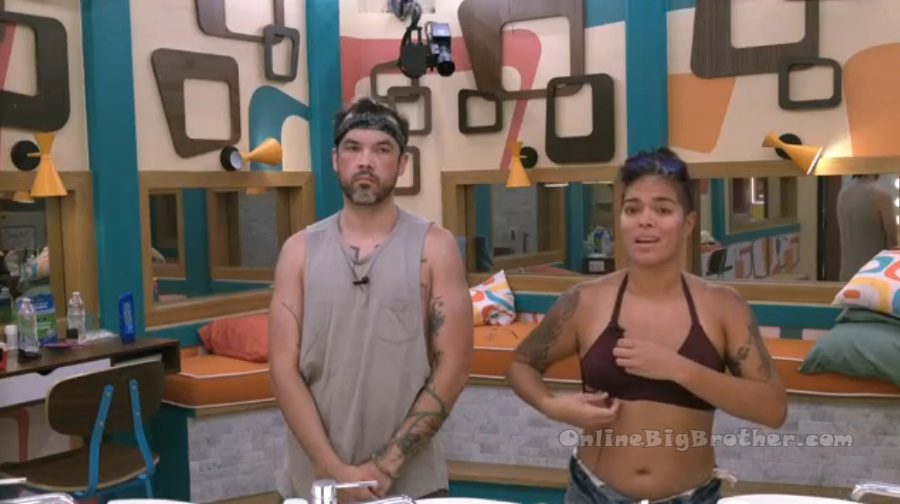 3:28pm – 3:45pm Bedroom – Taylor talking to the cameras.
Taylor – my obvious target is going to be Daniel going into next week. I just need someone in my group to put him up and obviously I would prefer to do it. And they're my targets. I can't put myself up next to Nicole. But if Joseph or Monte get HOH… I want him (Daniel) gone! I am just sick of playing everyone else game. I want to play my own. I want those three gone. I want that whole room gone. Those three got to get the f**k out of here. I want Daniel, Nicole and Ameerah gone! And all whatever alliance happened last season, this season I don't have to care and that's what's freeing. Leftovers are about to be the main alliance. Alyssa has a really good social game and I would love to have her on my jury. Alyssa is the second person I've talked to about protecting the women in the house and that means taking her to jury. I don't want to betray that.. and that will be an easy carry since Kyle will want to take her there too. And they can hook up in the jury house.