Quick Big Brother Spoilers
Head of Household:  Taylor
Nominees: Indy and Terrance
POV Players: Taylor, Indy, Alyssa, Kyle, Terrance, Jasmine (Host is Turner)
POV Winner: Kyle
Veto Ceremony:
Havenots: 
Lock your ranks in before midnight
The twist
Wording from the Thursday night show
For the first time ever the game will completely change as the house splits into two groups. These two groups will have no interaction and in a Big Brother first, two completely separate games of Big Brother will play out simultaneously all week long all of it culminating with a double eviction like no other"
Reward / Punishment Veto Results:
– Kyle won the veto
– Alyssa won $5000
– Jasmine won a trip to London, England
– Terrance – "Ink 182" 182 temp tattoos
– Indy has to wear a "Punkitard" for 1 week and perform concerts
– Taylor and Joseph will be chained together for 24 hours.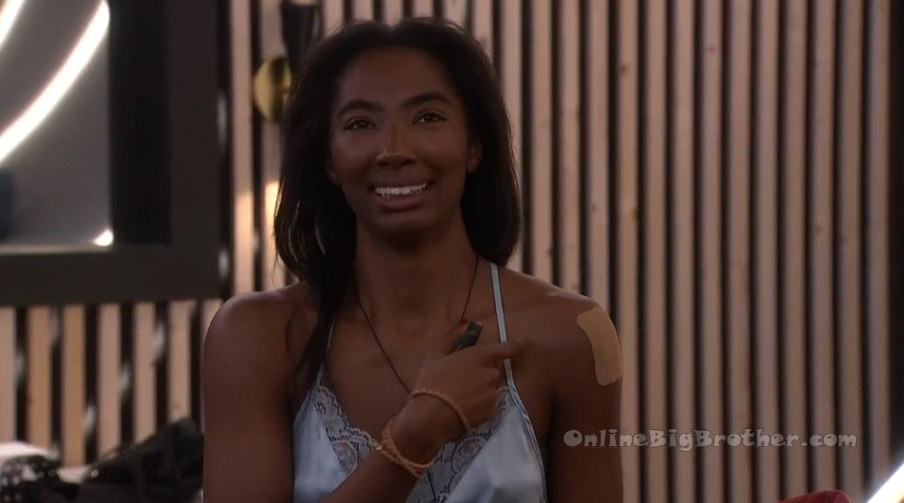 1pm HOH room – Michael, Taylor and Joseph.
Taylor – Its just funny because to you all I seem revenge thirsty in every conversation I have. So and so said this about me, I want blood. So and so said this about me I want blood. Joseph – no, I don't think so if you were Jasmine would be going home this week. Michael – and you have reason to send every single one of them home so take your pick of what reason you want to use. Taylor – do I want things that happened 2 or 3 weeks ago or do I want something that happened in front of the whole house yesterday. With a target that gives us very little reason to send her home. Michael – so what happens if Kyle doesn't use it like things stay the same and … whatever we go forward but what does that mean if Kyle doesn't use it. Taylor – like how do we feel about Kyle if he doesn't use it. Joseph – oh that is very awkward, very awkward, very awkward. Taylor – yeah and someone is going to have to say that to him. And you're forcing the alliance once we get to seven to come for you. And honestly I might be the one to tell him that because I've had some pretty strong conversations about his mom, his grandma and how they might support me more than him. Joseph – be careful like making it like a threat. You definitely don't want to do that. I am really nervous that once we get to seven your hesitation is going to be the one card that people are going to have a reason. Michael – because if we all stay strong and we're all committed to this which I believe we all are.. so at that point what criteria do we go off of… and the smallest thing. Joseph – you are right. Taylor – and this is literally the best position for him to be in to take Alyssa out. Joseph – he can be like I sent my showmance home for you guys and with no hesitation. Taylor – and it was going to happen last week on the other end. Taylor – I don't want this to be the cleanest opportunity to send Alyssa home and then for it to not happen and then for him to be HOH next week or the week after and then have to do it. Joseph – yeah because he is going to have to vote against her regardless. Joe leaves. Alyssa joins them.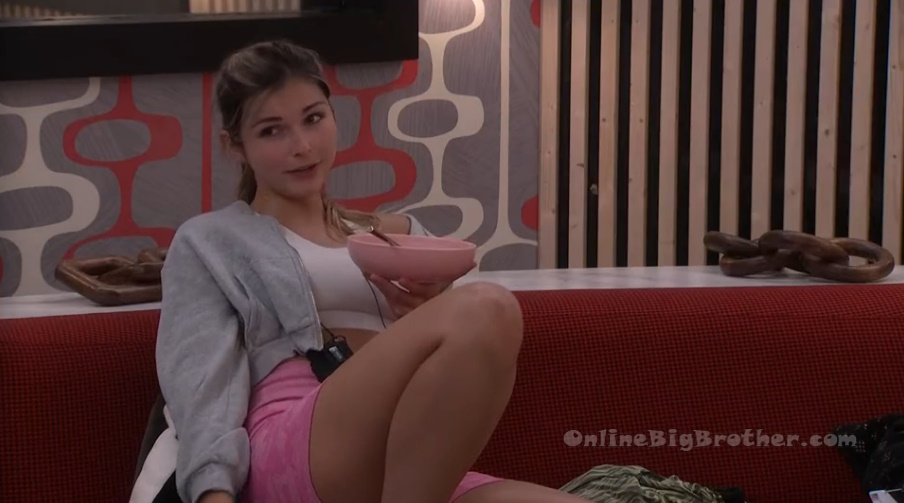 1:15pm Backyard Pool – Monte and Joseph.
Monte – is Taylor serious about it? Joseph – yeah! Monte – is Kyle going to do it. Joseph – yeah but Kyle doesn't want to. Monte – oh really?! Oh sh*t! Joseph – yeah, I know. Monte – oh this is a pickle! He verbally said that? Joseph – yeah. Monte – oh sh*t! Joseph – so like obviously Kyle is like dude I'll do anything for the alliance, you know I don't think with my d**k but he is kind of like I thought Taylor was joking about that. Which Taylor kind of was but she was like the more I thought about it the more I feel like this is the chance and maybe it sounds like a petty reason and its not the greatest reason but that's because Alyssa's game is so f**king good no one can go up and put her up so she was like ..lets say you win HOH next week Joseph what would your reason be? And I was like I don't have one. What is Kyle's reason going to be .. he doesn't have one. What's Turners? What's Brittany? What's Michaels? No one has one. Monte – I have one .. not publicly. Joseph – yeah, you're her biggest threat and she still has not said anything about you negatively. She just plays a way to good of a game. So Taylor is like the fact that we're having such a big deal about putting her up… Monte – is a sign. Joseph – So she is like Terrance should come and Alyssa should go up. So we kind of all agreed and Kyle was like.. Monte – the love thing. Like the matter of the heart. Joseph – not even, he was like we have four people dude and Indy is annoying as f**k! Like why are we sending Alyssa?? Monte – but my reason with Indy is there will always be a very obvious reason to get her out.. she rubs people the wrong way. Joseph – We spoke last week about threat levels and Alyssa was the highest.. she was like the reason I didn't put her up was because I didn't have a reason. Alyssa is playing a good game but I just don't know why we're playing it backwards. Like people are starting to focus on the social aspect and annoying so that I want them out of here. She was like we're losing sight like Terrance was the lowest threat and the first one out the door.. Like why are we playing backwards. I agreed. Monte – what was Kyle saying? Joseph – he was like there are four people in the house, I don't see why it has to be Alyssa. Monte – okay, so has anyone talked to him and be like will you be willing to take that risk? Joseph – he said he is. Terrance joins them and the conversation ends.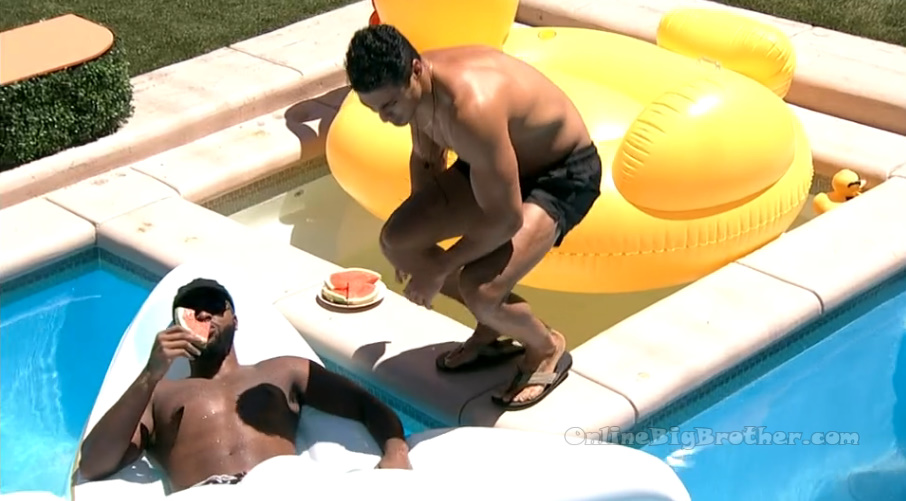 1:55pm Bathroom – Alyssa and Turner.
Alyssa – I'm just feeling emotional this morning. I am just like Ah.. it just makes me anxious just being here and not knowing what's going to happen and then having to do it all over again week by week. Turner – do you feel any anxiety towards this week or is it totally disconnected from how this goes. Alyssa – a little bit, like I was just thinking like I just don't know where I stand with many people and especially the person and if he was to do that and I was to go up and I was to go home and then I was to be alone in the jury house. Turner – well if this helps which it probably won't because I have no idea what I am talking about but I don't see a world where you are alone in that jury house this week at least. I haven't heard your name at all. Alyssa – can I tell you something, Kyle and I like.. (had sex) Turner – that's nice! Like all? Alyssa – its like it makes me anxious almost and now I don't want those feeling too dictate how I feel in this house and I don't want to feel more connected to someone and I am like I don't want to feel more connected to someone.. like was that just temptation and now I feel like I don't know .. and now I haven't really talked to him today. Like is it weird now? That just makes me super anxious but please don't tell anybody that. Turner – I am not going to tell anyone that but … and this is probably the wrong follow up question but just out of curiosity where did this happen? Alyssa – in the havenot room. Turner – OHHHH how romantic! Alyssa – in front of everybody .. in front of America! Turner – do you feel like that brought you two together .. like a bonding experience? Alyssa – I don't know. Turner – I feel like in this house it could make you overthink everything but its also a beautiful moment and I am happy you guys had that. Alyssa – it was a very nice moment. Turner – I know Kyle is obsessed with you. He cares a lot about you. Alyssa – okay that makes me feel better .. and like he's slept with 2 people in his life and now did I just.. Turner – yeah, now you just added to it .. now he's slept with 3. Alyssa – and like this is a game and so it adds that to it .. and the last relationship I was in every time we had s*x I would cry because I didn't want to be there.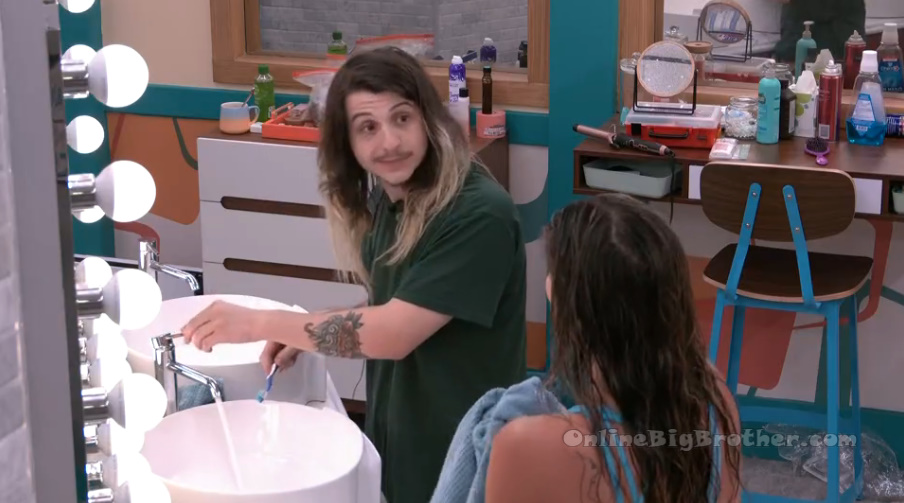 2pm Bedroom – Kyle and Michael.
Kyle – I have the power … I have the power .. even if Taylor is pissed at me what can she do? And I keep reiterating our goal was for whoever feels comfortable taking that shot is going to take it. Taylor has said that she is not willing to take a shot at Jasmine because of personal reasons, and I am not willing to take the shot at Alyssa because of person reasons and we have two other great targets up there on the block that you put up. Michael – that's a good argument. You're not willing to take the shot because there are other options. Kyle – that is just crazy because I just talked with him (Joe) and he was like no we understand, Taylor is not set on it. We're good. We can keep them the same and then he runs up and spins the narrative like the different.. like its a red flag! Michael – you can tell that he is firing her up. Like how could she do that .. and like how dumb could she be? And all that kind of stuff.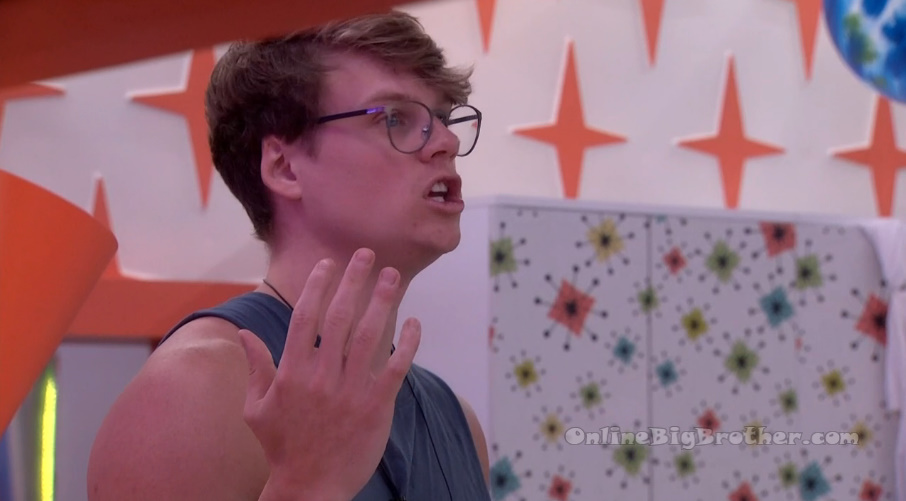 2:15pm Bedroom – Turner and Kyle
Kyle – Michael and Joseph went up and talked with Taylor and they're trying to flip it hard for Alyssa. They're trying to get Alyssa out like crazy. They're saying that everyone does but I am like I don't think everyone does. Michael doesn't. Turner – we just need to all get in a room together. Kyle – but I can't be the only one to stick my neck out for Alyssa because that would be a huge red flag. (LOL grow some balls and say its not happening!) Like Kyle is trying to protect his showmance but in reality its like dude Indy is the biggest threat to my game. Turner – same. Kyle – so like why is it even a conversation? And then to even have Joseph go up as a pawn .. like there is no need! Turner – at the end of the day .. you have the veto and at the end of the day its up to you. Kyle – at the end of the day it should be who we're comfortable taking the shot at. I am comfortable taking the shot at Indy and I just need support from you, Michael, Brittany. Turner – hey also I know that I am not supposed to know this and I am not supposed to tell you that I know this but I know you guys F**KED yesterday which is dope! But that adds a whole other level to this! Kyle – I know.. how did you know dude?? Turner – because Alyssa was crying and she doesn't know where your head is at today .. I was like this is Kyle .. I'm sure you guys will connect tonight and it will be fine. Kyle – well I have to be cautious now with the alliance coming after her. Turner – after that (s*x) I would even feel awful if you used a veto that got her out. Kyle – that is what I am saying! Kyle – you have to keep that between us. I just want Indy gone .. and Alyssa is so attached to me which is bad. I really like her. Why was she crying. Turner – she is on her period as of today .. or I don't know what you experienced. And she misses home. And she said that Kyle seems upset today. Kyle – this is so awkward now because how do I tell her we need to distance ourselves. She (Taylor) is easily influenced .. this could have been the most easy week and she's gone from 2 alliance members, to pawns, to Terrance, to Indy and now to Alyssa. It should be an easy week, like why is it so chaotic?! Turner – 1 million percent which is why I am glad you have the veto.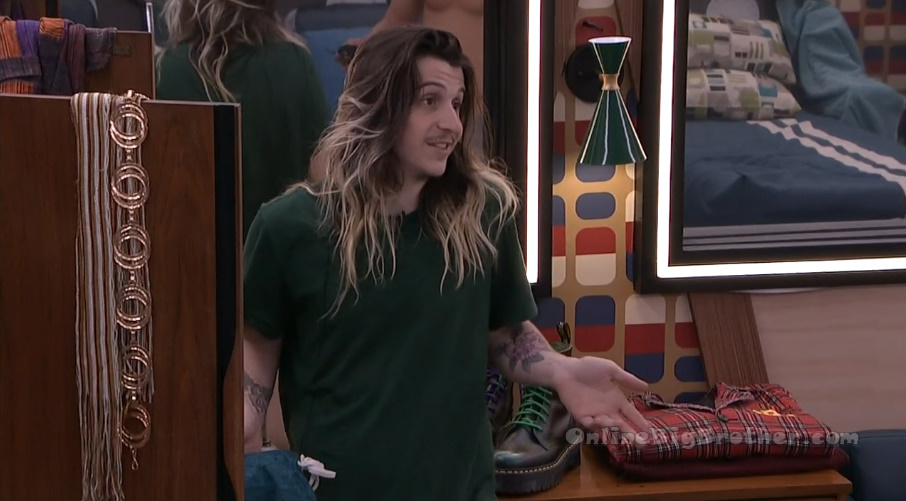 2:30pm Bathroom – Alyssa and Kyle. All is good in the world of love again..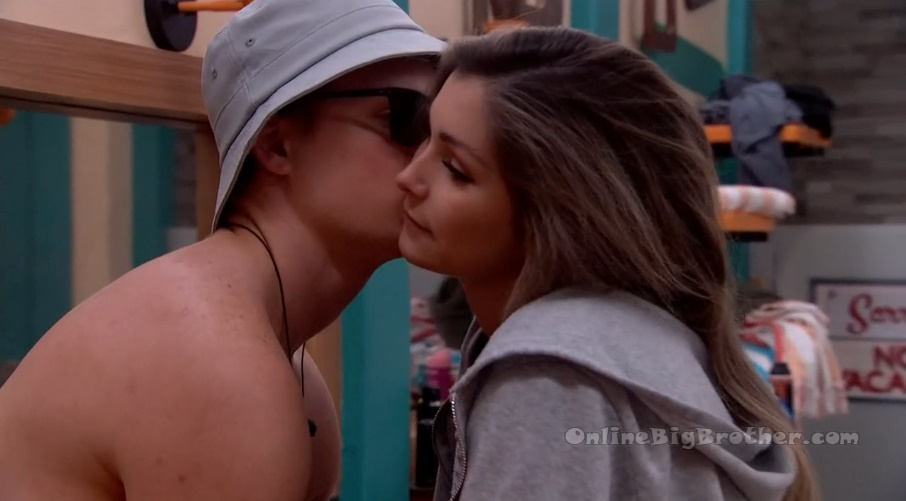 3pm Kitchen – Turner and Monte.
Turner explains that Kyle does not want to take the shot at Alyssa. Monte – my only thought to that is he going to be willing to take it later on? Or is anybody going to be willing to take it? Is anyone going to have a reason to take it later on? Versus now with Taylor who has a very clear reason why to take the shot now.. Turner – all I am going to say is that those to have very recently gotten very close.. Monte – which two? Turner – the two we're talking about. Monte – Kyle and Alyssa. Turner – They have gotten very close in multiple ways … very close .. very recently for that to then feel like a whole other level of betrayal if he uses it and then she goes. (LOL Turner cannot keep a secret at all) If you're catching the drift I am trying to say.. Monte – yeah yeah.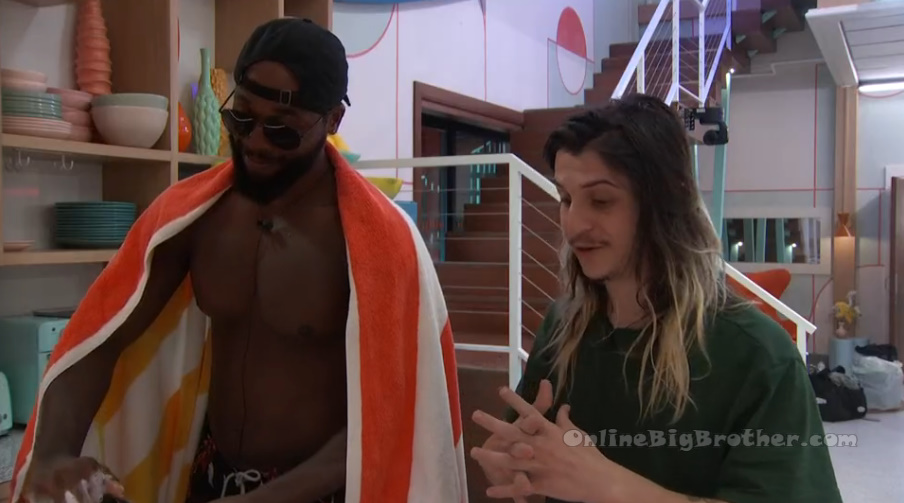 3:10pm Bathroom – Monte and Kyle.
Monte – the only thing that I think is slightly compelling about the argument for Alyssa this week is that I don't know if there will ever be a reason to evict her at any point moving forward. Kyle – yeah. Monte – Like this was something that was done in front of the whole house …right like she snatched the London thing and then even after Taylor said all that. Honestly if that did not happen I would not be down for this plan at all. Kyle – why did Taylor pick Alyssa to play in that? I don't understand it. Like if Alyssa won it, she doesn't have an option to go after Jasmine because she's black. Monte – I completely agree. I don't know why she chose Alyssa. Maybe it was to get in Indy's good graces by like look I'll pick your friend to show you that you're not my real target. Kyle – but worst case Alyssa wins and takes down Indy .. then Taylor can't put up Jasmine.. like what the hell?! Monte – yeah that was a bad move. Kyle – and then like there are four left and its up to me to backdoor Alyssa… like what the hell. And if I use the veto they're going to know that I was in on backdooring Alyssa.
3:25pm Backyard – Michael, Joe, Brittany, Turner and Jasmine.
Jasmine wants a happy birthday balloons and to release them into the sky to celebrate her and her Dads birthday that they share as her dad passed away 3 months ago Turner – Releasing a balloon into the sky might pop and a bird might die if it eats that. I am open to all options. anti-balloon releasing. Michael – if we don't have the backyard is there an alternative you would like to do? There's a long awkward silence. Jasmine is silent and leaves.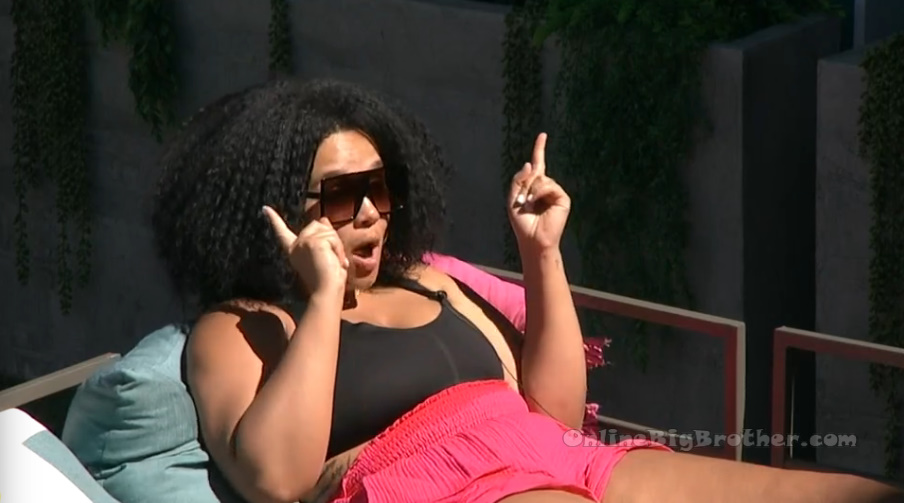 3:30pm HOH room – Monte and Taylor.
Taylor – Alyssa not picking the veto and when you have something that is that simple ..like you can't let someone get away with that because god forbid we put her up and she comes off the block. God forbid she doesn't touch the block, stays and wins HOH .. we are going to be .. Big Brother switches the feeds. Taylor – her (Indy) check-ins are so obvious. Monte – Alyssa's check-ins are so subtle .. she will sit here all night. She has her own way of disrupting what we have going on. I am also fine with her (Indy) going. Kyle feels like he would evict Alyssa if he had no other choice but what if Alyssa is the best option and there are other choices.