Quick Big Brother Spoilers
Head of Household:  Taylor
Nominees: Indy and Terrance
POV Players: Taylor, Indy, Alyssa, Kyle, Terrance, Jasmine (Host is Turner)
POV Winner: Kyle
Veto Ceremony:
Havenots: 
Lock your ranks in before midnight
The twist
Wording from the Thursday night show
For the first time ever the game will completely change as the house splits into two groups. These two groups will have no interaction and in a Big Brother first, two completely separate games of Big Brother will play out simultaneously all week long all of it culminating with a double eviction like no other"
Target Change
Taylor now wants Alyssa gone this week she wants Kyle to use the veto on Terrance so Alyssa can go up.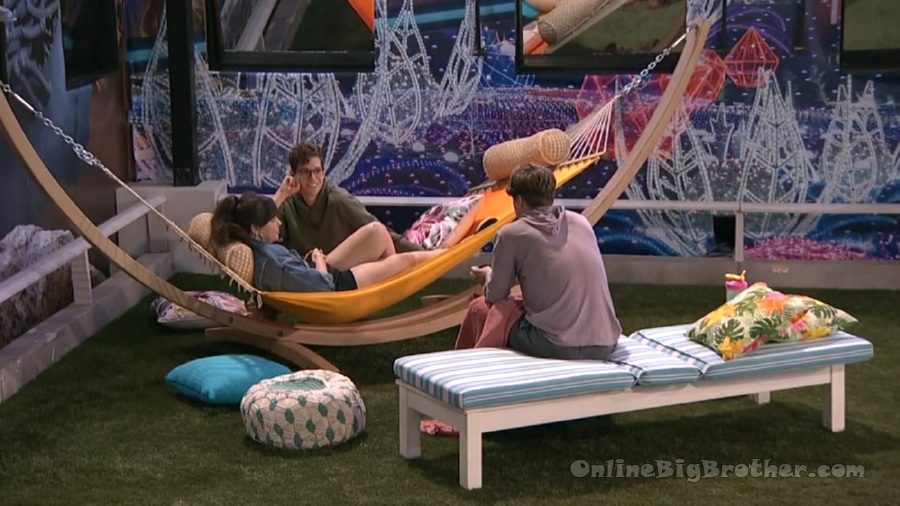 midnight Kyle, Britt, Michael
They're talking about breaking the alliance early. Britt says if they do "break" early they have to ensure the majority is on their side.
Michael – Alyssa is a good competitor If things fall apart before seven I would like Alyssa competing with us just as a number
Britt – We would have Alyssa they would have Terrance.
Kyle – Alyssa than Jasmine.. Alyssa than Indy.. I wonder if it's 7 to 2 and joe wins HOH will he really be like…
Britt – the first strike against the leftovers you are getting some major blood on your hands
Michael – If Alyssa is left in the game he might go after her
Kyle – would be awesome but if we won HOH we have the option hey do we take that shot?
Britt – the leftovers will be the majority in Jury
Michael says keeping Alyssa in the house leaves their options open "I like that"
Britt points out that Joe votes out Ameerah and the girls love him she voted Ameerah out and now she's the "Devil woman. I literally told them the truth and they knew Ameerah was throwing out my name"
They all wish Jasmine was leaving this week.
Britt – that would make things so much better.
Michael – birthday trip.. go to jury.
Michael – Live feeders Jasmine has used her birthday to not go up last week, This week, to not be a have not, She yelled at Kyle to give her a birthday trip
Kyle – she brought that up three times in the comp out there.. 'I want to win something for my birthday.. it's my birthday week'
They go on about how Jasmine uses everything to advance her game. Birthday and Ankle.
Britt – her emotional manipulation is astounding
Kyle – once they realize Indy is on the block we're not using it they will distance themselves.
Britt – they are already distancing themselves a TON
Kyle – she doesn't like me AT ALL
Michael – I wonder sometimes if she even likes me
Britt – I know she doesn't like me because she wants to be your best friend.
Kyle – now that I have the veto and I don't want to use it at all I'm bringing up solid points.. I don't want to use it on Indy she never thanked me the last time. She bosses me around and tells me what to do. She never talks any game with me since we started this fly-swatters thing. I even think if she won HOH she would put me on the block.
Kyle – I said to Alyssa honestly I wouldn't be made if she left this week and Alyssa was like me neither.
They agree Turner is very pro leftovers so any discussion of it imploding needs to be muted with him
Kyle – plus Turner has loose lips he lets things slip all the time.
They talk about Jasmine saying she never wears an outfit twice if it's in an Instagram post and how she wants to get liposuction if she wins Big Brother.
Britt – that bothers me because I don't want people to think she would be the ideal person to take to the end.. SHE NEEDS TO GET OUT NOW if not it'll look too enticing
Michael – I thought the same about Terrance.
Kyle thinks the leftover implosion will have when they hit 9. They will have 5 people versus the other side with 4.
Kyle thinks the first person to go should be joe.
Kyle says his relationship with Turner has become stagnant.
Britt – keep building with Turner all of us and with Alyssa..
Kyle – I need to take a steps back and make sure the 7 feels solid
Kyle says he and Alyssa don't talk game.
Britt – you got to weigh every minute you hanging with her is a minute you aren't somewhere else. Is that good for your game?
Kyle – I know what I am doing is the opposite of what I should be doing. I had the right mindset a couple of weeks ago. No showmance we're just friends let's work together.
Kyle – what do I do with Alyssa.. I would like to revert two weeks and just be .. maybe I can tell her.. I don't know it's hard when I'm portraying I'm this lost puppy like she is. She's like whats the harm in us hanging out people don't care.
Kyle – I have this other thing going that is the thing
Kyle says when there is a break with the leftovers they need to have someone on the outside in their corner.
Kyle – I don't have any relationship with Indy, Jasmine, or Terrance.
Michael – yeah
Britt – yeah
Kyle – us three only veto winners.. right?
Michael – we're the only veto winners left in the house.
Britt – how in the world can I fake happiness during Jasmine's birthday I don't think I have it in me.
Britt – she said everyone should get me a present for my Birthday. What am I going to give you on your birthday? This Pillow.
Michael – a sleeve of saltine crackers
They talk about how Jasmine clips her nails at the dinner table. "Gross.. ugh no"
Kyle – GOSH what was Alyssa thinking giving Taylor a punishment
Britt – I don't know
Michael – I wish Jasmine had stolen that trip from Taylor
They go on about Jasmine having done nothing and now she gets a trip.
Michael – I'm glad you won it
Kyle – I just really want Indy gone over Terrance that was my biggest hing. Do you feel like up in the group setting they're like nervous to bring up Alyssa as a target? Like worried about upsetting me?
Michael – they have a couple weeks ago
Kyle – I just don't want there to be side conversations like how do we position this with Kyle. When really it's If Alyssa is the target this week then lets send it and take her out I'm fine with that.
Britt says Taylor was pissed about Alyssa taking the prize. "She said do I think I'll be petty? I don't know"
Britt – she also said Alyssa doesn't talk to me.
Kyle – I told Alyssa hey that was a dumb move what are you thinking
Michael – you know Monday Jasmine will be done with Taylor so that's one thing Alyssa to not do. Keep that relationship going.
Kyle says when they get to 10 it won't be Turner that makes the big shot on the leftovers it be Joe, Taylor or Monte "They will need Terrance for four votes.. Me and you on the block"
Britt – that is why I like our idea of having the five.
Kyle – if one of them win HOH it will be 3-3 so they can take the shot.
Britt – that's scary
Kyle – that would be a big shot to force a tie break and have the HOH.
Kyle – I was freaking out last week about Monte, Taylor, and jasmine teaming up. Then that whole side Terrance, jasmine, and Indy tried to get Monte out the next day. So I was freaking out over nothing.
Brittany – that is why we need to get Jasmine and Indy out we need to dwindle those numbers so there isn't a backup plan for them. If they really want to gather up those numbers they would come after us next week.
Britt – god forbid jasmine wins HOH next week I don't hold it past her to come after us
Kyle – who will JAsmine put up?
Michael – me and Monte
Kyle – joe working too closely with her
They speculate if Terrance wins and puts up Michael and Monte they have the votes to keep Michael.
Brittany – if you used the veto on Indy that would score you some major point s
Kyle – zero chance. I've used it on her trust me she does not care she will say 'Kyle did his job and I want him gone next week'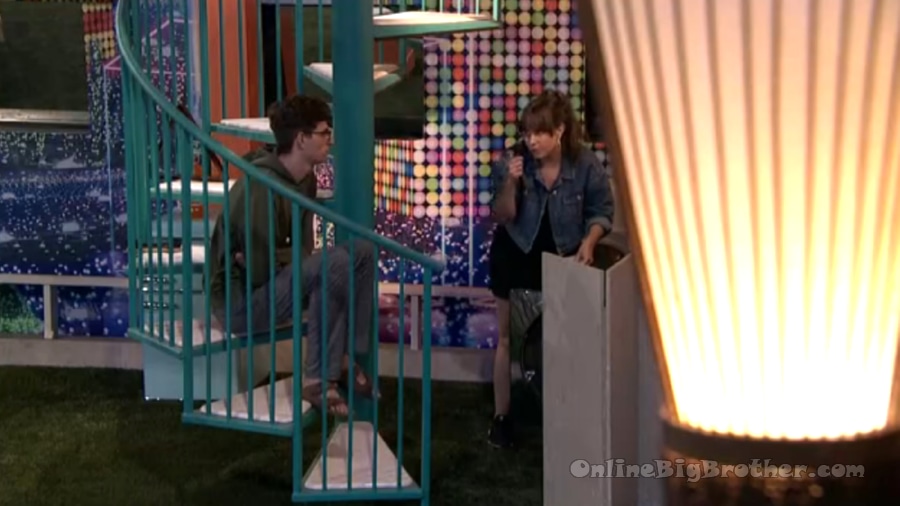 12:56 am Kyle and Brittany
Michael says Kyle gave them the ammunition they could use against him.
Britt – I do like that you and I are a pair and him and Alyssa are a pair. With Taylor, she would be silly to want to go to the final 3. I don't buy that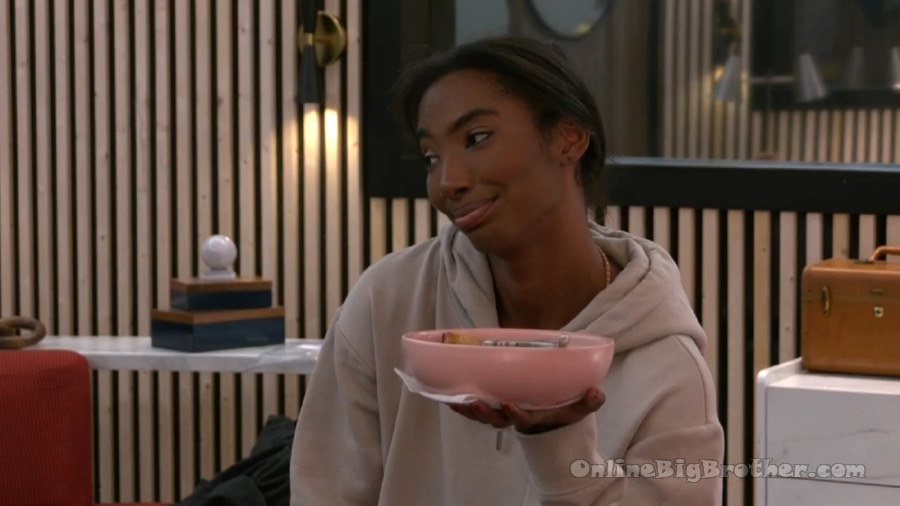 2:36 am Turner, Taylor and Joe
Joe says it looks like she's going to put Alyssa
Taylor – It so easy not to give someone a reason not to put you on the block. This is the easiest thing to play. this was a bad game move that you did to yourself.
Joe – I really like her I don't know who would go up between her and Indy
Turner – I'm backing you up to say if someone took a London trip from me.
Joe – Jasmine was hyping her the f*** up for doing it.
Turner – I say it in the kitchen.
Joe – they were telling that that is exactly what you should have done.
Joe – Alyssa is a savage her social game is SO GOOD. she's a shark. Jasmine, Indy, and Alyssa are all sharks but Alyssa is good at hiding it.
Taylor goes on about how she'll use the excuse that Alyssa went for the prizes not the veto. "you had a trip to London now it's been re-routed to the jury house.. bye"
Joe – Kyle has to use the veto
Turner – is there any pro to sending Indy home?
Joe – it can be Indy or Alyssa. I would say Alyssa because Alyssa can win the HOH over Indy.
Taylor agrees.
Joe – Indy is socially and game-wise nowhere near Alyssa..
Turner says if Alyssa and Indy go up Jasmine will campaign for Alyssa which will put a wedge between her and Indy.
Turner – like Brittany said there won't be a lot of openings to send Alyssa out the door
Taylor – peacefully
Joe – that is very true..
Taylor – she did it to herself. I didn't even think about this until she started acting afterward.
Joe – she might have saved Indy's a$$ by being shady like that… coming in here crying
feeds flip to jasmine sleeping. When we're back Joe is gone and Michael is now with them.

Taylor – So Alyssa is out the door and Indy will be Unbearable.
Michael – I would rather have a frazzled Indy than a motivated Alyssa. if INdy goes home she'll be like what the f**
Taylor says her order is Alyssa, Jasmine, Indy then Terrance.
Taylor will expose Alyssa's and jasmine's final two.
Michael – Kyle is the veto holder how do we present this in a way so he's on board?
Turner says he was converted "but at the end of the day he will need more reason than we all saying it's for the best"
Taylor says Alyssa tried to get Kyle out last week and it will be way more blood on his hands if they get rid of Alyssa later in the game.
Taylor – this was her doing it to herself.. any other week will be blood blood blood
Michael says Kyle and Alyssa have gotten a lot closer.
Turner – just last week she was going to vote him out.
Taylor – play stupid games win stupid prizes. you can now pay off that car baby.
Michael – it's wild to me that she would rather piss off you who is Hoh than Indy. She could have easily said to Indy if I save you we are both safe.
Taylor – go and mop around the house girl while you can. I really wasn't going to touch her
Turner – that is what happens when you make your own bed and lie in it
Taylor – I love when decisions are easy.. look at the bullshit we were about to do.. Joe go up on the block..
Michael – she will kick herself for this..
Taylor – LONDON and she didn't even get the London trip.. which is sad because she was playing a really good game.
Taylor says she would be stupid to not take Alyssa out this week.
Taylor – it's not that you took London away from me it is you took advantage of my generosity and everything I sent to you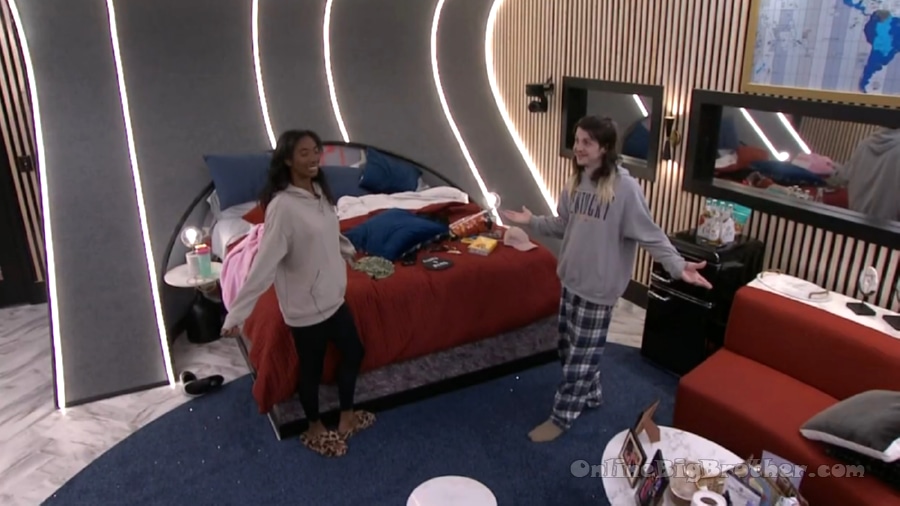 They start doing shoutouts.. "A month of leftovers HOH you must love it or are sick of it"
Turner heads to bed.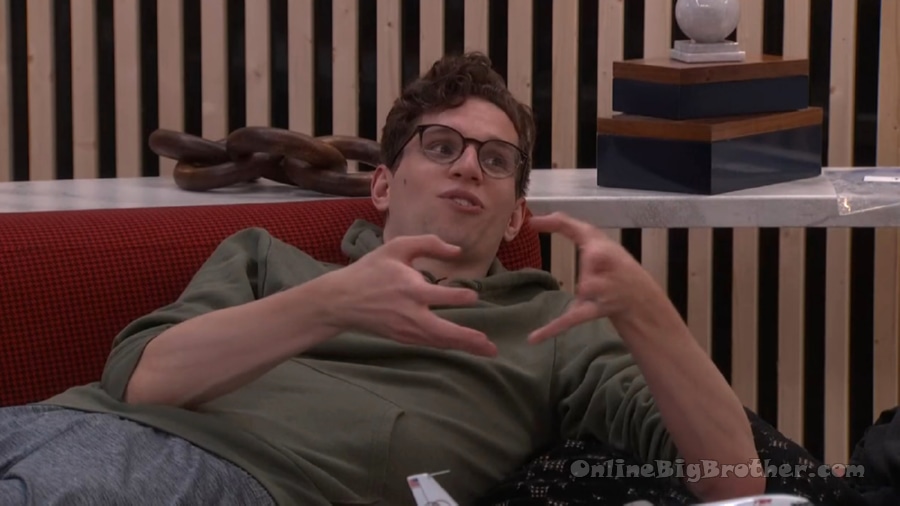 They talk about not liking Indy.
Michael – maybe it will be a double eviction on Thursday.
Taylor – PLEASE
Taylor points out she hasn't hung out very much in the HOH with Michael and Brittany.
Taylor says if she was smart she would make her Nomination speech Kind.
Taylor brings up Jasmine taking the trip and squealing 'It's my Birthday trip'
feeds flip.. when we're back
Michael – I got put up on my Birthday and we won the veto. I can't hate on the strategy if you think you can guilt someone into keeping you safe good for you but.. it's really annoying.
Taylor – it's really the worst. She's obnoxious about it. you know that's her strategy. Even though she doesn't give a f** about me being the only other black woman in the house She will not protect me in this game the way I am protecting her. That is the whole reason why I came into the game and regardless how much I dislike her in this house I will not waiver on that.
Michael counts the votes to keep Alyssa says they will need two more to flip. Jasmine, Terrance, Kyle will vote indy out.
Taylor says they will try to get Michael's vote.
Michael – me and Brittany
Michael – they might think Turner
Taylor – it's Turner they will assume you will keep indy cause 'you guys are so so close'
Michael – they will need one more it would be a tie
Taylor – that's when they will come talk to me.
Michael – I wonder how much information they will give up to try and save Alyssa
Michael – jasmine will be very desperate to keep Alyssa.. it will be very rough for her.
Taylor – you made your bed lie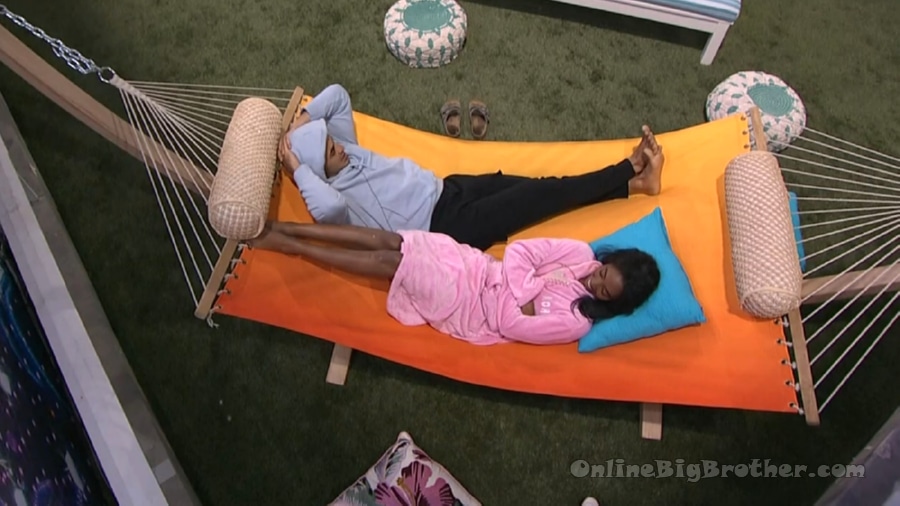 5:00 am These two should go to bed or start kissing.
5:20 am zzzzzzzz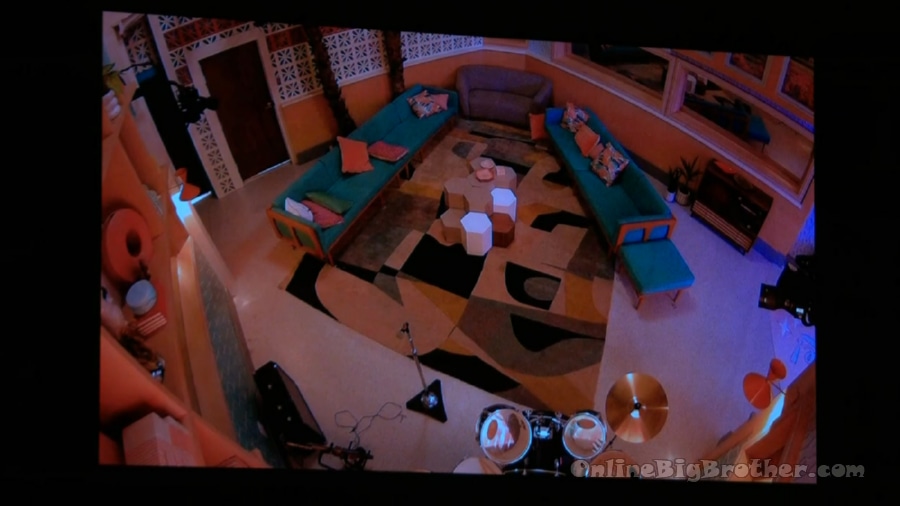 5:40 am drum set in the living room.
7:40 am zzzzzzz
9:00 am zzzzzz
9:53 am Zzzzzz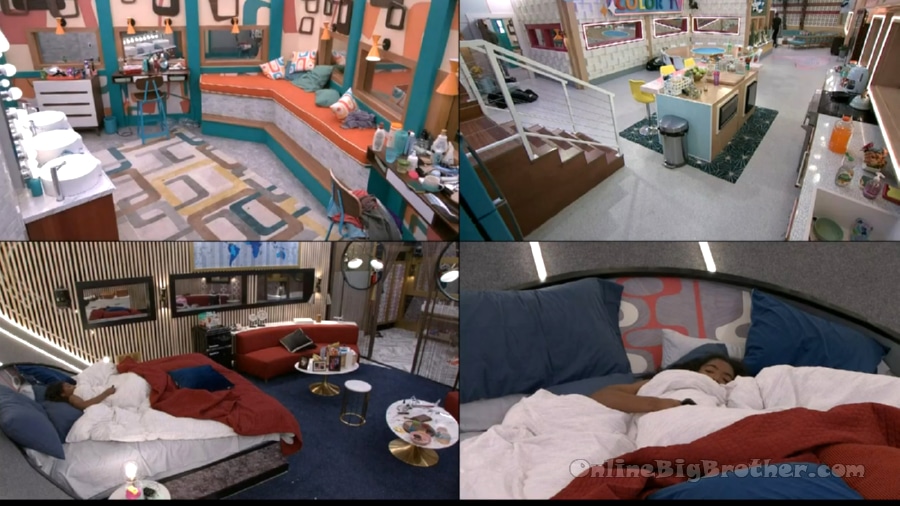 10:16 am Wake up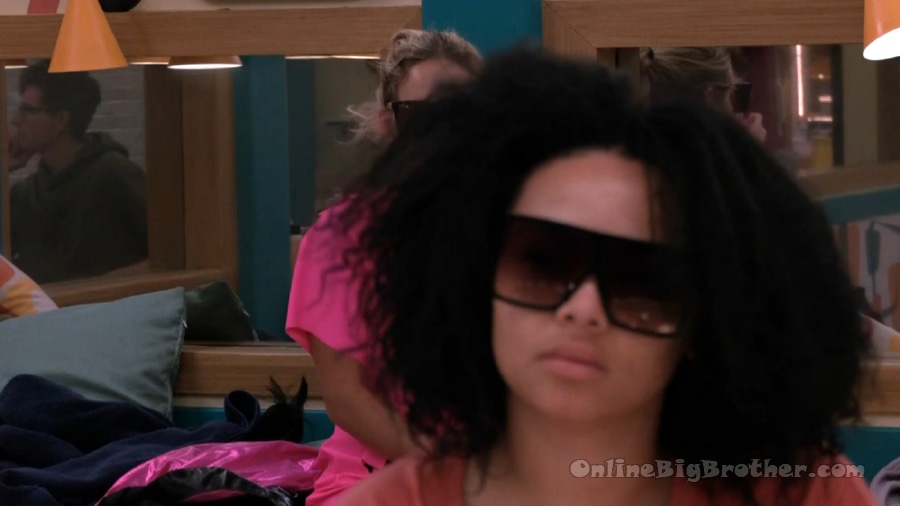 10:26 am Jasmine is talking about the headache she had last night.
Indy says she didn't sleep at all because of the punishment. "Pop star thing"
Alyssa – are you allowed to work out before you put it on?
Indy – no I have to wear this.. that was the first thing I asked
Alyssa – what about the unitard the one that you some in
Indy – I asked them they said no.. it's a real punishment especially for me someone who likes to work out..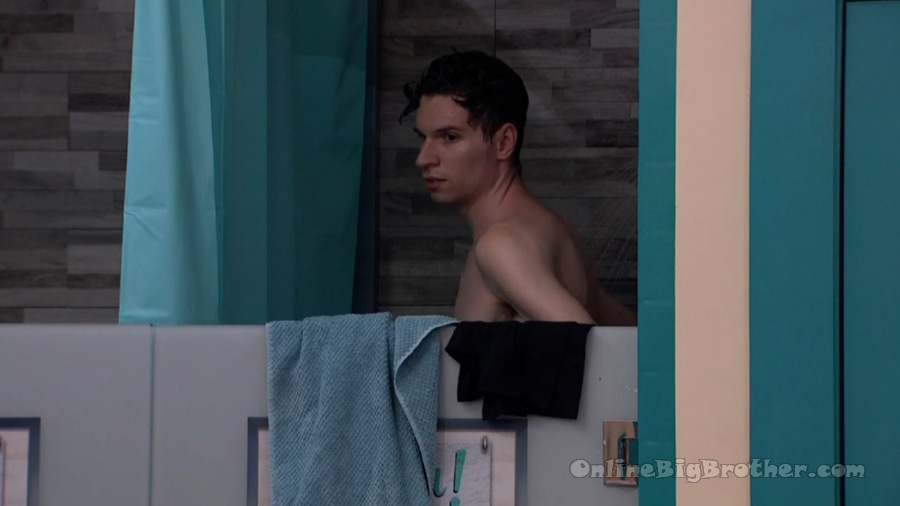 10:47 am Michael showers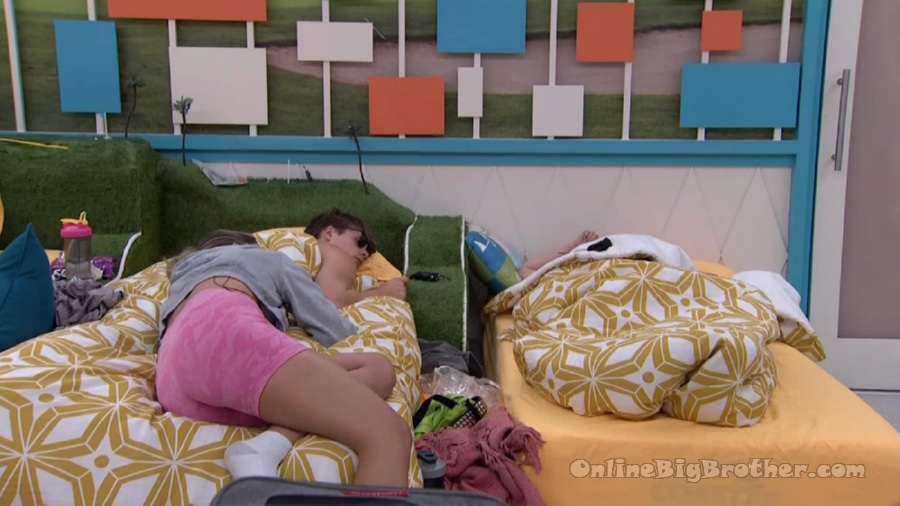 10:48 am Brittany, Kyle, and Alyssa
Kyle – Terrance hasn't gotten any tattoos yet.
Britt – that's going to be so hard
Kyle – what
Britt – 182 tattoos
Kyle – they're just small ones though
Britt – think about scrubbing all those off.
Kyle – ugh.. Terrance!
Britt – and put them on
Alyssa – I wonder when he'll get them
Britt – oh my god that's so sad.
11:14 am Pop star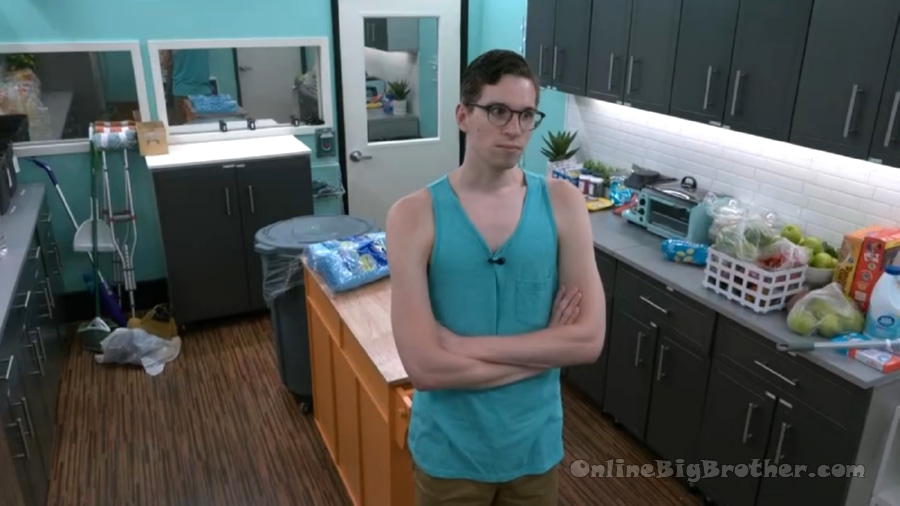 11:15 am Michael and Kyle
Kyle says Taylor's reason to put Alyssa up is "kinda pety"
Michael nodes
Kyle – to take her out of the game? I wonder if there is another influence on that decision
Michael – could be. the way she is spitting it is I stuck my neck out nad the first chance she took she..
Kyle – ugh that's so stupid. What do we do?
Michael – I don't know
Kyle – is it worth sticking my neck out and going against Taylor?
Michael – I just want you to be prepared when she drops that one you today
Kyle – do you think there is anything Alyssa can do before that conversation to smooth things over or will that be a red flag?
Michael – I don't know could be a red flag
Kyle – that sucks. that's very petty for a reason that doesn't have to do with game.
Michael – she is one of the better competitors on that side.
Kyle – yean
Michael – I don't want it to be Alyssa this week.
Michael – she said it will be easier for him to do now and act like he didn't know it will happen.
Kyle – as a group is that a consensus? Does turner want that do you want that?
Michael says Joe, Taylor and Turner were talking about it.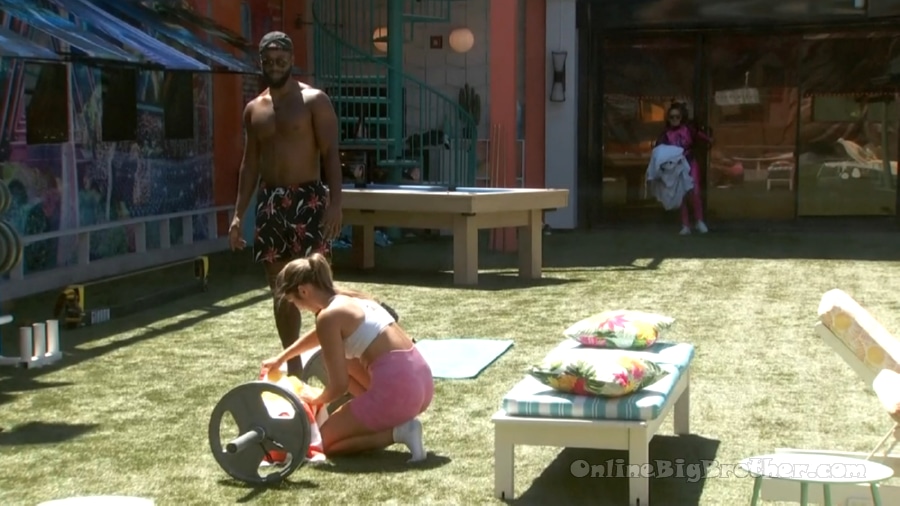 11:24 am
Monte- take it nice and slow.. get a nice tight grip on there..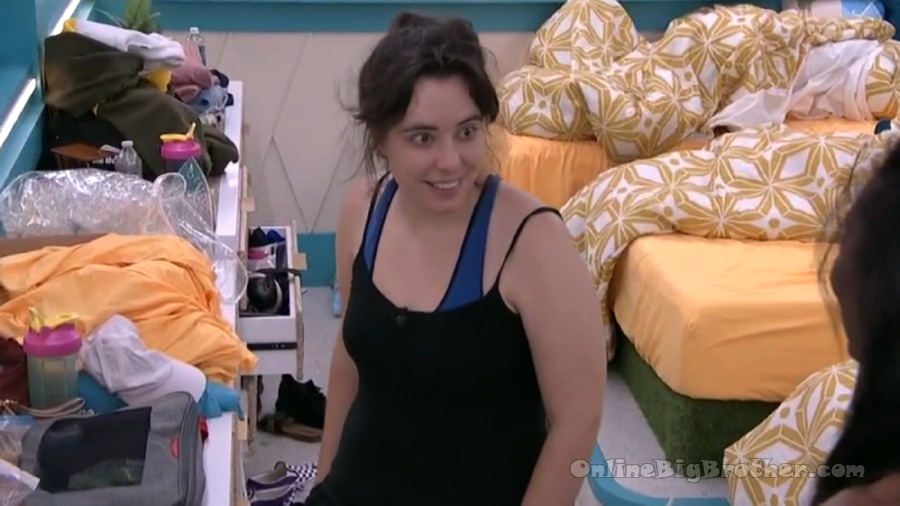 11:29 am Taylor and Brittany
Taylor is going on about how messed up her HOH week its
Taylor – finally the twists and turns we love
Brit – yeah right
Taylor – just narrating all this it's like
Britt yeah WOW "this is one of those times when the episode is a twist"
Taylor – on my HOH
Britt – so funny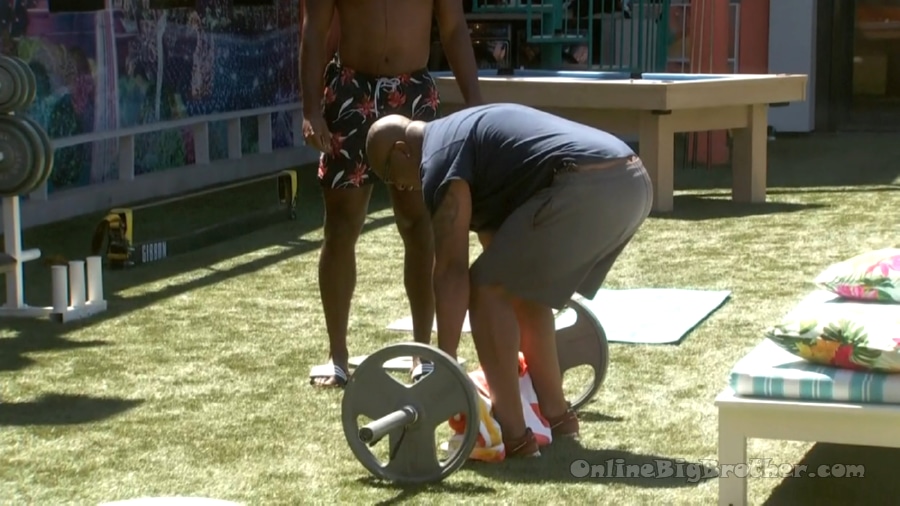 11:35 am BEAST (Side quest Terrance slips a disc out for the season)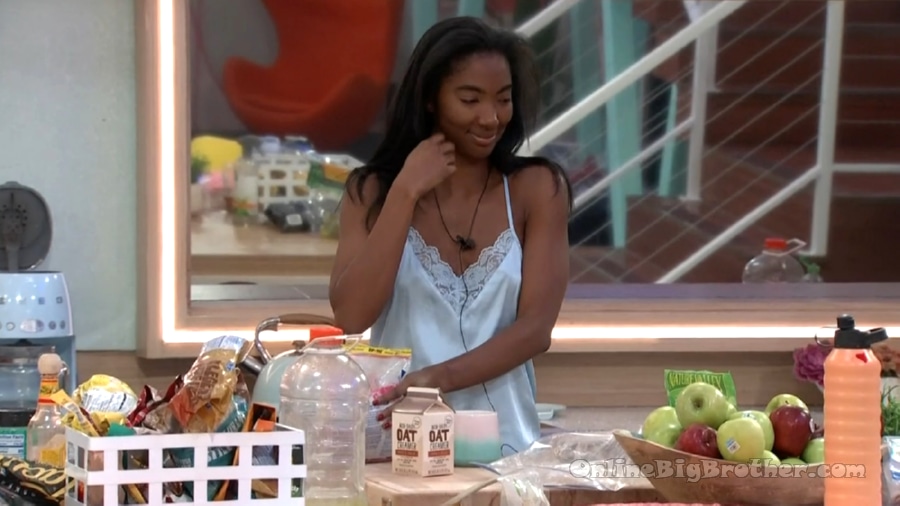 11:59 am loveing Taylor's outfits