Quick Big Brother Spoilers
Head of Household:  Taylor
Nominees: Indy and Terrance
POV Players: Taylor, Indy, Alyssa, Kyle, Terrance, Jasmine (Host is Turner)
POV Winner: Kyle
Veto Ceremony:
Havenots: 
Lock your ranks in before midnight
The twist
Wording from the Thursday night show
For the first time ever the game will completely change as the house splits into two groups. These two groups will have no interaction and in a Big Brother first, two completely separate games of Big Brother will play out simultaneously all week long all of it culminating with a double eviction like no other"
Reward / Punishment Veto Results:
– Kyle won the veto
– Alyssa won $5000
– Jasmine won a trip to London, England
– Terrance – "Ink 182" 182 temp tattoos
– Indy has to wear a "Punkitard" for 1 week and perform concerts
– Taylor and Joseph will be chained together for 24 hours.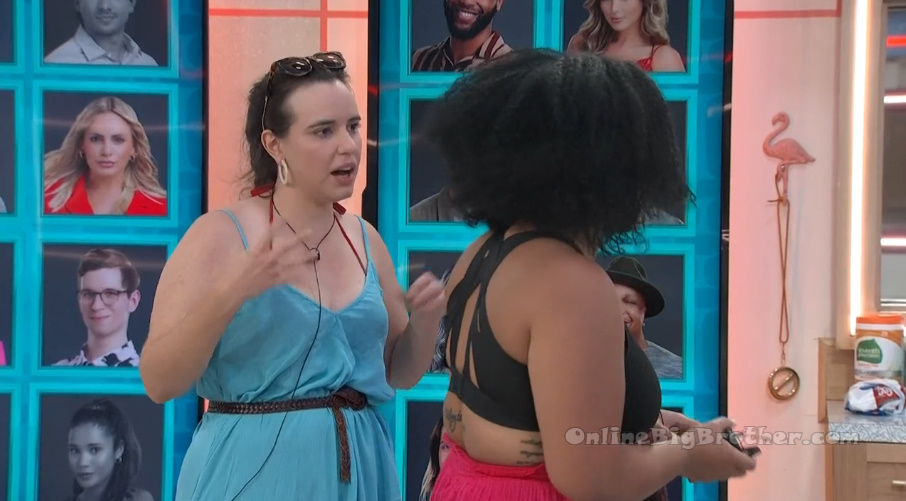 3:40pm Kitchen – Jasmine and Brittany.
Brittany – he (Turner) was like some times when I am nervous I laugh. Jasmine – that was f**ked up on so many levels. That was so f**ked up. Brittany – he feels really bad. Jasmine – and I get that but this is just not the week. This would not be the week for me and I am really trying .. like that was one of the things I said in casting I said like look I am going to be all good unless someone is disrespectful when it comes to my Dad and like push me. And that was just not the right time. Brittany – yeah, yeah. Jasmine – he said that he just didn't realize it .. by the time it came out.. Jasmine – was he not there … he was sitting right there in our conversation .. you know what I mean? And what like you laugh.. you laugh and then get up?!?! It is the most inconsiderate thing I have ever seen in my f**king life! I have never experienced anybody that was so inconsiderate. I just don't know. I just don't know and that is why I had to get up and walk away and not say anything because obviously I am still playing a game here and that is more important to me so I am just .. I just have to keep my space from him right now. Brittany – well if you need anything. Jasmine – okay thank you. Jasmine heads out to the hammock to cool off.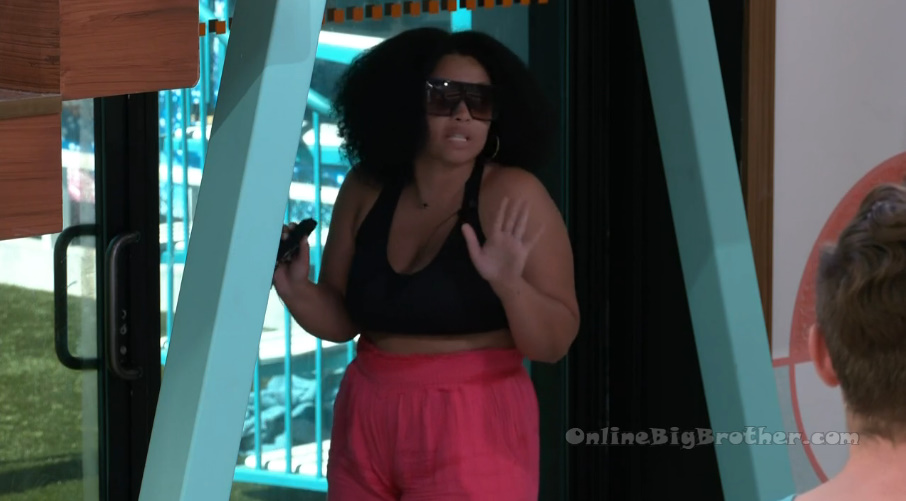 She lays in the hammock. Joe comes over to see if she is okay. Joe – do you want to be alone? Jasmine – I am good.. I saw you laughing too so what is up? Joe – I wasn't laughing. Jasmine – I saw you .. you were like literally laughing and trying to hold your mouth when I got up. Joe – Jasmine, I was holding my mouth because I was in shock at how awkward the situation was. I was not laughing about it to like disrespect anything. And I think you know me good enough that I wouldn't do that. Michael, Brittany and I were covering our mouths because we were like this is significantly awkward. Not as if there was anything funny about that. Jasmine – yeah that was just really disrespectful. Joe – I don't think he meant it to be disrespectful. Jasmine – but you're .. like my dad didn't die a year ago … it wasn't 6 months ago.. it was literally f**king 3 months ago! So if I say that I want to release a balloon for his birthday like out of respect for him… Like I can't go visit his grave site .. I can't leave the house! I can't spend my time with my family. Like we share a birthday! Its very important to me. Joe – I agree with you. Jasmine – he laugh though when he got up .. like he clearly laughed. Like I was fine .. he can say what he needs to about the environment.. it just wasn't the moment or the time and him getting up and laughing did not make it better. Joe – yeah. Jasmine – its f**Ked up! Joe – I really hope and think that he was only laughing because he was like I am a f**king idiot. It was a very awkward situation to be in. When you walked away his point was that he was in no way to disrespect you.. he was just hoping we could do a more climate friendly option… and all of us agreed but we said Turner that was not the time to relay that message .. her father recently passed. No one can understand what you're going through but no one would openly disrespect you. Jasmine – its already f**king tough being in here while dealing with a vulnerable moment. Joe – he (Turner) wants to come apologize too. Jasmine – yeah I am not ready. Joe – after he was like I am a f**king idiot.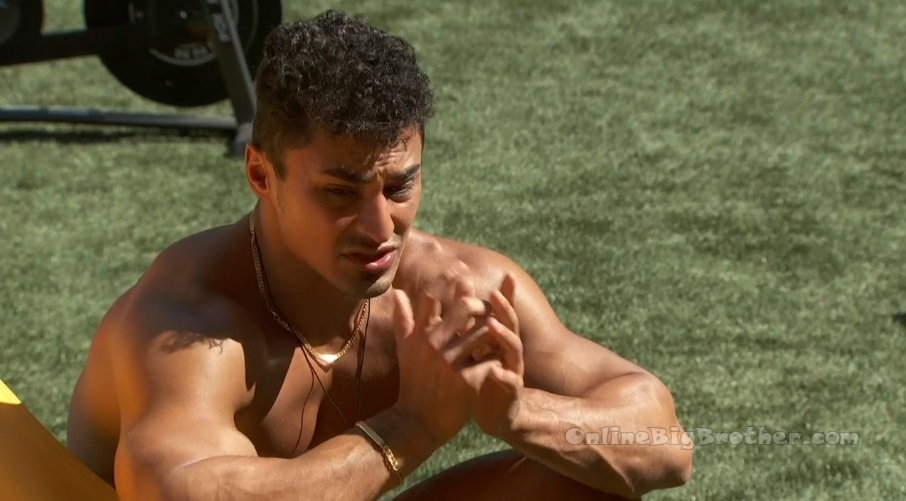 3:50pm Indy, Tuner, Michael and Brittany.
Indy – we are going to plan some surprise for her birthday and you can maybe say sorry at that point but just give her space.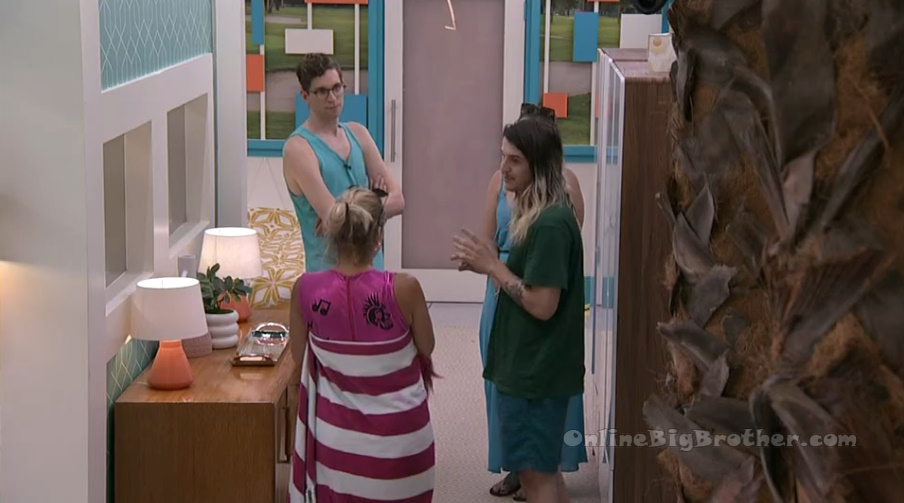 4:35pm Hammock – Jasmine and Alyssa.
Jasmine – I was like what do you want from me at this point and then what really sent me over the edge was he (Turner) gets up and starts laughing. AND I LOST IT! I had to go inside immediately. WHO laughs?! WHO f**King laughs?! Its NOT funny!!! Alyssa – its not funny! Jasmine – and then I saw Joseph do this (cover his mouth) and it kind of looked like he was laughing. I can't say if he was or wasn't. I saw that Turner was laughing. She then retells the conversation she had with Joseph in the hammock. Jasmine – its just hard for me because I can't say nothing.. because if I act out, I'm the bad person. He is just so inconsiderate! And I have to deal with him every single day. We already barely get along. Its just so hard for me because people like that in real life I would literally speak my mind and I can't do that here. And nobody says anything because we can't. It just sucks. I have just never seen him wash a toilet, sink, a shower, a dish… I have not see him do anything. Alyssa – there has definitely been a lot building up between you guys. And he shouldn't have said that especially if he wasn't involved in the conversation. Jasmine – or you could have worded it differently. Like hey I know you want to honor your dad but can we do it in a more eco friendly way. Alyssa – yeah but that's just not Turner.

Storage room – Monte, Michael and Joseph.
Joe – did you hear Alyssa outside the DR? Monte – yeah I think she was working out and strained her back. Joe – she told me she just feels so anxious right now. Monte – she started talking to me more than she ever has while we were working out.. she started opening up ..and I was like why is she .. like have never had these conversations with her.. she is like complimenting me. Joe – I think she was worried. Monte – oh yeah that makes more sense now she was worried about her standing in the game. Michael – well the original plan was that you (Joe) would go up.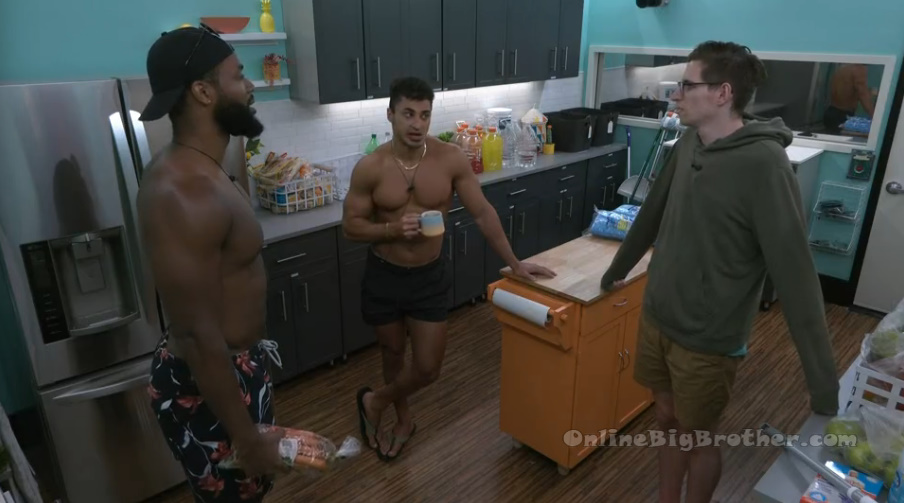 4:50pm – 5:30pm Backyard couch – Jasmine and Turner.
Turner – I am very sorry! Obviously you know why I want to come sit with you and apologize 1000 times over. I don't think I could ever understand what you're going through and I said what I said and I was by no means trying to put down anything. Or anything that you're going through at all. I think I messed up with the timing. I don't even think it was what I said but the timing of when I said it. Jasmine – and that fact that you laughed and then got up. That is what really sent me. Turner – yeah I can for sure see that.. the only reason why I laughed was not because of what I said but that 45 second silence un-comfy. And laughing wasn't the best thing to do but it was a defense mechanism almost.. I didn't know what to say or even how to pull back this whole thing and then I laughed and got up … Honestly you don't have to forgive me I just want you to know that I am honestly sorry. Jasmine – I appreciate you saying that. Turner – and I've never lost a parent so I don't know what that's like. Jasmine – and its not like it was a year ago, it was 3 months ago. And its not like I can spend time with my family and we share a birthday together. I can't go visit a grave site and I was just trying to think of a way to honor him. And I was honestly feeling like you were trying to be like the birds life was more important than my dads. Turner – I was thinking about it before you said it was for your dad. I thought it was just for your birthday at first and then after I just said it. I don't want to say its on brand but I am always thinking about the environment. I can see how it seemed like I was more concerned about a bird but I more meant climate change in general but that shouldn't have been where my mind when anyway because you're a person.. and the planet will be fine. Jasmine – its all okay as long as we can move forward and know what to say and not to say. Just family is off limits for me. No hard feelings at all. They chat about other things then Turner apologizes again. Jasmine – I appreciate it.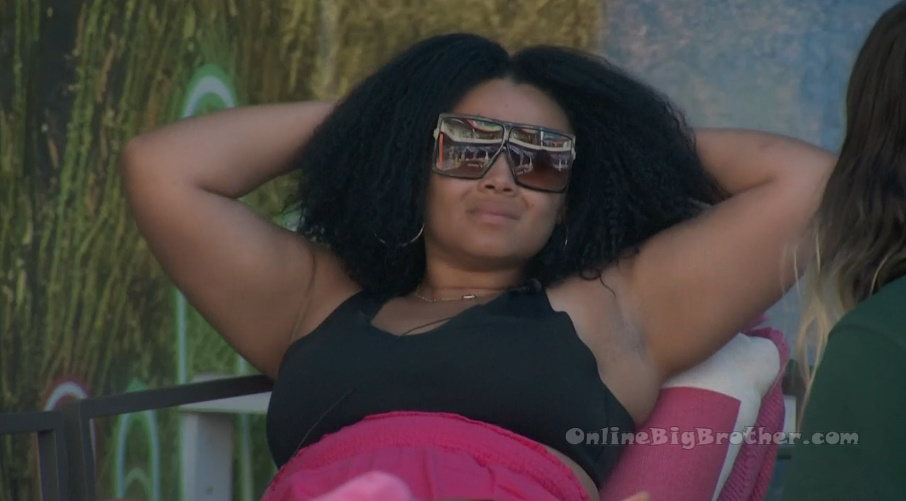 5:44pm Bedroom – Michael, Alyssa and Brittany.
Michael – I don't know if you taking the thing from Taylor .. like if that is anything like if she (Taylor) is actually mad. I thought she was joking kind of when she said it. Brittany – I am worried that sometimes she likes to do things for TV. Alyssa – like if you wanted to go to London so bad you can leave the house sort of thing. Michael – and any chance that she would do that, I would rather Kyle just not use it. Brittany – me too. Alyssa – I tried to talk to her about it and she was like no, I would rather have a punishment like I get more tv time and like its more fun and memorable and stuff like this. Alyssa – I would rather he not use it just to know for sure. You guys are the closest people to Taylor so do you think she really wants Monte out? Michael – she has been saying it but I don't know. Brittany – Honestly every time I go up there its something new or she is really vague. Not using it is probably safest for us. Alyssa – but then she (Indy) is going to freak out! She already said she wouldn't put up Jasmine because of her birthday, she wouldn't do you guys. She won't do Turner. She can't do Kyle. Who does that leave? Michael – Monte, Joseph and You. Alyssa – so Monte or me. But she promised me Festie Besties or not that she would not put me up on the block… like she looked me in the eyes. She didn't put me up but I appreciate that.
6:13pm Bedroom – Alyssa and Kyle
Kyle – I need to separate from us for the next couple of days. Just like tonight and tomorrow morning okay? Just know .. like do you trust me? Alyssa – yeah. Kyle – there are things in motion that will benefit us long term right now ..like play up that your back is hurt. Alyssa – okay. Kyle – Like you should be good. I am not going to use the veto this week even though people want me to. I am not going to use it. I think there is a plan that we can legit start working together. But just don't say anything to anyone! Alyssa – okay. Kyle – just don't say anything to anyone .. not Turner, not Jasmine. I am not going to use the veto this week. Indy will go home this week hopefully. It might be a double eviction coming up.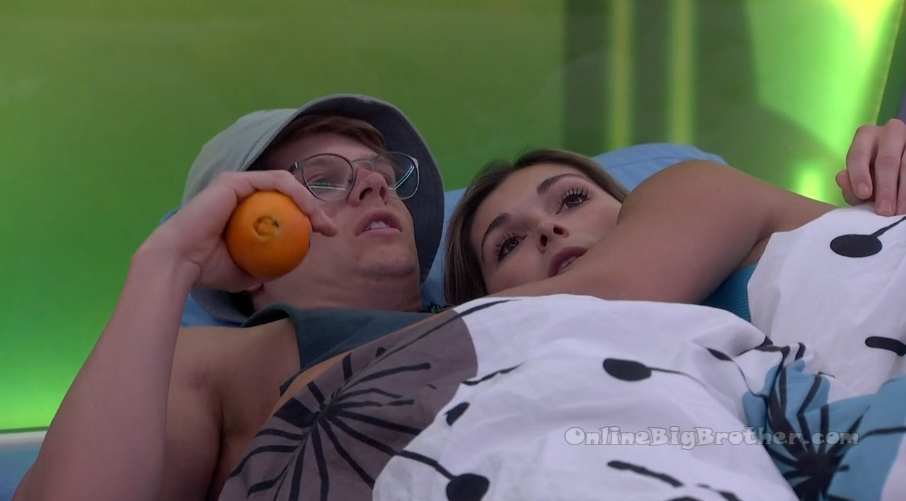 6:43pm Bedroom – Alyssa and Kyle.
Alyssa – but you don't think Michael and Brittany are shady? Kyle – no. I don't think that at all. Alyssa – okay, because they were just in here and like next week don't worry we would never put you up, we promise. And they were like Kyle shouldn't use it, we don't want the thought of you going up there. Kyle – they're good for my game, good for your game. In all my experience with those two .. they may have lied, they may have done things but they're solid. They wouldn't put you up. Just in the future if you ever say a name.. like if you say Monte, just assume that will get back to Monte. That's why I don't say anything. The less you say.. Tiffany from last year said in a podcast.. listen twice as much as you speak… and assume everything that you say will make its way through the rest of the house.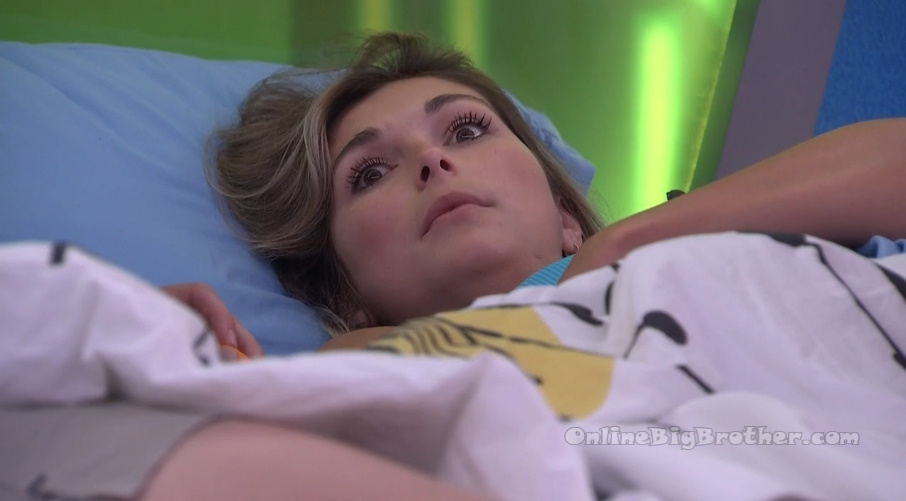 7:15pm Backyard – Michael and Kyle.
Kyle – it is basically be going against the house at this point because Taylor has convinced them all that she is going after Monte. So in Jasmine and Indy's mind I should use it to not only take a number on their side down but also to target Monte. And then if I don't use it, it will be like what the hell because I can't go and put that back on Taylor and be like Taylor was going to target Alyssa. I can't explain the situation to anyone.. except for me, you and Brittany basically know what's going on. Michael – have you talked to Turner? I feel like he would be on board with Alyssa staying. Kyle – for sure .. in that regard he is for sure. If I don't use it then next week if one of them wins Monte, Joseph and Taylor can all say Kyle went against the house. Kyle used it to protect Alyssa. Michael – or would they just try to take the shot against Alyssa next week. But when they asked you to use it, it was to put Joseph up as a pawn and now they want you to put up Alyssa. Kyle – yeah its changed so many times this week. And knowing Taylor she could be persuaded to take out me or you. Michael – yeah, the thought has crossed my mind.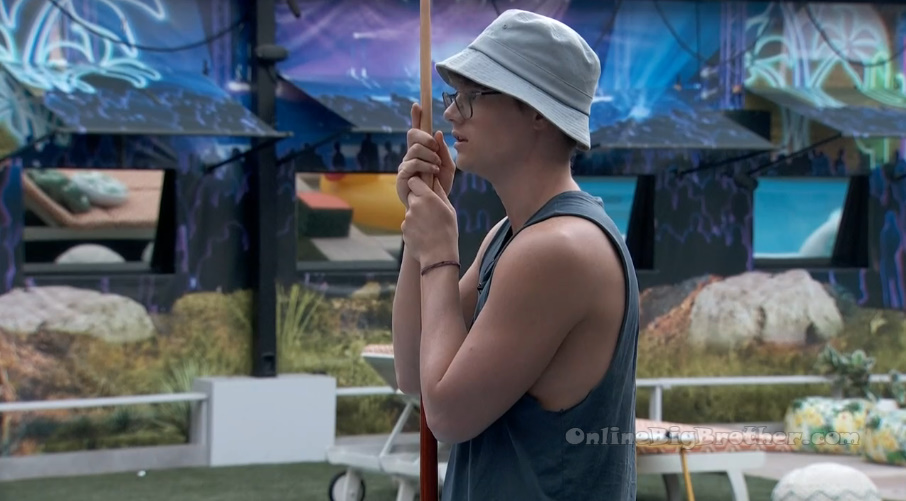 7:44pm Bedroom – Monte and Joseph.
Joseph – I think they're just putting it together. Don't tell anybody because I don't want to spread that if it wasn't true. Bro has to go because this is becoming complicated for someone that isn't even in our alliance. Monte – 100% bro. I always believed that Kyle could keep the safe amount of distance emotionally… Joseph – its too late. The only thing is I don't want Kyle to be the face of this. If he sees any push back he is going to fight to keep Alyssa. Monte – Kyle was blindsided by this and he has a chance to win HOH next week, You have a chance to win HOH next week and I do but of course but the compelling argument that he can make to cover his a$$ behind all this is yo I am pissed at Taylor. Joseph – all I have to say is someone that is not in our alliance that is causing this much ripple .. they got to go now. Terrance joins them. Monte leaves. Terrance – have you heard anything about Kyle using the veto or not. Joseph – I want the veto used so that another bigger target goes up so that one of you can come down. I want both of you to stay. I think Kyle told you he would take you down right? Terrance – yeah he told me that he would have to wait and didn't want to make a rush judgement.