Quick Big Brother Spoilers
Head of Household: Turner
Nominees:
POV Players:
POV Winner:
Veto Ceremony:
Havenots: Alyssa & Indy
Lock your ranks in before midnight
Festie Besties:
Turner & Jasmine (She's also safe)
Joe & Monte
Daniel & Kyle
Brittany & Michael
Alyssa & Indy
Ameerah & Terrance
Nicole & Taylor
How Nominations will work: One pair will be nominated
How the Veto Player Pick will work: Turner/Jasmine, nominated pair, and drawn pair
– If one of the pair wins the veto, the other is also safe.
– If the nominated pair comes off the block, Turner would nominate another pair.
Eviction: One of the pair on the block will be evicted
Last pair standing gets a power.
** Unsure how many weeks the pairs twist will last **
1:47 am waiting for the HOH room reveal.
2:10 am Who wants to see my HOH room?
Jasmine will likely never walk upstairs again.
2:14 am Turner Gets emotional reading his HOH letter from his girlfriend Meghan. HIs music is "The 1975"
Turners cats, Meghan, and Mom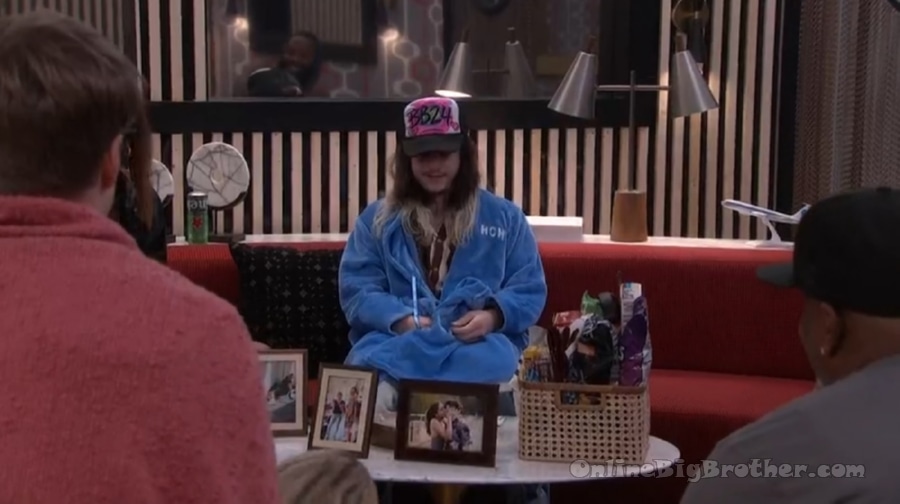 Turner goes through his HOH basket pulling out different treats "Ohh this is fire.. this is gas.."
Turner get Heineken Beer "Ohh dude this is fire"

2:39 am Monte and Joe
Joe – who are you thinking? Taylor and Nicole? that would lock Taylor in cause nobody is voting out Nicole
Monte – that makes the most sense for him
Joe says he talked to Turner, "He's worried that the girls are united"
Monte says there's only two goals that are beastie. Nicole and Taylor, Indy and Alyssa"
Joe doesn't think he should put up Alyssa and Indy.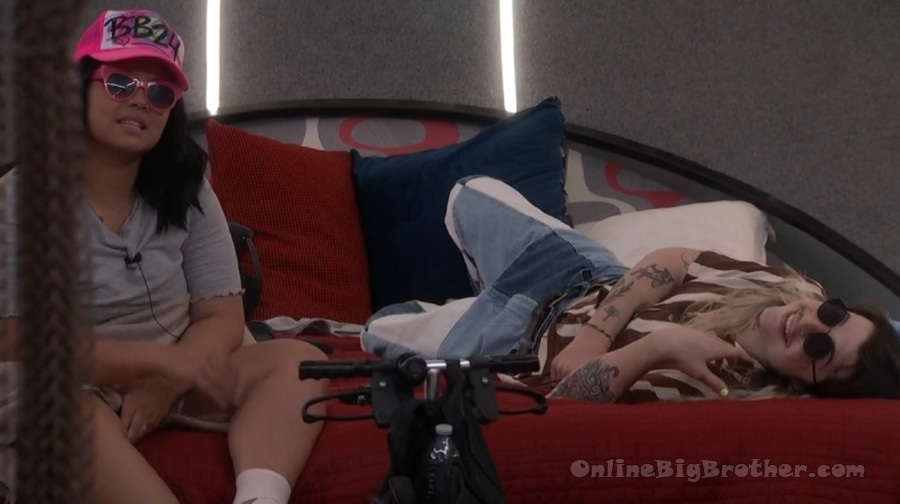 2:41 am Jasmine and Turner
Jasmine says she got a migraine after the vote because of all that happened. Jasmine is claiming there was a flip
Jasmine – It was my HOH and she took control of it. I had a migraine I'm trying to be careful with light.
Jasmine – I'm very very upset about it.
Turner says he doesn't trust Brittany. Michael and Brittany had agreed to working with Pooch and keeping him. He doesn't like how Brittany sits in rooms and gathers information but never says anything.
Jasmine – I genuinely think it's Taylor but at the same time I don't know that my goal this week is to figure out what happened.
Turner about voting out POOCH – It felt like I was putting a dog down. That was my guy.
Jasmine – I'm going to get to the bottom of it I can guarantee that
Jasmine about
Turner – are you tight with Nicole? I don't know why Nicole picked Taylor
Jasmine – let me tell you why
Jasmine goes on about another twist that benefits the players that lost their pairs.
Turner says the two group he wouldn't put up are Kyle and Daniel and Indy and Alyssa
Jasmine says people are keeping Terrance in the game because they know they can beat him.
Jasmine adds that she was going to put Terrance and Taylor on the block but then POOCH volunteered.
Turner says he's tight with Terrance, Daniel and Kyle.
Turner – it'll be Brittany and Michael or Nicole and Taylor. If I put Nicole and Taylor up I don't Nicole to be mad. She must know. (Target is Taylor)
Turner says either Brittany or Taylor is his target.
Turner – how do you feel about.. Joe?
Jasmine – I have a soft spot for him but we don't talk game a lot that's the only downfall.. Then he cried when POOCH left I was so sad.
Turner – I don't talk a lot of game with Monte but I love Monte.
Jasmine says everyone she talks to is saying they can't stand her. She doesn't think Brittany has anything with anyone other than Michael.
Turner – the girls think there's a all guys alliance where did that come from. He [POOCH] also said someone said me say something
Jasmine – that's bullshit.. I never heard your name..
Turner – not me someone said POOCH.. POOCH said someone said they heard POPOOCH say something. (WTF)
Jasmine brings up OASIS being composed of 4 or 5 guys. THe person that told her this said POOCH is the Head of it.
Jasmine – Taylor said she was in the bumper pool area and she heard you and or POOCH (in Kitchen). She was asleep but wasn't asleep that is how she heard it. I dunno maybe she was bullshitting me.
Jasmine says she doesn't trust Taylor so take we whatever she says with a grain of salt.
Jasmine – she said something about hearing 'the queen is in her palace' I guess me. and 'next week the guys are going to have the penthouse'
Turner – not to throw POOCH under the bus there was times when he was .. 'Dude the girls are running that room what the f**'
Jasmine – What girls?
Taylor says they talked about starting a 'DOPE' clothing brand called OASIS.
Jasmine – ohh so she was just eavesdropping then
Turner – sucks losing Paloma and Pooch back to back those are my people.. it's hard.
Tuner – Alyssa ia dope as F**.. she's funny as f***.. I trust her 1000%..
Turner – if Indy wins HOH I think she would put me on the block.
Jasmine – I don't like how she acted.. like she was really mean with Alyssa for her picking her. Alyssa was honestly I wasn't even thinking about that I was just trying to sit in the seat and I didn't want to sit next to Terrance because that means I would never have a chance at winning veto or anything.. She was mad at her because she sat by her. (Alyssa picked Indy as beastie?)
Jasmine brings up Indy getting pissed off at Terrance earlier today and she "Snapped out" at him. Terrance was trying to "gas her up" about being on Slop.
Turner wonders how close Indy is with the other guys. Doesn't think they are as close to her.
Jasmine thinks the guys are cool with her "she's a Brazilin with the boobs and the butt"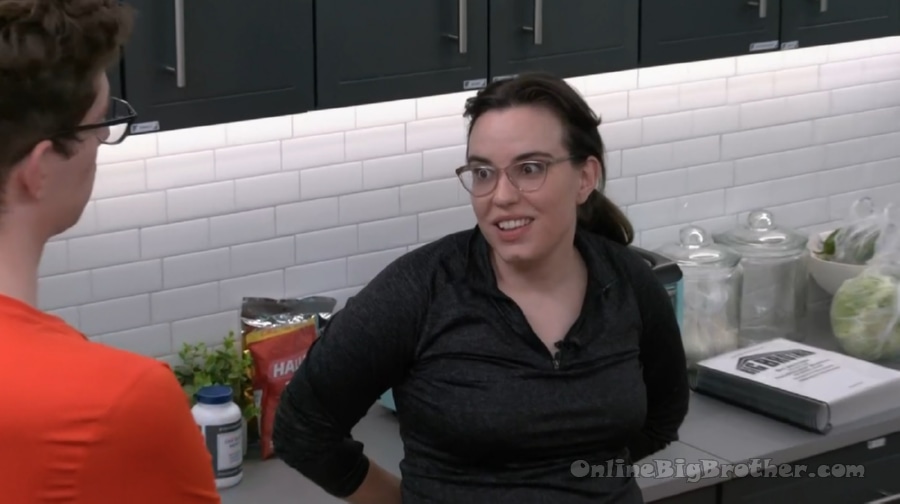 3:40 am Michael and Brittany
Michael – did you talk to him
Britt – not yet I'm going to think through things tonight
Brittany brings up talking to Kyle where he said "One thing about Turner is he talks a lot and he's pretty convinced he'll tell everything to Jasmine"
Brittany – I was like ohh shit.. one of our biggest assess is how we can help him and his Duo.
Michael – How we approach it is we'll keep you [Taylor] and Jasmine safe that's one less person playing in that HOH next week. Jasmin may not be able to play. Not one less that's two less people that aren't fighting to keep you safe.
Michael – We're not coming after you.
Michael brings up they need to point out to Turner "We were honest about the POOCH vote"
Brittany had Asked Kyle if she thought her and Michael were safe. Kyle said "I would think so but you might be put up as a pawn to ensure.. don't give Taylor a chance to take Nicole down"
Michael – then Alyssa nd Indy go up because the house is divided with Indy. I know how close he is with Alyssa I don't want to throw Alyssa under the bus.
Michael – if he throw's up Indy.. Indy is going to go nuclear this week. Being on Slop.. I think a good Idea is to let Turner do the talking.
Brittany – I'm afraid he might be thinking about putting up the veto king because Jasmine might not be able to help him with Veto if he's look to backdoor somebody.
Brittany says she needs to sleep on it. "we can be such a good asset to him"
Brittany – we cannot throw the girls under the bus
Michael – we need them right now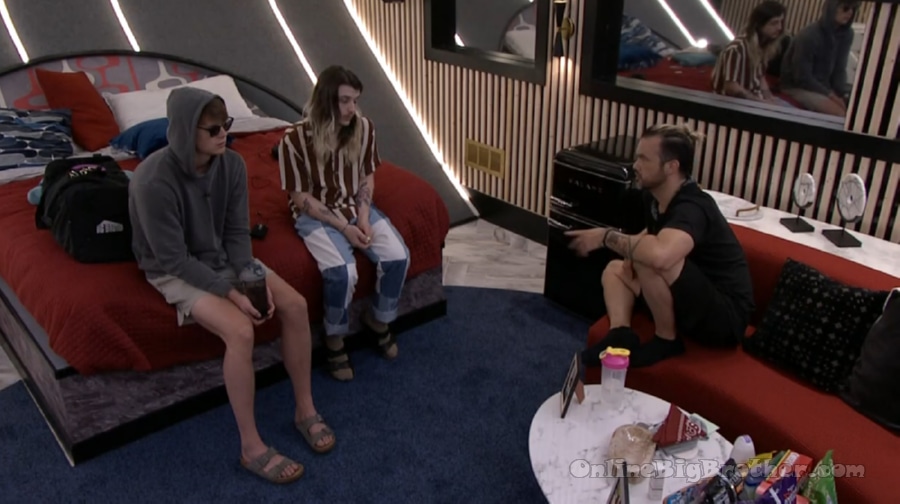 3:48 am Turner, Daniel and Kyle
Turner – Taylor is crawling in my a$$..
Kyle – what do you mean
Turner – she's just .. NEH.. maybe she just annoys me too much about anything
Turner – she comes in here says 'how are we feeling'
Turner – give me space forever please..
Turner – Jasmine being my partner is fire.. she's cool. she's good with the girls. That helps us all a lot.
Kyle – couldn't have worked out better..
Turner – Obviously Taylor and she's also with Nicole. I know Joseph has suspicions about Nicole. I like Nicole Taylor is not wanted so much in this house. I would prefer she goes him this week on my HOH. People have tried that for three weeks in a row so it would be very cool to get that.
Turner – I'm not crazy about Indy but there's not a shot I'm putting Alyssa on the block because she's f*Ing awesome.
Turner says he needs to make things with Indy ok.
Kyle – how do you feel about Taylor with the veto.
Daniel – Nicole's Dope she's a fighter. If you put them on the block.
Turner – why did she pick Taylor?
Daniel – she did it on purpose. If they ever were on the block she feels safe. She's here to f***ing play. So is Taylor.
Daniel says Nicole won't throw a Veto comp.
Turner – what other group are we thinking? I don't know about you guys but Brittany freaks me the f* out
Turner – she's up to something BRO. We were tight with POOCH. and ..
Turner explains the Agreement POOCH made with Michael and Brittany where Pooch tried to solidify an alliance for one week . They agreed and told him they had his vote.
Turner – then they came to me and said it's 5-4 we can't vote for him
Turner says POOCH thought Joe was the whistleblower of the OASIS
Turner heard that Joe was crying after the eviction so he's thinking that POOCH didn't. "I trust Joe"
Turner tells them Jasmine's story about Taylor hearing POOCH talking about OASSI and 'the boys need to get the girls out next week'
Turner – I believe that
They talk about how loud POOCH was when he talked.
Daniel – I don't trust Brittany 1%
Turner – not half a percent
Daniel suggests he put up Brittany and Michael so Michael can win the veto.
Turner points out that Michael showed all their cards when there was 8 seats and he went right for Brittany (To pick his beastie)
Turner brings up day one when Brittany came to him "Like Jack Nicholson in the shinning" and wanted to form an alliance with him
Kyle says he will get no blood on his hands if he puts Brittany/Michael up
Turner says noone in America "f*cks with" Brittany and Michael (likes)
Turner says he'll probably go with Michael and Brittany tell them as a pawn. His targets are either Brittany or Taylor.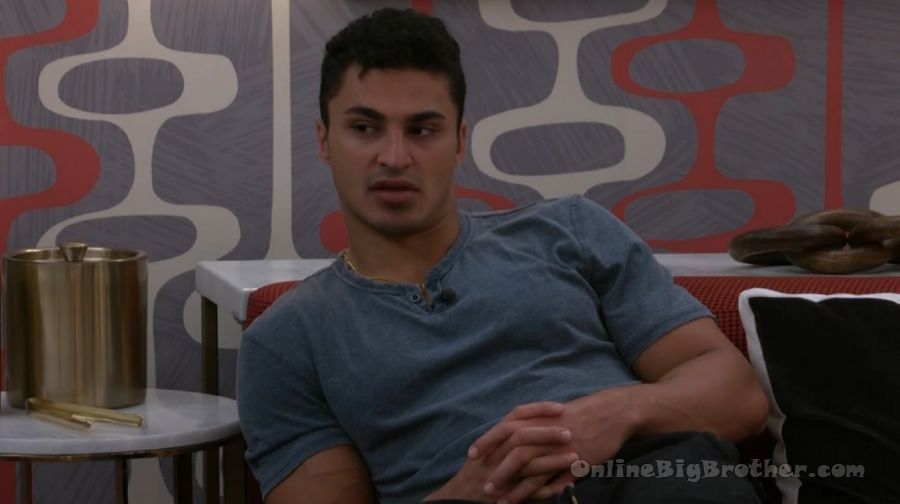 Joe joins them.
Turner gives him the plan.
Joe – so it will be Taylor/Nicole or Michael/Brittany
Daniel pushes the Brittany/Nicole backdoor Taylor play "We get Taylor out it's a easy week"
Daniel and Kyle both point out Taylor is a beast and will likely win the veto.
Daniel asks Joe if he has a relationship with Brittany. Joe says he has one but they rarely if ever talk game.
Daniel, Kyle and Joe go on about how Brittany never brings anything to the conversation when talking game.
Daniel points out that Daniel knows the game very well "he's a super fan"
Kyle – he's the only one that knows the live feeds stuff.
Joe stresses how good at competitions Michael is.
Joe – Taylor is bad juju everyone he sits next to her isn't here the next week.
Kyle – I don't think that will happen this week. If she's on the block everyone is sick of her
Daniel – Nicole has a good relationship with everyone in the house. She's not some asshole
Joe – Nicole is one of the strongest pawns she has the maturity to handle being on the block and not folding to Taylor like what just happened
They talk about Taylor telling Monte that Paloma is targeting the strong guys.
Daniel – she told the girls the other night she wanted to f*** Elvis that was her big plan when she was drunk
Daniel – if that's true I thought maybe she did know I was close to Paloma and there's s jealously factor. Whatever it was her plan didn't work.
Daniel – I'm not saying this was the cause of it but it did no help her spiral throwing Paloma's name out
Kyle – Ohh definitely
feeds flip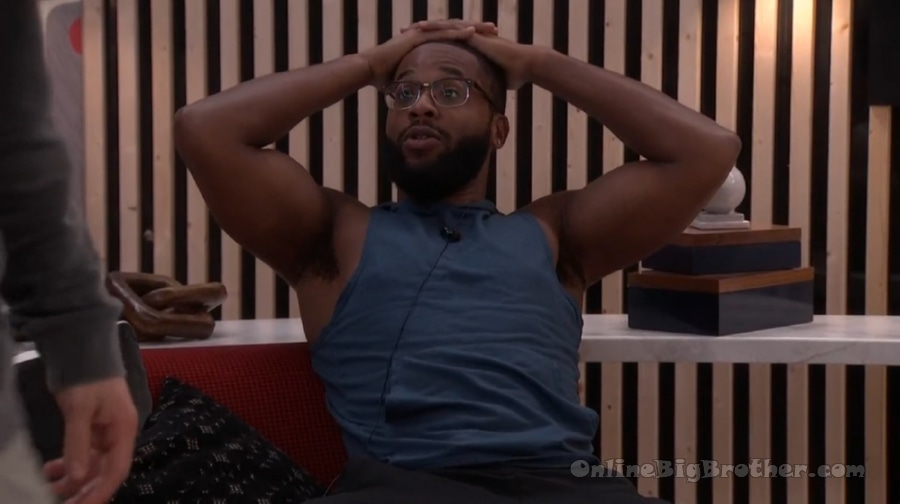 4:44 am Monte joins them.
Turner – the main goal is probably Brittany but more so Taylor it's the least amount of blood being spilt. There's someone in each of those groups that everyone in teh house wants out.. Easiest people to give reasons. We put up Brittany and Michael Whoever wins. Taylor out.
Turner worst case scenario Taylor gets picked doesn't use it Brittany goes not a big deal. Next week taylor goes.
JOe – I hate next week Taylor goes. I've been hearing that for three weeks now.
Monte – every week she gets more and more comfortable. how is this happening.
Daniel – She's flying under the radar for some people. I will never forget what she said. I'll never forget she called Jasmine Fat
Monte – she called ma a punk apparently which really hurt my feelings
they laugh.
Daniel – we don't know but whoever stays in might be safe until Jury (The surviving single after a pair gets broken up)
Joe points out Nicole picking Taylor as her bestie means she accepted the risk.
Turner thought it wasn't good for Michael's game to have picked Brittany when there was 8 other choices.
Daniel says Michael is a solid player and knows everyone doesn't like Brittany so by being paired with her it's a shield like Nicole picking Taylor.
Joe – he can trust Brittany and he know she can survive being with Brittany on the block.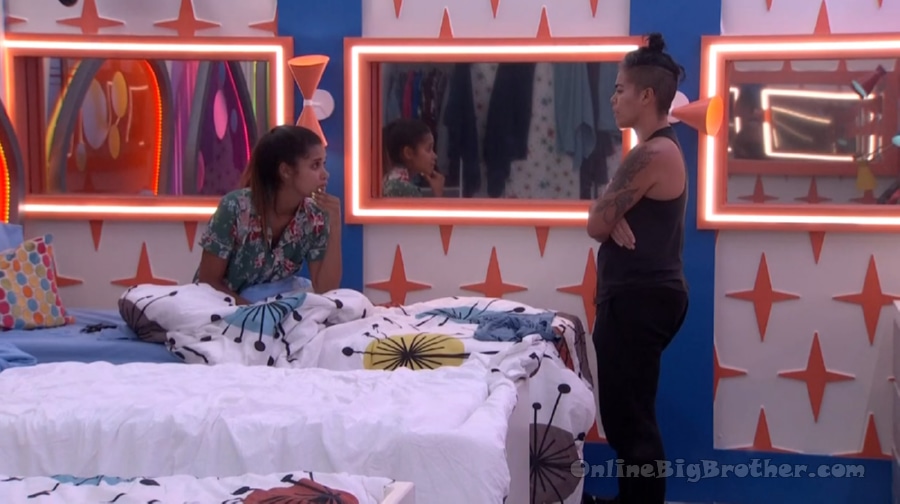 4:50 am Ameerah and Nicole
Talking about Monte and Joe throwing the Head of Household
Nicole – I would rather keep Kyle of Monte
Ameerah – I agree.
Nicole – Daniel and Terrance are all about giving this to the women.
They talk about Monte being worried about his own gam e
Nicole – granted so are we but
Ameerah – we're still looking out for the group
Nicole – it's going to be a hard week for me.
Ameerah – I'm going to help you.. be nice to her
Nicole – I am being nice to her anyway.. that isn't my main concern. it's this INDY. I need to try and keep her controlled so she doesn't make her (Taylor) go crazy
Ameerah – I'm worried Brittany will go to Turner and make up some crazy shit
Nicole – it would have been so smart for Daniel to team up with Turner. Kyle should have picked Terrance or Jasmine
Nicole – I'm glad we're all paired up with a none alliance member.
Nicole – remember when we were mad nobody was playing this game?
Ameerah – it started
The call themselves the manager of the season.
Ameerah – Last year Tiffany was the manager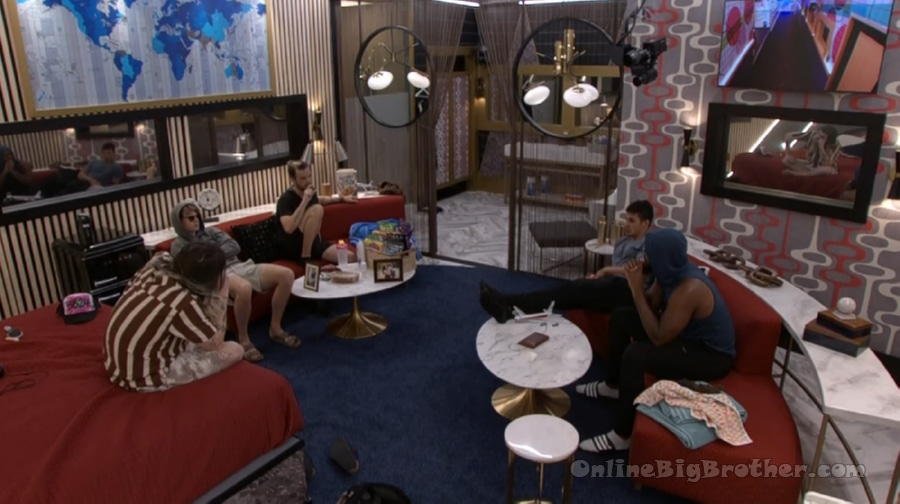 5:10 am Boys confirming Brittany/Michael will be the noms. Veto played Taylor/Nicole are the replacements. Turner's main target is Taylor.
Turner asks them if shit hits the fan who would be the third replacement?
Daniel says Indy and Alyssa but they have to fight for hell to keep Alyssa safe.
Kyle – Alyssa won't be going.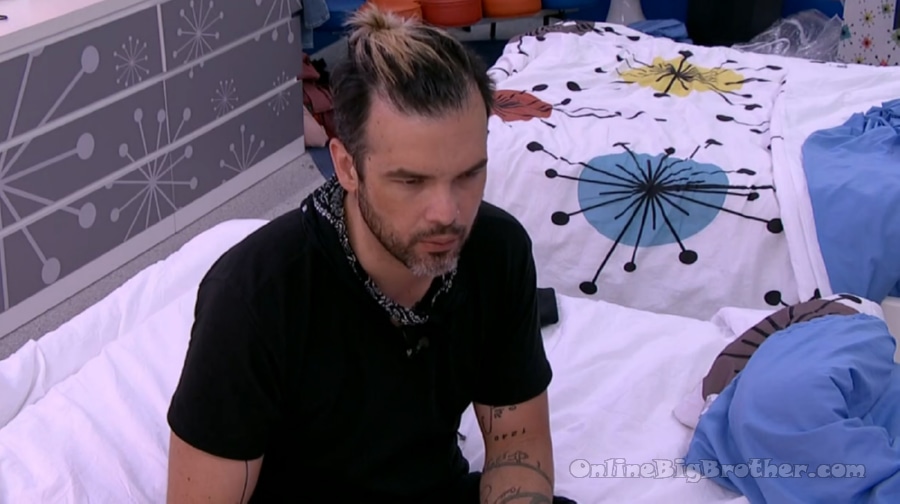 5:21 am Daniel and Nicole/Amerrah
Daniel fills her in with the plan this week. Tomorrow (later today) Ameerah is going to talk with Turner and back up everything he says
Ameerah – I'm going to say Taylor.. I think Taylor should go up
Daniel – he is done with her.. I said I am never going to forgive the Paloma thing even Joe was like DUDE Taylor is getting too comfortable
Ameerah – She is
Nicole – WAY.. she thinks I'm going to protect her this whole game.
Daniel – she's not off everyone Radar I'll never forget what she did and Turner was like F*** no
Daniel says Turner wants Taylor out bad. Worst case scenario will be Indy
feeds flip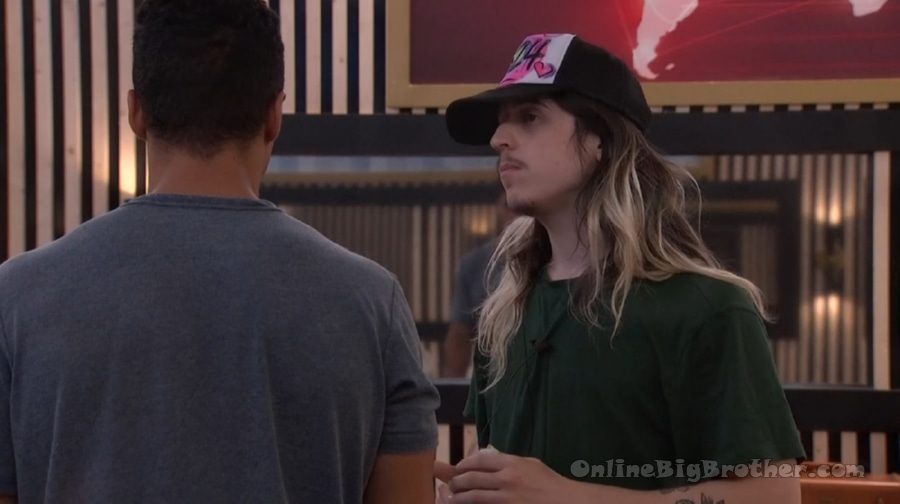 5:26 am Joe and Turner
Joe – I don't know what happened with the whole POOCH thing me and you were the last people fortunately you handled the news better than I did which is why I got screwed with POOCH.
Joe – there was a lot of people that left us in the dark.
Turner says it was Michael that told him the vote had flipped "They were the swing votes"
Joe – I'm not going to name names the people that left me in the dark as well.
Joe – there's a lot more going on in this house than me or you know of.
Turner – all I know Michael and Brittany were swing votes and one moment later POOCH is out.
Joe – before you tell Brittany she's going up as a pawn talk to Brittany and be like why did you sing after POOCH. ASk her who planted the seed and stuff. Don't go too crazy
Joe – I want to know who started this shit. this is what POOCH wanted
Turner agrees says all POOCH wanted the for the boys to have some time in the HOH to strategize
5:40 am Everyone is finally sleeping. Daniel, Ameerha nd Nicole are calling themselves the managers because they each have to manage a person.
9:00 am zzzzzz