Quick Big Brother Spoilers
Head of Household: Turner
Nominees:
POV Players:
POV Winner:
Veto Ceremony:
Havenots: Alyssa & Indy
Lock your ranks in before midnight
Festie Besties:
Turner & Jasmine (She's also safe)
Joe & Monte
Daniel & Kyle
Brittany & Michael
Alyssa & Indy
Ameerah & Terrance
Nicole & Taylor
How Nominations will work: One pair will be nominated
How the Veto Player Pick will work: Turner/Jasmine, nominated pair, and drawn pair
– If one of the pair wins the veto, the other is also safe.
– If the nominated pair comes off the block, Turner would nominate another pair.
Eviction: One of the pair on the block will be evicted
Last pair standing gets a power.
** Unsure how many weeks the pairs twist will last **
10:00 am Houseguests waking up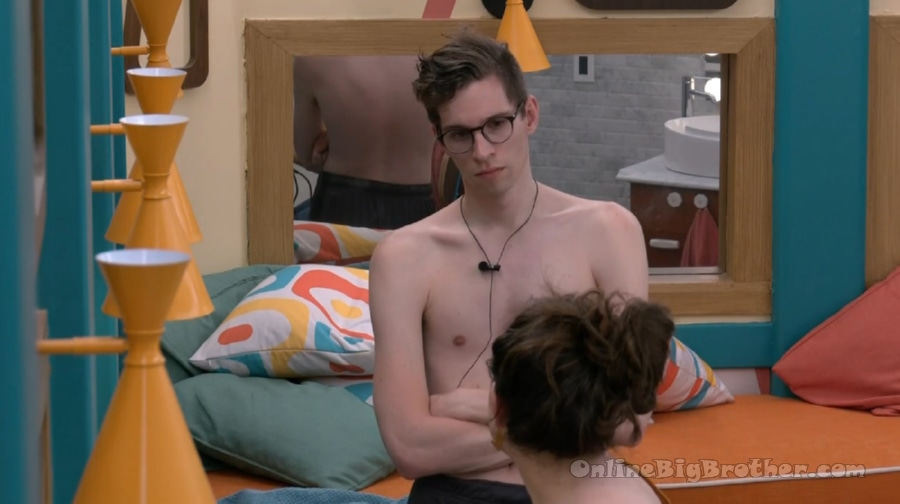 10:18 am Michael and Brittany
Brittany had a conversation with Jasmine the story is it was Taylor that Convinced them to flip their vote.
Brittany – I'm trying to think if she said anything else. she said we'll be Okay ultimately. I think we still stick with our plan.
Brittany – Everyone is going all in against Taylor. That's mean
Michael – They either want to backdoor her.. Nicole and Taylor would FIGHT really hard for it (Veto) If he backdoors them that basically leaves us an Alyssa/Indy as his options
Michael – did she tell you who
Brittany – no
Michael – at 5 o'clock it was Daniel, Kyle, Joe and MOnte up there. Daniel and Kyle were up there for two hours last night
Brittany – I know he's very concerned about a girls alliance
Michael – good
Brittany – Jasmin told him there is not
Brittany – Do you think it strengthens us to say Hey you know that agreement between you, me, Kyle Turner is it worth saying my thought was that we did not know the flip when those talks were happening..
Michael doesn't know about that because Jasmine can tell Turner that they know way before.
Brittany – Jasmine is playing this off as a shock. Taylor did all of it.
Michael – I hope he doesn't put us up hoping we can win in order to backdoor her. If he does put us up and Taylor/Nicole win the veto
Brittany – we'll be screwed.. Unless Indy gets on his nerves
Michael – I know. I wish nominations weren't today. Give her some time to crumble.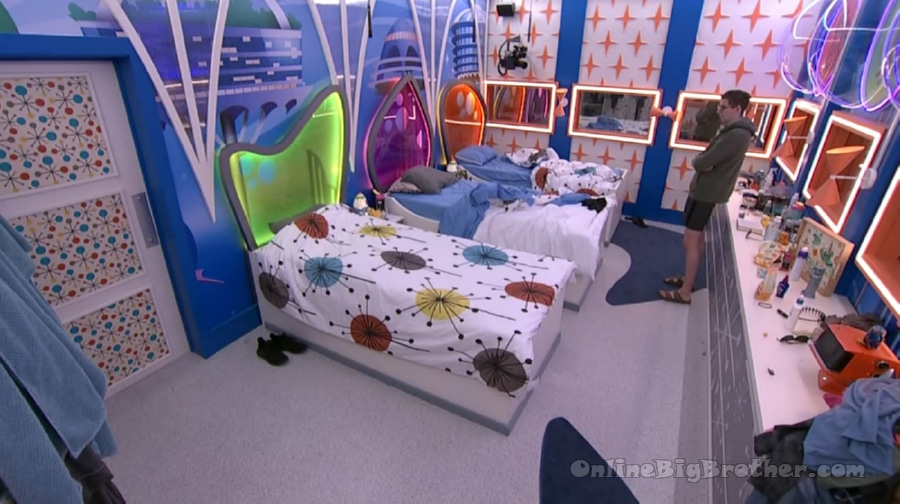 10:27 am Michael talking alone
"If we go up and Taylor wins the veto I think I would have the votes to stay. If we go up and I win the Veto and I have now one the first three veto competitions and we find ourselves on the block next week I don't know if I have the votes to stay any more. The last thing I want to do Is cut Brittany or sacrificing her. I want her here I want us to go as far as we can together"
"I don't know what to do"
"If I'm on the block I have to go for the veto I can't not try. I don't want to POOOCH myself. As of right now I think I would stay over Brittany. I would try to get a golden key or a VIP pass or something I could potentially be safe until Jury"
"That would give me a couple weeks to fade where I don't have to win any competitions. Work on my social game"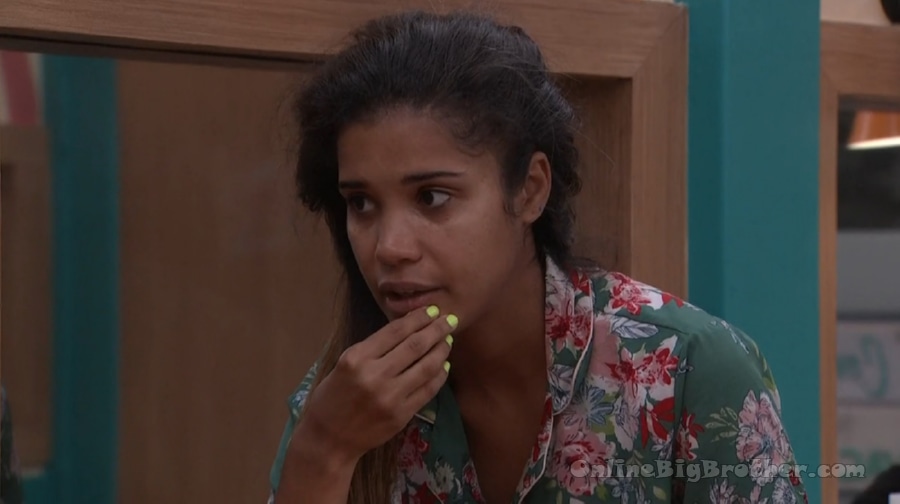 10:40 am Ameerah, Nicole and Michael
Ameerah – We have the numbers to get her out easy (taylor)
Michael – what if we go up
Ameerah – if you do 1000 you are safe. People don't want her in the game because she's lying and throwing people's names out there.
Nicole – you don't have to worry about going on the block you will be pulled down.
Michael – unless Taylor wins
Nicole – here's the thing if that happened Brittany goes home or if Indy and Alyssa, Indy goes home.
Nicole leaves
Ameerah – I promise you 1000% you are safe
Michael – I trust you
Ameerah – we talked about it last night we have it planned out. It's done.. it's happening.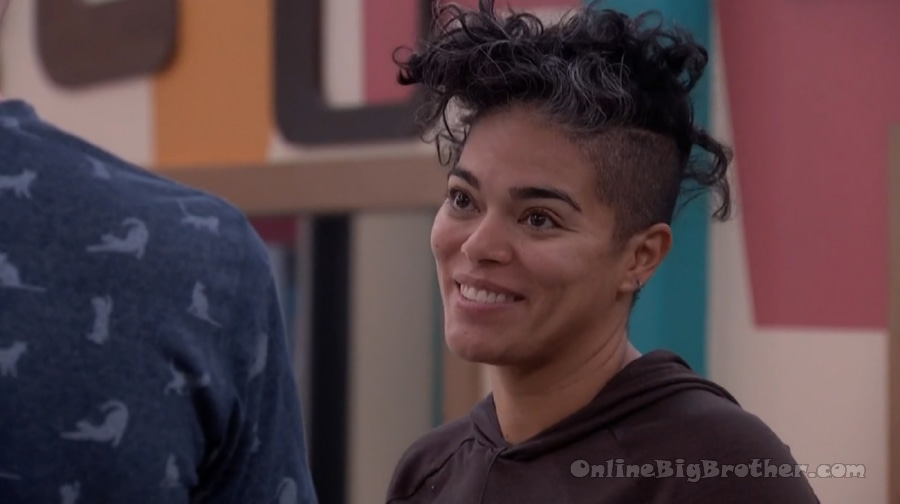 10:43 am Nicole and Michael
Nicole basically laying out the next few weeks how their 6 will pick off all the other players.
Nicole – the 6 is good for at least 3 to 4 weeks (FUN)
Michael – that will get us to jury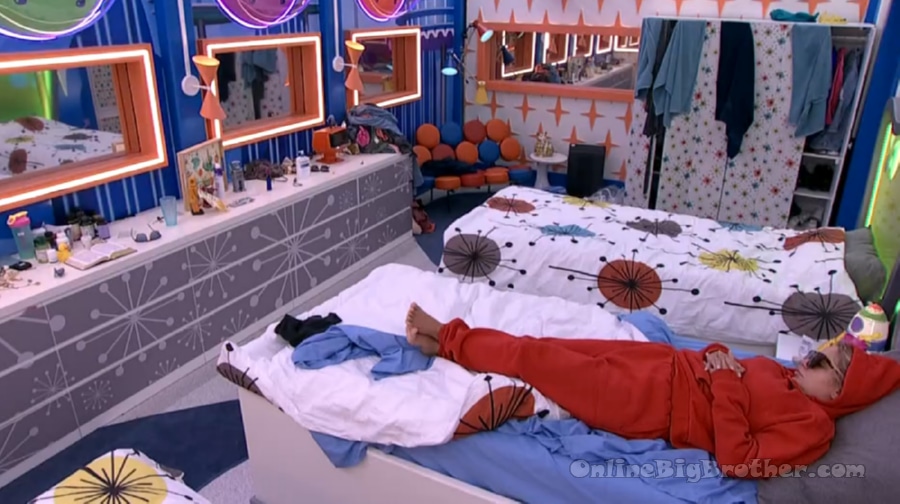 10:52 am Indy and Ameerah
Indy is sufferings from sleeping in the have nots
Ameerah – you look tired as hell. Even with you sunglasses
Indy – laughs.. I die.. I cannot thin about it otherwise I'm going to go to my house. I swear I cannot do this shit.. Too old for this.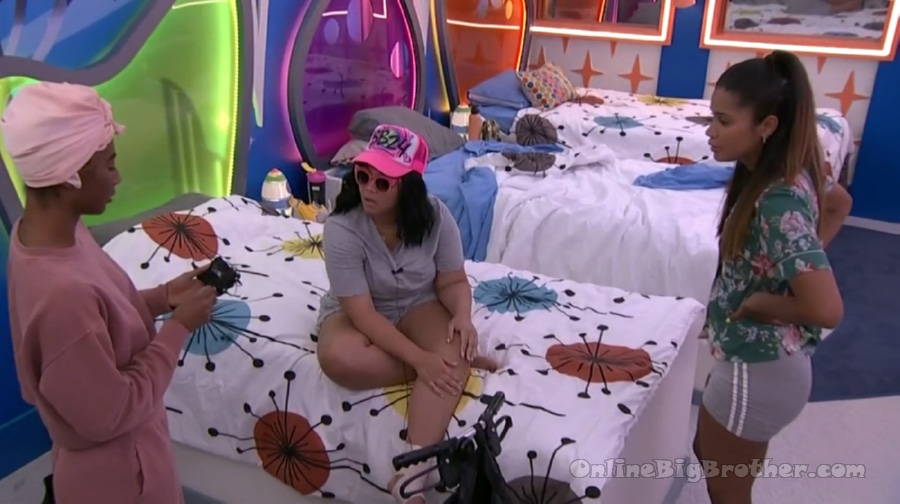 11:00 am Jasmine, Taylor and Ameerah
Taylor – all the boys were up there since 5:30
Jasmine – the guys
Alyssa joins them.
They talk about the festie bestie twist.
Taylor – I cannot touch the block again guys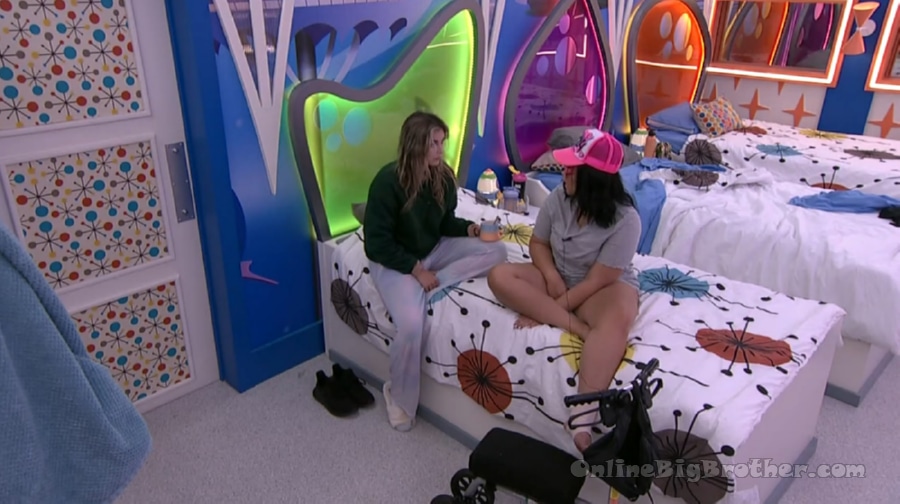 11:08 am Jasmine tells Alyssa that Turner isn't putting her up. She goes on about how she talked to Turner and Nicole, Terrance, Alyssa, Ameerah are all cool with him.
Alyssa is worried that she picked Indy the reason she picked her was she's a strong competitor and if they do end up on the block Indy would go over Alyssa. Alyssa is no worried Indy will implode and they will end up on the block because of it.
Jasmine – Turner told me his tops were Daniel, Kyle and Monte.
Jasmine instructs her when she talks to Turner blame the entire POOCH vote on Taylor says she was campaigning her ass off.
11:15 am Joe checks himself out in the mirror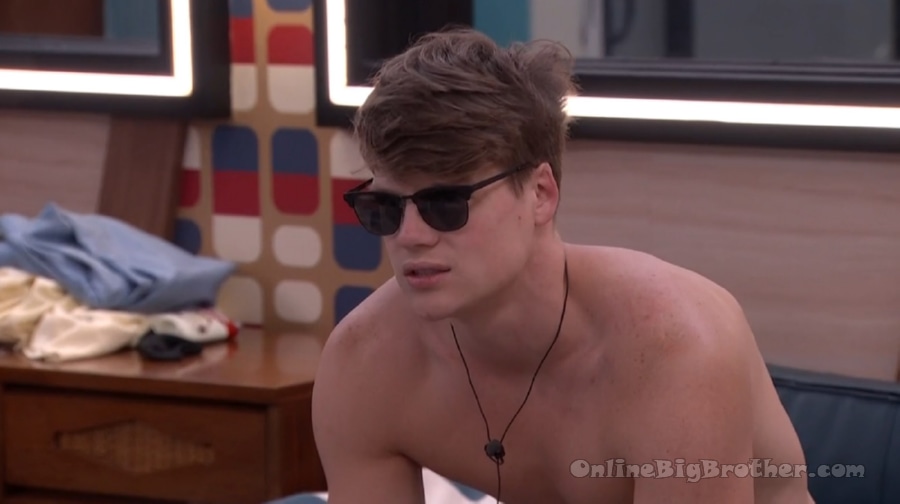 11:18 am Kyle and Monte
Kyle – Do you think that the relationship I have with Alyssa is hurting either of our games in their eyes?
Monte – no they didn't mention it. Lets limit information we give to Alyssa because their relationship is tight
Monte – I'm thinking for your game bro.. my number one thing coming into this game was avoid a showmance
they laugh
Monte – it is what it is right. it just give them an easy excuse when we get to 9. hopefully they wait until 6
Kyle – She likes me more than I like her. (Yikes)
Mont e- she's very young, She loves art..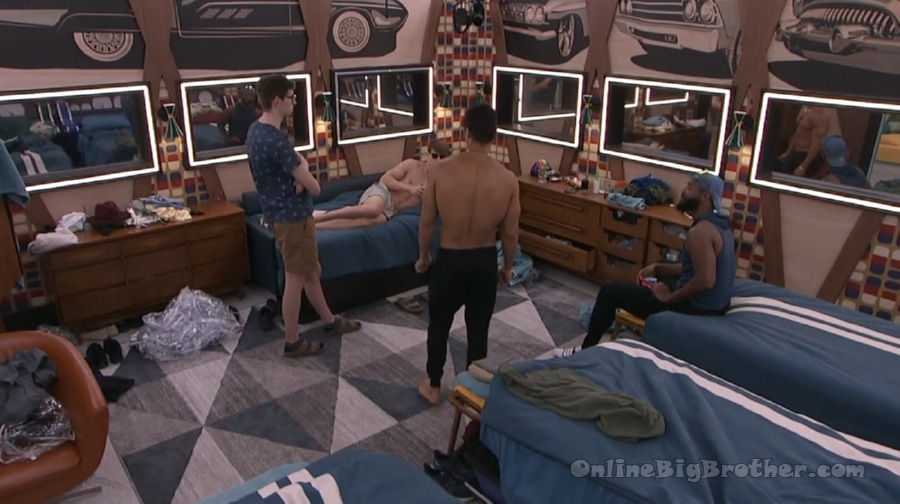 11:30 am Bros are confirming they will Taylor out this week.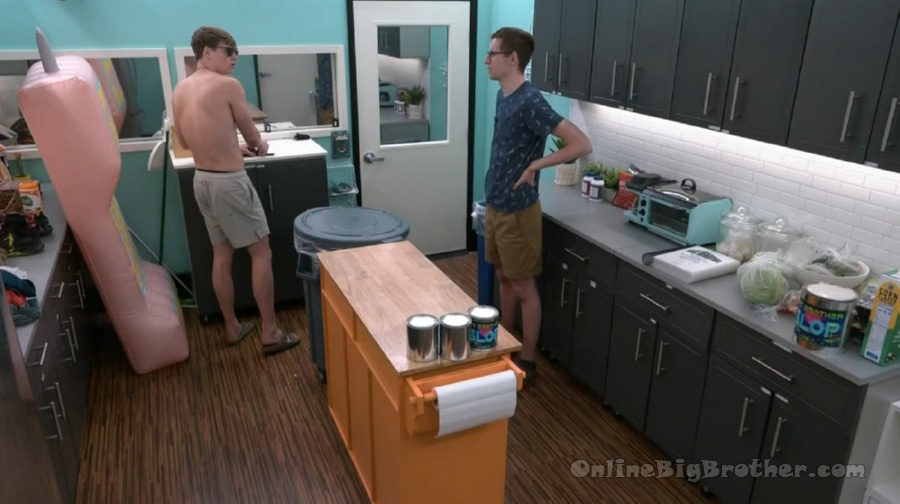 11:32 am Kyle and Michael
Michael – their old skool thing is 100%.. she didn't explain it but.. she was like me and Taylor, You and BRittnay, Alyssa and Indy will be the next three people to go up to get rid of the besties.
Kyle – wait who was it
Michael – Nicole and Taylor to get rid of Taylor, Britney and Me to get rid of Brittany and Indy and Alyssa to get rid of INdy.
Kyle – Monte had that same concern
Michael – That's a big red flag
Michael – once Jury hits it's going to be me, Monte, Joe, you
Kyle – then we would be the next.. Talk to Monte.
Kyle says he remember Alyssa saying that there was a ton of people in the old skool
Kyle – we're not in a good spot if that's true.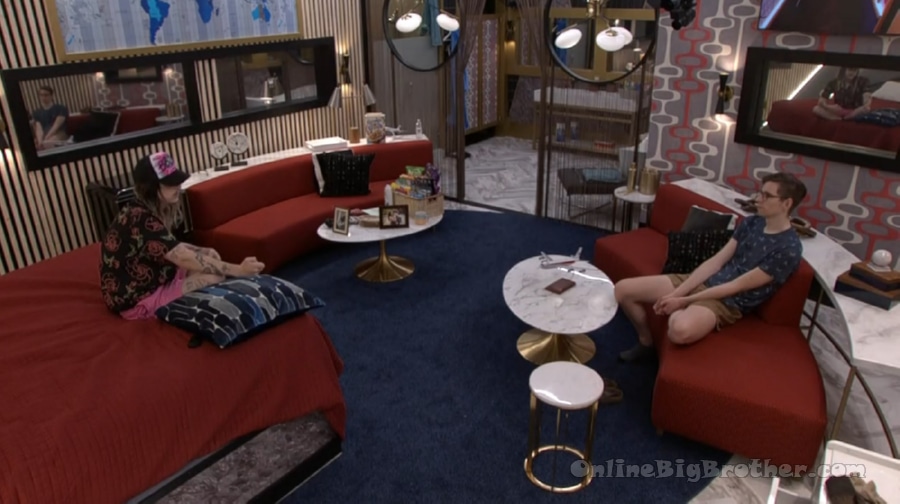 11:50 am Turner and Michael
Turner tells him the target this week will be the same as last week. He's going to try for a backdoor. Michael mentions Jasmin may not get cleared to play in the competition so the players would be the nominees vs random pick.
Turner says Brittany is rubbing most of the house the wrong way but he's never heard anything negative about Michael. If he would put Michael and Brittany up as the pawns he's 1000% certain the votes would be there to keep him. "Plus you're a veto beast"
Michael – I definitely don't want to go on the block but as long as you say Taylor is the target I am comfortable with that.
Turner – is there any duo you would not want to see go up as a pawn or on the block.. not even as a pawn you wouldn't want them to go home.
Michael says Kyle, he wouldn't want to see him on the block.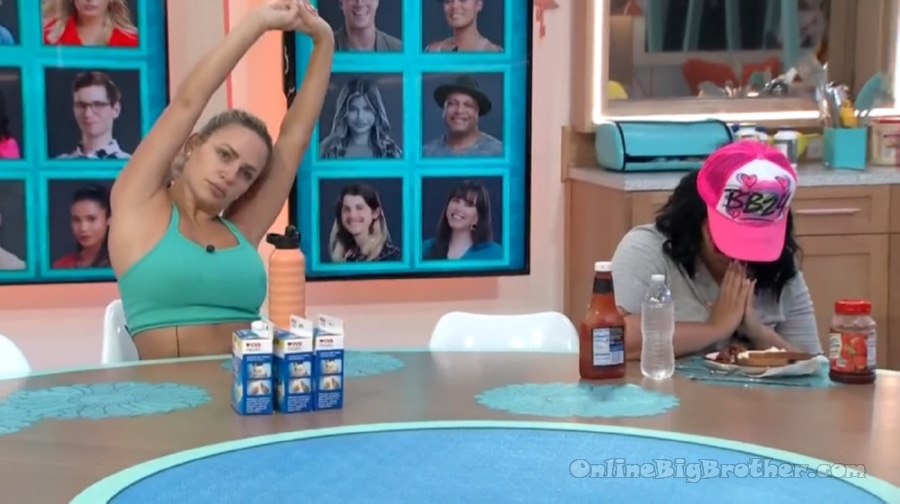 12:17 pm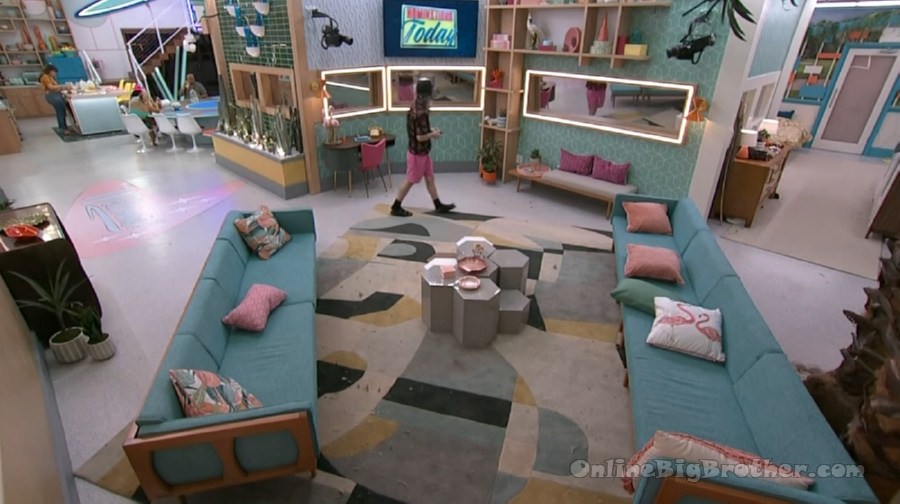 Nominations today.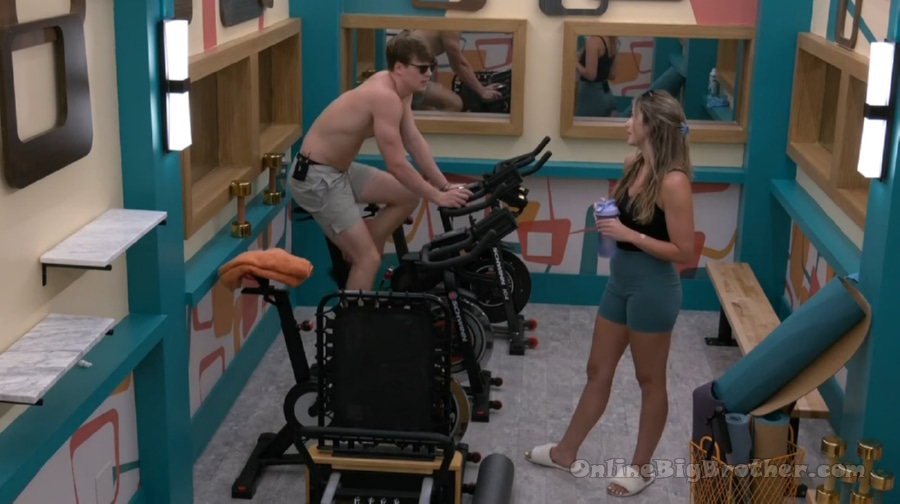 12:18 pm Kyle and Alyssa (hard to hear)
Kyle – how solid do you think that OLD SKOOL alliance is?
Alyssa – (? Daniel started it and it hasn't met once. ?)
Kyle asks who is in it.
Alyssa names Ameerah, Alyssa, Jasmine, Daniel, Terrance. Nicole.