Quick Big Brother Spoilers
Head of Household: Turner
Nominees:
POV Players:
POV Winner:
Veto Ceremony:
Havenots:
Lock your ranks in before midnight
Pairs:
Turner & Jasmine (She's also safe)
Joe & Monte
Daniel & Kyle
Brittany & Michael
Alyssa & Indy
Ameerah & Terrance
Nicole & Taylor
How Nominations will work: One pair will be nominated
How the Veto Player Pick will work: Turner/Jasmine, nominated pair, and drawn pair
– If one of the pair wins the veto, the other is also safe.
– If the nominated pair comes off the block, Turner would nominate another pair.
Eviction: One of the pair on the block will be evicted
** Unsure how many weeks the pairs twist will last **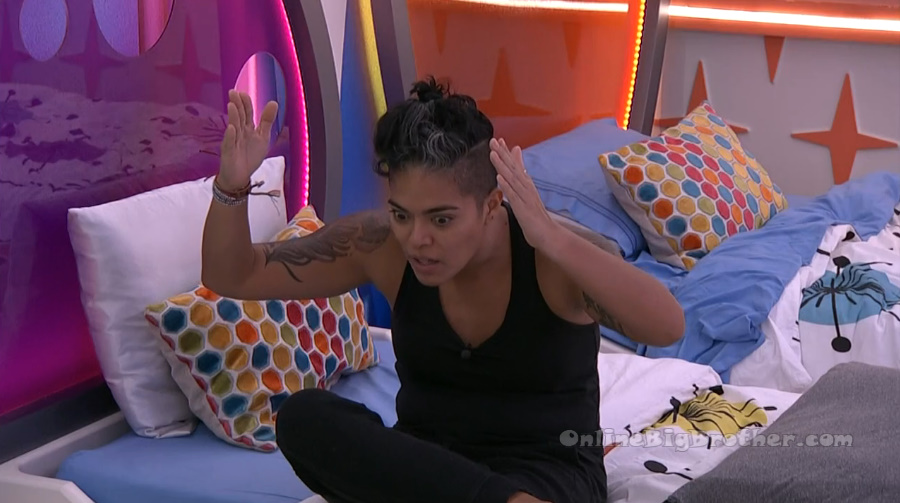 10:25pm Bedroom. Daniel and Nicole.
Nicole – I took one for the team on purpose. Daniel – absolutely. Nicole – if I have to have someone next to me I want to be next to her so that I never go home. Daniel – there is no better way this could have worked out. Jasmine and Ameerah were like how? Why? I am good with Turner. I feel like I can figure things out. And Kyle and I, I feel like we float perfectly in the middle between the guys and girls. Nicole – yes, you guys will never be put up. Daniel – and I wanted to work with him. I love him. They talk about the HOH comp.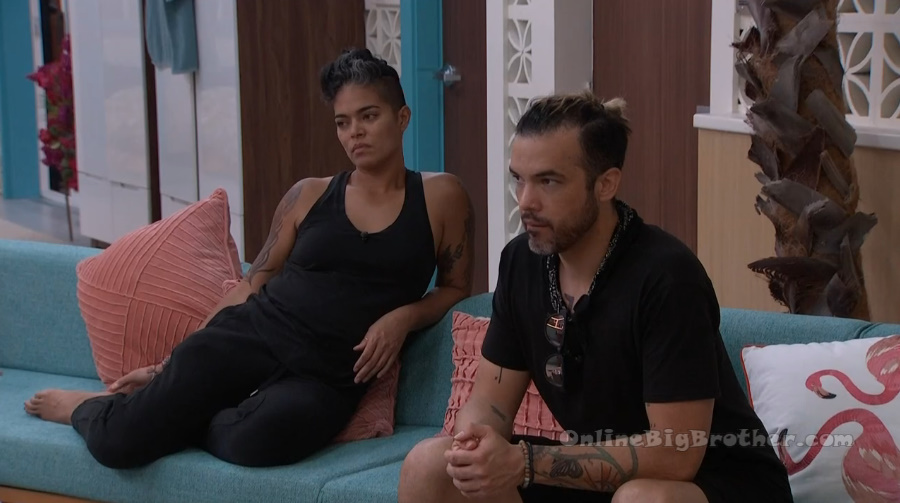 #BB24 @bigbspoilers Alyssa attempt at trying to make Kyle jealous pic.twitter.com/Z63gHeYHJr

— Dawg (@DawgsBigBrother) July 22, 2022
11:10pm – 11:25pm Bedroom. Indy, Nicole and Jasmine.
Nicole – how do you feel about Turner picking you? Jasmine – I'm scared. I am nervous, I don't even think he will care what I think. I am not close with him like that. Indy – to do what? Nicole – don't like make any suggestions.. I would say like when it comes to him.. talk to him in a way of like how are you feeling? I am down to do whatever you want to do. And if he is like what are you thinking .. be like well how do you feel about last week? Jasmine – how do you feel about what just happened? Nicole – right. Jasmine – I really would like to be the first one in there to talk to him so that I at least hear his instant thoughts.. versus after everyone has talked. But I am scared he just got his best friend voted out 12 – 0 and I am very wow'd .. I thought sitting on the couch it was going to be at least one or two votes and obviously everyone jumped on board .. even he did which I was very shocked but I don't know if he has like a vengeance out… and maybe promised Pooch like hey.. I don't know!? Nicole – right. But now thankfully that keeps me safe because technically I was the one that put him (Pooch) on the block. Nicole – he picked you and so even in a week or two if you're on the block… you have the votes to stay and he does not. Indy – you're so lucky. Jasmine – that's why I am asking people not to sit with me.. because I don't want the people I touch to get f**ked. Honestly if he puts people on the block.. He could go Taylor but that means you're (Nicole) on the block. Indy – she doesn't care. Nicole – I don't care. That is why I picked her. Jasmine – OH! Because I was like what are you doing!? Nicole – this is the best case scenario, if there is a power for the first person that is safe. If Taylor has a power (veto), that means I am safe. That means I protect all of us! You don't want to sit next to someone you love. Jasmine – OH! Nicole – if he puts up Brittany and Michael .. they will probably win the veto because of Michael .. Then Taylor and I go up and she goes home. Brittany joins them. Jasmine – let me verify the rules. He is my festie bestie now. So if he is my festie bestie and I win HOH, I could have swore it was up to the person that won HOH next week and Turner would be safe. Nicole – if you're festi bestie.. and one of you get HOH .. you and your festie bestie are safe. But it is the sole discretion of the winner who goes up to be nominated .. but your festie bestie is completely safe.. It is the sole decretion of who the HOH wants to nominate. Your festie bestie is safe with the cavete
that your festie bestie can compete in the next HOH. Jasmine – but he cannot. Nicole – he cannot. If you win, he is safe again. Jasmine – sh*t. Daniel joins them.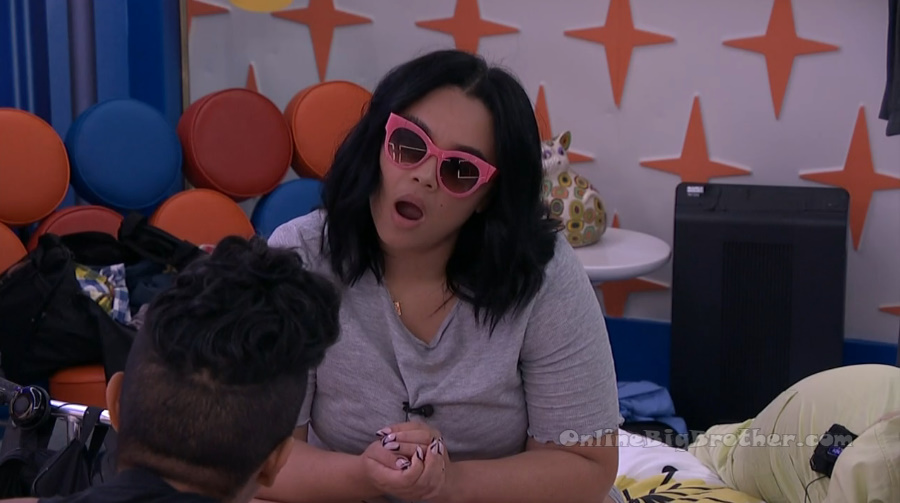 11:25pm Bedroom. Jasmine, Nicole, Taylor, Daniel, Terrance, Indy, Alyssa.
Indy – I am so mad at her. Just let me be mad (about being a havenot). She was following me everywhere. I need space! I signed up to do this show .. but I am mad! So let me be mad.. then I will be okay. Just because I take a little while longer than humans.. a little longer than normal to heal and be happy again. Terrance – to heal from what? Indy – whatever. Daniel – I'm confused too. Indy – because I am a havenot and I am pissed! Daniel – we've all done it. A lot of us have done it. Terrance – if you go in with that mentality you are going to dread it worse. If you go into it like that .. it picks away at you .. it f**ks with your head. I promise you it do. Indy – yeah and I know! But right now if I am going to be mad, let me be mad! You know. Terrance – I just don't want you to carry it that's all. Indy – I don't carry anything in life. Like an hour to feel my feels and then I let it go. Its the way that I am.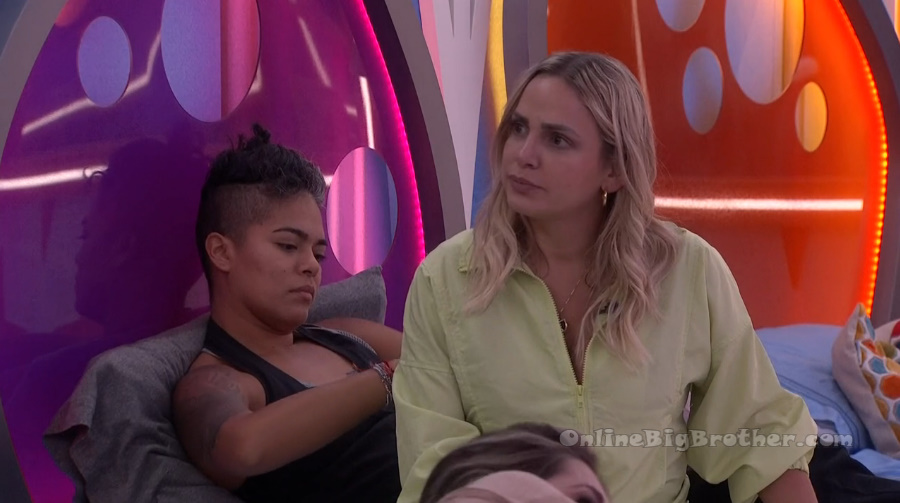 11:28pm – 11:40pm Bedroom. Terrance, Daniel and Jasmine.
Jasmine – that was just rude. Daniel – she (Indy) is out of her damn mind. Jasmine – she keeps talking to people any kind of way. Daniel – dude she has been so rude. Terrance – but what did I tell you all? If this is who you are, you show us who you are day f**king one. She is never going to change. Daniel – oh this is it. Jasmine – like you said everyone has done it (Havenots). I would be doing it if I didn't get safety. Like why would you do that? Daniel – let her burn herself. She is going to show Turner. I mean you can even relay this type of thing to Turner. I don't think Turner likes her at all. Jasmine – I can't wait to talk to him. Daniel – just mention, all ready bro she is losing it and she is rude to Alyssa and I think Turner likes Alyssa. Terrance – she always has this quick immediate smart mouth sh*t. Jasmine – she didn't even let me finish what I was saying. I was just saying keep a good mindset. Daniel – she thinks she owns this f**king house! Daniel – I went into it (havenots) like this is part of the BB experience .. but it is going to suck. She is going to lose her mind. Terrance – but I didn't want her to bring down Alyssa. Alyssa joins them. Daniel – let her dig her own hole. She is already losing her mind. Jasmine – she snapped out on him (Terrance). Daniel – easily if she goes up, you're staying. Don't let her get inside your head. Alyssa – Turner said he won't put me up but after this week, get her out of here.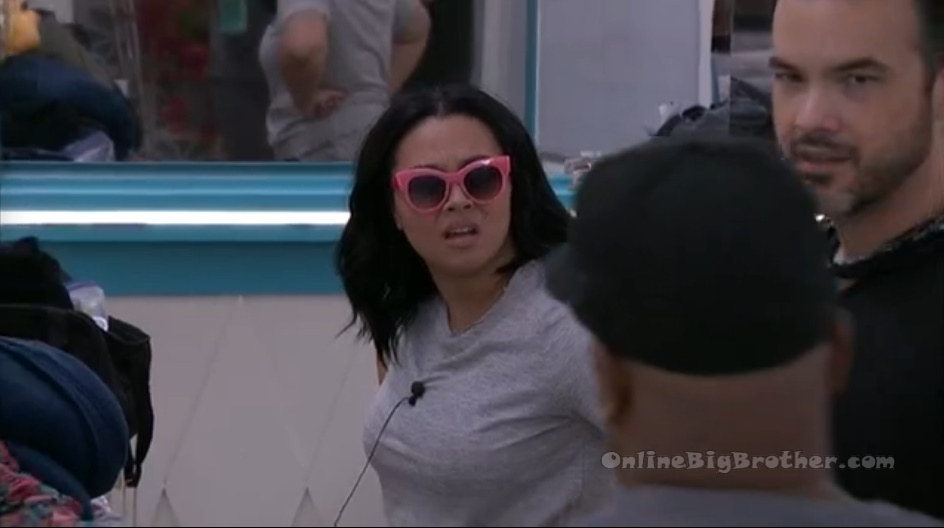 12:05am Bedroom. Daniel, Alyssa, Jasmine, Nicole and Taylor are hanging out chatting.
12:15am – 12:54am Outside the HOH room. Michael and Brittany.
Michael – that doesn't look good for him so I think our pitch to him should be if you keep us safe this week we are two votes to keep you if you go up against Jasmine.. we have the benefit of we don't know what happens to the person who stays. So I say we pitch it, remember backstage they didn't get a vote. If one of us goes home you might just lose two votes because one of us is out of the house and the other person that stays might not be voting. Brittany – no, that's true.. I was thinking about that. Michael – do you remember BB13 when they brought Jeff & Jordan / Brendon & Rachel .. and they had the golden key twist when they were duos .. I think it is going to be very similar to that where whoever survives the eviction gets like a vip pass or something and they can't be put up / they're not going to be able to play in comps. In season 13 the key holder still could vote but they couldn't compete. Michael – I don't see him putting up Monte/Joseph. Or Daniel and Kyle. If he was to take one of those shots I would think it would be a backdoor. If he put up.. I wouldn't want Kyle to be in jeopardy but I wouldn't be sad to lose Daniel. Brittany – I wouldn't be sad either. Michael – I think they have something going on. Brittany – The real truth behind Pooch leaving was Ameerah and Jasmines support. Michael – yeah. This is going to be interesting. If we sell him on whoever gets it ..its basically going backstage they can't compete so if he puts up Joseph and Monte, they can't win HOH next week and come after him. Ohh.. I think that's good. I think we should do that for sure. Brittany – for sure!
1:04am Outside the HOH room – Michael, Brittany and Kyle.
Kyle – I feel good compared to yesterday. I think we just keep the focus on Taylor. I hate to say it but Alyssa really does not like it when I talk to Taylor. Michael – so maybe keep talking to her. Brittany – I wouldn't want this to happen but if Indy and Alyssa went up.. Alyssa would stay. She has the votes to stay. That would be a good option. Kyle – I think its pretty set.. its Taylor & Nicole (being nominated). Michael – its just scary if Taylor or Nicole win the veto. Then it would be between us (Michael/Brittany) or maybe Indy and Alyssa if he wants to get Indy out. Brittany – Unless he is taking a big shot someone too.