Quick Big Brother Spoilers
Head of Household: Turner
Nominees:
POV Players:
POV Winner:
Veto Ceremony:
Havenots: Alyssa & Indy
Lock your ranks in before midnight
Festie Besties:
Turner & Jasmine (She's also safe)
Joe & Monte
Daniel & Kyle
Brittany & Michael
Alyssa & Indy
Ameerah & Terrance
Nicole & Taylor
How Nominations will work: One pair will be nominated
How the Veto Player Pick will work: Turner/Jasmine, nominated pair, and drawn pair
– If one of the pair wins the veto, the other is also safe.
– If the nominated pair comes off the block, Turner would nominate another pair.
Eviction: One of the pair on the block will be evicted
** Unsure how many weeks the pairs twist will last **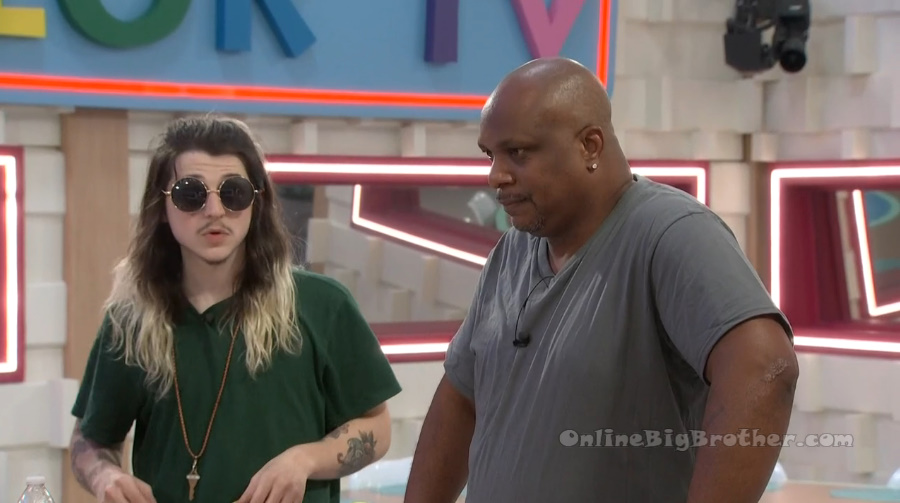 3:16pm – 8:40pm The live feeds return from being blocked for the eviction / HOH episode taping. (This eviction episode will air on Sunday evening.)
Turner is the Head of Household!
Bathroom – The house guests are congratulating Turner on winning HOH. He has the HOH key around his neck. Turner leaves the bathroom. Michael to Nicole – That f**king was embarrassing. Nicole – that was crazy. Wait what was embarrassing? Michael – I f**king let go of my button. Nicole – no, you can't win everything. Michael – that was a stupid mistake. Nicole – No, I am so proud of you. If that had been an endurance comp you for sure would have won. Brittany joins them. Nicole – you guys are cute besties. Michael and Brittany are paired up. Michael – I would rather it be this week than next week because I think my birthday is next week. I don't want to be a havenot on my birthday. Brittany leaves. Jasmine comes out of the washroom. Michael – This is crazy! I'm happy you're safe again. Jasmine – I know, I know, I know!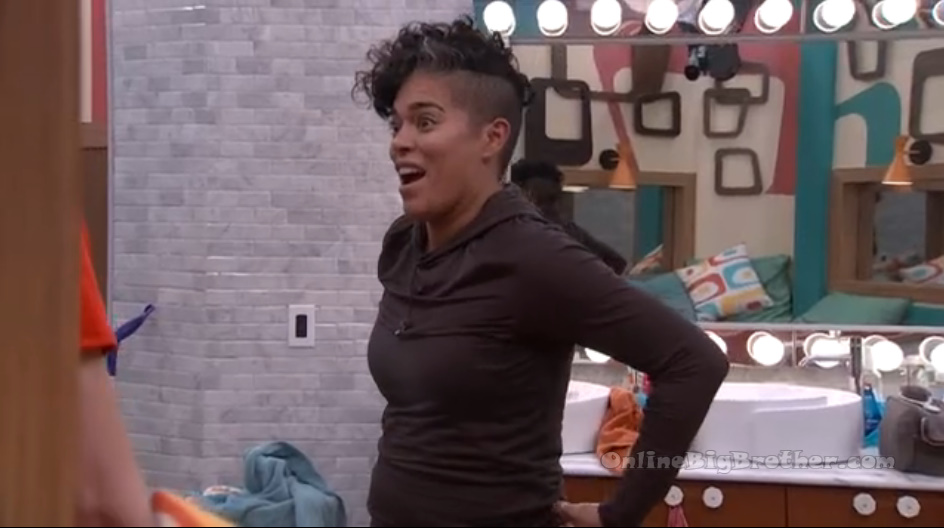 Bedroom. Jasmine and Kyle.
Kyle – are you alright? Jasmine – my vision is just blurry. Kyle – especially from all the lights and stuff. Sorry I didn't pick you. Jasmine – no, its fine. I feel like this is good to just sit back and make sure everyone is safe. I am good. I am safe and also I can keep safe who I want to keep safe.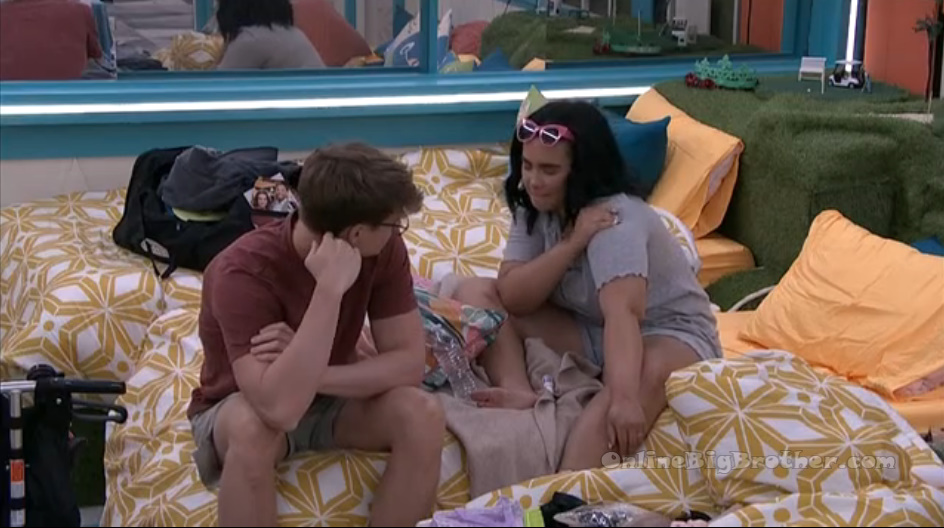 Kitchen – The house guests are making dinner / eating.
Indy – if I am a havenot, I am not cooking for you. Turner – How do the havenots get picked now? Alyssa – They're going to tell you. Turner – Oh true. oh you guys are in for a painful ride, me trying to read these cards dude!
8:55pm Storage room. Daniel and Kyle.
Kyle – are you good bro? I felt like sh*t right after this big boys broken up .. I just saw you and I was like dude I think we can win comps. Daniel – I was like are you down? Kyle – I thought it was like are you going for it? And I was like I'm down. I was like does he want a girl if he wants to disrupt the guy / girl narrative!? And I was like ah did I just f**k us?! Daniel – I think you and I are good with the girls. I think we could take it, float to jury. And just help out whoever we need to and just play a smart game. Kyle – for sure. And I really like you and I've been wanting to get to know you. Kyle – BRO! Please! I was so scared! I was like f**k did I just f**K the game! Daniel – I wanted to scream. Kyle – dude! Thank you dude! The hug. I've been literally so stressed! I thought this was the one challenge I could win. And then I was like f**k my life, I suck! We can both play next week. I think we're good. Daniel – I just think that we're solid on both sides.. that's my opinion. Kyle – yeah. Daniel – I've never heard your name. Kyle – I've never heard yours. Daniel – dude this is sick!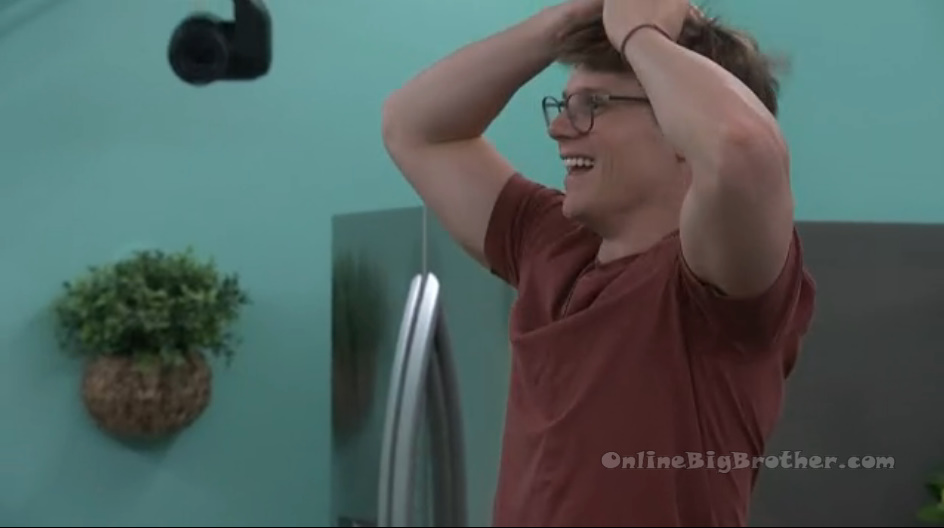 9:08pm Bedroom. Kyle and Turner.
Turner – Yo Bro! We got a f**king week right there! Bro we needed that so bad! Kyle – when you and Ameerah were up there were you like I got you, you got me? Turner – I didn't say that. Kyle – good job dude! Its going to be a good week. Joe joins them. Joe – I had not idea there was such a fat twist. Turner – how is your guys partner? Joe – Monte (with Joe) and Daniel (with Kyle). Turner – that is f**king perfect. We're going to be chilling up there. Joe and Kyle leave. Alyssa joins Turner. Alyssa congratulates him. Turner – obviously I am not going to put you up. Alyssa – thank you. Turner – yeah dude. Alyssa – yeah I wouldn't have done that either. You have options.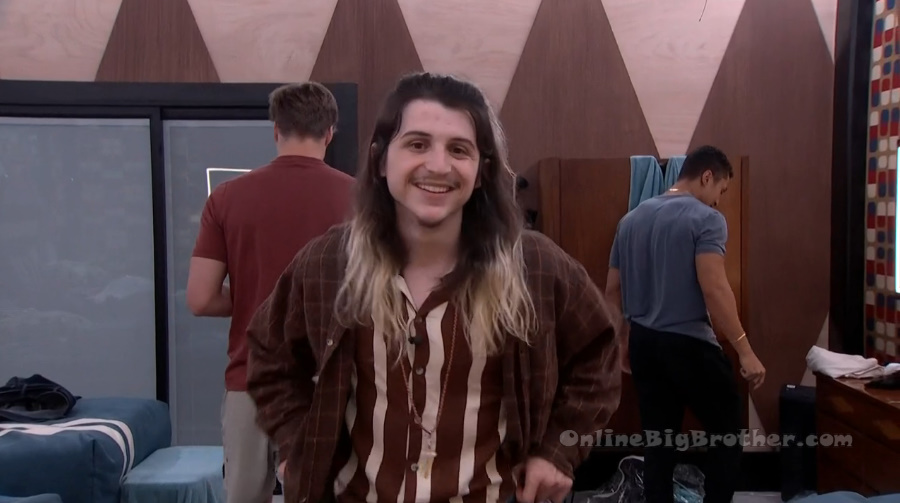 9:20pm Storage room – Joe and Monte.
Joe – he (Turner) is going for whoever planted the seed to get Pooch out. Monte – he is definitely a wildcard this week. Joe – for sure he is going to wild out. He is going to start a war… but me and you have a good game relationship with everybody. Monte – so at the end of the day I just want to make sure he is acting rational. Joe – he needs to think smart now that there's teams just cause you put one up. He said he is going to call everyone up stairs. He wants to talk to all of us and find out who was the last one to know. And he also wants what our opinions are to do next. What are you thinking to recommend? Monte – my mind is going Taylor. For me you have to think about that pair. I think that Nicole has plenty of allies. If we get out Taylor this week that could be good but.. he is going to want blood. Joe – and Taylor isn't enough because that wasn't Taylors fault. And if Pooch told him that one of us leaked he is going to look for who it was.. and I know it wasn't me. Monte – it wasn't me. It could have just been Pooch talking and people hearing. Joe – he said it was Alyssa that heard him.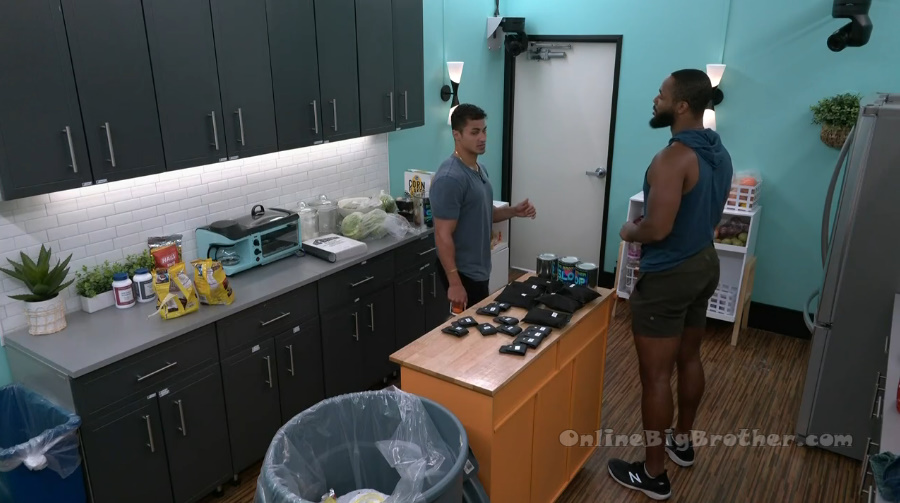 9:36pm Bedroom – Taylor and Michael.
Michael – I wonder if he would put up whoever was responsible for that (Pooch leaving). I don't know what he will do. Taylor – I don't think anyone knows. No matter what its going to be two girls. Whoever he puts up first is going to be two girls. And if they come off the block, whoever he puts up is going to be two girls. Michael – I think it will be either you and Nicole or Alyssa and Indy. Taylor – are there any other two girl pairs. Michael – I don't think so. Taylor – oh f**k. Michael – what a good deal for Jas! Safety .. must be nice! Taylor – must be nice! Brittany joins them. Taylor – I just want a week off. I am still fighting in this b***h! I just cannot handle being backdoored. There is no way I survive against Nicole. Of all the people to win HOH this week!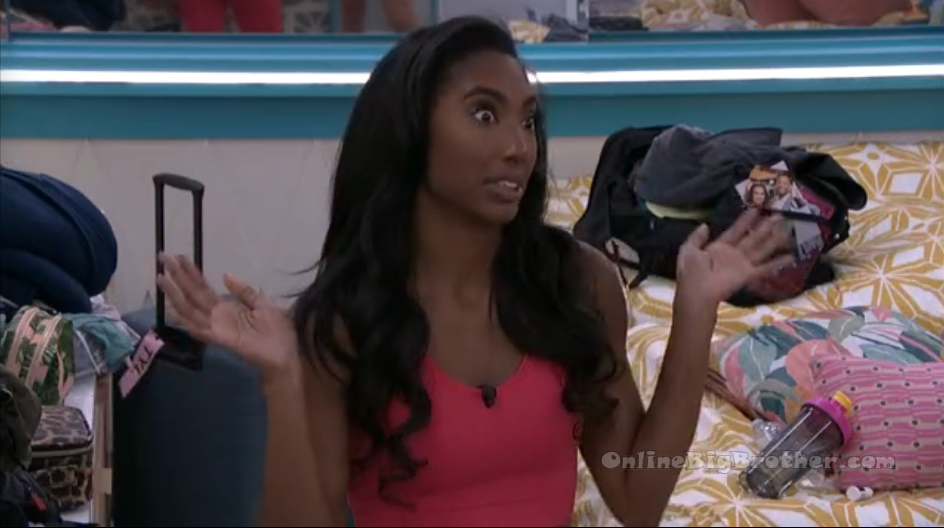 9:46pm Bathroom – Taylor and Joe
Taylor – no easy weeks in this house. Joe – Its not.. its rough! One think you are is you're smart so leverage that. And I see it.. I told you I was going to vote how I think of your game. And you gave me your promise and obviously you didn't win HOH now but that was me telling you .. I like how you play. Taylor – I appreciate that. Joe – so I don't want you to get hopeless. Taylor – its on! You wouldn't keep me here if I wasn't here for a reason. Joe – keep fighting. You definitely being on the block so much, I don't think its just Turner. You might be an easy… change that. Taylor – and the only person I am on the block next to is Nicole and there is no way I stay. Joe – yeah. Taylor – its done. Joe – its done. You've earned your place. You have a lot of potential to win this game so fight for it. Taylor – I won't let you down.
10:12pm Turner comes out of the diary room with a BB havenot c ard.
Turner – house guests its that time again to choose new havenots. The good news only one festie bestie pair will have to endure slop, cold showers and the havenot bedroom. So which duo will it be, well don't look at me.. I am going to let me festie bestie choose (Jasmine). Jasmine asks if anyone wants to volunteer. No one initially volunteers. Jasmine says he doesn't want anyone who has already done it to have to do it again. Alyssa and Indy volunteer to be the havenots for the week.