Quick Big Brother Spoilers
Head of Household: Jasmine
Nominees: POOCH and Taylor
POV Players: POOCH, Jasmine, Taylor, Ameerah, Terrance, Michael (Host Daniel)
POV Winner: Michael
Veto Ceremony: Veto was not used
Havenots: Terrance, Nicole, Pooch, Daniel
Lock your ranks in before midnight

There is no Thursday live show. The episode will air on Sunday. Feeds will come back tonight. Pooch likely evicted, HOH and Twist reveals, Jasmine may be forced to move.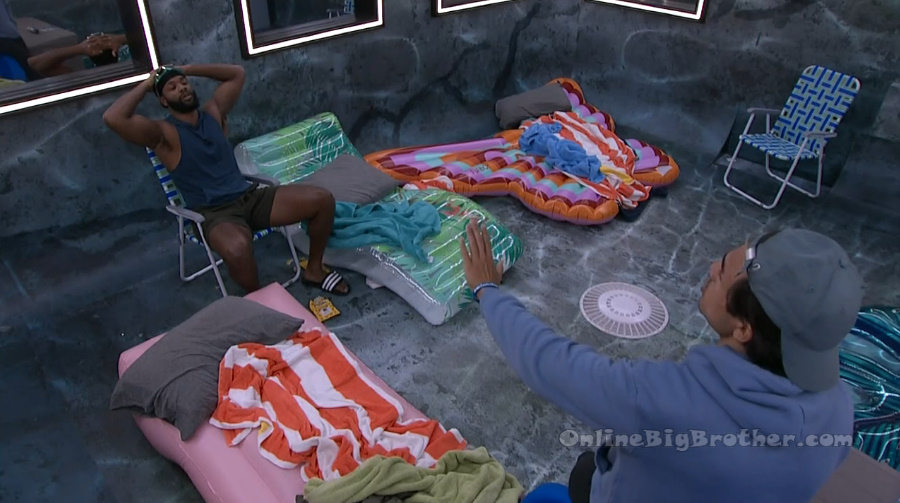 9:33pm Havenot room – Pooch and Monte.
Pooch – I heard something really bad. Monte – what? Pooch – have you heard anything? Monte – like, no. Pooch – I am a little nervous because you know what a girl just said to me? The only thing that is coming up is we heard there is an all guys alliance called Oasis. Monte – oh sh*t! They named it? Pooch – I swear to f**king god. Word for f**king word! My heart sank in my stomach. Monte – oh sh*t! Pooch – I have been slowly pulling people a part… Daniel didn't know about it, Kyle didn't tell Alyssa. Monte – oh we're f**ked dude! Pooch – Alyssa told me that Brittany feels left out of the girls. I don't want to say it was Joseph. Monte – he's my boy and I would hope that he wouldn't be.. Pooch – Then who!? I made the name for it. I wouldn't have put myself on the block if they knew because I would be f**ked right now. The only person I see talking late at night with the girls is Joe. I know Turner wouldn't do it. The only person that I hope to god wouldn't do it would be Joe. And if he did it would be to Ameerah to earn her trust. I truly don't think it was you and that is why I am having this conversation with you. Monte – I just don't know why anyone would say anything .. especially the name. I don't know exactly who said it but its gotten back to the girls. And we never had a meeting.. we've never been in the same room together other than 5 minutes the first time. The only person I ever see closely with the girls is f**king Joe. I hope to god but it makes too much sense. I don't know if I have his vote now!? Thank god for Alyssa I wasn't working my a$$ off for votes but now I feel like I've got to sell my soul. Now I'm a little nervous. I am freaking out a little bit right now. Monte – I am right there with you.. now I feel like my game is f**ked.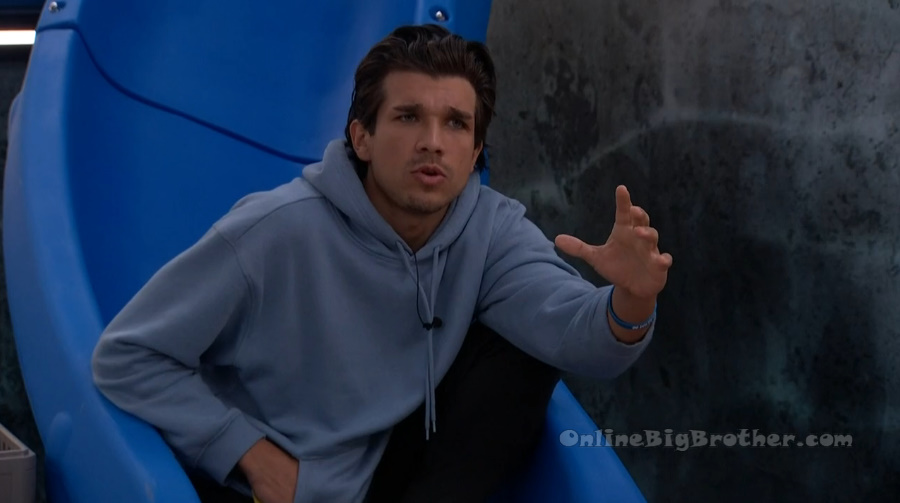 10pm Bedroom. Pooch and Ameerah.
Pooch – if there was an all guys alliance with that many guys I would feel fine. I don't know how close you are with Joe or Monte. Ameerah – I'm not close with Monte and Joe and I are friends. Pooch – not that I don't like Joe but we haven't talked game so I don't know where the f**k his head is at. Ameerah – you don't talk game with Joe? Pooch – he thinks we talk game but its not like.. Ameerah – well he is defending you up and down. He is rooting for you. Pooch – is he? Okay, I am glad because that makes me feel better because I have been more nervous about him. That makes me feel a lot better, I thought he was the one.. Ameerah – no its not Joseph. He is rooting for you. The only guys that have come to me about you are Turner and Joseph. And he is vouching for you. Pooch – this is good. I wouldn't have put myself on the block if I had something to worry about. I feel like it is all very boys and very girls. Ameerah – except for Nicole.. and Brittany. Pooch – yeah but I feel like they're in the middle. Ameerah – and Indy too.. I feel like I can't trust her too. My people are obviously Alyssa and Jasmine. Pooch – I just don't know who to trust right now.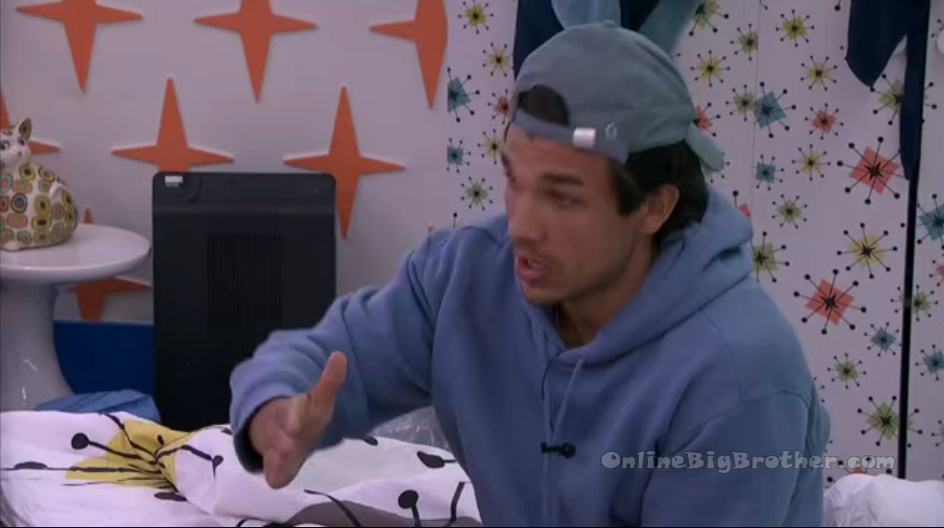 10:16pm Bedroom – Pooch talking to the cameras.
Pooch – This makes no sense! I am f**king lost! If Joe didn't say anything.. how did the girls find out about Oasis!? It makes no f**king clue! So now I have to go back on everything I f**king said and I am going to get caught up in a f**king lie. I just need to survive this week and F**king move on. Somebody opened their mouth about the Oasis.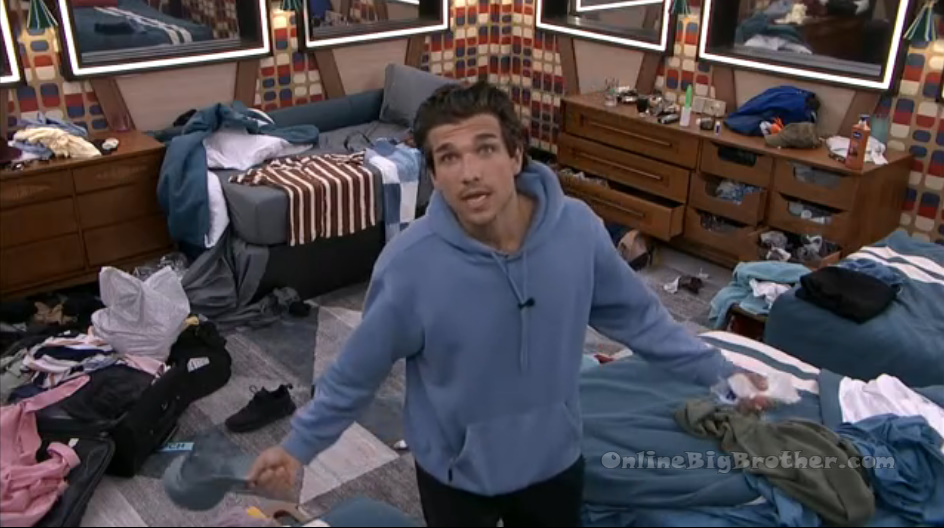 10:48pm Bathroom. Turner and Pooch.
Turner – I don't know if this is the best idea or the worst f**king idea of all time… just get everybody in a f**kng group and just had a little talk. Who did it?! Pooch – all the guys? Turner – yeah. Great idea or a terrible idea!? Pooch – we could do it after the vote .. unless we do it before hand. Turner – yeah, I can't tell if its a great idea or an awful idea. Pooch – I haven't said anything to Joseph. Do we do it now when he sees that we're scared or.. Turner – dude, I don't know. Pooch – but I also don't want to cause any more problems.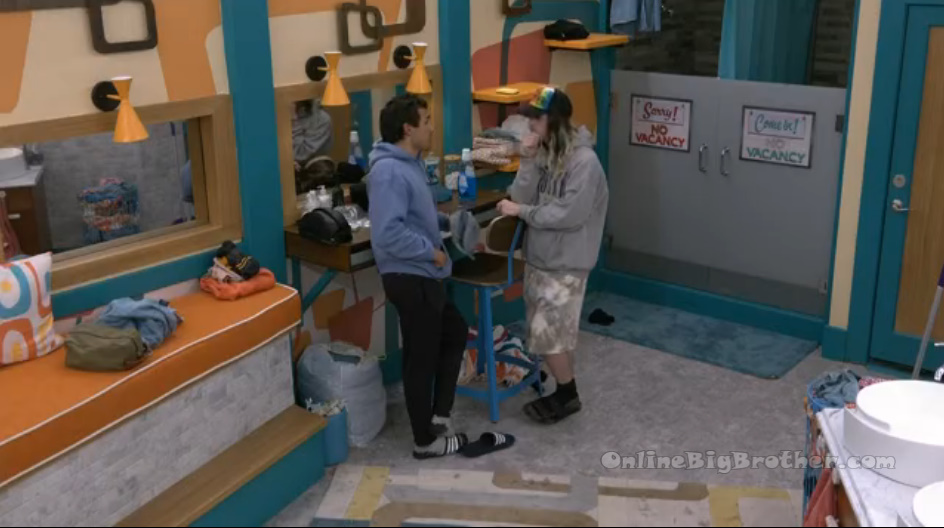 11:26pm Bedroom. Ameerah, Daniel and Jasmine.
Jasmine – when did Brittany come to you because she's been playing f**king dumb. Daniel – oh as soon as we were done she immediately went up to you. And I couldn't find her, I told all of them you're sh*t Brittany. She said okay but its all bullsh*t. She is playing both sides 100%. Ameerah – did Brittany come to you? Jasmine – yes. And she washed her hands with him and Pooch. Ameerah – so Pooch never came to you (Daniel)? Daniel – she came to me first and said .. Brittany doesn't feel accepted by the girls. She wanted to be in an alliance with me, Brittany, Pooch, Michael and Kyle. Ameerah – was Michael with Brittany when they came to you? Daniel – no. Ameerah – Michael came to me and told me about it. Daniel – Pooch left and immediately Brittany showed up almost like Pooch told her to go now. She showed up and she hadn't talked to me all f**king day. All of a sudden she was like lets get this going. I was like you talked to Pooch and she was like yeah. She was like if Pooch stays it would be good to work together. I was like we'll touch base later. I leave and she immediately goes up stairs to you. Jasmine – I don't trust Brittany. Ameerah – I don't either! She cried to me today saying if I go home and I see all of you talking about me in the dairy room I will be so upset. Daniel – I am on the verge of just calling her sh*t out. I have no problem calling a house meeting and calling her sh*t out and be like you don't know sh*t about me. I'll go hard, almost too hard where I am like you're done! Like I am coming after you type of thing. Don't just make sh*t up about me and then try and make an alliance when you don't talk to me. Ameerah – and why would she be going to Pooch when that is her whole goal to get rid of him. Jasmine – she would be coming to me like I want him out, I want him out. Are you sure we got the votes!? Daniel – I already told Turner, I don't know if we have the votes. Ameerah – I said the same thing to Joe. Daniel – and then tomorrow be like its not happening! Ameerah – me too! Daniel – its not happening bro. Ameerah – that's what I'm going to do too.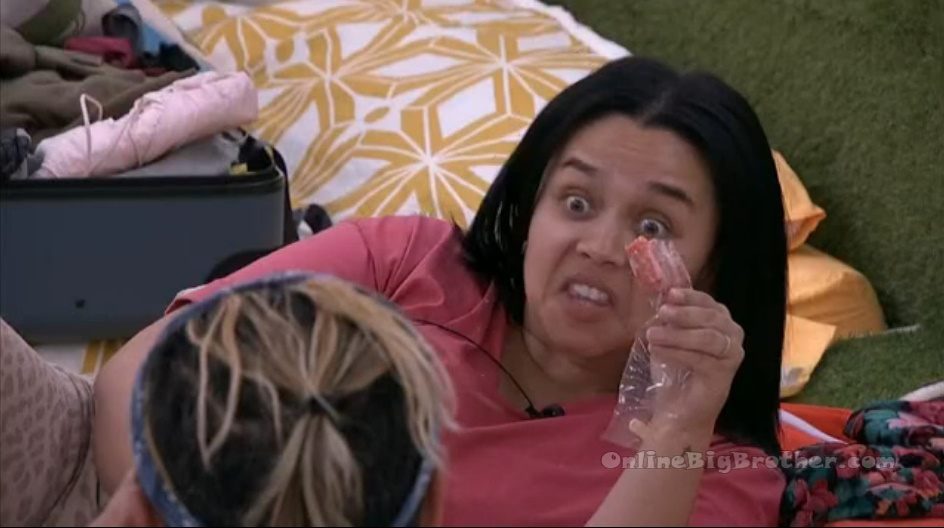 12:05am – 12:40amThe havenots are no longer havenots and get to eat!
12:56am Storage room. Terrance and Brittany.
Terrance – he's been doing it to everybody. Brittany – he's been grasping at straws. Brittany – I am going to be so happy when this goes through. Terrance – I am just happy. We're going to go into that lock down and he isn't going to be able to say anything after that. Brittany – no, yeah that's true. That's it. Terrance – so lets go. Come on! We got each other. Brittany – seriously. Terrance – let them add us to the mixes and when we're in the room just be like that's not the name. Like I believe we should do this, that's a number. We can do things. Brittany – and you're going to have a closer ear with the guys and I'll have a closer ear with the girls. Terrance – everyone have different ears. And we work and then come back. Its going to work! Terrance leaves.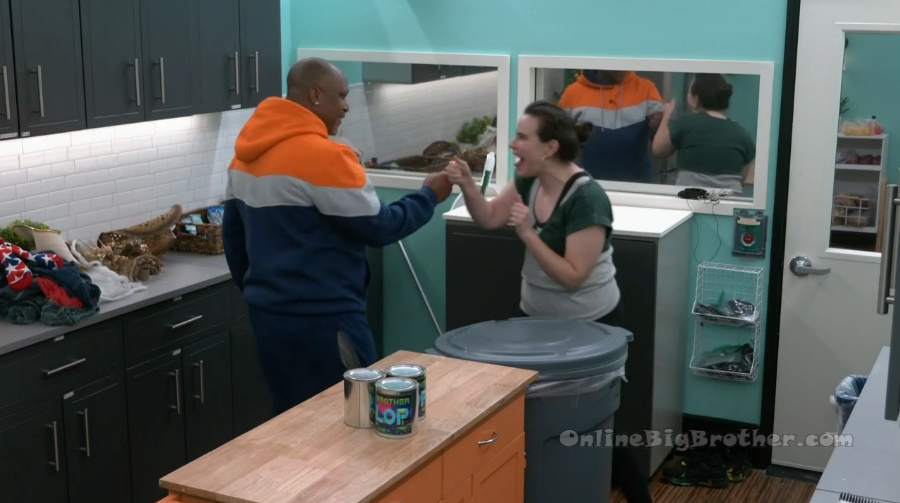 1:38am – 2am HOH room. Michael, Nicole and Daniel.
Daniel tells Michael and Nicole about how pissed Pooch was to find out that the girls know about Oasis. I was just done at that point. He was digging his own grave. Even if I was going to save him, I am like nope! I am out now just because I don't want to be correlated with that. My goodbye message to him was a little more serious. He (Pooch) basically tried to make alliances with everyone in a different way so that everyone would vote for him.