Quick Big Brother Spoilers
Head of Household:  Turner
Nominees: Taylor and Brittany
POV Players: Turner, Taylor, Brittany, Alyssa, Monte, Michael
POV Winner: Michael
Veto Ceremony:
Havenots: 
Lock your ranks in before midnight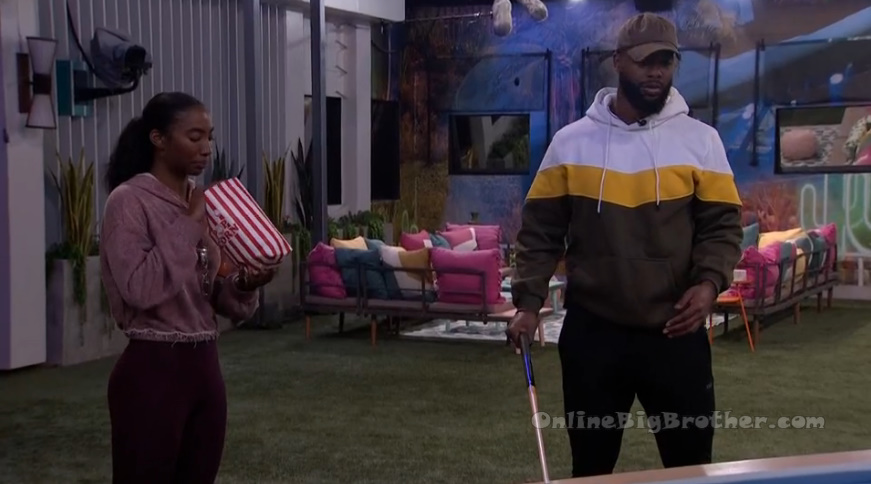 7:45pm – 9:41pm The live feeds were blocked. They've been blocked a lot today.
9:41pm Backyard – Turner, Monte, Taylor and Terrance.
Turner and Monte are playing pool. Terrance and Taylor are watching while eating some of the movie popcorn and drinking non-alcoholic drinks. Terrance – I think we need to reset the energy. America we're back to our regular scheduled program. We're going to give you great fun and entertainment. The drama is over! That was a moment! That was it! Taylor – child.. and the feeds were on! (No they've been blocked unfortunately!) Terrance – We should all love each other just to do it. We about to have some fun! Turner is going to keep us entertained and keep us on our toes for tomorrow. Turner – I don't know about on your toes .. I think we all know.. Big Brother blocks the feeds. The feeds return. Alyssa joins them. They talk about drinking the margaritas in the fridge. Monte – its a perfect time to get drunk! Terrance – if you're drinking, I'm drinking! Taylor – AHHHhhh we're drinking!! Terrance – lets turn it up! Michael and Brittany join them. They tell them they're going to drink. Brittany – I'll pass. They start to head inside. Turner – real quick I am going to go talk to Kyle. Big Brother blocks the feeds again..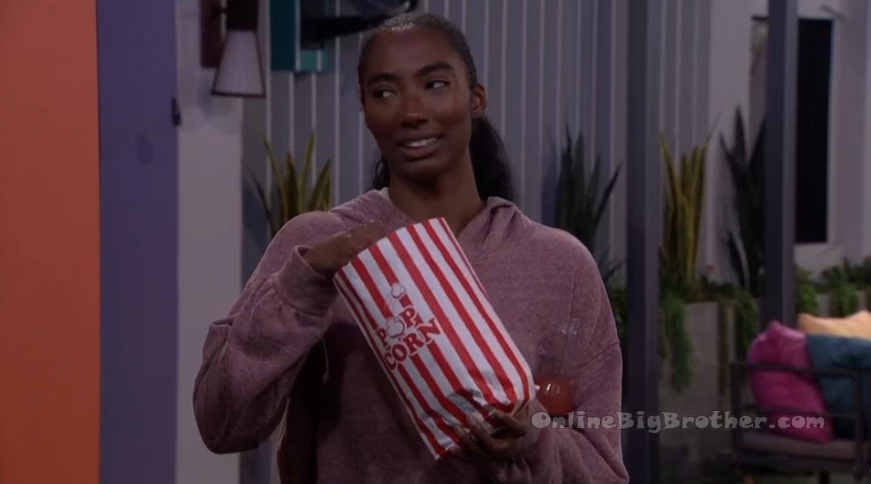 10:02pm Meanwhile inside – Kyle is eating alone in silence.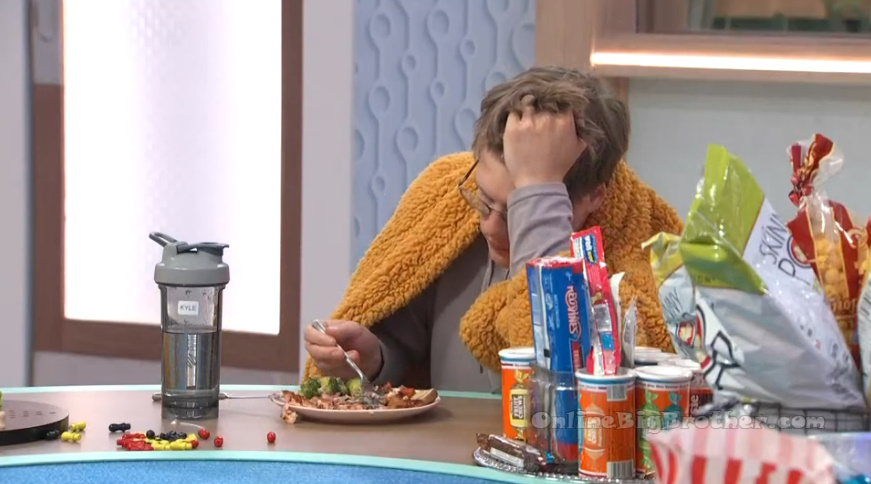 10:03pm Feeds blocked.
10:19pm – 10:50pm Feeds are back. Backyard Hot Tub – Michael, Terrance, Alyssa and Monte are chatting about the Dyre Fest backyard tarp over the backyard. Taylor and Turner join them. They talk about the murals on the backyard wall and festivals. Terrance talks about being a dj. The conversation turns to talking about tv shows, relationships and social media.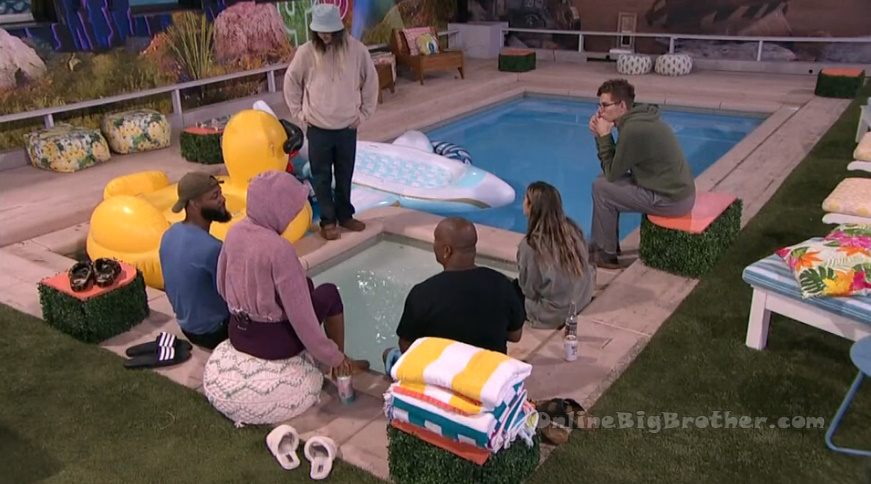 11:33pm Backyard Hot tub chats continue..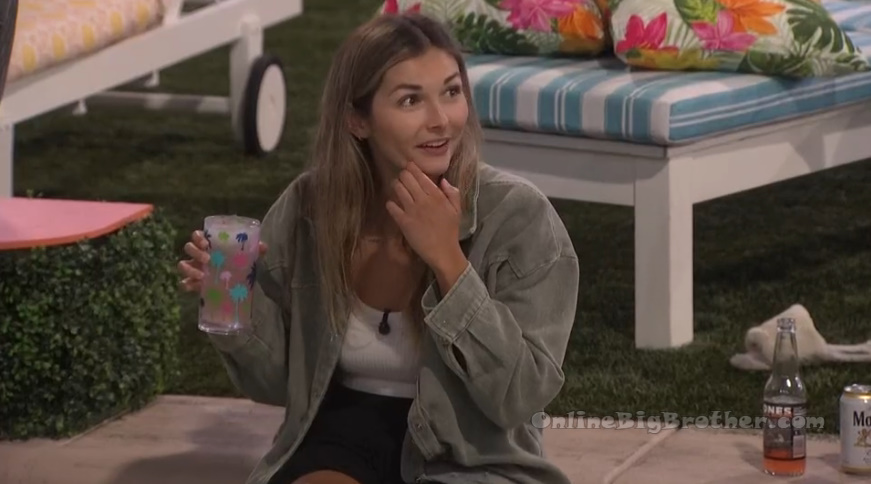 11:40pm – 12am Monte, Turner, Alyssa, Taylor, Michael and Terrance move back inside the house to eat.
12:22am – 12:35am Backyard – Monte and Turner.
Monte – I just got the reassurance from her (Taylor), you're not going up next week. Turner – I honestly appreciate that a lot. That's what Michael said too. And this statement gives me Jasmine. I like the way he put it.. you have had the most intense HOH of the summer and today alone and I don't think anyone is going to have you take out Kyle for the house and then target you next week. Monte – yeah. Turner – or else they're f**ked. And I am like well I will take that sympathy where I can get it because I would hope to god not. Monte – yeah. 100% Turner – and obviously I would not ask for 100% immunity but Michael said it and I was like that is amazing and it made me reassured for the week. Monte – yeah and its good to hear from Taylor. Turner – yeah especially from Taylor because she is one person I would be worried about. Monte – yeah because that was one thing that I was trying to massage in our conversation. And I think if anything next week its Alyssa and Terrance. Turner – well that is reassuring for myself. I tried to level with her a bit on the whole Michael situation. I was like objectively how she was looking at the situation. Michael kicked our a$$es again. And I think she was open to the idea of not being pissed if one of us took that shot. Turner – I don't think anyone would be pissed. Everyone knows what's going on. I definitely hope people approach Kyle with delicacy the next few days because he was .. big brother blocks the feeds.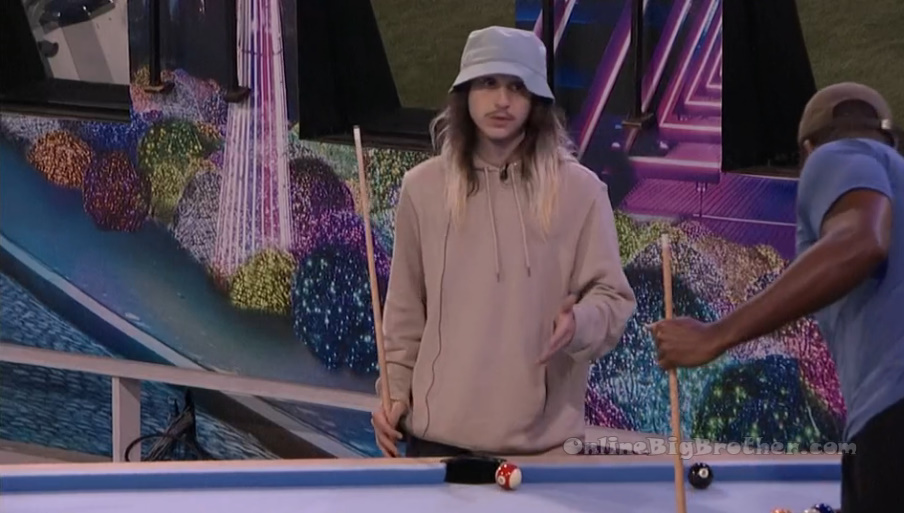 12:35am Kyle showering..
12:56am Monte – just imagine a house with Indy, Joseph and Jasmine? Turner – and in multiple weeks it gets more chaotic. Monte – this is like Ky.. Turner – his hell! Monte – it is going to be his worst nightmare honestly everything that he did not want to experience .. he will experience. Turner – totally. Monte – I am sure they're having their one version of fun. You've got more reasons than me but just for living situation .. I cannot. Just a lot of stuff that she does ..for her age? Turner – do we solidify the Taylor side or the Terrance. Monte – say Kyle is out this week. Next week .. we can hope and pray for HOH. We can't punish someone for doing the right thing. After next week .. the week after that I think is the time (To take out Michael). When is the point when we put our d**ks on the table and be like this is what we're working with. And I don't think anyone will look at us and be like those to guys screwed us over. Tuner agrees.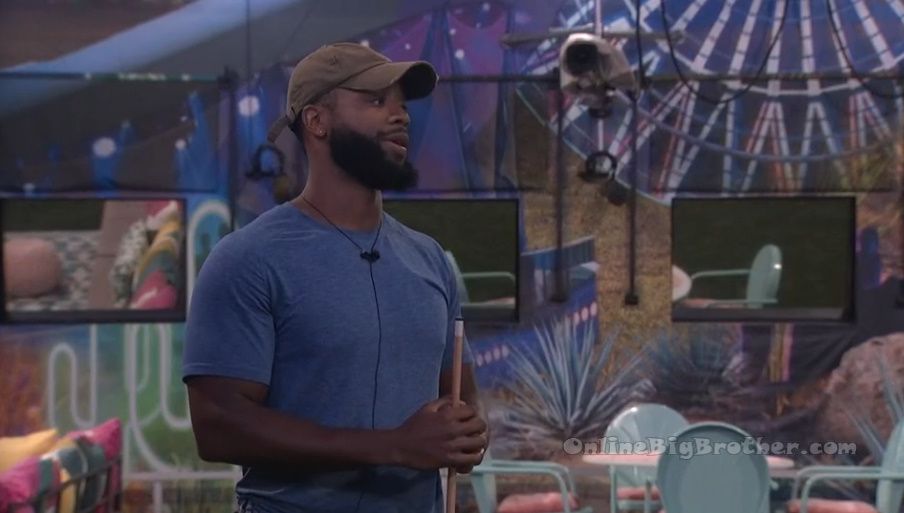 1-2 MOnte and Turner have a pool game. Chit chat.
2:00 am to 3:10 am Mostly feeds cut or showing sleeping houseguests
3:10 am Monte and Taylor
Taylor – Turner or Terrance or Turner/Alyssa the week after. We could take Terrance or Alyssa to final 5 take care of things from there.
Taylor – I don't want to take Turner to final 5
Monte – yeah yeah
Taylor – he's got a stronger shot at winning
Mont e- the only thing I would say is if he does get there and Michael is still here it's clear who his target is 100%. The only thing is if he misses we are the causalty.. that's the issue.
Monte – at this point everyone's game is out on the table
Taylor – this is crazy I cannot imagine. Turning your TV on
4:30 am Zzzzz
6:23 am zzzzz
8:00 am Houseguests getting a wake-up.
Without reader support this site and these spoilers wouldn't be possible.
Please consider a donation to keep the madness going.
Any amount is greatly appreciated!